Found March 05, 2012 on NorthWest Sports Beat:
PLAYERS:
Marc-Andre Gragnani
,
Cody Hodgson
,
Zack Kassian
,
Alain Vigneault
,
Maxim Lapierre
,
Marc-Andre Bergeron
,
Andrew Alberts
TEAMS:
Buffalo Sabres
,
Vancouver Canucks
,
Tampa Bay Lightning
,
Nashville Predators
,
St. Louis Blues
Wolfgang Amadeus Gragnani Quick what happened last Monday? I can't actually hear you but I'm assuming you said the Canucks traded Cody Hodgson for Zack Kassian, though you should never assume because it makes an ass out of you, especially when you got the trade wrong. Alex Sulzer, who you forgot existed until 3:30 pm Monday, was also shipped out in the deal for Marc-Andre Gragnani. We can't pretend Hodgson for Kasssian was a straight one-for-one deal because otherwise Buffalo gets fleeced in the defender swap.
By virtue of actually playing on Saturday, Gragnani has already surpassed Sulzer's contributions to the team this year.
In fact his blatant disregard for the basic concept of traditional positioning, especially on the powerplay, has made him down-right intriguing. Who is this mystery defenceman that won't be chained down and why has Alain Vigneault not murdered him between giggle fits? Well for un he's Quebecios, so he knows the secret handshake. For deux, his Junior coach was a man named Alain Vigneault. For the trios, the captain of the PEI Rockets at that time was a player named Maxim Lapierre. Funny how these details also seem to show up in Mike Gillis trades. Did I mention Sami Pahlsson played with the Sedins at MODO? Also, he might be harbouring some serious offensive talent. Marc Gragnani might be harbouring some serious offensive talent. (Photo Vancouver Sun) 193 points in in 256 QMJHL games. 206 points in 283 AHL games. 7 points in seven games during last year's playoffs with the Buffalo Sabres. At 24, Gragnani only has 61 NHL regular season games under his belt, 46 of them this year where he has a respectable 16 points. His defensive game is rather limited and the Marc-Andre Bergeron comparisons are easy, but as a player who has put up tremendous offensive numbers in every league he's competed in, dropping him into a high-octane offensive system like Vancouver's is very very exciting. This is assuming that Vancouver's system is still high-0ctane. The Pahlsson acquisition seems to be a response to the increasing defensive battles in the West as St Louis and Nashville, and to a lesser extent Los Angeles and Phoenix, have surged to the top of the standings in the strength of never allowing goals ever. The Sedins are slumping, out of the Art Ross race and clinging hopefully to the top 10, yet are still the highest scorers in the Western Conference. Of course I could be reading too much into what may have been the best available option to replace Cody Hodgson. Still, with the powerplay dragged down by the Sedin slump and losing that Cody kid, Gragnani could be a welcome boost in the times when he should be exclusively occupying the offensive zone. Gragnani switched briefly to left wing in his first season in the AHL which is another wrinkle that could be explored by the Canucks. Remember when Andrew Alberts was dressing as a forward in late November?
He's quite the unique package and his landing in Vancouver definitely adds more potiental to a blueline that still looks a bit like a work in progress long-term.
Still, as a Junior star with offensive talent, especially on the powerplay, and defencies in his defensive game that may concern Vigneault, there's a good chance he gets traded to Buffalo. CLICK HERE CHECK OUT THE VANCOUVER CANUCKS CLUBHOUSE TODAY ON NWSB!   © Richard Hodges for North West Sports Beat, 2012. | Permalink | No comment | Follow NWSB on Twitter or join US on Facebook for real-time updates OR... | Share This on Twitter | Share NWSportsBeat.com on Facebook Post tags: AHL, Alain Vigneault, Andrews Alberts, Art Ross trophy, Buffalo Sabres, Canucks, Canucks hockey blog, Canucks Player Intro, Canucks Roster, Cody Hodgson, Marc-Andre Gragnani, Maxim Lapierre, Mike Gillis, modo, Nashville Predators, NHL Playoffs, NHL Trade Deadline, PEI Rockets, QMJHL, Sami Pahlsson, St. Louis Blues, The Sedins, Vancouver Canucks Hockey Blog, Western Conference, Zack Kassian
Original Story:
http://www.nwsportsbeat.com/canucks/v...
THE BACKYARD
BEST OF MAXIM
RELATED ARTICLES
Happy Birthday To You… This is a new feature on NWSB and its purpose is to let you know, if you are the girlfriend of the player or just a stalker, what you can get him for his birthday. He's hard-core that Marc-Andre! (Photo - The Canadian Press) We'll have a column up for a specific player the week of his birthday because we all know leaving birthday presents until...
It ain't me, it ain't me, I ain't no senator's son, son With apologies to Northwest Sports Beat colleague Riley Trottier, I'm going to rant. Cody Hodgson wanted out of Vancouver, on this there can be no debate. You can argue over the logic of the decision but the continued non-answers from Hodgson prior to the Sabres vs. Canucks game Saturday night is evidence enough that...
Puck drop was 7:05, NOT 7:10! The Buffalo Sabres broke out to an early lead on Saturday, taking advantage of a pair of point shots to allow Ville Leino to snap home his fifth and sixth of the season only minutes into the hockey game. The Vancouver Canucks couldn't keep the puck out of their own end in the first five minutes on Saturday, resulting in long night on the bench for...
In case you haven't noticed, Max Lapierre is having one heck of a season. Lapierre, who was picked up a year ago at the trade deadline, has brought an element needed to the Canucks. Early on this season, Lapierre filled-in nicely centering the third line while Ryan Kesler was injured and Manny Malhotra was struggling to get his game back. After Kesler got back, Hodgson established...
'SILVER MEDAL'
Is there any doubt that the people of Winnipeg are glad to have professional hockey back? The Jets fans have quickly become some of the best in hockey, and the team is 21-10-4 at home as a result. They are fighting for the 8th playoff spot in the Eastern Conference and are one of the teams that you could easily envision playing spoiler for a top seed. Jets fans don't just want...
It's time for some Sabres trivia.  Which of the following players, over his past 30 games, has scored the fewest points: Ville Leino, Thomas Vanek, Tyler Myers, Derek Roy or Drew Stafford? Give yourself a stick tap if you said Vanek. Buffalo's most talented and highest paid forward is slumping.  The Sabres are on an 11-3-3 surge that has elevated them into the playoff hunt...
Canucks host the playoff hopeful Stars The Vancouver Canucks were overdue for a dud performance and that is just what happened in their 5-3 loss on Saturday night to the Buffalo Sabres. Now the Canucks will try to get back in the win column against another desperate team fighting for a playoff position – the Dallas Stars on Tuesday night. CLICK HERE CHECK OUT THE CANUCKS BLOG...
VANCOUVER, British Columbia (AP) -- Mike Ribeiro scored twice and the surging Dallas Stars took the Pacific Division lead by beating the Vancouver Canucks 5-2 on Tuesday. Ribeiro's 16th goal of the season midway through the third period provided insurance when he tipped a Michael Ryder pass behind goalie Roberto Luongo. In the second period, he gave the Stars a 2-1 lead 2 minutes...
Yaaaawn… Good morning! I'll keep this short and simple. I've compiled a list of all the best…and arguably worst Canucks articles from across the internet. You must read them all or you shall self-destruct. Looking for a recap of that letdown effort versus the Stars last night? Boxscore | Recap Read on. What are the bombastic NWSB staff saying? Well why don't you find...
Ryan Miller of the Buffalo Sabres had a shutout near the end of the second period in the Sabres game against the San Jose Sharks on Thursday. CSN Bay Area announcers Randy Hahn and Drew Remenda then break ANNOUNCER CODE (GASP!) and start talking about jinxing shutouts, a tenet that is also revered in the MLB during no-hitters. What do they segue their talk about jinxes into? An...
Welcome to Center Ice Chat's Top 5, an irregular series featuring the best — and worst — rankings around the league. As the season winds down, we take a look at the top 5 players by position. We present you with the top 5 goalies of the past week: The last week featured a backtrack of starting goalies losing stock from Corey Crawford of the Chicago Blackhawks to...
Quote: It's not shocking that the Vancouver Canucks have a commanding lead atop the Northwest Division, but the fact that the Dallas Stars are contending for the Pacific Division title probably is a surprise. These teams meet three times within the next four weeks, starting with Tuesday night's matchup in Vancouver. The defending Western Conference champion...
NHL News

Delivered to your inbox

You'll also receive Yardbarker's daily Top 10, featuring the best sports stories from around the web. Customize your newsletter to get articles on your favorite sports and teams. And the best part? It's free!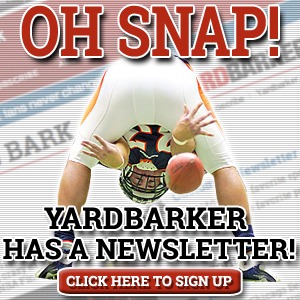 Latest Rumors
Best of Yardbarker

Today's Best Stuff

For Bloggers

Join the Yardbarker Network for more promotion, traffic, and money.

Company Info

Help

What is Yardbarker?

Yardbarker is the largest network of sports blogs and pro athlete blogs on the web. This site is the hub of the Yardbarker Network, where our editors and algorithms curate the best sports content from our network and beyond.