Found September 19, 2013 on Cascadia Sports:
Since the 2011 Stanley Cup Finals run by the Vancouver Canucks there have been many questions asked of the team and the management but the one that remains constant all year when talking with fans is, "Who will produce the secondary scoring for the team?" Leading up to 2010, this question was raised constantly and it was finally being answered as Ryan Kesler stepped into his prime, Cody Hodgson had developed into a player that was showing his potential, the defensive unit was pitching in offensively and the 3rd and 4th line players were coming up with key goals in big moments that made them a very hard team to beat.   Fast forward to today and it is almost as if the clock was turned back 5 years.  The only truly feasible scoring line for the Canucks heading into camp was one that includes Daniel Sedin, Henrik Sedin and Alex Burrows or potentially Zack Kassian.  The third spot on the top line is really not that important in this scenario, as the primary concern is who else on this roster will score.  Kesler, Chris Higgins and David Booth have been injury plagued and have had problems scoring, the defense has had limited success producing since the departure of Sami Salo, the youngsters at camp are unproven and the bottom two lines are not exactly riddled with offensive talents.   In an attempt to use a crystal ball, I think the Canucks will once again find secondary scoring this season and here are my Top 5 candidates that will lead the charge:   Ryan Kesler Kesler is a proud competitor that knows his performance on the ice has been subpar by his standards and he hasn't been the player he wants to be for this organization because of his injuries.  This is a statement year for one of the team's core players and leaders.  John Tortorella has a history of riding players like Kesler through the thick and thin of a game, if they are playing well.  I believe that a healthy Kesler will bring back a second line center that will not only produce but thrive under the new coach's philosophy, resulting in a season that will have Kesler challenging his career totals.   Jason Garrison Garrison was brought to the club for his cannon of a shot from the point.  He was supposed to replace the departed Salo and was supposed to be the quarterback on the power play.  Unfortunately, that never developed under the Alain Vigneault era, however, there is a new power play coach, new systems in place and a new sense of life with the players this preseason.  Garrison has a clean slate to work with and I believe he will be the prominent offensive defensemen this season that the Vancouver fans were expecting after his arrival from Florida.   Alex Edler Edler had a horrible season last year and it's time he got back on the ice to rebuild his reputation as a top notch defensemen.  Every player has a bad season at some stage of their career, Edler just happen to have his under the microscope of the Vancouver media.  His body of work is solid and this season is his chance to rebound from adversity.  The best part of a rebound season is the player gets back to basics, they play simple hockey and let their instincts take over again.  Its fun to watch as a fan and invigorating as a player to show you are worth the praise you have received most of your career.  I am expecting smartly timed big hits, educated plays when moving the puck and an offensive outburst from Edler this season.   Chris Higgins Higgins has been a fan favorite, when he has been on the ice.  He has scored goals, he has played sound defensive hockey, he's been electric when showing off his speed and in some games last season, he was one of the only players to show up every night he was in the lineup.  There is the problem though, he isn't always healthy and in the lineup.  Unlike Kesler and Booth, he hasn't had a major injury to recover from, he's had a run of bad luck with minor nagging injuries, leg infections and other such anomalies that you may never hear about in someone's career, but it seems that Higgins got them all in a two season  span.  With the addition of youth in the lineup, a regular line mate in Jannik Hansen and a coach that seems to promote the style of play Higgins excels in, this season could be his best as a Vancouver Canuck.   Bo Horvat Horvat is my wildcard and after seeing him in the limited exhibition season and at the open scrimmage recently, I think this kid is going to make the team.  I believe that he has the skill sets to be effective early in the season and will help the 3rd line produce.  The test of his abilities will be over the length of the season and if he will wear down as a grueling season legs on.  Horvat is big, strong and fast which will help Higgins and Hansen get more space, be enabled to use their speed and the line will cause turnovers that will create chances.  Hansen has improved every year and if Horvat doesn't produce early, as I anticipate, Hansen would be contributor 5a and is my dark horse to be the surprise secondary scorer.
Original Story:
http://www.cascadiasports.com/2013/09...
THE BACKYARD
BEST OF MAXIM
RELATED ARTICLES
As befits his grinding role some teeth are missing from Brad Richardson's mug. The symbolism isn't lost on anybody wondering how the centre who was in and out of Darryl Sutter's doghouse last season in Los Angeles can add bite in Vancouver. The Canucks signed the unrestricted free agent to a bargain two-year $2.3 million US contract on the first day of free agency to help solve...
Hi Everybody! A refresher for those who know and an introduction for those who don't: I used to be the producer of TEAM 1040's morning show and I used to do a segment called the Top 6. People love lists and the debates they inspire. Without blowing too much smoke up my own ass, the Top 6 was a pretty popular segment. When Rob asked if I'd like to write a top 6 for RobTheHockeyGuy...
After busting up his left ankle last March Vancouver Canucks winger David Booth has just one thing in mind this fall: be ready when he and his mates open the NHL's regular season Oct. 3 in San Jose. "I guess that's the biggest goal for me" Booth said Wednesday after participating in his first practice of training camp six days behind the rest of the group. "I'm...
Vancouver Canucks defenceman Chris Tanev will never be confused with the Incredible Hulk or Montreal Canadiens wide-bodied defenceman Douglas Murray who is hockey's version of the fictional behemoth. Tanev is tall and slim but at least he is no longer a total string bean. When he signed with the Canucks as an NCAA free agent three years ago Tanev was a featherweight "170 pounds...
There are things hockey players never say. "This Stanley Cup ring hurts my finger." "It's nice up here in the press box with the reporters." "I hate all this free stuff." "Do these hockey pants make my butt look big?" And of course: "Darn I wish the coach played me less." No one in the National Hockey League has ever complained about too much ice time...
from Jason Botchford of the Vancouver Province, Taking a team that isn't close to grasping its new system and putting it in front of Roberto Luongo for his first preseason game sure makes for some awkward hockey.  Actually, awkward is being a little too kind to the Vancouver Canucks for their 4-1 loss to the Edmonton Oilers on Wednesday. They spent the first 12 minutes...
Canucks News

Delivered to your inbox

You'll also receive Yardbarker's daily Top 10, featuring the best sports stories from around the web. Customize your newsletter to get articles on your favorite sports and teams. And the best part? It's free!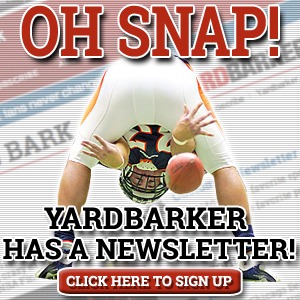 Latest Rumors
Best of Yardbarker

Today's Best Stuff

For Bloggers

Join the Yardbarker Network for more promotion, traffic, and money.

Company Info

Help

What is Yardbarker?

Yardbarker is the largest network of sports blogs and pro athlete blogs on the web. This site is the hub of the Yardbarker Network, where our editors and algorithms curate the best sports content from our network and beyond.