Found March 21, 2012 on Blue Seat Blogs:
On the heels of an emotional win over the Devils, the Rangers went out and defeated the Detroit Red Wings on the back of birthday boy Ryan Callahan. What started off as a slow-paced game, gained steam as the night wore on and ended in fireworks when Cally ripped a shot from the high slot to secure a 2-1 victory in overtime. On to the notes from the game… First Period The game started off pretty quietly as both teams were trying to figure each other out tactically. This was the first time I've had an extended look at the Red Wings in quiet sometime and clearly there were some major strategic differences between these two teams. Detroit was more conservative without the puck and stationed their high forward close to their defensemen. I guess you could call it a 2-3 trap or a passive 2-1-2. However, with the puck, the Red Wings have always been known as a great cycling/overload team and proved it about 4 minutes into the first. Detroit was cycling the puck in deep in our end zone. Zetterberg was unmarked and skated off the wall right into the high slot to beat Lundqvist through the five hole. NBC Sports goons said it was a bad goal by Hank, but I thought he was screened on the play as he reacted a little late. What do you think Mr. Goalie Expert (Justin)? Following the goal, I thought the Rangers secondary lines had a few good scoring opportunities, but couldn't manufacture anything dangerous on net thanks to wide whiffs by Dubinsky and Boyle. But at least the effort was there. Later in the first, Hank redeemed himself with a brilliant save off an awful turnover from MDZ behind his own blueline. Side note- Del Zotto struggled a little bit tonight playing the right side with Staal on his left. Playing MDZ, a lefty, on the right side forced him to pass off his backhand, which clearly isn't a strength. How Torts decides to use these two going forward is something worth monitoring. Later in the first, the Rangers were afforded a power play and Richards went coast to coast to knot it at one.  Detroit gave Richie such a huge lane down the middle of the ice, he only had to beat one defensive player to get to Conklin's doorstep. If only it were that easy every night… Overall, the Rangers were able to outshoot the Red Wings in the first, but the Wings had more quality shots due to their supreme passing ability and their aggressive overload. Second Period In the second, the period again started off with a lot of neutral zone clogging by the Red Wings, but opened up later in the period. Midway through the period Mats Zuccarello, who played great again tonight, setup Boyle beautifully in the slot with an excellent forward saucer pass that was very Detroit-like. Boyle actually got a quick shot on net (yay!), but Conklin was there to make the save. The Rangers continued to pepper Conklin throughout the second period as Torts amped up his offense by allowing his defensemen to join in on four-man rushes. The Rangers generated some great chances on another power play, but couldn't find twine. If the power play continues to look as good as it has of late, more goals will come. Third Period/OT In the third period, both teams traded transition rushes and had extended looks in each other's endzones. The Dubi-Stepan-Cally line really stepped up this period and routinely outworked the Red Wings down low. We also saw some very good backchecking by both teams' forwards, which I believe is a huge reason why these two teams are where they are in their respective conferences. The Rangers almost lost the game on a late 2 on 1, but Staal brilliantly slide down to the ice to take away Detroit's passing lane and forcing the shooter wide. Finally in OT our usual suspects came through. Hank made the saves he had to make and MDZ setup Callahan on the rush, who provided the game winning goal. Overall it was a great finish to a hard fought game.
Original Story:
http://www.blueseatblogs.com/2012/03/...
THE BACKYARD
BEST OF MAXIM
RELATED ARTICLES
With Dan Girardi tiring in the last few games (not a criticism) and Marc Staal clearly still struggling for consistency following his return, has Ryan McDonagh emerged as the Rangers best defenseman? It's a valid question and perhaps just another way of heaping praise on McDonagh for the way he has developed since his call up midway in to last year. A lot of people don't pay...
Two little tidbits hit the news waves this morning. First, as said here on Monday, Rangers prospects Andrew Yogan and Peter Ceresnak have officially joined the Connecticut Whale. Both are on ATO's, which means that Ceresnak can return to the OHL next year. Yogan is playing for his Rangers career, and will need to earn an entry level contract. The other news is that Dan Girardi...
This past Tuesday, HBO did a feature on New York Rangers goaltender Henrik Lundqvist for their Real Sports show. Bryant Gumbel followed Hank around Manhattan, giving us an inside look at his off-ice life mixed with some great discussion about the current season.  I know many of you mentioned on Twitter that you did not know about this, or don't get HBO all together, so here...
Rangers chapter of the Professional Hockey Writers' Association announces Dan Girardi is Rangers' nominee for Bill Masterton Trophy.— Andrew Gross (@AGrossRecord) March 21, 2012 Per Wikipedia, the Bill Masterton Memorial Trophy is awarded annually to the National Hockey League player who best exemplifies the qualities of perseverance, sportsmanship, and dedication to...
With a playoff spot clinched, we are running a new series about turning points in the season. These posts will focus on moves the Rangers made that effectively turned their season from mediocre to great. On November 24, the Rangers had lost two games in a row to the Montreal Canadiens and Florida Panthers. It wasn't so much that the Rangers lost the games, it was that they were...
HARTFORD, March 21, 2012: Connecticut Whale general manager Jim Schoenfeld announced today that the team has signed forward Andrew Yogan and defenseman Peter Ceresnak to Amateur Tryout (ATO) agreements. Both Yogan, a fourth-round (100th overall) draft pick of the parent New York Rangers in 2010, and Ceresnak, who was selected in the sixth round (172nd overall) of the 2011 draft...
TONIGHT'S GAME: The Rangers will face-off against the Buffalo Sabres tonight at Madison Square Garden (7:00 p.m.; TV: MSG 2; Radio: AM1600 WWRL), to close out their seven-game homestand. The Blueshirts currently sit atop the Eastern Conference standings, and rank second in the league overall, with a record of 46-20-7 (99 pts). The Rangers enter [...]
Due to having a men's league hockey game last night, I was not able to catch any of the New York Rangers 2-1 overtime win over the Detroit Red Wings last night at Madison Square Garden.. Based on the highlights I did manage to see, I know that Rangers' forward Brad Richards scored a nice first period goal and that team captain Ryan Callahan scored his 27th goal of the season...
The New York Rangers got perhaps the spark they needed to break free from their recent struggles. Their next opponent is still looking for one. The Rangers will try to build on a contentious victory Wednesday night when they face the injury-plagued Detroit Red Wings, who are slumping but will look to continue their domination in the series. New York (45-20-7) had dropped five of...
DET (44-25-4) are at the Big Apple tonight to play the Eastern Conference leading NYR (45-20-7).  NYR goalie Henrik Lundqvist is posting Vezina numbers this season, 33-15-5,  1.89 GAA (3),  0.934 Save% (2), #2 inWins, and #1 in Shutouts with 8.  No worries though, the Wings will counter with goalie Ty Conklin or Jordan Pearce (in what would be his NHL debut). In their past...
Paul here filling in for George who hopefully will return sometime today. Doug Janik has been returned to Grand Rapids and the Wings have an off day today. I have a question… There is talk of Jimmy Howard wanting to start on Saturday against Carolina.  The Wings play Columbus at home on Monday then travel to Columbus on Wednesday. Are the Wings better off holding him back...
NHL News

Delivered to your inbox

You'll also receive Yardbarker's daily Top 10, featuring the best sports stories from around the web. Customize your newsletter to get articles on your favorite sports and teams. And the best part? It's free!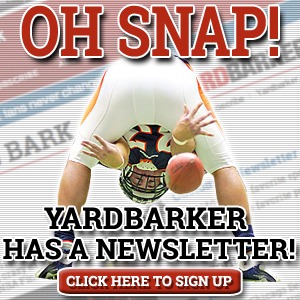 Latest Rumors
Best of Yardbarker

Today's Best Stuff

For Bloggers

Join the Yardbarker Network for more promotion, traffic, and money.

Company Info

Help

What is Yardbarker?

Yardbarker is the largest network of sports blogs and pro athlete blogs on the web. This site is the hub of the Yardbarker Network, where our editors and algorithms curate the best sports content from our network and beyond.