Riding a seven game losing streak and playing the second game of a back-to-back on the road is usually a recipe for disaster but Carolina came out strong tonight and (despite a couple of bad bounces early on) took it to the Oilers for most of this game. The Canes really needed a win like this to raise the spirits of both the team and the fans. Edmonton played an awful game but Carolina hasn't exactly been playing well this year either so it was good to see them put together this kind of performance. The 5-3 doesn't show how dominant Carolina was tonight but the scoring chances for tonight do. Carolina held the Oilers to only 6 even strength scoring chances tonight. Considering that the Canes had 8 even strength chances in the first period alone, this should show how one-sided things were. The score could have been a lot more lopsided had it not been for Devan Dubynk but I don't think the score matters for Carolina at this point as long as they win. Scoring chances & more after the jump Carolina Hurricanes at Edmonton Oilers 12/7/11 Scoring Chances Period Totals EV PP 5v3 PP SH 5v3 SH 1 9 3 8 3 1 0 0 0 0 0 0 0 2 8 5 5 1 1 0 0 0 2 4 0 0 3 7 2 5 2 1 0 1 0 0 0 0 0 Totals 24 10 18 6 3 0 1 0 2 4 0 0 Carolina's chances are in red, Edmonton's are in orange This is the first time since the Toronto game in mid-November that the Canes were able to out-chance an opponent convincingly. It was definitely a nice change of pace when you look at their numbers for the past few games. I think what was so great about tonight's game was that everything was clicking. The Canes had a good start, fell into a hole with a bad bounce but stuck to their game plan and out-chanced the Oilers by a mile in the first period. Eventually, luck came their way with Skinner's goal and then the rout was on. Oh, and we scored twice on the powerplay. Getting only three chances on six attempts isn't good but I will take the two goals for now. They also created two shorthanded chances and scored their sixth shorty of the year. The only problem is this was one of the weaker games the PK played in recent memory. The only goal they gave up was Ben Eager's but I'm still not 100% sure if that was a powerplay since he scored right as time expired. More credit should go to Dubnyk when you consider that three of the Carolina goals came either on the powerplay or shorthanded. He stopped 16 out of 18 chances, which is really good and kept his team from getting blown out of the water. Individual Scoring Chances # Player EV PP SH 4 Jamie McBain
18:01 4 4 2:37
1
0 2:19 0 0 5 Bryan Allen
13:28 7 0 0:00
0
0 3:25 2 1 6 Tim Gleason
17:21 4 5 2:20
0
0 3:11 2 1 12 Eric Staal
14:24 4 2 4:03
3
0 0:43 0 1 13 Anthony Stewart 5:23 2 0 0:00
0
0 0:00 0 0 14 Andreas Nodl
10:35 4 1 0:00
0
0 0:00 0 0 15 Tuomo Ruutu
11:06 7 0 2:45
1
0 0:00 0 0 16 Brandon Sutter
12:51 6 3 0:00
0
0 3:45 1 2 19 Jiri Tlusty
12:50 4 2 0:00
0
0 0:00 0 0 23 Alexei Ponikarovsky
6:17 3 2 2:18
1
0 0:00 0 0 27 Derek Joslin
12:06 7 1 0:00
0
0 3:41 0 2 28 Justin Faulk
13:34 7 1 3:46
2
0 3:16 0 3 30 Cam Ward
43:37 18 6 6:23
3
0 8:00 2 4 36 Jussi Jokinen
11:07 6 0 2:20
0
0 4:07 1 1 37 Tim Brent
6:02 2 2 4:07
2
0 0:53 0 0 39 Patrick Dwyer
12:57 3 2 0:00
0
0 3:54 1 3 51 Tomas Kaberle
12:48 7 1 4:03
3
0 0:08 0 1 53 Jeff Skinner
12:23 7 1 3:17
2
0 0:00 0 0 59 Chad LaRose
12:52 6 2 0:19
0
0 2:38 1 1 Best EV Forward: Tuomo Ruutu +7
Worst EV Forward: Tim Brent EVEN
Best EV Defenseman: Bryan Allen +7
Worst EV Defenseman: Tim Gleason -1 How about the performance by Ruutu, Jokinen & Skinner? They were straight up dominant tonight and did it while starting no more than two of their draws in the offensive zone. If I had to name the best player for Carolina tonight it would be between one of these three. 11 different players registered points tonight but these three were the main ones who were driving the play and creating chances. The new third line of LaRose, Sutter & Nodl had a great performance too and as they were able to get a lot of chances on net and Nodl looked like much more of a factor this time. Staal, Dwyer & Tlusty also played well with the first two hooking up for a nice goal in the second period. I will say that this was one of Staal's weaker offensive games but he did manage to outchance his opponents at least. The fourth line had the wekest night of all of them and even they broke even with scoring chances. I'm not sure if this is the right spot for Ponikarovsky, though. Joslin and Allen were not on ice for a single Oilers chance but if you look at the face-off report I linked to earlier, they were slightly protected compared to the rest of the defense corps. The head-to-head report shows that they saw a lot of Andy Sutton, Ales Hemsky and Shawn Horcoff and two out of those three are legitamte tough matchups, so this was a great showing from them. Faulk and Kaberle were outstanding (yes, I'm using outstanding to describe Kaberle) as they saw a ton of the Oilers top line and only allowed one chance against. Also, we're finally start to see more of Kaberle's offensive upside which was absent for so much of the season. Gleason and McBain played a good game despite what the what the numbers say and they also got the toughest assignments in terms of zone starts. Overall, good game by....everyone. Been awhile since I last said that. Head-to-head at 5-on-5 This only reinforces just how great Skinner, Jokinen & Ruutu played tonight. They beat out all of their matchups and destroyed the second line of the Oilers. None of the Oilers players had much success at all with the exception of the fourth line which is shocking to say the least. Our new third line also matched up well against the Oilers' third line of Belanger, Paajarvi and Jones as they managed outplay them badly. None of the Oilers lines could do much against any of our defense pairings except for McBain and Gleason and even they didn't get beaten too badly. Let's take a moment to notice how bad this Oilers defense played. Wow. The worst part about Andy Sutton getting ejected was that him and Theo Peckham managed to win three of their matchups. Something that none of their other defense pairings could do. Gilbert, Smid and Whitney (i.e. arguably the Oil's best defensemen) won none of their matchups. I'm not saying this to rub salt in the wounds but to show that while Carolina played great a great game, the Oilers completely layed an egg.
Original Story:
http://www.shutdownline.com/hurricane...
PLAYERS:
Ben Eager
,
Jamie McBain
,
Bryan Allen
,
Tim Gleason
,
Eric Staal
,
Anthony Stewart
,
Andreas Nodl
,
Tuomo Ruutu
,
Brandon Sutter
,
Jiri Tlusty
,
Alexei Ponikarovsky
,
Derek Joslin
,
Justin Faulk
,
Cam Ward
,
Jussi Jokinen
,
Tim Brent
,
Tomas Kaberle
,
Jeff Skinner
,
Chad LaRose
,
Andy Sutton
,
Ales Hemsky
,
Shawn Horcoff
,
Theo Peckham
TEAMS:
Carolina Hurricanes
,
Edmonton Oilers
MORE FROM YARDBARKER
NHL News

Delivered to your inbox

You'll also receive Yardbarker's daily Top 10, featuring the best sports stories from around the web. Customize your newsletter to get articles on your favorite sports and teams. And the best part? It's free!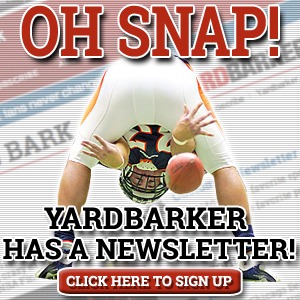 Latest Rumors
Best of Yardbarker

Today's Best Stuff

For Bloggers

Join the Yardbarker Network for more promotion, traffic, and money.

Company Info

Help

What is Yardbarker?

Yardbarker is the largest network of sports blogs and pro athlete blogs on the web. This site is the hub of the Yardbarker Network, where our editors and algorithms curate the best sports content from our network and beyond.