Found April 01, 2012 on Shutdown Line:
PLAYERS:
Jeff Skinner
,
Martin Brodeur
,
Brian Boucher
,
Jamie McBain
,
Bryan Allen
,
Tim Gleason
,
Eric Staal
,
Anthony Stewart
,
Tuomo Ruutu
,
Brandon Sutter
,
Jiri Tlusty
,
Drayson Bowman
,
Joni Pitkanen
,
Derek Joslin
,
Justin Faulk
,
Jussi Jokinen
,
Tim Brent
,
Jay Harrison
,
Chad LaRose
,
Zach Parise
,
Petr Sykora
,
Patrik Elias
,
Bryce Salvador
,
Marek Zidlicky
,
Andy Greene
,
Peter Harrold
,
Alexei Ponikarovsky
,
Adam Henrique
,
Jacob Josefson
,
Ilya Kovalchuk
,
Steve Bernier
,
Travis Zajac
,
Ryan Carter
,
David Clarkson
,
Anton Volchenkov
,
Mark Fayne
TEAMS:
Carolina Hurricanes
,
New Jersey Devils
This may have been one of the worst performances that the Hurricanes have turned in this season. Not only were they shutout 5-0 by the Devils, but they looked just flat-out pathetic in doing so. Carolina had only six even strength scoring chances through two periods of play and that was with them playing from behind. The 'Canes getting outchanced every game is something that I am used to, but this is the first time under Kirk Muller where the Canes looked like they weren't even trying. They took careless penalties, were lazy in all three zones and committed some horrendous turnovers that led to chances and goals for the Devils.
I know that they were "officially" eliminated from the playoffs and played a game last night, but this was a completely lazy and uninspired performance from the Hurricanes and I know that Muller will not stand for this. It's a little hard to get too upset about this kind of performance because all losing does is effect the team's draft position but if the Canes are going to lose out, I'd rather it be from lack of talent than lack of effort like we saw tonight. A high draft pick isn't going to magically fix a team and it certainly won't fix the Hurricanes if they put together another performance like tonight.
There's three games left in the season and I hope the Hurricanes can put together some stronger performances than this. Win or lose.
Scoring chances & more after the jump
Period
Totals
EV
PP
5v3 PP
SH
5v3 SH
1
5 8 3 3 2 0 0 0 0 5 0 0
2
3 7 3 4 0 1 0 0 0 2 0 0
3
4 1 2 1 2 0 0 0 0 0 0 0
Totals
12
16
8
8
4
1
0
0
0
7
0
0
Carolina's chances are in red, New Jersey's are in white
The even strength numbers do not look that bad but the Hurricanes were climbing an uphill battle for two periods and could only muster seven scoring chances and five at even strength. The Devils bottled Carolina up in the neutral zone for the last 30 minutes and prevented the Hurricanes from creating any sort of offense. This game was out of reach by the third period but Carolina could only create two even strength scoring chances and had only nine total shots on goal during that frame, which speaks volumes about the amount of "effort" they put into this game. You can blame this on fatigue because the team played last night, but I've seen the Canes play better on back-to-back road games than they did tonight.
Fatigue might actually be a plausible reason for the Hurricanes lackluster performance because they actually got off to a decent start and had a 4-1 advantage in scoring chances through the first five minutes of the game. Penalties are what got them in a hole and the two consecutive minor penalties that Jeff Skinner took at the end of the period didn't help matters. Carolina was absolutely torched on the penalty kill and it played a huge factor in the Devils taking a 2-0 lead. Carolina had a few good chances to start the game but they either went wide or where shut down by Martin Brodeur. Things MAY have been different if they converted on one of those chances, but that still does not excuse them from this performance. It also didn't help that most of the Devils chances were going in and while I can't put too much blame on goaltender Brian Boucher, he wasn't at his best tonight. The guys in front of him, however, were much worse.
Individual Scoring Chances
#
Player
EV
PP
SH
4
Jamie McBain
17:06
3
2
2:22
0
0
0:00
0
0
5
Bryan Allen
14:47
3
2
0:18
1
0
4:13
0
5
6
Tim Gleason
14:46
3
2
0:10
1
0
4:13
0
5
12
Eric Staal
12:54
4
1
4:11
1
0
1:00
0
3
13
Anthony Stewart
8:36
0
1
0:00
0
0
0:00
0
0
15
Tuomo Ruutu
10:20
2
5
3:43
2
1
0:00
0
0
16
Brandon Sutter
14:56
2
1
0:49
0
0
2:35
0
2
19
Jiri Tlusty
11:47
3
1
3:14
1
0
1:39
0
4
21
Drayson Bowman
12:42
4
1
1:03
1
0
1:59
0
1
25
Joni Pitkanen
16:05
2
2
3:51
2
0
2:06
0
2
27
Derek Joslin
8:36
0
1
0:00
0
0
0:00
0
0
28
Justin Faulk
13:27
2
4
5:28
3
1
2:13
0
2
33
Brian Boucher
45:27
8
8
8:00
4
1
6:26
0
7
36
Jussi Jokinen
9:18
1
5
3:00
3
1
1:22
0
2
37
Tim Brent
8:36
1
1
3:51
1
1
0:51
0
2
39
Patrick Dwyer
12:48
2
1
0:08
0
0
1:57
0
0
44
Jay Harrison
14:57
3
4
0:00
0
0
0:07
0
0
53
Jeff Skinner
12:53
2
5
3:41
3
1
1:29
0
0
59
Chad LaRose
13:23
3
1
4:11
1
0
0:00
0
0
Best EV Forwards: Eric Staal & Drayson Bowman +3
Worst EV Forward: Jussi Jokinen -4
Best EV Defensemen: Tim Gleason & Bryan Allen +1
Worst EV Defenseman: Justin Faulk -3
No player had a good night offensively at even strength and the only line that seemed to have anything going was Staal's line with Tlusty & LaRose. LaRose produced two scoring chances and Drayson Bowman was also moved up to this line. He definitely earned the promotion as he was was one of Carolina's better even strength forwards and seemed to be one of the few players who could establish any kind of forecheck. Jiri Tlusty also had a relatively good night and produced more chances than he gave up. Unfortunately, the only Devils scoring chance he was on-ice for was Zach Parise's goal and the FS-Carolinas cameras got a great picture of him gliding back into his own zone while Tim Gleason & Bryan Allen were stuck defending a 3-on-1. Images like that stick with you.
Once again, the Hurricanes ran into the problem of having one of their top-six lines slacking as the Ruutu-Jokinen-Skinner night had a very bad line at even strength and the latter two were especially bad. Jokinen made a few careless turnovers and lost a face-off which directly led to Petr Sykora's goal. Muller's been holding players accountable for their mistakes and he clearly noticed that Jokinen didn't have it tonight, which was probably why his ice-time was reduced. Skinner was great on the powerplay and created five Carolina scoring chances but the two consecutive minor penalties he took at the end of the first period really hurt the team. The Devils scored on both of their powerplays (the Kovalchuk goal might as well been a PPG) and put the 'Canes in a 2-0 hole which they could not get out of. The penalties he took were also very unnecessary and showed his immaturity. He's only 19, so this kind of stuff is expected from time to time but it showed in a really bad way tonight.
I want to say that Brandon Sutter played well defensively, which he did, but an odd thing is that he wasn't matched up with Kovalchuk & Parise's line much. Sutter's line played about 3 minutes against Kovalchuk and less than that against Parise. Instead, they were matched up with Patrik Elias' line, which is understandable since they were New Jersey's best line at even strength tonight but that line seemed to excel whenever they weren't matched up against Sutter and company. Over half of that line's chances came against the Jokinen line including the goal they scored off a face-off. Maybe keeping that line out there for a d-zone draw wasn't such a good idea.
There's a reason why the notes say that Allen & Gleason were the team's best EVEN STRENGTH forwards because they were destroyed on the penalty kill. The Canes gave up seven scoring chances with the man down and these two were on ice for five of them. They were relied heavily on the PK, but they also got burned badly. In their defense, not many players killed penalties well tonight. Staal, Tlusty, Pitkanen, Brent, Jokinen and Faulk all gave up at least one scoring chance per every minute they spent on the PK. Dwyer, Bowman and, strangely enough, Skinner were the only ones who were preventing chances on the killl.
Yet another rough game for Justin Faulk as he was exposed by the Elias line more than a few times. He wasn't at fault for eitehr goals he was on ice for but he didn't have a great night in his own end when it came to even strength play. He and Jay Harrison were on ice for at least half of the Devils even strength chances. He also played fewer minutes at even strength than any other defensemen. On the flipside, McBain played the most minutes.
Head-to-Head at five-on-five
Score effects are a bit deceiving here because I would be hard pressed to say any of these players "won" their matchups at even strength. Staal's line produced a couple chances when the Hurricanes were already trailing and most of them were against Henrique's line.


The only line that one their matchups convincingly was the Elias-Zubrus-Sykora line and they all played around 9-11 minutes at even strength. Shows how much Faulk & Harrison struggled tonight.


Bryce Salvador played very well tonight.
Devils Scoring Chances
#
Player
EV
PP
SH
2
Marek Zidlicky
14:53
1
2
6:19
7
0
0:23
0
0
6
Andy Greene
16:02
3
4
0:07
0
0
2:39
1
1
8
Dainus Zubrus
10:28
4
2
2:00
1
0
2:47
0
2
9
Zach Parise
11:12
2
2
3:27
5
0
1:57
0
0
10
Peter Harrold
14:11
3
1
0:00
0
0
0:00
0
0
12
Alexei Ponikarovsky
12:37
1
3
0:00
0
0
0:36
0
1
14
Adam Henrique
11:30
1
3
2:06
2
0
2:55
0
1
15
Petr Sykora
9:52
4
3
2:52
2
0
0:00
0
0
16
Jacob Josefson
11:45
1
1
0:00
0
0
1:43
0
0
17
Ilya Kovalchuk
12:37
2
5
6:19
7
0
1:24
1
1
18
Steve Bernier
12:46
1
0
0:07
0
0
0:00
0
0
19
Travis Zajac
12:21
2
3
1:44
1
0
2:16
1
2
20
Ryan Carter
11:26
1
0
0:00
0
0
0:39
0
0
23
David Clarkson
11:02
1
2
2:42
5
0
0:00
0
0
24
Bryce Salvador
16:44
3
3
0:00
0
0
5:21
0
3
26
Patrik Elias
9:18
4
1
4:20
5
0
1:43
0
1
28
Anton Volchenkov
13:07
3
0
0:00
0
0
5:06
0
3
29
Mark Fayne
16:02
3
5
0:07
0
0
2:31
1
1
30
Martin Brodeur
45:31
8
8
6:26
7
0
8:00
1
4
Best EV Forward: Patrik Elias +3
Worst EV Forward: Ilya Kovalchuk -3
Best EV Defenseman: Anton Volchenkov +3
Worst EV Defenseman: Mark Fayne -2
Team
Period
Time
Note
CAR
Opponent
CAR 1 19:13 Bowman 4 16 21 25 33 39 8 15 24 26 29 30 5v5 NJD 1 18:18 Henrique 15 28 33 36 44 53 2 12 14 23 24 30 5v5 CAR 1 16:50 LaRose 5 6 12 19 33 59
Original Story:
http://www.shutdownline.com/hurricane...
THE BACKYARD
BEST OF MAXIM
RELATED ARTICLES
RALEIGH, N.C. --- The celebration outside of newly-named PNC Arena prior to Friday night's Carolina Hurricanes hockey game had a Stanley Cup fever feel to it. The folks here in hoops heaven are actually familiar with the NHL's playoffs, as they rejoiced in winning a Cup in 2006 and played for one in 2002. The Canes advanced to the Eastern Conference finals in 2009, as well...
Though they missed them last season, the playoffs are nothing new to the Devils. They are back and looking to make a run at the Stanley Cup. While they've been a staple in the playoffs since the new millennium started, the Devils have had relatively short appearances in recent postseasons.Since New Jersey's last Stanley Cup title, 2003, they've made it out of the first round...
The Hurricanes may have finished March with a "winning" record of 7-6-3 but they did not play their best hockey this month at all. Out of the 16 games they played, the Canes outchanced their opponent at even strength a grand total of four times and controlled roughly 45.6% of the scoring chances during five-on-five play. A few awful games are bound to happen with those...
from Luke DeCock of the News & Observer, There are still four games left, but the season ended Friday night. There was disappointment, but there was nothing abrupt about it. The players have seen this coming for months. The numbers finally caught up with reality, that's all. Most of this group will be together next year, from the coaches on down. Tim Gleason and Tuomo Ruutu...
Finding a top-line winger for Eric Staal is likely going to be one of the first priorities for GM Jim Rutherford this off-season. One of the problems throughout the season has been the lack of top-six wingers and it's definitely had an effect on the Hurricanes' positioning in the standings right now. Staal has recently found chemistry with Jiri Tlusty and a combination of...
RALEIGH, N.C. (AP) -- Ilya Kovalchuk had a goal and two assists, Martin Brodeur made 22 saves in his third shutout of the season and the New Jersey Devils clinched a playoff berth by routing the Carolina Hurricanes 5-0 on Saturday night. Petr Sykora added a goal and an assist for the Devils. David Clarkson, Ryan Carter and Zach Parise also scored, and Patrik Elias had two assists...
Last night the New Jersey Devils shutout the Carolina Hurricanes 5-0 in Carolina and punched their ticket to the 2011-12 Stanley Cup Playoffs. Here are some notes on last night's game, among other things. - First off, congratulations to Devils Head Coach Pete DeBoer on getting his team into the playoffs for the first time in his young NHL coaching career. He's a very good...
Ilya Kovalchuk had a goal and two assists, Martin Brodeur made 22 saves in his third shutout of the season and the New Jersey Devils clinched a playoff berth by routing the Carolina Hurricanes 5-0 on Saturday night. Petr Sykora added a goal and an assist for the Devils. David Clarkson, Ryan Carter and Zach Parise also scored, and Patrik Elias had two assists. New Jersey scored...
Ilya Kovalchuk had a goal and two assists and New Jersey clinched a playoff berth by steamrolling host Carolina 5-0 on Saturday.Martin Brodeur earned his NHL-record 119th career shutout by turning aside 22 shots against the lifeless Hurricanes, who were eliminated from postseason contention Friday night.Petr Sykora added a goal and an assist and David Clarkson, Ryan Carter...
This was essentially THE GAME for the New Jersey Devils. After an impressive display of offense in a 6-4 win over Tampa Bay on Thursday, the Devils hoped they could clinch with a Washington loss in Boston. Unfortunately that did not happen but the positive was that they needed just a point against the Carolina Hurricanes tonight to officially clinch. In other words, a win and they're...
Last night the New Jersey Devils beat the Tampa Bay Lightning at the Prudential Center in what was an evenly played game until the third period. Here are some notes on the game, and some other Devils topics. - With last night's win, the Devils all but officially guaranteed a playoff position for themselves this season. The Capitals won, so they didn't clinch, but the Capitals...
Match-up - Hurricanes (31-31-16 - 78 points) @ Devils (43-28-6 - 92 points) Road/Home records - 12-18-9 -------------- 22-13-4 TV - FS-Carolinas (HD), MSG Plus (HD) Puck drop - 7:00 PM ET Season series - Devils lead 2-1 Last 10: Carolina 5-4-1 / New Jersey 5-4-1 Projected starting goalies - Brian Boucher (CAR) vs. Martin Brodeur (NJ) Battle of the stats Goals for...
NHL News

Delivered to your inbox

You'll also receive Yardbarker's daily Top 10, featuring the best sports stories from around the web. Customize your newsletter to get articles on your favorite sports and teams. And the best part? It's free!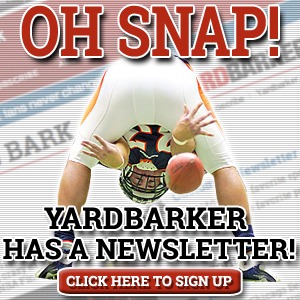 Latest Rumors
The Backyard

Today's Best Stuff

For Bloggers

Join the Yardbarker Network for more promotion, traffic, and money.

Company Info

Help

What is Yardbarker?

Yardbarker is the largest network of sports blogs and pro athlete blogs on the web. This site is the hub of the Yardbarker Network, where our editors and algorithms curate the best sports content from our network and beyond.