Found January 04, 2012 on Shutdown Line:
PLAYERS:
Evgeni Nabokov
,
Chad LaRose
,
John Tavares
,
Kyle Okposo
,
Jamie McBain
,
Bryan Allen
,
Tim Gleason
,
Jaroslav Spacek
,
Eric Staal
,
Anthony Stewart
,
Andreas Nodl
,
Tuomo Ruutu
,
Brandon Sutter
,
Jiri Tlusty
,
Drayson Bowman
,
Zac Dalpe
,
Alexei Ponikarovsky
,
Justin Faulk
,
Cam Ward
,
Jussi Jokinen
,
Tim Brent
,
Jay Harrison
,
Jack Capuano
,
Mark Streit
,
Steve Staios
TEAMS:
Carolina Hurricanes
,
New York Islanders
One of the biggest problem with the Hurricanes under Kirk Muller (among many other things) is that most of their wins have come by only one goal or have been decided in overtime. This is a bad thing because one-goal and overtime wins are more of an indication of luck than team skill and will likely not sustain in the long-run. Three of Carolina's last four wins have been by one goal and two of them were in overtime and they had a chance to win another last night against the Islanders but instead, they lost 4-3 in the shootout. The Canes have been poor in OT and the shootout this year (3-7), so you could also make the argument that they haven't been getting lucky in close games which is completely accurate but that's just how luck works. It would be a lot better if the Canes could learn to finish their opponents early in games so they won't be decided by luck-driven factors like overtime and the shootout. They had a couple opportunities to put away the Islanders last night but, just as we've seen many times this year, they let them hang around and tie the game multiple times and took home only one out of two points in the standings.
Aside from that, Carolina had a strong overall effort against the Isles but penalties and defensive lapses got them into trouble and that is why they are now sitting alone at the bottom of the Eastern Conference.
More details after the jump
Carolina Hurricanes vs. New York Islanders 12/3/12 Scoring Chances
Period
Totals
EV
PP
5v3 PP
SH
5v3 SH
1
6 5 4 3 2 0 0 0 0 2 0 0
2
5 2 5 2 0 0 0 0 0 0 0 0
3
5 6 5 5 0 0 0 0 0 1 0 0
4
2 3 2 3 0 0 0 0 0 0 0 0
Totals
18
16
16
13
2
0
0
0
0
3
0
0
Carolina's chances are in red, New York's are in white
The second period was the opportunity for the Canes to pull away as they got the benefit of a fluky goal courtesy of Islanders goalie Evgeni Nabokov turning the puck over behind the net. The Islanders went nearly 10 minutes without a shot on goal in the second period and the Canes didn't exactly do a great job at taking advantage of that. When a team goes through a dry spell like that, you want to go no mercy on them, forecheck them hard and get pucks on net in any way but the Canes didn't do that. Instead, they just sent the puck in deep and had a few chances but not nearly as many as they could have. An early third period penatly and one bad rebound off the glass later, the Isles managed to tie the game up and Carolina is right back where they started. The same instance happened towards the end of the third after Chad LaRose made it a 3-2 game with less than five minutes left and the Hurricanes could not put things away despite that. The Islanders might be one of the worst teams in the league but they possess one of the game's emerging stars in John Tavares and he started an amazing shift with less than two minutes left that ended with him passing puck to Kyle Okposo at the side of the net to tie the game for New York. Kirk Muller is dead on when he says that this team lacks "killer instinct" because they didn't show any signs of it tonight and it's the reason why they didn't earn the two points. Sure, things could have gone differently in the shootout but the game would not have even needed overtime if Carolina did a better job at protecting their lead. This was a good effort that was wasted.
Individual Scoring Chances
#
Player
EV
PP
SH
4
Jamie McBain
22:00
3
4
0:36
1
0
1:09
0
2
5
Bryan Allen
19:20
5
5
0:00
0
0
0:15
0
1
6
Tim Gleason
24:27
5
5
0:00
0
0
0:47
0
1
8
Jaroslav Spacek
18:47
5
4
1:24
1
0
0:00
0
0
12
Eric Staal
22:17
5
3
1:24
1
0
1:24
0
3
13
Anthony Stewart
6:22
1
0
0:00
0
0
0:00
0
0
14
Andreas Nodl
15:27
3
2
0:00
0
0
0:00
0
0
15
Tuomo Ruutu
14:09
4
1
0:36
1
0
0:00
0
0
16
Brandon Sutter
15:13
7
6
0:00
0
0
1:24
0
3
19
Jiri Tlusty
7:22
1
1
0:00
0
0
0:00
0
0
21
Drayson Bowman
17:20
5
5
1:24
1
0
0:00
0
0
22
Zac Dalpe
17:49
3
3
1:24
1
0
0:00
0
0
23
Alexei Ponikarovsky
17:18
6
2
0:36
1
0
0:00
0
0
28
Justin Faulk
19:09
7
4
1:24
1
0
0:00
0
0
30
Cam Ward
61:36
16
13
2:00
2
0
1:24
0
3
36
Jussi Jokinen
19:44
4
3
0:36
1
0
0:00
0
0
37
Tim Brent
6:30
1
2
0:00
0
0
0:00
0
0
44
Jay Harrison
19:29
7
4
0:36
1
0
0:37
0
2
59
Chad LaRose
20:17
6
8
0:00
0
0
0:00
0
0
Best EV Forward: Alexei Ponikarovsky +4

Worst EV Forward: Chad LaRose -2

Best EV Defenseman: Justin Faulk & Jay Harrison +3

Worst EV Defenseman: Jamie McBain -1
Andreas Nodl is now getting an audition on the first line and he put together a respectful performance but not something you would typically want to see from a first liner. We will need more than one game to decide if Nodl is right (although his offensive skill-set isn't the best) but the puck exploded off of his stick whenever he touched it and he seemed to be trying to create too much on the first line and that kind of hindered things. Like I said, it's going to take more than one game to decide if he's going to work on the first line or not but I'm not exactly on board with the idea. Zac Dalpe didn't have that good of a game either and it is making me wonder if we will see him back for Friday's game after his emergency recall to Charlotte. Eric Staal was the best player on that line, as he should be, but he was held off the scoresheet despite having five shots on goal and outchancing his opponents again.
Alexei Ponikarovsky can not buy a goal lately, can he? He hasn't scored in nine games and has 12 shots on goal in his last three alone. He was also one of the team's best forwards last night and had at least two golden chances that were turned down. This can not last forever. The rest of that line was pretty solid as well with Tuomo Ruutu having another strong game.
Jay Harrison and Justin Faulk did their part in keeping the Tavares line quiet at even strength (keyword) and their one big slip-up came at the worst time with Faulk not picking up Kyle Okposo on the game-tying goal. Very, very unfortunate mistake that put a black mark on an otherwise solid night for these two. The other defensive unit (LaRose-Sutter-Bowman) gave up way more than they should have at even strength but they also did their part offensively so it wasn't a bad night for them. Sutter and Bowman did exactly what they were supposed to do on the second goal which was to crash the net and take advantage of a miscue by the goaltender. Sometimes good bounces happen.
Shooting percentage is something I often talk about on here and Anthony Stewart might be leading the team in that cateory now as he scored his sixth goal of the season off a deflection. That was his only scoring chance of the game and he generally doesn't get many shots on goal but he's scored on 20% of them. Sure, that kind of percentage is going to plummet back down to earth soon enough but let's enjoy it while it lasts and hey, he was a +4 in corsi too! As small as it is, he has been on a bit of a rise lately. 
Spacek, Gleason, Allen, Brent and Tlusty all had uneventful games. I do wonder if Tlusty will go to the fourth line on Friday against Buffalo because he was only given one shift in the third period.
Head-to-head at five-on-five
Sutter, LaRose and Bowman did a fine job against the Islanders top line at even strength and so did Faulk and Harrison. Staal's line did most of their work against the Islanders weaker defense pairings...who Jack Capuano assigned against them the most. It is odd that was the case because Mark Streit and Steve Staios were able to beat out everyone the Canes assigned against them.
Original Story:
http://shutdownline.com/hurricanes/sc...
THE BACKYARD
BEST OF MAXIM
RELATED ARTICLES
INSULT TO INJURY
Rick DiPietro did nothing to shake his reputation for being injury-prone. The Islanders goalie hurt himself while already on injured reserve.
John Tavares is currently in his third NHL season with the New York Islanders and is continuing to prove why he was the first-overall pick in the 2009 NHL Entry Draft, as well as why he is the face of the New York Islanders franchise and the heart of the New York Islanders offense. This season, New York Islanders center John Tavares sports an "A" on his jersey to signify...
Prior to tonight's Islanders victory over the Carolina Hurricanes the team announced that Rick Dipietro and Mike Mottau returned to Long Island to be reevaluated by team doctors. The official statement was that the players returned due to a lower body injury (Dipietro) and an upper body injury (Mottau). Dipietro is still on injured reserve and the Islanders have Anders Nilsson...
Tweet RALEIGH, NC – Jim Rutherford, President and General Manager of the National Hockey League's Carolina Hurricanes, today announced that the team has as...
Game 37 Isles 4, Carolina 3 (SO) John Tavares had three assists, including yet another one for the highlight reels on the tying goal by Kyle Okposo. Frans Nielsen and PA Parenteau scored shootout goals as the Islanders rallied for a 4-3 vict...
RALEIGH, N.C. -- The Islanders were far from their best against the lowly Hurricanes, but they still were rewarded with their third straight victory. The fact they did enough to escape with a 4-3 shootout victory last night was encouraging in a season that has provided the Isles with...
Tweet RALEIGH, NC – Jim Rutherford, President and General Manager of the National Hockey League's C...
Ever heard of Charlie Moore? Did you know he had his own T.V show, Charlie Moore: No Offense? Did you know that Jack Capuano fishes? If you answered no to all three questions then you're not alone. But they are all true statements. Charlie Moore is well known in the fishing world and indeed has his own T.V show on NBC Sports Network (formerly Versus). And Jack Capuano is indeed...
Share The Islanders special teams have been firing on all cylinders as of late. Head Coach Jack Capuano has consistently preached that having strong special teams leads to team success. Tu...
NHL News

Delivered to your inbox

You'll also receive Yardbarker's daily Top 10, featuring the best sports stories from around the web. Customize your newsletter to get articles on your favorite sports and teams. And the best part? It's free!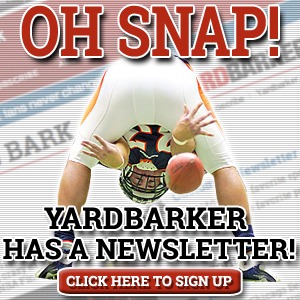 Latest Rumors
Best of Yardbarker

Today's Best Stuff

For Bloggers

Join the Yardbarker Network for more promotion, traffic, and money.

Company Info

Help

What is Yardbarker?

Yardbarker is the largest network of sports blogs and pro athlete blogs on the web. This site is the hub of the Yardbarker Network, where our editors and algorithms curate the best sports content from our network and beyond.