One of the ongoing stories for this season is how the Hurricanes goaltending, specifically Cam Ward, has not been nearly good enough this season. Going into tonight, Ward had a sub-.900 save percentage, an even strength save percentage that's way below the league average and only one quality outing in his last seven games. Last season, he was the main reason why this team was so close to making the playoffs and this year he's been a part of the numerous problems with this team.  Tonight's game against Toronto was a different story as he put together his best performance in over a month with 36 saves on 38 shots in a game which the Canes had no business being in. He may have taken the 2-1 overtime loss on a leaky goal, but if it wasn't for him, Carolina wouldn't have even gotten a point tonight. The Canes created only five total chances at even strength and were outplayed by the Leafs from the opening whistle but Ward was able to stand on his head and look more like the goaltender we're used to seeing. He was at his best while the rest of the team was not. Scoring chances & more after the jump Carolina Hurricanes vs. Toronto Maple Leafs 12/13/11 Scoring Chances Period Totals EV PP 5v3 PP SH 5v3 SH 1 2 5 1 3 1 0 0 0 0 2 0 0 2 5 7 3 7 2 0 0 0 0 0 0 0 3 3 5 1 4 1 0 0 0 1 1 0 0 4 0 2 0 2 0 0 0 0 0 0 0 0 Totals 10 19 5 16 4 0 0 0 1 3 0 0 Carolina's chances are in red, Toronto's are in blue. It's very hard to win any games when you outplayed this badly at even strength. Hell, it's hard to win in general when you have only five even strength chances all game and that's what happened to the Canes tonight. They had the puck in the Leafs zone numerous times but they didn't do anything to create chances. It was either a game of dump & chase or a sequence of passes that ended up in flubbed wrist shots or a turnover. There's one specific shift that's stuck in my head where the fourth line of Nodl, Stewart & Brent were out, had the puck in the Toronto zone for a good minute or so and Nodl had just won a battle along the boards. He gave the puck to Stewart, who went around the net trying to find Nodl for a tap-in but the pass was broken up. That sums up this game well. The powerplay came up big when it mattered, though and created four scoring chances in three opportunities. That's been about the season average for this team.  Individual Scoring Chances # Player EV PP SH 4 Jamie McBain
18:42 2 6 3:17
1
0 2:10 1 1 5 Bryan Allen
17:10 1 7 0:00
0
0 2:23 0 2 6 Tim Gleason
16:46 0 5 2:21
2
0 2:23 0 2 8 Jaroslav Spacek
16:33 4 4 2:35
3
0 0:58 0 0 12 Eric Staal
18:28 1 4 3:49
3
0 0:19 0 0 13 Anthony Stewart
6:27 0 3 0:00
0
0 0:00 0 0 14 Andreas Nodl
7:18 0 3 0:00
0
0 0:00 0 0 15 Tuomo Ruutu
11:25 2 4 2:59
2
0 0:02 0 0 16 Brandon Sutter
12:01 1 4 0:00
0
0 3:44 0 2 19 Jiri Tlusty
15:36 1 4 0:00
0
0 0:00 0 0 21 Drayson Bowman
11:39 3 3 0:00
0
0 0:00 0 0 23 Alexei Ponikarovsky
13:04 1 5 2:44
2
0 0:00 0 0 27 Derek Joslin
13:01 0 4 0:00
0
0 2:39 1 1 28 Justin Faulk
16:09 3 6 3:13
2
0 1:27 0 0 30 Cam Ward
49:01 5 16 5:43
4
0 6:00 1 3 36 Jussi Jokinen
11:05 3 4 2:44
2
0 1:55 1 1 37 Tim Brent
9:42 0 6 2:59
2
0 0:02 0 0 39 Patrick Dwyer
15:24 0 3 1:54
1
0 2:47 0 1 59 Chad LaRose
13:51 3 3 0:00
0
0 3:11 1 2 Best EV Forward: Drayson Bowman & Chad LaRose EVEN
Worst EV Forward: Tim Brent -6
Best EV Defenseman: Jaroslav Spacek EVEN
Worst EV Defenseman: Bryan Allen -6 There are some games where no one really plays well and you have to be relative with how you rate players. This is one of those games. Bowman and LaRose were the two of the team's better forwards tonight as they had the best all-around game. The offense just wasn't there for Staal and he had a couple of brutal defensive blunders tonight, as well. His linemates; Dwyer & Tlusty didn't do much better either. He did some solid work on the powerplay though and so did Ponikarovsky, who scored the team's only goal. The fourth line had a couple good shifts but did next to nothing with them in terms of creating offense. Let's hope that Jeff Skinner can come back soon because this forward corps has look like a mess without him. Spacek was arguably the team's best player as he was the only defenseman without a negative rating and played very well on the powerplay. He got some sheltered mintues, though so I would take that into account. The guys getting the tough minutes didn't exactly do fantastic either as Gleason, McBain and Allen were on ice for a lot of chances against and didn't produce enough at the other end to off-set this. McBain was also very poor on the powerplay and it was evident as he struggled to keep the puck in the zone for most of the time. I'm eating my words about Allen a bit. He was given more minutes, matched up against Toronto's first line and had no offensive zone starts and well...the numbers speak for themselves. Brutal. Head-to-Head This is all five-on-five data So...none of our lines really did anything at even strength but we didn't let the Kessel-Bozak-Lupul line hurt us that much. The ones who really got to us were the Leafs third line of Clarke Macarthur, Tim Connolly & Colby Armstrong and it's not too surprising that Connolly this line produced the Leafs first goal. Allen had a pretty bad night overall as he was trusted against tough competition and was outchanced by a wide margin against two of the Leafs scoring lines. If he wants to get his role back, then he'll have to play a lot better than he did tonight. The strangest thing about Gleason/McBain's performance is that the Leafs top-six didn't hurt them that much. It was their fourth line who outchanced them the most. What looses teams a lot of games is the inability to outplay the opposition's inferior players and that's what happened tonight as the Canes top-six could not outchance the Leafs bottom-six and bottom defense pairing. Although, there is some talent differential between the two teams so that should be taken into account.
Original Story:
http://www.shutdownline.com/hurricane...
PLAYERS:
Cam Ward
,
Jamie McBain
,
Bryan Allen
,
Tim Gleason
,
Jaroslav Spacek
,
Eric Staal
,
Anthony Stewart
,
Andreas Nodl
,
Tuomo Ruutu
,
Brandon Sutter
,
Jiri Tlusty
,
Drayson Bowman
,
Alexei Ponikarovsky
,
Derek Joslin
,
Justin Faulk
,
Jussi Jokinen
,
Tim Brent
,
Chad LaRose
,
Jeff Skinner
,
Clarke MacArthur
,
Tim Connolly
,
Colby Armstrong
TEAMS:
Carolina Hurricanes
,
Toronto Maple Leafs
MORE FROM YARDBARKER
NHL News

Delivered to your inbox

You'll also receive Yardbarker's daily Top 10, featuring the best sports stories from around the web. Customize your newsletter to get articles on your favorite sports and teams. And the best part? It's free!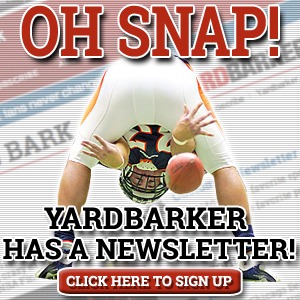 Latest Rumors
Best of Yardbarker

Today's Best Stuff

For Bloggers

Join the Yardbarker Network for more promotion, traffic, and money.

Company Info

Help

What is Yardbarker?

Yardbarker is the largest network of sports blogs and pro athlete blogs on the web. This site is the hub of the Yardbarker Network, where our editors and algorithms curate the best sports content from our network and beyond.