Found February 27, 2013 on Shutdown Line:
PLAYERS:
Alexander Semin
,
Cam Ward
,
Joel Ward
,
Jussi Jokinen
,
Alexander Ovechkin
,
John Erskine
,
Eric Fehr
,
Mathieu Perreault
,
Jason Chimera
,
Chad LaRose
,
Jiri Tlusty
,
Drayson Bowman
,
Ryan Murphy
TEAMS:
Carolina Hurricanes
,
Washington Capitals
Carolina had a lot of incentive to win or at least put together a good performance tonight. They still have yet to win a divisional game and one of their teammates was returning to the place he spent most of his NHL career. We heard a lot about how the guys wanted to win this game for Alexander Semin and we thought the Canes would have an inspiring performance en route to their first win against a Southeast team. Instead, we got to see the Hurricanes get shutout for the second time this season and put together a pretty horrible performance overall.  The Canes had some jump in the first few minutes, but that was all washed away after they were called for a couple penalties and the Caps took a 1-0 lead on their second powerplay. After that, Carolina struggled to create offense and allowed the Capitals to do whatever they wanted for the next 30 minutes. The Caps were able to win just about every battle along the boards, were beating the Hurricanes to loose pucks and thoroughly dominated Carolina. Don't let the final score fool you, the Caps dominated this entire game and the only reason things were close is because Cam Ward made a handful of fantastic saves to keep his team in the game. You would think that this would inspire the Hurricanes to put forth a little more effort and put together some more offense but the most they could do was create some one-and-done chances and nothing more. The team probably wasn't going to win many games during this stretch of injuries but there's a difference between losing because of a lack of talent, and losing because the team comes out sleep walking while the game is still in reach. The latter is what I have been seeing in too many games recently and it doesn't reflect well on the coaching staff and how much preparation the team is getting. This is by no means a "Fire Muller" statement, but it's up to the coaches to get the most out of the roster they've been dealt and I haven't been seeing it these past few games. The Southeast is a very bad division this year, so the Canes will probably stay in the hunt for awhile but they are currently 0-5-0 and have been outscored 21-6 against divisional foes. These kinds of performances just aren't going to get it done. Period.  Corey's Ten Thoughts - The Hurricanes were just outworked tonight plain and simple. The Caps were destroying them along the boards, winning battles to get to pucks and looked like they wanted to win this game a lot more than the Hurricanes did. Basically the same thing that happened in the third period against Tampa Bay where they were blown out and embarrassed in their own building. The players and coaches can talk all night about how efforts like this are unacceptable but how long will we have to wait until we actually see some improvement from this roster? Actions speak louder than words and it's getting tiring hearing this same story every night. Yes, there are injuries but teams like the Senators are managing to get by without some of their best players injured. The Hurricanes need to find out how to do the same. - The one player on the team who was on top of his game tonight was Cam Ward, who looked better than he has all season. He made 39 saves and really had to go out of his way to keep a few of them out of the net. His shining moment came in the second period when he made diving stop on Joel Ward to keep the game 2-0. He did everything he could to keep the Hurricanes in this game and the rest of the team couldn't pick up the slack. It's a shame, really. - Not that it would have had a drastic effect on the outcome tonight, but the referees were pretty atrocious. The Hurricanes had a breakaway chance taken away from them in the first period after Jussi Jokinen was whistled for a holding penalty. This penalty was caused by Washington forward Alexander Ovechkin using his free hand to tie up Jokinen and it probably should have been off-setting minors at worst. The Caps would score on the ensuing powerplay. They also had a chance taken away from them in the third period after the Hurricanes were whistled for icing even though Alexander Semin won the race to the puck. The refs would then correct their mistake and bring the faceoff into the Washington zone but it was too late, as the play bring blown dead all but killed the momentum. Again, these two instances probably wouldn't have had too much of an effect on the final score but they were still frustrating to watch. That being said, good teams find a way to win despite this and the Hurricanes were not a good team tonight.  - On the subject of face-offs, let's talk about the Caps second goal. The Hurricanes had a good sequence in the offensive zone minutes before that and got a shot on goal. They would then lose the offensive zone faceoff, let the Caps transition the other way and John Erskine fired a long shot over the shoulder of Ward. How many times this year have we seen the Hurricanes fail to do anything with an offensive zone faceoff? Losing the draw isn't even the biggest problem, it's that they can't keep the puck in the zone no matter what and it's cost them more than a few times this season. - There isn't really a point in scapegoating anyone tonight because the entire team was awful. There isn't really anything positive I can think of regarding any of the Hurricanes skaters. That's how bad they were tonight. - Depth is an issue for the Hurricanes right now and the Caps were able to take advantage of this matchup with Joel Ward, Eric Fehr and Mathieu Perreault generating a combined 12 shots. Jason Chimera added on six, as well. Letting the opposing team's third line dominate you that much is a good recipe to lose a game. - Chad LaRose brings a lot of good things to the table. He competes hard, skates well and is usually the last person on this team I criticize for showing poor effort. That being said, he was out of place on the first line tonight and it made little sense for him to start the game there and restrict Jiri Tlusty to the third line. LaRose's forechecking and work ehtic brings something to the first line but he doesn't have the best set of hands and always seems to have problems controlling passes from his teammates. Putting him on the first line never seems to do much save for a few shifts like the game against the Islanders on Sunday. The line shuffling was going on all game and they eventually ended up back to what they've been the last couple of games, making the entire process pointless. - Drayson Bowman has been one of Carolina's better players during this rough patch but he found himself in the press box tonight for some unknown reason. The team needs offense right now and Bowman's been able to deliver that for the last couple of games or so, which makes scratching him in favor of two guys who played less than six minutes a piece made little sense. Even if Muller played him on the fourth line, it would have made more sense to put him in the lineup since he is capable of playing more minutes and sliding up in the lineup if needed.  - This might be Ryan Murphy's last game with the Hurricanes this season and he got roughed up a bit in it. The Caps forwards pretty much had their way with him and he struggled to contain their third and fourth lines. He also made a few careless turnovers in the first period that did not help things either. Murphy was fantastic in his debut but he has looked a bit out of his element since then and it's easy to see why given his experience. The good news is that Gleason and Pitkanen are returning relatively soon. - If there are any more performances like this, it's going to take more than getting Gleason, Skinner and Pitkanen back to get this team into gear. There's a difference between losing because you don't have the horses up front and constantly getting completely outworked, this is what happened with the Hurricanes tonight. Even after going down 2-0, the Canes were still in the game and could have turned things around but they responded to this by getting outshot 14-4 and looking completely flat. Getting these players back will be a nice boost, but the Canes need a better performance from the entire team if they want to win more games. Showings like this against divisional opponents are unacceptable.  Tonight was by far the worst game the Canes played this season and that's not an exaggeration and things can easily get worse from here if they allow it to snowball. The good news is that they can prevent this from happening because seasons are not won and lost 18 games in and the Hurricanes can still right this ship. It's going to take a better performance from everyone, though.
Original Story:
http://www.shutdownline.com/hurricane...
THE BACKYARD
BEST OF MAXIM
RELATED ARTICLES
A little under four weeks ago, the Hurricanes made the decision to send Zac Dalpe down to the AHL to make room for Tim Wallace. Dalpe has been one of Carolina's best forward prospects for quite some time now but he has yet to make his mark in the NHL despite making the Hurricanes out of training camp for three years in a row. I'll admit that he was in a bit over his head...
Alexander Semin's return to Washington D.C. Tuesday caused quite a stir.Semin was an enigmatic performer during his tenure with the the Washington Capitals, demonstrating world-class offensive ability and the magical ability to disappear for weeks on end."Some nights you didn't even know if he was gonna come to the rink," Capitals forward Troy Brouwer observed during a...
Former Capital Alexander Semin will make his first appearance at Verizon Center on Tuesday with his new team, the Carolina Hurricanes. Semin was a polarizing figure in Washington, either going on jaw-dropping scoring binges or long droughts with poorly-timed penalties. And that was when he wasn't injured.
Former Washington Capital Alexander Semin made his first appearance against his old team. Now a member of the Carolina Hurricanes, it is clear that Semin still has some fans in the D.C. area…like this girl who loves her some Semin. Is this just an innocent sign made by a legitimate fan of Alexander Semin, or did she know what she was doing? We don't want to put the girl on blast...
After Game 10, I did a brief overview of the Hurricanes season up until that point and determined that the Hurricanes should be in good shape for the rest of the year. There were plenty of reasons to be confident, the team was crushing their competition at even strength, had two good scoring lines and were just finishing up a road trip where they went 4-1-1 against Atlantic &amp...
GLOVE IS STRONG
On Tuesday night the Carolina Hurricanes came to town to take on the Washington Capitals.  With the Capitals up 2-0 and a threat of the game getting out of hand, Hurricanes goalie Cam Ward came up with a huge stop that deserves to be considered a candidate for save of the year.  Joel Ward had 3/4 of the net empty after Cam kicked out this rebound, and Cam magically got a piece...
Carolina Hurricanes at Washington Capitals 7 p.m, Verizon Center TV: FS-Carolinas, CSN-Washington The big storyline going into tonight will be that it is Alexander Semin's first game at Washington since signing with the Carolina Hurricanes. Semin had many successful years with the Caps before leaving for Carolina via free agency and he was pretty popular with a lot of...
Malkin skated for 30 minutes today: Bylsma told reporters after the Penguins' practice in Sunrise, Fla. that Malkin went on the ice after being symptom-free Tuesday. One thing Malkin will miss on this trip is to match up against his old friend Jordan Staal. Pierre Lebrun had an interesting write up on Staal today. Two interesting notes: Sources confirmed...
Last night was easily the worst game the Hurricanes played this season. It wasn't the first time they've been shutout this season but it's was the most dominated they have been at even strength since last season. Carolina's defensive play reached a new low last night by surrendering 23 scoring chances against to the Caps at even strength play alone. The Capitals only...
Last night's 4-2 win over the Islanders was an ugly win for the Hurricanes, so it probably won't surprise you to hear that they were outchanced at even strength. The Canes have made somewhat of a habit of pulling out wins like this as last night was only the fifth time this season they were outchanced and the third time they won a game where that happened. I'm not sure...
Things are changing drastically here at Running With The Devils. Since our last blog post on February 12, which recapped the Devils' loss to the Carolina Hurricanes, our staff has shuffled around. Former writers Devin Mattera and Raj Vaidya left Running With The Devils to join the Devils Army Blog staff; additionally, former editor Darren joined the crew over at The Hockey...
I'm pretty sure that when the **** got considerably real whenever the last offseason was, I demanded that Kenny Holland sign Alexander Semin to a one-year ten million dollar deal. Because I know what I'm doing. I know hockey and I watch NHL On The Fly now because we get the NHL Network on the ship and plus I read everything HockeyInHD writes and he's a pharmacist of the...
NHL News

Delivered to your inbox

You'll also receive Yardbarker's daily Top 10, featuring the best sports stories from around the web. Customize your newsletter to get articles on your favorite sports and teams. And the best part? It's free!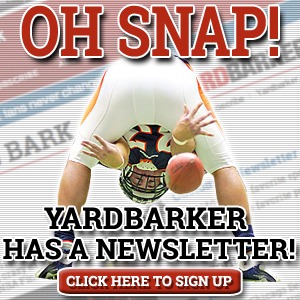 Latest Rumors
Best of Yardbarker

Today's Best Stuff

For Bloggers

Join the Yardbarker Network for more promotion, traffic, and money.

Company Info

Help

What is Yardbarker?

Yardbarker is the largest network of sports blogs and pro athlete blogs on the web. This site is the hub of the Yardbarker Network, where our editors and algorithms curate the best sports content from our network and beyond.