Found February 07, 2013 on Fox Sports Ohio:
The NHL lockout left many businesses and individuals without a regular flow of cash that comes only when the club is playing. Thats also true for the charities that rely on in-game fundraising. We typically will evaluate for our cash-on-hand to grant at about this time of year, said Jen Bowden, executive director of the Columbus Blue Jackets Foundation, the philanthropic arm of the club that relies on in-game fundraising as part of its ability to fund nearly half a million dollars in community grants each Spring. The Foundation has donated 3 million to local charities since arriving in 2000 and raised over 1 million in the fight against pediatric cancer. It missed out on 5050 drawings, raffles, and other in-game fundraising that would have occurred during the 3 months the lockout took place, including the Hockey Fights Cancer fundraiser in October that would have brought in around 25,000. Just prior to the lockout, we were able hold our annual golf outing, said Bowden of the Golf Classic that raised 140,000 for the Foundation. That was a great chance for us to raise funds for what would have been the first part of the season. Bowden said the numbers wont be clear until April, after the Black Tie Blue Jackets Feb. 27 fundraiser and the two jersey auctionsSt. Patricks Day and Military Appreciation Night camo jerseysin March and April are complete, but they did take a hit at a time when the Foundation is seeing an increase in need from the charities it supports in four areas of the community including pediatric cancer, youth and amateur hockey, education and childrens health and safety. Its getting harder and harder for (the nonprofit community), financially, to continue to do the work that the community relies on, because the work is more expensive, said Bowden. Not only have we seen more nonprofits applying, but we have also seen an increase for their grant awards. That makes the Foundations fundraisers over the next three months must-wins. We want to try and raise as much money as possible, said Bowden. The more money we raise the more were able to give back to the community. The lockout did give the Foundation and the club a unique opportunity to give back to the community in other ways, though. We shifted gears and saw our main focus as getting out and utilizing the coaches, the front office staff and employees to be visible in the community, said Bowden of the clubs efforts to volunteer at the Mid-Ohio Food Bank, give Parsons Avenue a makeover and visit Nationwide Childrens Hospital. Everyone would have preferred to be playing hockey but we made the most of the extra time we had. Nationwide Childrens Hospital is one of the clubs key community partners and a guaranteed recipient of funds from the Foundation. A check for 125,000 was presented to Childrens Hospital for pediatric cancer initiatives before the Blue JacketsRed Wings game Feb. 2, in conjunction with the Dispatch Media group. The Blue Jackets partnership with Childrens started before the team even got to Columbus. We really have worked side-by-side, hand-in-hand with them from the get-go, said Nichole Ferris, Associate Director of Constituent Giving at Nationwide Childrens. Theyve been supporting the hospital every year, lockout or not. Ferris said the club committed 1.5 million to the hospital over time. Part of that commitment is the Blue Jackets Family Resource Center, opened in March 2006 on the main common floor of the hospital, where families can go and do their own laundry, check their e-mail, get a haircutthe every day things often taken for granted. Some patients and their families will travel 2-3 hours to get an MRI done, go to a specialist, get an x-raythey try to do all those visits at one time, said Ferris. That space really gives them a place to land in between. Ferris said Blue Jackets Assistant Coach Dan Hinote was one of the clubs staffers she had the chance to speak with during one of the clubs many visits to the hospital during the lockout. No child should ever have to battle caner and they certainly should never have to battle it alone, said Ferris. Its a community effort and a fight that were all in together and the Blue Jackets really support our cause strongly. Hinote said having children of his own has changed the way he views visits to Nationwide Childrens. Having two of my own and seeing these families, you really understand the strength of these children who are able to keep an upbeat attitude during all this. Theyre just so resilient, said Hinote. You end up leaving there with so much more then you came with. Hinote said the work the Foundation does with the hospital is unprecedented, particularly the resource room and its amenities for patients and families. Ive done work with Colorado, the Childrens Hospital there, and St. Louis, and then you come here and its a whole different world. The resources they have here at their disposal are, I dont know if its equal anywhere in the country, said Hinote. I know my sister, who works at the University if Minnesota hospital, I asked her about it and shes never heard of half the stuff they have here, so its really phenomenal all the work they do. Hinote said hockey and philanthropy are a natural fit, particularly in a blue collar town like Columbus. Its really hard to make it in hockey. Its not just you doing it, its your parents, your siblings, your uncles, your aunts, your teacherstheres so much sacrifice made that by the time you make it to the NHL you are so thankful to so many different people that you understand you didnt get here by yourself, said Hinote. So you look for opportunities to give back to a community that has helped you get to where you are. Maybe youre from a different city or youre from a different country but you understand blue collar and you understand hard work. Thats why there such a connection between hockey and the community, is because of the roads you have to take to get there and how hard it is. Bowden is hoping that commitment results in the community giving back during the upcoming fundraisers. The St. Patricks Day jersey auction is set for March 16, the camo jersey auction is set for Military Appreciation Night on April 7 and the Black Tie Blue Jackets Style Show is Feb. 27 at Nationwide Arena. Tickets can be purchased and sponsorships set at blacktiebluejackets.com. Every single player will be in attendance and over 15 will be participating, said Bowden of the show. The thing I hear from players, theyre coming back from the lockout, and when asked about the style show say, Of course Im going to be there. Nick Foligno will make his style show debut this year alongside fashion show regulars like Vinny Prospal, Derek Mackenzie and Derek Dorsett. Dorsett said hes excited, though he feels much more comfortable in his hockey sweater than a suit and tie. Im not a guy that really likes the spotlight and the fashion, but its all for a good cause and I wouldnt want to do it any other way, said the man wearing an A on his jersey. Thats a number one fear in my lifeI just want to have a healthy kid someday and some people arent fortunate enough to have that. Those kids are fighting something no one wants to go through. To bring them down and put them on the stage in front of a big crowd and see the smile it puts on their faces, it makes you feel really good. You know, were in a position to give back and we should. Its a great feeling. For more information on upcoming fundraisers and how you can help, visit bluejacketsfoundation.org.
Original Story:
http://www.foxsportsohio.com/02/07/13...
THE BACKYARD
BEST OF MAXIM
RELATED ARTICLES
Blue Jackets forward Brandon Dubinsky was fined $10,000 Wednesday, the maximum allowed under the new NHL collective bargaining agreement, for boarding Los Angeles defenseman Rob Scuderi in Columbus' 4-2 loss to the Kings on Tuesday. He will not be suspended. The incident occurred at 11:29 of the second period, and set off a rash of penalties. Not long after, Dubinsky and Los...
COLUMBUS, Ohio -- Facing the possibility of supplemental discipline, Columbus Blue Jackets forward Brandon Dubinsky will have a hearing with the NHL on Wednesday. The development, first reported by the Columbus Dispatch, is a result of his hit on Kings defenseman Rob Scuderi in Tuesday night's game. Dubinsky received a five-minute major for boarding and automatic game misconduct...
Blue Jackets forward Brandon Dubinsky was fined $10,000 Wednesday, the maximum allowed under the new NHL collective bargaining agreement, for boarding Los Angeles defenseman Rob Scuderi in Columbus' 4-2 loss to the Kings on Tuesday. He will not be suspended. The incident occurred at 11:29 of the second period, and set off a rash of penalties. Not long after, Dubinsky and Los...
COLUMBUS, OHIO The Columbus Blue Jackets have assigned center Ryan Johansen to the Springfield Falcons of the American Hockey League, club Executive Vice President and General Manager Scott Howson announced today.Johansen, 20, has collected two assists and two penalty minutes in 10 games with the Blue Jackets this season. He began the 2012-13 campaign with Springfield, tallying...
  I'm late on this but the Binghamton Senators have inked Brett Lebda to a professional tryout (PTO). When reached for comment, Senators owner Eugene Melnyk said, "Our depth is no longer the envy of the league." Kidding aside, I wouldn't read too much into Lebda's signing or analyze what it could mean. At this stage of his career, it probably means nothing...
Any coach will tell you its an asset and a luxury when he can trust his fourth line to provide energy, defensive responsibility, and the occasional goal. It makes the entire team more balanced, and better. For the past several Blue Jackets games, the line of Derek MacKenzie, Mark Letestu, and Jared Boll have been giving head coach Todd Richards exactly that. The line has scored two...
  It's no surprise or secret that the pundits have placed the longest odds upon the Columbus Blue Jackets to win the Stanley Cup much less qualifying for the Stanley Cup playoffs. After finishing the 2011-2012 season with the National Hockey League's (NHL's) worst record, trading away their franchise player and face of the franchise in Rick Nash and enduring a fan protest...
Yesterday proved to be an eventful day for the Columbus Blue Jackets. As I wrote about in the update to yesterday's blog, Brandon Dubinsky escaped a suspension for his hit on Kings D Rob Scuderi and instead received the maximum fine ($10,000) allowed under terms of the CBA. He will be in the lineup tonight and centering the second line between Derrick Brassard and Nick Foligno...
COLUMBUS, Ohio (AP) -- Mike Richards provided late insurance with his first goal of the season and Jonathan Quick stopped 18 shots to lead the Los Angeles Kings over the Columbus Blue Jackets 4-2 on Tuesday night. Anze Kopitar, Jeff Carter and Slava Voynov also scored while Justin Williams had three assists for the reigning Stanley Cup champions, who began the night 14th in the...
Bob Miller says it best... "You can tie a guy up you don't have to run him through the boards." I've always said you can take the guy out of the play but there is no need to try and take him out of the game too.   #Bluejackets Brandon Dubinsky will have supplementary discipline hearing 2day with#NHL for his hit on #Kings defenceman Rob Scuderi. —...
Since the end of August I've been cohosting a three-day per week sports-talk Internet based radio show, Fan Junkies Radio. We've been fortunate to have some interesting guests. We've had sports media types like Kenny Albert; former NBA player Chucky Brown; former NHL players Dan Hinote and Adam Graves; and former Phils MLB player Eric…
NHL News

Delivered to your inbox

You'll also receive Yardbarker's daily Top 10, featuring the best sports stories from around the web. Customize your newsletter to get articles on your favorite sports and teams. And the best part? It's free!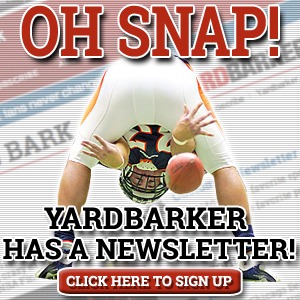 Latest Rumors
The Backyard

Today's Best Stuff

For Bloggers

Join the Yardbarker Network for more promotion, traffic, and money.

Company Info

Help

What is Yardbarker?

Yardbarker is the largest network of sports blogs and pro athlete blogs on the web. This site is the hub of the Yardbarker Network, where our editors and algorithms curate the best sports content from our network and beyond.