In today's sports world we often hear different nick names used for a player or organization. Many of them are very well known. For example, Michael Jordan is often simply referred to as Air Jordan or even just his Airness. And we all know who is being talked about when you mention an old school name like Sweetness or even a new one like RG3. The same goes for America's team, the Bronx Bombers, or the Orange Crush. But what do you do when the nick name is the King? Many have been called the King. Or better yet, what do you do when the organization is already called the Kings? Well, you create a top 7 list, that's what!   Just one of the many definitions of a King or Kings: one or many that holds a preeminent position; especially : a chief or chiefs among competitors. To be referred to as the King or Kings! Here are the top 7 Kings of sport, past and present. Number 7 – Don King There are a few reasons why Mr. King is on our list. First, he probably is the greatest boxing promoter of all time. He worked with boxing legends like Ali, Holyfield, Jones Jr, and Foreman. Promoted The Rumble in the Jungle and The Thrilla in Manila. He also worked for a long time with Mike Tyson and his pigeons. Secondly, Don King had many controversies throughout his career. Anything from allegations of fraud to associations with the mob. Then there is the hair. He by far has one of the most memorable hair-dues of anyone in pop culture. Can you say whack job? In fact, he could also be the King of hairstyle in another top 7 list. Number 6 – The 2011/2012 Los Angeles Kings In the 2012 Stanley Cup finals the Los Angeles Kings defeated the New Jersey Devils in 4 games. It was the first time the Kings have won the Stanley Cup. But what makes this team special, and worthy of our list, is they were the first team to win the Stanley Cup as an 8th seed. In fact, they were the first 8th seed in any North American professional sport to win a championship. Number 5 – The Burger King This King may not seem at first that he should be on the list. But for me it's real simple. The commercials Burger King did during NFL games a few years back are among the best ever. The video below is one of my favorites. Love the music and the simplicity.   Number 4 – Bernie Ecclestone For those of you who don't know, this guy has a lot of money, as in 4 billion a lot. He has been the president and chief executive officer of Formula One Management and Formula One Administration for a long time. The F1 Supremo basically owns all the television rights to F1 as well as the promotional rights. Now, he is not a very tall King as seen in the picture below. But as a rich King, he was married to a very beautiful women. He has a couple very nice looking daughters as well. Petra Ecclestone, who is also pictured below, just recently bought the highest priced real estate listing ever in the United States. Bernie Ecclestone, Petra Ecclestone, and Slavica Ecclestone With the popularity of F1 being easily in the top ten world wide, Mr. Ecclestone is securely on our list. I personally am a F1 follower and have been very fond of the sport for many years. Number 3 – The Sacramento Kings Dancers
SKD Royalty: Heidi | THE OFFICIAL SITE OF THE SACRAMENTO KINGS. Well, this pick speaks for itself. The SKD dancers totally belong on the Kings top 7 list. Heidi is my personal favorite. But all the girls from SDK Royalty are in the link below. SDK Royalty Number 2 – Lebron "King" James So, I can't get away with not including Lebron James on our list. But I really wish I could. See, if he had still been in Cleveland after winning a championship, he probably would be first. Although, it might have been a tie for first (Nah, King Richard is the undisputed King). Instead, I look at King James as more of a member of the three musketeers vs the King. With that said, he probably is one of the most well rounded basketball players of all time. And he also may be responsible for putting into motion, a potential NBA final match up, that could go down as the best ever in the history of the NBA. If Kobe, Nash, Howard, and Gassol, were to be matched up in the NBA finals against, Lebron, Wade, Bosh, and Allen. Wow, that would be the most watched final in NBA history. And again, can't stand Lebron, but that match up would be spectacular. If it happens, I would still root for Kobe, but, at the same time, would probably let Lebron out of jail. And just so I'm clear… GO NUGGETS !!! Number 1 – King Richard Petty Richard Petty is by far and away the most undisputed King of sports. Now we all know there are many definitions of sport. So for all of you who think motor racing's not a sport, I invited you to go to your local go kart track and do 50 -60 laps! After you're done imagine doing the same at 180-200 MPH! Now, we are using the term Motor Sport here! And we are also comparing different Kings of sport. Therefore, I am by no means saying the Richard Petty is the best athlete of all time! I'm simply stating that in his respective wheel house, he is the most deserving of the title of King! Here is why. In a time where Barry Bonds hit 73 home runs and Drew Brees threw for 5476 yards in a single season. Richard Petty's 200 wins remains untouched. The next closest guy to Petty is 95 wins behind. And Jeff Gordon is the closest current driver with 86 wins. His 7 NASCAR championships are matched only by the late Dale Earnhardt, with 7. He is the undisputed legend of NASCAR and it doesn't look like anyone will come close to passing him any time soon. Therefore, I put him as the undisputed King of this top 7!   Denver Sports Chat by Headline The post Who are the Kings of sport? DSC top seven appeared first on Denver Sports Chat.
Original Story:
http://feedproxy.google.com/~r/Denver...
MORE FROM YARDBARKER
Kings News

Delivered to your inbox

You'll also receive Yardbarker's daily Top 10, featuring the best sports stories from around the web. Customize your newsletter to get articles on your favorite sports and teams. And the best part? It's free!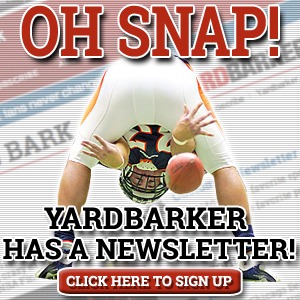 Latest Rumors
Best of Yardbarker

Today's Best Stuff

For Bloggers

Join the Yardbarker Network for more promotion, traffic, and money.

Company Info

Help

What is Yardbarker?

Yardbarker is the largest network of sports blogs and pro athlete blogs on the web. This site is the hub of the Yardbarker Network, where our editors and algorithms curate the best sports content from our network and beyond.