Chris Meaney on Loui Eriksson at 16 in his 2013-14 Fantasy Hockey Right Wing Rankings. You are the only staff member to have Loui Eriksson inside their top 20. What do you see out of him in his first season with the Bruins. Loui Eriksson has to be thrilled to be out of Dallas and playing for a big market team like the Bruins. This guy has been underrated for quite some time. He snipped 36 goals in 2008-09 and had at least 70 points in each of the three seasons after that. He gets to come in and play with a talented play maker in Patrice Bergeron so I expect close to another 40 goals season. Bergeron already has great chemistry with Brad Marchand and Eriksson gives that line a good balance. Plus, Eriksson is as solid in his own end as Bergeron so the plus/minus should be through the roof. Eriksson is in for a year! Esten Mclaren on Nail Yakupov at 19 in his 2013-14 Fantasy Hockey Right Wing Rankings. Nail Yakupov has a FSLR consensus rank of 36 at the right wing position. Why do you think there is no sophomore jinx in his future? Playing in all 48 games in his rookie year, Yakupov posted 17 goals and 31 points. With a presumably finally improved Oilers team, coupled with natural progression, he could approach the point per game mark. David Perron will do his part too.   Brendan Gallagher was last year's Cald(Jared Wickerham/Getty Images) Andrew Reid on Brendan Gallagher at 26 in his 2013-14 Fantasy Hockey Right Wing Rankings. The second highest sophomore to be discussed in our right wing rankings is Brendan Gallagher. You seem to have him pretty high on our list compared to a 40, 35 and 34 rank from our staff. What do you like about this kid? Love Gallagher's situation in Montreal, love the guys game. I think that it'll translate to success in his second season, I think the Habs have him set up for success, and I just think he's going to beat that slump. He's a fun guy to watch that any team would love to have, and that includes my fantasy roster. Esten Mclaren on Joffrey Lupul at 38 in his 2013-14 Fantasy Hockey Right Wing Rankings. Three of our four experts have Lupul as at least a top 23 right winger. You have him ranked at 38? Is it the injuries that scare you away from him? Precisely. When doing preseason rankings you try to ignore injury concerns, but there are some players where you just can't do that. You also have to be careful when assessing a player who broke out and had his best seasons in terms of points per game, as a 28 and 29 year-old.     Andrew Reid on Jarome Iginla at 43 in his 2013-14 Fantasy Hockey Right Wing Rankings. You seem to believe in Jarome Iginla the least as he changes jerseys and suits up for the Bruins this season. He's ranked as high as 23 by others, but you have him much lower. Has Iggy really lost it? Iginla has been "the guy" in Calgary for so long, but things are going to be slightly different in Boston. First, he's going to be just "a guy" on a team that almost has two top lines – although he'll almost undoubtedly play on one of the, the pressures/necessity to produce just won't be the same. The Bruins offer a fairly balanced attack – I may have been a bit low on him, and it seems he may produce based off his pre-season production, but he's a year older, in a new system (one that's generally considered defense first), I'm just not sure that he posts the same numbers we're used to seeing from him.    Share your thoughts in the comments below and make sure to check out Our 2013-14 Fantasy Hockey Left Wing Rankings Our 2013-14 Fantasy Hockey Center Rankings Our 2013-14 Fantasy Hockey Right Wing Rankings The post 2013-14 Fantasy Hockey Right Wing Rankings Discussion appeared first on Fantasy Sports Locker Room.
Original Story:
http://lockerroomfantasysports.com/20...
MORE FROM YARDBARKER
Bruins News

Delivered to your inbox

You'll also receive Yardbarker's daily Top 10, featuring the best sports stories from around the web. Customize your newsletter to get articles on your favorite sports and teams. And the best part? It's free!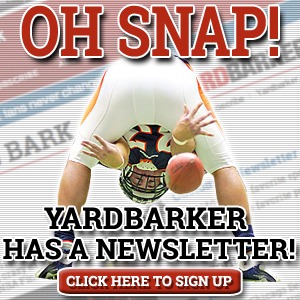 Latest Rumors
Best of Yardbarker

Today's Best Stuff

For Bloggers

Join the Yardbarker Network for more promotion, traffic, and money.

Company Info

Help

What is Yardbarker?

Yardbarker is the largest network of sports blogs and pro athlete blogs on the web. This site is the hub of the Yardbarker Network, where our editors and algorithms curate the best sports content from our network and beyond.