Found February 16, 2012 on NorthWest Sports Beat:
PLAYERS:
David Booth
,
Mats Sundin
,
Roberto Luongo
,
Keith Yandle
,
Ryan Kesler
,
Jannik Hansen
,
Cody Hodgson
,
Alain Vigneault
,
Claude Julien
,
Tyler Seguin
,
Michael Grabner
,
Jason Spezza
TEAMS:
Colorado Avalanche
,
Vancouver Canucks
,
Toronto Maple Leafs
,
Phoenix Coyotes
,
Boston Bruins
,
New York Islanders
,
Ottawa Senators
Another day, another win
The Vancouver Canucks are 8-0-2 in their last 10, and two points back of Detroit for first in the West with one game in hand, but you wouldn't know it by checking the pulse of this city.
The pitchforks have been coming out because this team isn't winning in regulation or winning exciting enough, but let's step back. Yeah, the team is slumping but they're 8-0-2  in that slump.
My god, they can't even lose when they suck.
Also, just try to imagine being a Maple Leafs or Oilers fan right now. #1stplaceproblems
Here we go, onto the Love 'Em & Hate 'Em for the Avalanche vs. Canucks game on Wednesday night.
Love 'Em
1. Gee, Booth is Mobile
One game after scoring the only goal in an eventual win over Phoenix, David Booth once again stepped up and found the back of the net. In a tribute to former Canuck Mats Sundin, this time Booth scored just 13 seconds in. He now has goals in three straight games and points in four straight games.
Even better he went into a Colorado game on a hot streak and left with both of his knees intact.
2. Bobby Lu
No one's really talking about it, but the reason the Canucks are racking up wins on a team working to rule and composed only of essential services is thanks to the guy who is no longer giving up any goals, bad or not, Roberto Luongo (Keith Yandle goal notwithstanding for purposes of this narrative).
I've talked a bit before about the progression this team has taken in that where once they needed Luongo to have a chance to win games now he's just another cog in the machine next to the Sedins, Ryan Kesler, or the multi-headed support staff.
Shirking the spotlight probably works for his personality, and it's certainly nice not to hear a chorus of Luuus everytime he plays the puck. When Roberto Luongo is your secret weapon, life is good.
3. A Little Bit of Jannik Hansen
Sportsnet ran a graphic during the game highlighting how Jannik Hansen's game has fallen off a cliff after a red-hot December, so of course the Honey Beaker fired back with the game-winning goal.
In a stanchion-esque play, linemate Cody Hodgson used a fortuitous bounce off a linemate to set up Hansen for the one-timer.
Good on Alain Vigneault for shuffling the lines and moving Cody up late in the game. It paid off with the two points.
Of course, there's the other side of the coin…..
When we win...YOU win! Colorado Avalanche vs. Canucks blog: love 'em & hate 'em
Hate 'Em
1. We Are All Cody Hodgson's Parents
Seriously can we stop dissecting his ice time like we have some kinship with him? Cody Hodgson is a rookie, and rookies in Alain Vigneault's system rarely see tons of responsibility.
That didn't stop Ryan Kesler, Jannik Hansen, Alex Edler, Alex Burrows, and like half the team from progressing just fine under his watchful eye.
Outside of Vigneault, look how Claude Julien handled Tyler Seguin last year as a rookie on a cup contender. This isn't Columbus or Edmonton. At the end of the day, the Canucks need to win, and Cody Hodgson needs to play the right amount of ice time for the Canucks to win, not to win the Calder.
Somehow, this then turns into a rift between AV and Hodgson, because none of them are mature professionals I guess. Vigneault doesn't hate Hodgson, he's sheltering him because he loves him, didn't your mother ever tell you that?
And Hodgson isn't demanding a trade, unless he's somehow jealous of Michael Grabner in Long Island.
No kid grows up dreaming of playing 20 minutes a night in the NHL but a lot grow up dreaming of winning the cup.
Everybody just settle down or you're all going to swallow your tongues.
2. Wait, no overtime?
A strange thing happened in this game when the third period ended….and so did the game.
Where was overtime? Where was the shootout? Only 60 minutes of hockey seems kind of like a rip-off.
When you don't give a visiting team a point in your own building, what kind of host are you?
3. Twin Power Deactivate
A big reason why the Canucks have been involved in so many extra-regulation games is that the Sedins aren't contributing that goal that would put the game over the top.
It's weird, but the twins just haven't had that same gear since the Boston game (there it is again).
They occupy a measly 7th and 11th in league scoring, which means we may have to prepare ourselves for a year in which a Sedin does not win the Art Ross.
Even weirder, we may have to prepare ourselves for a year in which Jason Spezza does, seeing how he's second (!!!) in scoring.
Please come back guys.
CLICK HERE TO CHECK OUT THE VANCOUVER CANUCKS CLUBHOUSE TODAY ON NWSB!
© Richard Hodges for North West Sports Beat, 2012. | Permalink | No comment |
Follow NWSB on Twitter or join US on Facebook for real-time updates OR... | Share This on Twitter | Share NWSportsBeat.com on Facebook
Post tags:
1st Place Problems
,
Alain Vigneault
,
Alex Burrows
,
Alex Edler
,
Art Ross trophy
,
Canucks articles
,
Canucks Blog
,
Claude Julien
,
Cody Hodgson
,
Colorado Avalanche
,
Colorado Avalanche vs. Vancouver Canucks
,
Colorado vs. Vancouver
,
David Booth
,
game rewind
,
honey badger
,
Jannik Hansen
,
Jason Spezza
,
Love Em Hate Em
,
Mats Sundin
,
Michael Grabner
,
NHL
,
NHL Rivalries
,
Roberto Luongo
,
Rogers
,
Ryan Kesler
,
Sportsnet
,
The Sedins
,
tyler seguin
,
Vancouver Canucks
,
Vancouver Canucks Blog
,
Vancouver Canucks Hockey Blog
,
Vancouver Hockey Blog
Original Story:
http://www.nwsportsbeat.com/canucks/a...
THE BACKYARD
BEST OF MAXIM
RELATED ARTICLES
Daniel Sedin is tired of the Vancouver Canucks missing out on points due to shootout failures. Taken a step further, the left wing is also tired of failing to score in the bonus format. After all, Sedin has converted just four of 22 attempts since the shootout made its NHL debut in the 2005-06 season. "I think (coach Alain Vigneault) is going to pick whoever he picks, and...
Avalanche vs Canucks Game Recap Did you miss the Colorado Avalanche vs. Vancouver Canucks Wednesday night on Sportsnet Pacific? Boxscore | My Post Game Recap We've got the highlights for you. Avalanche vs. Canucks highlights courtesy NHL.com. CLICK HERE TO CHECK OUT THE CANUCKS CLUBHOUSE TODAY AT NWSPORTSBEAT! © NWSports "Q" for North West Sports Beat, 2012. |...
Rivalry Resumed: More than NHL Odds at Stake When Vancouver Hosts Toronto The Toronto Maple Leafs are clinging on to an Eastern Conference playoff berth for dear life this month as the season shakes down and spring approaches. Can they withstand the barrage of fringe contenders gunning for their spot with a victory over the Stanley Cup favorite Vancouver Canucks? Nobody ever...
Jannik Hansen scored the tiebreaking goal with 6:29 remaining, and the Vancouver Canucks beat the Colorado Avalanche 3-1 on Wednesday night. Hansen, who had gone 12 games without a goal, took Cody Hodgson's pass and drilled a shot over the shoulder of backup goalie Semyon Varlamov to give Vancouver a 2-1 lead. A defensive zone turnover led to Hansen's 14th of the season...
  As the NHL trade deadline looms, every player is undoubtedly aware of the February 27th date.  For many players, they will call new cities home in two weeks' time, don a different jersey, have their paychecks signed by a different team and ultimately, try to help that team win.  For every other player, they will likely have a slightly new-look team as their teammates...
Jannik Hansen scored the tiebreaking goal with 6:29 remaining, and the Vancouver Canucks beat the Colorado Avalanche 3-1 on Wednesday night.
The Vancouver Canucks will try to continue their recent dominance of Colorado when they welcome the Avalanche for tonight's Northwest Division clash at Rogers Arena.
Midway through the first period against the Vancouver Canucks, the Colorado Avalanche got some news that will not please them. Jean-Sebastien Giguere, the player who has kept the Avs in the playoff race, left the game with a groin injury. No word how serious it is but he is out for this game at the very least. Down at Lake Erie, Cedrick Desjardins is currently injured as...
Avs forward Matt Duchene had his status upgraded to day to day Friday, and he has a chance to return to the lineup Sunday.
Gabriel Landeskog and Mark Olver each had a goal and an assist and the Colorado Avalanche snapped a two-game skid with a 3-1 victory over the Edmonton Oilers on Friday night.
The Post's NHL reporter answers your questions in Adrian Dater's Avs Mailbag. In this installment, Adrian takes seven questions, including one wondering if the Avs are willing to part with defenders before the trade deadline.
NHL News

Delivered to your inbox

You'll also receive Yardbarker's daily Top 10, featuring the best sports stories from around the web. Customize your newsletter to get articles on your favorite sports and teams. And the best part? It's free!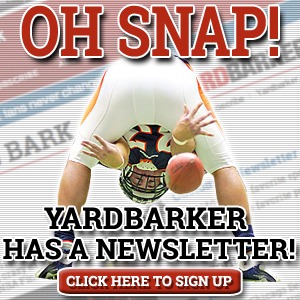 Latest Rumors
The Backyard

Today's Best Stuff

For Bloggers

Join the Yardbarker Network for more promotion, traffic, and money.

Company Info

Help

What is Yardbarker?

Yardbarker is the largest network of sports blogs and pro athlete blogs on the web. This site is the hub of the Yardbarker Network, where our editors and algorithms curate the best sports content from our network and beyond.