As part of the Hockey Hall of Fame induction ceremonies in Toronto on Monday, FOX Sports Detroit Red Wings analyst Mickey Redmond received the Foster Hewitt Memorial Award for outstanding contributions as a hockey broadcaster. The following is what our FOXSportsDetroit.com readers had to say to Mickey for winning the award and what he means to them: Jim M., Anchorage, Alaska: "Mr. Redmond, you are truly a class-act. Your commentary in the broadcast booth is always informative as well as entertaining. Your love for the sport shines through your microphone and is extremely infectious, congratulations on a well-deserved reward" Marie M., Gadsden, Alabama: "Congratulations Mickey - we love your commentary for the Red Wings games. You call it as you see it. Keep up the good work." Ron S., Long Beach, California: "Congratulations Mickey. Born and raised in Detroit, I remember your time as a Red Wing well. I thought you were a terrific player and a true Red Wing and was very sorry when your playing days were over. You deserve to be very proud of receiving the award named for Foster Hewitt. He was the original voice of Hockey for all Canadians and, of course, those of us in the states fortunate enough to get Hockey Night In Canada. Thanks for the memories." Chuck A., San Diego, California: "Mickey, congrats. Never got to see you play, but you are part of the BEST broadcast team in hockey. I listen to ALL Wings games, keep up the great work." John S., Jacksonville, Florida: "Congrats on the Foster Hewett Award. I'm old enough to remember you playing for the Red Wings in the early 1970s, and, when I can, enjoy you on Red Wings TV. Have a great time on award night, and Go Red Wings!" Jack M., The Villages, Florida: "Have been a Blackhawk fan since 1936. But must say, you are one of the few announcers on out of market games that is honest and fair in your reporting. Keep up the good work and congratulations." Cathy C., Macon, Georgia: "Congratulations Mickey on your accomplishments on the ice and in the booth. I remember watching you in your 50 goal seasons. I moved from Michigan to Georgia but I still watch my Wings on Dish Network. Again, congratulations and keep up the good work. I love your broadcasts. Your broadcasts make other broadcasters sound boring in my book. Just love a game called by you. Have a great day and enjoy it." Michael S., Honolulu, Hawaii: First and foremost, congratulations Mickey! Well deserved recognition for your great contributions in broadcasting. I have enjoyed listening to you for years now. I think your insightful, intelligent and fair analysis are only few of the reasons why I love listening to yourself and Mr.Daniels! It's obvious how much you enjoy the game of hockey and your job, that comes across clearly on the broadcasts! I'm in Hawaii now, but that doesn't matter! I catch every game on Center Ice!! Technology is a beautiful thing! Anyway,again congratulations on your HOF induction and it's our treat every time we get to watch you call the game. Thanks Mickey! RedWingsHockyMAN, Logansport, Indiana: Mr. Redmond - I love the NHL and I will tell you sir, I am honored to have you as an announcer. You and Ken do a bang-up job calling the games. A message to the other announcers 'Now, you kids out there, pay attention, you could learn something from the pros.' Thank you for all you do for Detroit and the NHL!" Victoria R., Battle Creek, Michigan: "You are AWESOME Mickey!!! Congratulations!! Well deserved!! Watching Wings games without you commentating is very difficult!! Thanks for staying a Wing!!!" Jeffrey N., Birmingham, Michigan: "Congratulations Mickey! Well deserved. My wife, Deanna, and I salute you for your achievement. Your 'tuxedo' friend, Jeff N." Christine G., Bridgeport, Michigan: "You deserve the award. Your stories and 'Mickey-isms' make the game much more enjoyable. I love to hear about the players when they are on the ice and you tell us. I love to hear what the players are thinking & feeling on ice, and you tell us. I refuse to miss a Fox Sports Detroit game. If I am not going to home to watch, I tape it. I don't mind too much if I miss a Versus game. They just can't commentate like the team you belong to. God Bless You and please keep up the good work." Leland M., Clinton Township, Michigan: "Congrats Mickey. You really deserve it." Mike L. Sr., Clinton Township, Michigan: "Great job Mickey loved you as a player and love you as a broadcaster keep up the good work. Here's a Ginger-Ale to you cheers" Patty B., Davison, Michigan: "You truly deserve this and more. Love you much. You make even a losing game fun for us Red Wing fans. P.S. You are so right about the refs and how much we love the fights. ;-D" John, Dearborn Heights, Michigan: "No place for a nervous person, congrats Mickey." John K., Detroit, Michigan: "Congratulations Mickey on receiving the Foster Hewett Memorial Award! I've always enjoyed listening to you and your laugh during the the Red Wing telecasts." Tom R., Dexter, Michigan: "We enjoy and learn from the way you analyze goals, miscues, and missed calls by the ref." Sean W., East Lansing, Michigan: "Congratulations Mickey! No man is more deserving, you have been the best in the business for years! I wish you luck in the rest of your career and good health in your life. Go Wings!" Joey B., Eastpointe, Michigan: "Hey Mick! Congrats on the greatest honor any hockey broadcaster can receive. I was born in 1990 and have grown up on 'bingo-bango's' and 'look out's'." You are truly an example for fellow broadcasters to the live by. Keep it going Mr. Redmond, Voice of the Michigan Warriors (Flint)" John I., Escanaba, Michigan: "Enjoyed your play and now your TV play. You're one of the best when you give your opinion and one of the best at being fair in your analysis." Joel G., Farmington Hills, Michigan: "I am so very happy to learn of your receiving of this very prestigious award. You are most deserving of it. I met you in 1984 at the Sports Fantasies Hockey camp in Port Huron. You, Nick Libbett and I went out several nights to make last calls. Thanks for a great time then and wonderful memories since." Chris G., Flint, Michigan: "Thanks mickey for everything you've done for the Detroit fans and city over the years and congratulations on your award." Heather R., Gaylord, Michigan: "Mickey, congrats on your very deserving award! I am a long time fan of Red Wing hockey and you have always been a favorite of mine, both as a player and now as an announcer. Congratulations again! Keep up the 'Mickey-isms'." Bob E., Goodrich, Michigan: "Congrats Mickey as you deserve the award! Now go and show others what we Red Wing fans get to experience every game!" Jim P., Grand Blanc, Michigan: "Congratulations Mickey! You make the game of Hockey all the better. Your love for the game makes us enjoy listening and watching the Red Wings all the more." Pam J., Grandville, Michigan: "Congrats! I just received mine, and my grandson, Brayden's, T-shirts that you autographed this past summer when you were with Carey. And a picture of you holding both of them. They will always be treasured. Thanks so much for signing them." Guy M., Grass Lake, Michigan: "If God blessed hockey players, then he took his time with you! Just a little extra God bless and thank you for your time." Randy H., Grayling, Michigan: "Congratulations Mick! A Wings game, Mickey Redmond, and a cold 'Ginger-Ale.'. The perfect trifecta!" Patrick W., Grosse Pointe Woods, Michigan: "Dear Mickey, Congrats on a well-deserved honor. I am a big an of you and our Red Wings. Best of luck and hope to see you on the air for many years!" Jon O., Hazel Park, Michigan: "Congrats, and thank you foll all the great times over the years." Rachel, Holly, Michigan: Firstly, many congrats! I feel very privileged to have grown up with your 'Mickey-isms,' the Wings would not have been the same without them. I always look forward to hearing your broadcast and insight in the games! Thank you Mickey!" Jordan N., Jenison, Michigan: "Nice job Mickey! My wife and I always look forward to hearing you broadcast with Ken, and love the 'holy jumpin'' and 'holy mackerel's' in the game! Keep doing what you do! You make the Red Wings games!" Kathleen K-R., Lansing, Michigan: "Congratulations on a richly deserved award. You are truly a legend, hockey would not be the same without your involvement! Thank You! Just a silly note to add: my Dad used to enjoy a few 'ginger ales' with Terry Sawchuck, back in the day! Guess I was raised to be a hockey fan, and enjoy it so much!" Jenifer, Lincoln Park, Michigan: "Congratulations!! You do an awesome job, keep it up. <3 Jen" Mark L., Livonia, Michigan: "Congrats sir. You are impressive to listen to." Mary S., Manistee, Michigan: "Mickey, my husband and I are fans of the Wings and fans of you! Watching the games are even more special when you are broadcasting! Bingo-bang! Congratulations!!!" John P., Marquette, Michigan: Congrats Mickey! I have trouble watching the Wings when they show on other broadcasters, as you aren't commentating during the game! Be well, and thank you for what you do!" Troy A., Marquette, Michigan: "Congrats, Mick! You are very deserving of this award. I've been watching you broadcast Red Wings game since I can remember and always love the shoutouts you frequently give to the UP! We're all fans up here and Red Wings hockey will never be the same when you decide to call it a career. Hopefully that wont be any time soon though!" Richard R., Mayville, Michigan: You've been my favorite announcer for quite some time, congratulations on the well deserved award." Carol L., Northville, Michigan: "Congratulations Mickey. Totally enjoyed watching you play the great game of hockey and for years now have enjoyed your broadcasting of the greatest team in the NHL, the RED WINGS!! Keep up the good work." Roy P., Lake Orion, Michigan: "Congratulations, I have always enjoyed your broadcasts with the Wings. Glad to see someone else finally recognized your talent." Tony V., Owosso, Michigan: "I can't think of anyone else who does hockey games as well as you do. I love hearing you on Drew and Mike's show as well. You are the BEST. Aaron A., Perry, Michigan: Congrats Mickey! Glad to see that you are being recognized for all of your years of dedication. I have been a fan of yours for 17 years now. Thank you for making me a true fan of the greatest game on earth. Have a few Ginger Ales Mickey, you deserve them. I'm raising my Ginger Ale to the most honest broadcaster in all of professional sports." Alicia, Rogers City, Michigan: "Congratulations Mickey!! It Is A Well Deserved Honor!!" John C., Royal Oak, Michigan: "Micky, i love you man, you make hockey even more special for me. Hope for your continued health and congrats." Rick W., Royal Oak, Michigan: "It wouldn't be a hockey game without your play-by-play (or not play). Wish I could remember your remark about a Red Wing 'removing an opponent's clothes in a phone booth.' My wife and I like Ken but he is not in your league for insight, thoughts and history. You deserve this award in spades." Sharon G., Saginaw, Michigan: "Congrats Mickey, well deserved!! Watching my hockey games just are not the same when you're not there!" Ruth A., Sparta, Michigan: "Congrats Mickey for the West side of the State! You Rock!!!" Jeff D., Shelby Township, Michigan: Congrats Mickey! We'll have a few 'pops' while we watch the presentations!!!!" Ken, Swartz Creek, Michigan: "Thank you Mickey for making Red Wing hockey that much more for us fans, keep up the great work and good health to you my friend." Joe, Traverse City, Michigan: "I enjoyed watching you play and I am really glad you are an announcer!" Rick D., Traverse City, Michigan: We watch the wings mainly for your old-time humor and wit. Thanks, from a volunteer at training camp!" Erik J., Utica, Michigan: "Congratulations! Have been watching the Wings for a while now, and I really appreciate what you do!" Joe W., Warren, Michigan: "Way to go Mickey u deserved it...keep up the good work!!!" Patricia, White Lake, Michigan: "Congratulations Mickey!! You have always been my favorite player and announcer for the Wings!" Geoff D., Minneapolis, Minnesota: "Mick, over the years I've made many a trek to Detroit and have been fortunate to listen to you and Kenny call Wings and or college games. You are now in hallowed company and have earned it. Congrats sir!" Bob W., Cary, North Carolina: "I enjoy listening to you and your opinions on the Wings. congratulations, you have earned the award." Jeff W., Charlotte, North Carolina: "Mick, Been watching you on DirectTV since around 1994. I've gained huge amount of knowledge from your analysis - even though I've played hockey for 20 years. You have made being a wings fan special for me. Thanks!" Bill L., Perrysburg, Ohio: "Mr. Redman, congratulations on winning this award, it's long overdue. Thank you for the great and entertaining coverage you have provided the TV audience over the years. We look forward to many more years of listening to your commentary and stories. Have a Ginger Ale on us!" Brandon M., Toledo, Ohio: "Congrats, Mick!" Katie W., Exton, Pennsylvania: "I have enjoyed watching you first as a player then as a broadcaster. Thanks Mick, for over forty years of excellence. My heartfelt best wishes to you and your family. Sincerely, Katie Wright Lets Go Red Wings!" Scott O., East Providence, Rhode Island: "I enjoy your non biased approach to the game, you give credit where credit is due even if the guy is not wearing a Winged sweater (also have to throw in I enjoy your anecdotes), and I think many other announcers could learn a bit from your style. Simply put, thank you and God bless!" J.R. W., Myrtle Beach, South Carolina: "Congratulations on you award, Mickey. You totally deserve it. Keep up the good work!" Bill D. Thompson's Station, Tennessee: "Mr. Redmond (Mickey), congratulations on the Foster Hewitt Memorial Award as an outstanding hockey broadcaster. Keep telling it like it is Mick and you will be great. There's no one like you.We love ya, the entire Doute family. Great work." Kenneth M., Frisco, Texas: "Hi, Mick I watched you play and I listened to broadcast. I am 69 and have been a Red Wing fan a long time, I can't imagine watching or listening to the Red Wings with out you behind the mic. Congratulations on your award and I hope you stick around for awhile because when your gone so will I. thank you for this chance to drop a line and reach you in all my years this is the first time I ever done anything like this Thanks again GO WINGS." Bryan F., Lufkin, Texas: "Way to go Mr. Redman! I've enjoyed listening to you all these years. Even after I moved to Texas 25 years ago, I am still a Wing fan for life. God Bless you sir enjoy the moment." David S., The Woodlands, Texas: "Congratulations on the award. You should get another one for your winning goal (14-13) for the white team in the Red Wings 1993 Fantasy Camp. Great slide into the boards to finish the celebration with less than two minutes to go in the game at Fraser Arena." Bendon, Toronto, Ontario: "Hi Mickey, just wanted to say congratulations on the award. It's well deserved and you'll always be my favourite broadcaster."
Original Story:
http://www.foxsportsdetroit.com/11/14...
MORE FROM YARDBARKER
Red Wings News

Delivered to your inbox

You'll also receive Yardbarker's daily Top 10, featuring the best sports stories from around the web. Customize your newsletter to get articles on your favorite sports and teams. And the best part? It's free!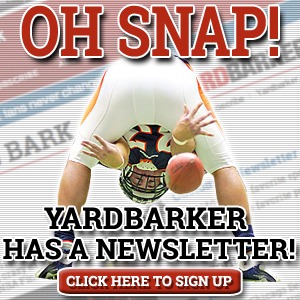 Latest Rumors
Best of Yardbarker

Today's Best Stuff

For Bloggers

Join the Yardbarker Network for more promotion, traffic, and money.

Company Info

Help

What is Yardbarker?

Yardbarker is the largest network of sports blogs and pro athlete blogs on the web. This site is the hub of the Yardbarker Network, where our editors and algorithms curate the best sports content from our network and beyond.