ATLANTA - JANUARY 07: Goaltender Chad Johnson #29 of the New York Rangers against the Atlanta Thrashers at Philips Arena on January 7, 2010 in Atlanta, Georgia. (Photo by Kevin C. Cox/Getty Images)
Connecticut Whale 1, Wilkes-Barre/Scranton Penguins 0 (SO)
Wilkes-Barre, PA, October 9, 2011 – Chad Johnson came up with a big performance in his first appearance of the season for the Connecticut Whale Sunday at the Mohegan Sun Arena at Casey Plaza, stopping 41 shots in regulation and overtime, and three of five in the shootout, to backstop the Whale to its first victory of the season, a 1-0 win over the Wilkes-Barre/Scranton Penguins.
After a scoreless 65 minutes, John Mitchell, Kris Newbury and Jonathan Audy-Marchessault, with the winner, scored shootout goals for the Whale on Penguin goaltender Scott Munroe, who stopped 24 Whale shots in regulation and overtime.  Niko Dimitrakos and Brian Gibbons scored on Johnson in the shootout, but the Whale netminder stopped Colin McDonald and Bryan Lerg, before denying defenseman Simon Despres on Wilkes-Barre/Scranton's last attempt to seal the win.
"It was good to get that first win in your first start," Johnson said.  "We battled hard last night (in a 6-3, season-opening loss at Adirondack) and just couldn't get the two points there, and I think tonight we just kind of stuck together and got the two points, which is important.  Early on, all the points you can get just helps out later in the year.  So if in situations like this we can get into overtime or the shootout and then get that extra point, it's important.  I think last year and the year before you could kind of see that, so I knew the importance of getting the shootout win.  It's definitely satisfying.
"The guys were doing a good job making sure I could see the puck.  They (the Penguins) kind of came with a lot of speed and were throwing everything on net.  So for me it was just being square (to the puck) and making sure I was ready for the shots, and just tried to control my rebounds as well as possible, and we just worked together."
The Whale had the best chance of the first period, when Andre Deveaux made a shifty move on right wing to get by Penguin defender Joey Mormina and slid a pass to Jordan Owens, who was alone in front of the net.  Munroe, though, got his catching glove on Owens' backhand shot.
Almost all of the pressure was in Johnson's end in the second period, however, as the Penguins outshot the Whale by a margin of 18-4.  Johnson's best save of the18 in that period was against Geoff Walker at about the 12:40 mark, as Johnson, with his pads on the ice, slid to his right to stuff a one-time attempt by Walker off of a cross-slot pass.
The third period was more even, with the shots 9-7 in favor of Wilkes-Barre/Scranton, and both teams had to come up with key penalty kills, the Whale with two early in the frame and the Penguins a pair in the second half.
The Whale had to kill a pair of minors against Newbury in overtime, one for tripping at 37 seconds and another for hooking at 4:47.
The shutout was sixth of Johnson's AHL career, in his first AHL appearance since February 24, after he finished last season with the New York Rangers, backing up Henrik Lundqvist after Martin Biron was injured.
The Whale have one more road game on their schedule, Friday night at Albany (7:00 PM faceoff, 106.9 WCCC-FM, www.ctwhale.com), before the first Whale home opener this Saturday, October 15th, a GEICO Connecticut Cup battle against the Bridgeport Sound Tigers at the XL Center at 7:00.  Five-thousand fans at that game will receive a free Whale magnetic schedule, sponsored by Drive Sober or Get Pulled Over.  Tickets to the home opener, and all 2011-12 Whale home games, are on sale now at the Public Power Ticket Office at the XL Center, as well as on-line at www.ctwhale.com and through TicketMaster Charge-by-phone at 1-800-745-3000.
Connecticut Whale 1 (SO) at Wilkes-Barre/Scranton Penguins 0
Sunday, October 9, 2011 – Mohegan Sun Arena at Casey Plaza
Connecticut 0 0 0 0 – 1
W-B/Scranton 0 0 0 0 – 0
1st Period- No Scoring. Penalties-Picard Wbs (boarding), 0:14; Newbury Ct (slashing), 4:52.
2nd Period- No Scoring. Penalties-Redden Ct (tripping), 4:25; Lerg Wbs (holding), 8:46; Newbury Ct (roughing), 15:35; Picard Wbs (roughing), 15:35; served by Audy-Marchessault Ct (bench minor – too many men), 17:08.
3rd Period- No Scoring. Penalties-Nightingale Ct (tripping), 4:56; Hagelin Ct (hooking), 7:38; Dimitrakos Wbs (tripping), 11:44; Tangradi Wbs (goaltender interference), 14:40.
OT Period- No Scoring. Penalties-Newbury Ct (tripping), 0:37; Newbury Ct (hooking), 4:47.
Shootout - Connecticut 3 (Mitchell G, Thuresson NG, Newbury G, Audy-Marchessault G), W-B/Scranton 2 (McDonald NG, Dimitrakos G, Gibbons G, Lerg NG, Despres NG).
Shots on Goal-Connecticut 8-4-7-4-1-24. W-B/Scranton 9-18-9-5-0-41.
Power Play Opportunities-Connecticut 0 / 4; W-B/Scranton 0 / 7.
Goalies-Connecticut, Johnson 1-0-0 (41 shots-41 saves). W-B/Scranton, Munroe 0-0-1 (23 shots-23 saves).
Attendance-4,133
Referees-Jean Hebert (43), Ryan Fraser (14).
Linesmen-Matt MacPherson (83), Bob Fyrer (72).
Original Story:
http://www.blueseatblogs.com/2011/10/...
MORE FROM YARDBARKER
NHL News

Delivered to your inbox

You'll also receive Yardbarker's daily Top 10, featuring the best sports stories from around the web. Customize your newsletter to get articles on your favorite sports and teams. And the best part? It's free!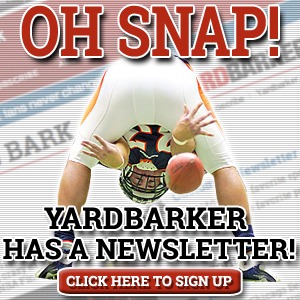 Latest Rumors
Best of Yardbarker

Today's Best Stuff

For Bloggers

Join the Yardbarker Network for more promotion, traffic, and money.

Company Info

Help

What is Yardbarker?

Yardbarker is the largest network of sports blogs and pro athlete blogs on the web. This site is the hub of the Yardbarker Network, where our editors and algorithms curate the best sports content from our network and beyond.