Found April 09, 2013 on Fox Sports Florida:
TAMPA, Fla. Cory Conacher unlaced his skates, and he spoke with mixed emotions. More than seven hours before puck drop, he prepared for another game at Tampa Bay Times Forum in an unfamiliar, cramped visitors dressing room. His black undershirt, stained with sweat, read, PROPERTY OF SENATORS. Ruffled Ottawa Senators jerseys were tossed into a large black hamper near the center of the space. Down the hall, his former team the lone NHL franchise he had known for the first 35 games of his career carried on without him. Conacher sat at his locker Tuesday, shortly after addressing a large media contingent, and he continued a morning of change. Six days had passed since the 23-year-old center was traded from the Tampa Bay Lightning to Ottawa in exchange for goalie Ben Bishop and a fourth-round pick in the upcoming draft. Memories of his former home remained fresh. Ive got to give credit to Ottawa and all the players on Ottawa for helping me feel at home and feel like Im wanted here, Conacher told FOXSportsFlorida.com. Theyve done a good job of doing that. There are a lot of great leaders on this team and a lot of good people. Its important to have that on a team in order to have that chemistry. Conacher was honest and revealing about his Tampa Bay return. He said he had built solid relationships with some Lightning players, but he looked forward to developing new connections in Ottawa. He said that off the ice, he had friends wearing the Bolt, but within the rink, its just going to be a battle." He said that there were no hard feelings between him and his former franchise, but he wanted his current team to win all the same. His return to Tampa Bay Times Forum, for the Senators game against the Lightning, represented the continuation of a new chapter for him. In the first two games since the trade, he had earned one goal and a plus-minus rating of plus-3. Conachers Lightning career was brief. Tampa Bay signed the 5-foot-8, 179-pound native of Burlington, Ontario, as a free agent on July 5, 2011. He had nine goals and 24 points and was considered one of the franchises rising young talents. To him, the trade came as a shock. He learned of his departure from media reports before Lightning vice president and general manager Steve Yzerman relayed the news. It will be a little surreal, Lightning coach Jon Cooper, also Conachers coach in the American Hockey League, said Tuesday morning. Ive gone to war with that kid for a year and a half. It was one of those trades, I just think that was a hockey trade. It helped both teams. I dont think there will ever be a winner or loser out of that trade. I think it was a win-win. But it hurts. Thats the takeaway from Conachers departure. Sometimes, pain is necessary to move forward. The trade was needed for Tampa Bay to secure a talent like Bishop, who the Lightning hope can add depth in an area of their greatest weakness. Sometimes, hard choices must be made. Still, the differences were stark. On one side of the hall at Tampa Bay Times Forum in a small room where Cooper stood there were words of praise, nostalgia and thanks for Conachers impact. On the other where the young players new life was found there were words of anticipation for where this partnership could lead. His offensive ability and his upside are unbelievable, Ottawa winger Chris Neil said. To see a guy at his size, how he works and he competes, hes never down and out. He reminds me a lot of (Martin) St. Louis and his competitive level. He has always been told that hes never going to make it. He has proved everyone wrong. He adds speed and skill, Ottawa coach Paul MacLean said. He has good vision with the puck. We think, right now, the chemistry developing with (winger Jakob) Silfverberg and (center Mika) Zibanejad has been very good. That line has been very good in the two games that he has played. They have the ability to hang onto the puck. With the three of them, they are very skilled, and they see the ice well. So far, we like the way that it has gone. Both Conacher and the Senators will learn more about the other in future time spent together. But for a moment Tuesday, with memories of a former life fresh, the young player was given a chance to look back. That was the first time in my life that I got traded from a team, Conacher said, dressed in his new colors. Its definitely hard to leave some of those guys. You can follow Andrew Astleford on Twitter @aastleford or email him at aastleford@gmail.com.
Original Story:
http://www.foxsportsflorida.com/nhl/t...
THE BACKYARD
BEST OF MAXIM
RELATED ARTICLES
Cory Conacher is excited to face his former team so quickly after being dealt - especially with his new club desperately needing a victory. Conacher and the Ottawa Senators continue their seven-game road trip Tuesday night against the Tampa Bay Lightning trying to avoid a season-worst fifth consecutive defeat. Dealing with injuries that have deprived the Senators of their top offensive...
Senators defenseman Erik Karlsson is an absolute freak, and there really is no other way to describe it. Not even two months ago, Karlsson's Achilles' tendon was sliced by the skate of Penguins forward Matt Cooke. Karlsson has returned to the ice where he was seen with Ottawa skating coach Mark Power at the Sens' practice complex Monday. That's obviously pretty insane, but...
In somewhat of an eyebrow raising move, the Ottawa Senators recalled Jean-Gabriel Pageau from the Binghamton Senators this afternoon. It's unexpected in the sense that Milan Michalek's skating again with the team and many have speculated that he could make a return as soon as tomorrow night in Philadelphia. Pageau's presence gives the roster 14 forwards, 15 if you...
Don Brennan of the Ottawa Sun:People were stunned that the Senators would use a first-round pick to draft a 150-lb. defenceman from Sweden in the first place, never mind that, two years later and only a few meatballs heavier, the same kid would score 45 points in his rookie NHL season. Nobody dreamed that, the very next October, at the tender age of 21, he would begin a march to...
from Don Brennan of the Ottawa Sun, People were stunned that the Senators would use a first-round pick to draft a 150-lb. defenceman from Sweden in the first place, never mind that, two years later and only a few meatballs heavier, the same kid would score 45 points in his rookie NHL season. Nobody dreamed that, the very next October, at the tender age of 21, he would begin...
from Ian Mendes of Sportsnet, With five consecutive losses in a row — all in regulation time — the Ottawa Senators players can feel the pressure mounting in the Eastern Conference playoff race. "It's frustrating. When you get frustrated, you grip your stick tighter or whatever. We have to get our swagger back, if that's what you want to call it," said forward...
There is still 2 1/2 weeks left in the NHL season, but it's never too early to start talking about awards. The Instigators talked about the Jack Adams Award and the Calder Memorial Trophy on this week's "Two Minutes for Instigating." Barry Pederson thinks that Paul MacLean should win the Jack Adams if the Senators make the playoffs. If Ottawa misses the cut, Pederson thinks...
Make sure to follow Travis on Twitter! -- Since taking over the Ottawa Senators a year and change ago, I've only seen Paul MacLean visibly frustrated twice: the first after an incident with official Dan O'Rourke, the second after last night's loss to Tampa Bay. Ottawa's head coach has said regularly to the media how useless of an emotion frustration is, so it...
The Ottawa Senators are in the midst of a freefall that has seen them lose their once-solid grip on a playoff spot. Now they'll continue their road trip in a place that has not been kind to them. The Senators look to snap their five-game losing streak when they take on the Philadelphia Flyers on Thursday. Following a home loss to Toronto, Ottawa has dropped the first four games...
Make sure to follow Travis on Twitter! -- Expect the unexpected? Ottawa's in the middle of a four-game losing streak, and naturally, the team is wildly eying potential internal reinforcements to stop the bleeding. The team got back starting goaltender Craig Anderson against Florida on Sunday; winger Milan Michalek is extremely close to returning from a knee scope, and it...
Now's not the time to pani…. OH MY GOD THE SENATORS HAVE LOST FOUR GAMES IN A ROW!!!! Of course the ensuing outpouring of sensationalistic drivel that flows naturally in any hockey mad city. Sports radio exploits it and in many cases, encourages it. blogs, forums, and Twitter thrive on the discussion and dialogue. Everyone either wants to know what's wrong with the...
NHL News

Delivered to your inbox

You'll also receive Yardbarker's daily Top 10, featuring the best sports stories from around the web. Customize your newsletter to get articles on your favorite sports and teams. And the best part? It's free!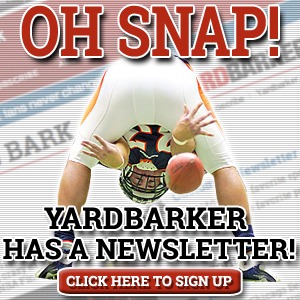 Latest Rumors
The Backyard

Today's Best Stuff

For Bloggers

Join the Yardbarker Network for more promotion, traffic, and money.

Company Info

Help

What is Yardbarker?

Yardbarker is the largest network of sports blogs and pro athlete blogs on the web. This site is the hub of the Yardbarker Network, where our editors and algorithms curate the best sports content from our network and beyond.