Found January 16, 2013 on Fox Sports Arizona:
GLENDALE, Ariz. Heres what we already know about the Coyotes 48-game schedule.: One-third of their games (16) will be played in back-to-back sets. The season will end about three weeks later than last season, and there arent many minor-league players in training camp because the coaching staff and general manager Don Maloney dont have time to evaluate up-and-coming talent or alter the roster with the season starting Saturday. The Coyotes must have their systems installed and their game plan ready when they travel to face the Dallas Stars. Youre going to hear a lot about how you have to have a great start, but I look at it as you have to have a great start, a great middle and a great finish, coach Dave Tippett said. Youve got to be ready to play when the puck drops next Saturday, but youre going to have to play well all the way through because I think its going to come down to a point or two at the end, and that consistency might be the difference in being on the right side of that. Will the Coyotes have an advantage because so many of their players have been skating together during the offseason? Some think so. When you talk to guys from different teams, different cities, they only had a few guys skating (together), defenseman Zbynek Michalek said. Here, we had 10 or more guys all the time. You get to bond with the guys, get together, go for lunch, skate together, play golf thats very important. Others are not so sure. Advantage? Well wait and see, captain Shane Doan said. Its not going to hurt you. Hopefully it gets you three extra points. Id be happy with three extra points. The condensed schedule will certainly put a premium on points, but here are five other factors to consider in this all-out sprint to the postseason. 1. All games will be played within the Western Conference: Why is that significant? Because every game will be played against an opponent jockeying with Phoenix for postseason position. If the Coyotes beat Dallas on Saturday, not only will they earn two points, they will have denied Dallas two points, making the game a four-point swing. Its very much like a playoff situation, Tippett said. 2. The trade and assimilation windows are condensed: Maloney said Monday that conversations between general managers during the lockout were almost non-existent. That means any possible deals that normally would have occurred during the offseason were tabled. Maloney had hoped to have a trade done by last Monday; now hes not sure anything will happen before the season starts, with one deal still possible in which the Coyotes take on a portion (perhaps the minimum allowable percentage of 50 percent) of another players salary to get him off another teams books. There is another concern, however. How well will that player blend and how quickly can he blend? In all candor, we look at mix and chemistry as much as we look at talent, so as much as we might like the player on the ice, were still concerned with what hes like off it. Does he fit with our culture? Maloney said. Plus, its a short season. Theres not a big learning curve of games or in training camp to sort things out. 3. The loss of practice time: The NHL reports that the condensed schedule will increase teams weekly schedules from 3.1 to 3.4 games. Theres also a significant loss in practice time. The Coyotes get four days off between games on Feb. 18 (Calgary at home) and Feb. 23 (Edmonton on the road) and three days between games on March 21 (Vancouver) and March 25 (Detroit). Other than that, there are no greater gaps than two days between games, and the Coyotes will play eight sets of back-to-back games. How will that affect practices? Were going to have to be creative with that. We want to make sure that our players, for every game, have as much energy as possible, said Tippett, admitting there could be less practice time than even the schedule permits. There could be some stuff we do through video, some with meetings and some on the ice -- maybe some real short practices, more like morning skates than anything else. 4. Depth will be at a premium: Injuries always have an impact on a roster, but in a shortened season they could have a greater impact. A severely separated shoulder doesnt care that the schedule has been shortened. It will take the same amount of time to heal, and that will equal a greater percentage of a 48-game slate. Theres also fatigue to consider. Some teams may want to rest veterans or slightly injured players on the back end of back-to-backs or during a grueling road stretch. The clubs that have better depth to call on could enjoy an even greater advantage than normal in these situations. 5. Mike Smith: Smith jokingly said he wants to play every game, but he knows that wont happen. Were going to need both our goaltenders, Tippett said. Weve got seven games the first 12 days, so there will be some crunch. Well monitor, make sure the guy were putting in there is physically at his best to give us the best he can. How much the Coyotes will turn to backup Jason LaBarbera remains to be seen, but how much will the condensed schedule impact Smiths play, fatigue level and mental sharpness? Well see, Smith said. Rest is going to be just as important as practices to stay sharp, but we havent been playing for four months now, so we should be well rested from not having to play all those games. Clearly, the Coyotes season hinges on another elite performance from Smith. Follow Craig Morgan on Twitter
Original Story:
http://www.foxsportsarizona.com/01/16...
THE BACKYARD
BEST OF MAXIM
RELATED ARTICLES
GLENDALE, Ariz. -- If Don Maloney were the general manager of the Suns, Diamondbacks or Cardinals, hed be a rock star in the Valley. Hes photogenic, hes likeable, hes refreshingly candid for a man in his position and, most important, hes very good at his job. In five seasons as the Coyotes' GM, he has distinguished himself with a litany of shrewd financial moves, his ability...
The last time we saw Raffi Torres on NHL ice in game action was last spring. The Phoenix Coyotes forward had just launched himself into Chicago Blackhawks star Marian Hossa, leaving the playmaking forward motionless on the ice. It was clear to anyone who had seen the hit that the NHL needed to come down hard on Torres for the despicable hit, with the hopes that a lengthy suspension...
GLENDALE, Ariz. Phoenix Coyotes Chief Operating Officer Mike Nealy announced today that 44 Coyotes regular season games will be televised on FOX Sports Arizona and FOX Sports Arizona Plus during the 2012-13 National Hockey League season, including the season opener on Jan. 19 at Dallas. In addition, to the 44 games offered by its local television partner, three others will be broadcast...
I'm running a bit behind here. Training camps opened on Sunday across the NHL and the Coyotes had their first public practice on Monday. I did attend and took a few pictures (after the jump). Being that it was the first day it is hard to say anyone really stood out or knocked my socks off. I didn't get to see any more so this is all I can go on.Andy Miele did completely undress...
Per TSN's Darren Dreger, the Leafs have traded forward Matthew Lombardi to the Phoenix Coyotes for a conditional draft pick. Will update
The Phoenix Coyotes officially returned to the ice with their first full workout of the season. About 100 of their fans came to watch, too. While most of the NHL's teams jumped on the first opportunity to practice after the lockout ended, Phoenix waited until Monday for its first full-team workout. They Coyotes have been practicing on their own since the lockout began and practiced...
NHL News

Delivered to your inbox

You'll also receive Yardbarker's daily Top 10, featuring the best sports stories from around the web. Customize your newsletter to get articles on your favorite sports and teams. And the best part? It's free!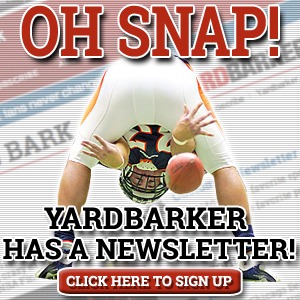 Latest Rumors
The Backyard

Today's Best Stuff

For Bloggers

Join the Yardbarker Network for more promotion, traffic, and money.

Company Info

Help

What is Yardbarker?

Yardbarker is the largest network of sports blogs and pro athlete blogs on the web. This site is the hub of the Yardbarker Network, where our editors and algorithms curate the best sports content from our network and beyond.