Found March 14, 2012 on Red Light District Hockey:
PLAYERS:
Sidney Crosby
,
Evgeni Malkin
,
Jordan Staal
,
Pascal Dupuis
,
Steve Sullivan
,
Kris Letang
,
Henrik Lundqvist
,
Ilya Bryzgalov
,
Dan Bylsma
TEAMS:
Pittsburgh Penguins
,
New York Rangers
,
Philadelphia Flyers
There are currently four teams that have more points than the Pittsburgh Penguins. Don't let the standings fool you. With Sidney Crosby returning to the lineup, the Penguins are undoubtedly the NHL's team to beat.
The current winning streak the Penguins are on – nine games, by the way – is fascinating. Their level of competition hasn't been great, but winning that many games in a row is tough no matter who you're playing. It's not like the Pens have been riding the coattails of Evgeni Malkin over the last nine games. Their role players have been getting the job done, which makes them even scarier with Crosby coming back Thursday.
Jordan Staal has been on fire ever since returning from a knee injury on Feb. 11. He has 17 points in 14 games since then, centering an effective line with Pascal Dupuis (five points in last three games) and Steve Sullivan (13 points in last 11 games). That's not to say that their second line has been carrying the team. The top line has still been productive, and Malkin has been the best player on the ice most nights.
With Crosby out of the lineup, Malkin has turned into the best player in the world (again) – but can he continue at his torrid pace with Crosby back? That will be one of the more interesting things to watch as No. 87 returns.
Aside from the 2009 postseason, Malkin has historically been at his best when No. 87 has been sidelined due to injury. Further, Geno's production has soared (60 points in 40 games) since Crosby suffered his second concussion back in December.
Crosby's return has taken attention away from the fact that defenseman Kris Letang – sidelined with a concussion since Feb. 29 – is inching closer to getting back in the lineup, as well. The Penguins are 25-10-5 with a healthy Letang this season. When the Pens' defense corps is healthy, it's one of the best in the league – led by Letang.
So if Crosby and Letang stay healthy upon their return, how deep can this team go? All the way. Without those two game-changers, this Penguins team can challenge to come out of the East. With both Crosby and Letang, though, the potential is sky high.
With a healthy lineup, are the Penguins better than the Rangers? Outside of Henrik Lundqvist – the great equalizer – they are definitely better than the division-leading Blueshirts. Philadelphia could challenge them if Ilya Bryzgalov keeps up his current play into the playoffs, but no one else in the conference could beat the Pens at the top of their game.
A quick look at the West: Vancouver is well-built to beat anyone, but the Pens are better than St. Louis, Detroit and Nashville.
Penguins head coach Dan Bylsma has to like what he sees from his team right now, winning nine in a row in different forms and fashions. (Possessing a lethal power play compared to years past is gravy.) Adding Crosby and Letang to the arsenal this close to the playoffs just makes a second Stanley Cup in four years all the more realistic in the Steel City.
If anyone else wants to win the Cup, they will have to go through the Penguins.
Photo credit: Getty Images
Original Story:
http://www.rldhockey.net/2012/03/cros...
THE BACKYARD
BEST OF MAXIM
RELATED ARTICLES
The greatest hockey player on the planet is returning to NHL action tonight and all eyes will be on how he moves, how he handles the puck, handles contact, and, most importantly, how he scores. Everybody knows that the Pittsburgh Penguins are one of the most potent offenses in the league, but tonight they'll be facing the Eastern Conference-leading New York Rangers, who have a...
It will be an immense day for the National Hockey League on Thursday, when the game's best player is planning to return. Since January 1st, 2010, more than a year ago, Sidney Crosby has played only 9 games. He tried to make a comeback earlier this season but went back to the injured reserve when his concussion-like symptoms returned."I feel good, and the plan is to play...
Bergen Record - Rangers brace for Sidney Crosby's returnNew York Post - Pens' Crosby returns from injuries tonight vs. RangersDaily News - Crosby return spices up Rangers-PensNew York Times - Crosby Is Ready to Face the RangersNewsday - Crosby set to return against RangersRemember to follow me on Twitter & Facebook or e-mail me at nyrfan94@yahoo.com.
Bergen Record - Rangers ripped by Crosby-led Pens, 5-2New York Post - Penguins cut Rangers' lead to four points in Crosby's returnDaily News - No Kid-ing: Sid leads Pens past NYRNew York Times - Crosby Blends In as Penguins Stand Tall Against RangersNewsday - Penguins get Sidney Crosby back, roll past RangersRemember to follow me on Twitter & Facebook or e-mail me at ...
Sidney Crosby might not be the only one that could be back in the Penguins lineup tomorrow.  It's rumored that Kris Letang, who was out for the last several games with a recurrence of concussion like symptoms, could dress for Thursday's showdown with the Rangers.  The return of Letang would be a huge boost for the power play and would virtually complete the Penguins' season...
Matt Cooke scored a pair of goals and Sidney Crosby had an assist in a triumphant return to the lineup as the red-hot Pittsburgh Penguins extended their winning streak to 10 games with a 5-2 victory over the host New York Rangers on Thursday.Evgeni Malkin, Chris Kunitz and Pascal Dupuis also scored goals as the Penguins whittled Eastern Conference-leading New York's lead to four...
Looks like the Rangers are listening (via New York Times)...Brian Boyle..."Look, don't get me wrong. I'm happy for him that he's healthy. But our mentality cannot change and it will not change. When we play against Crosby, we have to play him hard."Carl Hagelin..."It's always fun to go up against the best player. We just have to make sure all our emotion...
NBC Sports and the NBC Sports Network (NBCSN) will be offering a comprehensive slate of college hockey and NHL action over the next week. It all starts tonight as NBCSN has the return of Sidney Crosby as the Penguins take on the Rangers in New York. College hockey takes over Friday and Saturday as the
"I believe he will play the way he knows best, which is to compete at the highest level he can." "He is very strong mentally and will be ready for it. If he had any doubt about his abilities he wouldn't risk it. Hockey is also what he loves to do." -Pat Brisson, player agent for Sidney Crosby.  More on Crosby from Helene Elliott of the LA Times.
This is what many hockey folks are wondering when it comes to tonight's tilt between the New York Rangers and Pittsburgh Penguins at Madison Square Garden. For starters, it is both a divisional- and conference- battle. The Blueshirts currently hold a six point lead over the Penguins as the top spot in both the Atlantic Division and Eastern Conference. On the other side, the Penguins...
This is what the New York Rangers need to do when it comes to tonight's game with the Carolina Hurricanes at Madison Square Garden. It would be very easy for the Blueshirts to simply forget about tonight and turn their attention to Thursday night's tilt with the Pittsburgh Penguins. With Sidney Crosby announcing that he will definitely be in the lineup for that game, it would...
Glen Sather at GM meetings: with a healthy Sidney Crosby, the Penguins are the best team in the NHL.— Chris Botta (@ChrisBottaNHL) March 14, 2012 ...assuming Sather is trying to deflect some pressure off his team, but until the Pens overtake the Rangers in the standings I'm going to continue to say the Rangers are better.Remember to follow me on Twitter & Facebook or...
NHL News

Delivered to your inbox

You'll also receive Yardbarker's daily Top 10, featuring the best sports stories from around the web. Customize your newsletter to get articles on your favorite sports and teams. And the best part? It's free!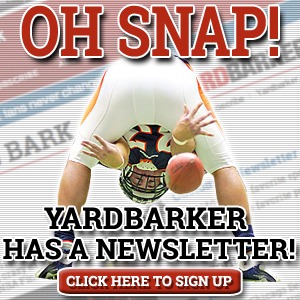 Latest Rumors
Best of Yardbarker

Today's Best Stuff

For Bloggers

Join the Yardbarker Network for more promotion, traffic, and money.

Company Info

Help

What is Yardbarker?

Yardbarker is the largest network of sports blogs and pro athlete blogs on the web. This site is the hub of the Yardbarker Network, where our editors and algorithms curate the best sports content from our network and beyond.