Found June 03, 2013 on Fox Sports Detroit:
Detroit -- Now that the Red Wings are done, Darren Helm can afford to take his time to get completely healthy. Helm, who injured his back lifting weights before the lockout-shortened season started, was limited to one game, Jan. 25 against the Minnesota Wild. Wings general manager Ken Holland said Helm had seen four doctors and none of them found anything structurally wrong with his back. "We're taking it a lot slower," Helm said after the Wings cleaned out their lockers Friday. "Before we had timelines on when I wanted to be healthy and get out there and play. Now I have a few months to work with and get healthy and ready for training camp." Helm, 26, said he has not been on the ice lately and will hold off on that until he believes he's fully ready. Helm expressed confidence that he would be ready for training camp. "Its got to turn around," Helm said. "Ive talked to a lot of people who have said it just takes time and you have to say positive and you have to hope it gets better." Coach Mike Babcock did not sound quite as sure. "He's a young man, we need him," Babcock said. "There's no one more sick to his stomach than Helmer over Helmer not playing. But two years in a row we didn't have him at playoff time. We need him at playoff time. But we don't know what's going on. So here we are today, he's no closer today than he was at training camp this year. That's not a good sign. "The optimist in me says he's a young man, they got to find (the cure), the medical profession is pretty good. We got to figure this out and he's got to get back and playing." Helm went through two injuries last season, the first a knee injury that kept him out late in the season. When he returned for the first game of the playoffs against the Nashville Predators, he lasted one shift before suffering a severed tendon in his wrist when he was caught by an errant skate blade. "It's been tough," Helm said. "I want to play hockey. Last year injuries have been tough for me. I'm kind of curious if I even know how to play hockey anymore. It's been a long time. I'm really itching to get healthy and playing again." Helm is perhaps the Wings' fastest player and one of the best penalty killers on the team. In his absence, and with Drew Miller's thumb injury for the end of the season and start of the playoffs, the Wings had to rely on some of their top scorers like Pavel Datsyuk and Henrik Zetterberg to play shorthanded. Helm said it was hard to watch his teammates play without him but he was encouraged by the development of some of the young players. "It was awesome," Helm said. "Guys played really good. It made me upset that I couldn't be there but it was great to see a lot of young guys, few guys who have been here, really step up their game, really encouraging for the future. Great to watch, can't wait to be a part of it."
Original Story:
http://www.foxsportsdetroit.com/nhl/d...
THE BACKYARD
BEST OF MAXIM
RELATED ARTICLES
If you didn't get the wedding announcement in the mail, don't worry ... that's not how things are done these days. Instead, former Dallas Stars great Mike Modano announced this weekend that he is engaged on his Facebook page. "It's official- we're engaged! couldn'tbehappier," Modano posted, along with a picture of the couple. Modano did not say...
This interview was posted a wee bit late, and it's a classic, "GM speaking from car, on phone, occasionally ear-dialing" interview, but this past Friday, Ken Holland spoke to WBBL's Huge Show's Bill Simonson, and he offered both reflections upon the regular season and playoff run that was, as well as the shape of the roster to come--stating that the Wings fully...
In theory, this exhausted blogger (still, go figure) has a light morning. The Detroit Free Press (via photos) and Michigan Hockey (text, video, photos) looked back at the top moments of the Red Wings' 2013 season, USA Today posited a list of the top unrestricted free agents-to-be, and Valtteri Filppula's picture includes a ridiculously astute comment from Matt Kartozian...
Per the Grand Rapids Griffins' PR department, the Red Wings have officially assigned Danny DeKeyser to the Griffins, which probably means that he's healthy enough to play for them as his broken right thumb has healed: DANNY DeKEYSER JOINS GRIFFINS GRAND RAPIDS, Mich. – The Detroit Red Wings on Monday assigned defenseman Danny DeKeyser (de-KAI-zuhr) to the Grand...
With the Detroit Red Wings' 2013 season coming to a difficult end in a Game 7 overtime loss to the Chicago Blackhawks, the latest episode of The Detroit Sports Show podcast will take a look back at the Wings' playoff run. We'll also take a look-ahead to the 2014 season and free agency — specifically, how much did the play of the Wings' young guys late this year dictate...
This morning, the Free Press's Helene St. James pondered where Jordin Tootoo fits into the Red Wings' lineup going forward, pointing out that Wings coach Mike Babcock both lauded Tootoo's regular-season performance and stated taht Tootoo's essentially not the kind of player who's going to find himself skating during the playoffs lest he take an unnecessary penalty...
Amongst this afternoon's Red Wings-related news stories: First, foremost and for the record, the Detroit Free Press's readers named Fox Sports Detroit's Ken Daniels Michigan's best sports broadcaster, and I think MLive's readers got it right in naming Jimmy Howard the Wings' MVP (hell, even Lambert praised Howard today);   Second, the Grand Rapids...
Baseball cards have long held the mantle for having some of the most awesomely terrible trading cards. But after a quick search it became obvious that hockey has had its share too. Here are some of my favorite terribly awesome hockey cards: Leather Jacket? Check. White washed jeans? Check. One leg against the wall? Check. Do I look cool? Yes, the Uncle Jessie look has never been...
A little under two days removed from the Red Wings' locker room clean-out day, a pair of pundits are already looking toward next season, when the Red Wings will move to what we've been told is a bigger, meaner but more "open" Eastern Conference. Fox Sports Detroit's Art Regner spoke with several Wings players and the Wings' coach about, as Mike Babcock...
First and foremost, beware: auto-play videos lurk within! Five days after the Red Wings' season-ending loss to Chicago and two after the team's locker room clean-out day, I'll admit it: I'm still pissed off. I'm still pissed off about the way the series unraveled and I'm still pissed off about the fact that the even-up refereeing gods as well as the outside...
The kids are all right. This was the first time since I can remember...there was not ONE mention of the Red Wings' age being a hindrance to their play-off performance.  I take that back...they were actually talking about the YOUTH of the organ-i-zation...when was the last time THAT happened? There's a lot of reasons to optimistic about this team's future.  The...
Obviously - this isn't the kind of thing I'd like to be writing about here in the early parts of June.  But at least the Red Wings gave us great hockey almost all the way through May. ...Yeah I know it wasn't ALWAYS great hockey.  But at least we have a team that you can actually be proud of.  Tell you what...we'll come back to that. The point of this post...
NHL News

Delivered to your inbox

You'll also receive Yardbarker's daily Top 10, featuring the best sports stories from around the web. Customize your newsletter to get articles on your favorite sports and teams. And the best part? It's free!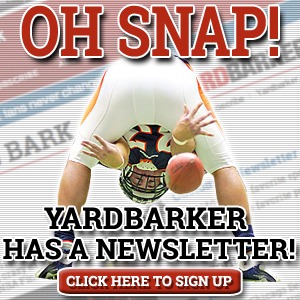 Latest Rumors
The Backyard

Today's Best Stuff

For Bloggers

Join the Yardbarker Network for more promotion, traffic, and money.

Company Info

Help

What is Yardbarker?

Yardbarker is the largest network of sports blogs and pro athlete blogs on the web. This site is the hub of the Yardbarker Network, where our editors and algorithms curate the best sports content from our network and beyond.