Found February 28, 2012 on The Rangers Tribune:
David Clarkson did what he always does in last night's meeting between the New York Rangers and the New Jersey Devils at Madison Square Garden. He ran his mouth and pulled his usual antics in attempt to get the Rangers off of their game. For some reason he believes that he can singlehandedly change the focus of the entire club, and not only that, but a Blueshirts squad that isn't fazed by very much at all. You can try all you want, but you will never get this team off track through pee-wee antics, and I give head coach John Tortorella some of the credit for instilling that mentality ever since he took over behind the bench several years back. 
Anyway, Clarkson was not given the attention he wanted and ended up receiving a 10-minute game misconduct when he got out of control in the opening period. Upon returning, he still continued to mix it up with big Mike Rupp and several others until he went to an ultimate extreme out of desperation. He proceeded to leap into the air in the direction of New York forward Brandon Dubinsky's head along the boards. Thankfully Dubinsky was not harmed on the play and immediately took exception and dropped the gloves with Clarkson.
The beating he applied on Clarkson, by the way, was well deserved and I'm sure much appreciated on the Rangers' bench.  
Brendan Shanahan and the National Hockey League have no choice but to take a second look at this hit, and it will be an absolute crime if Clarkson is not suspended. Why? It's more because of Clarkson's intents throughout the game than just the hit alone. He's an attention-seeking rat in a league that is attempting to sustain a professional persona in comparison to other major league sports. To have a guy like Clarkson running around out there making a joke of the game and ultimately leaping into players is a downright embarrassment. 
I had seats five rows up behind Henrik Lundqvist's net last night, and several times I saw him take whacks or intentionally bump into Hank behind the play where it will go unnoticed. It's just uncalled for. It's one thing to agitate, but it's another to take cheap shots. 
If the league wants to rid themselves of this sort of behavior, they need to rid themselves of the players first. It's a shame because Clarkson can actually be an effective hockey player, but he instead chooses to be an instigator who not only instigates, but pushes buttons until he must face some sort of disciplinary action. He's out of control. 
Intentionally trying to injure someone by lunging at their head is not only cowardly but it also speaks to self-character (or lack thereof) and self-control. It makes the NHL look extremely bad, especially since they are trying to get more kids involved with the sport at a younger age. Would you, as a parent, want your young child thinking it's okay to throw their body at someone's head because they are not getting attention? Absolutely not, but sadly Clarkson's childish antics leave us in this position.
Let's face it; the era of goons in the National Hockey League is long over. 
Original Story:
http://www.rangerstribune.com/the-ran...
THE BACKYARD
BEST OF MAXIM
RELATED ARTICLES
Tom Gulitti at the Bergen Record reports that there will be no hearing or suspension for David Clarkson for his charge on Brandon Dubinsky last night.Gulitti adds that the two factors that probably played into this decision was no hit to the head or injury.Clarkson will likely receive a warning call from Brendan Shanahan or a fine for the play...i agree with the no suspension. Nothing...
New York Rangers President and General Manager Glen Sather announced today that the club has acquired defenseman John Scott from Chicago in exchange for a fifth round pick in the 2012 NHL Entry Draft. Scott, 29, has skated in 140 career regular season contests in four seasons with Minnesota and Chicago, registering one goal and [...]
The Rangers reported that Ryan Callahan did not practice this morning due to a sore foot. John Tortorella says he's not sure if the Rangers captain be in the line-up tomorrow....noticed Callahan skating gingerly to the bench after blocking a shot against the Devils Monday night. Please God don't make it another broken bone for Callahn during the final month of the season...
The Rangers passed through the trade deadline with very little change but plenty of rumour. If you're in the Larry Brooks camp you'll have noted that Glen Sather offered half the organisation (comic exaggeration) for Rick Nash. If you're tending to listen to Glen Sather's rarely spoken word you'll believe the reports regarding the Rick Nash proposal were exaggerated (sensationalizing by...
New York Rangers captain Ryan Callhan is listed as day-to-day with a bruised foot and could miss Thursday's game against the Carolina Hurricanes.Callahan will travel with the team to North Carolina, but coach John Tortorella said he's not sure if the right wing will be able to play.The 26-year-old has 25 goals and 22 assists in 61 games for the Rangers this season.
EVEN AFTER a disappointing 4-3 loss to the Lightning on Sunday, Devils captain Zach Parise was confident when he looked around the locker room.
Henrik Lundqvist. Period. That's all there is to this game. His sixth shutout of the season. His sub 2.00 GAA. His absurd save percentage. The chant at the end of the game was not "HEN-RIK" it was "MVP". And he may get it. And the Vezina. Without him, the Rangers are nowhere near 86 points. Let's get to those bullets: First Period: The refs appeared to be letting a lot...
Bergen Record - Henrik Lundqvist's gem leads Rangers over Devils, 2-0Bergen Record - Stapleton: Rangers' victory over Devils at Garden has definite playoff feelBergen Record - Gross: Sather was right not to mortgage the future to land Rich NashNew York Post - Lundqvist outduels Brodeur as Rangers beat DevilsNew York Post - No Nash trade good news for RangersNew York Post...
Lou Lamoriello: Players who might've helped were too expensive
Carl Hagelin scored late in the first period and Henrik Lundqvist made the goal stand up as the New York Rangers snapped the New Jersey Devils' seven-game road winning streak with a 2-0 victory on Monday night.
NEW YORK (AP) Carl Hagelin scored late in the first period and Henrik Lundqvist made the goal stand up as the New York Rangers snapped the New Jersey Devils ' seven-game road winning streak with a 2-0 victory on Monday night.
May wait for Travis Zajac's return rather than pay dearly for Dallas center
NHL News

Delivered to your inbox

You'll also receive Yardbarker's daily Top 10, featuring the best sports stories from around the web. Customize your newsletter to get articles on your favorite sports and teams. And the best part? It's free!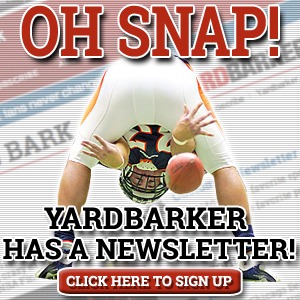 Latest Rumors
Best of Yardbarker

Today's Best Stuff

For Bloggers

Join the Yardbarker Network for more promotion, traffic, and money.

Company Info

Help

What is Yardbarker?

Yardbarker is the largest network of sports blogs and pro athlete blogs on the web. This site is the hub of the Yardbarker Network, where our editors and algorithms curate the best sports content from our network and beyond.