Found January 25, 2013 on Nightmare on Helm Street:
It's easy to get frustrated when your team can't score, cant convert on the power play, cant kill penalties and leaves your goalie out to dry like their defense consists of Brett Lebda and 5 of his cousins. This team is good, and yes the defense isn't what it used to be, but that will change. Three games gone on an already depleted schedule. 45 games left to change everyone's opinion. Click the jump for your early pregame breakdown. It's time to show Minnesota that Ryan Suter and Zach Parise mean nothing. They are still the same team that will get their fanbase feeling all warm and cozy, only to come up short. Way short. Babs said that Datsyuk and Zetterberg didn't work, so he's splitting them up. I thought he figured that out last season, and the season before that, and the season before that, and probably a few more times in between, I've lost count. Its not that they don't have chemistry. In fact the Pav, Z, Brunner line was t...
Original Story:
http://www.nightmareonhelmstreet.com/...
THE BACKYARD
BEST OF MAXIM
RELATED ARTICLES
ST. PAUL, Minn. Another of the teams heralded prospects is headed to the Minnesota Wild. Minnesota recalled defenseman Jonas Brodin on Thursday from the Houston Aeros. Brodin, 19, was the teams 10th overall pick in the 2011 NHL draft. Brodin had spent his time since the draft in his native Sweden but turned pro this year, playing in nine games for Houston. He suffered a broken...
FRIDAY'S STORY LINE: With defenseman Jared Spurgeon out of the lineup Friday night with a lower-body injury, 19-year-old defenseman Jonas Brodin will make his much-anticipated NHL debut in Detroit. The rookie defenseman is one of Minnesota's top defensive prospects after being a first-round pick in 2011. "I am excited," he said Friday. "It's going to...
WEDNESDAY'S STORY LINE: When to practice? When to rest? Those are questions the Wild coaching staff will have to answer regularly in this shortened season."I think the communication is going to be important between coaches and players to get a feel for what is important for that day." forward Kyle Brodziak said. "Some days rest is going to be important, and some...
As noted in the game-day update post, we're going to hear a significant amount of chatter regarding Ryan Suter and Zach Parise playing at Joe Louis Arena after having spurned the Red Wings' offers to come to Detroit this past summer, and while I don't really hold a grudge against Parise, and am...Mildly annoyed...at Suter, I didn't think that Wings fans would boo...
DETROIT Red Wings fans may hold a grudge, but the team has moved on from its unsuccessful run at defenseman Ryan Suter and forward Zach Parise. On Friday night at Joe Louis Arena, the fans booed both Suter and Parise when they were introduced as starters for the Minnesota Wild. They booed Suter nearly every time he touched the puck, which was a lot, considering he played a game...
The Minnesota Wild got off to a record start over the weekend. In other news, the Blackhawks have also set a ratings record, and TNT had big declines for a Martin Luther King Day NBA [...]
Minnesota Wild (2-1-0)  4pts  (1st Northwest) 2.00 Goals For per Game (23rd in the NHL) 1.67 Goals Against per Game (5th in the NHL) 15.4% Power Play (22nd in the NHL) 90% Penalty Kill (5th in the NHL) Top 5 Scorers: 1. #15 Dany Heatley ~ 3G 1A = 4pts 2. #11 Zach Parise ~ 1G 3A = 4pts 3. #96 Pierre-Marc Bouchard ~ 1G 1A = 2pts 4. #9 Mikko Koivu...
I think just about anyone in the world understands the emotions that come with disappointment.  For kids, it might be the disappointment they didn't get that gift they really wanted.  For adults it might be being being rejected by an employer or maybe being denied a promotion.  The disappointment is tough to deal with and a person may feel as though they are stuck in an emotional...
If you only watched the Minnesota Wild out-shoot the Red Wings 11-6 in the first period of what turned out to be an ugly but livable-withable 5-3 Red Wings victory, or watched the Wings take two of their eight(!) penalties within the first ten minutes of said first period, you would have been forgiven for assuming that the Wings were on their way to yet another predictable 2013 season...
Whatever was ailing Red Wings forward Todd Berutzzi to start the season didn't seem to have any effect Saturday night as the veteran exploded for two goals in a 5-3 win over the Minnesota Wild from the Joe. As the Wings remained scoreless in the first period thus far this season, Damien Brunner continued to impress opening the scoring for Detroit with a power play goal to give...
Maybe its the side effect of a shortened season but the line between celebration and panic is incredibly thin.  A poster over on the Wild.com message boards named "Geo" has a signature that is all to true amongst hockey fans.  "Three wins in a row means a Stanley Cup, three losses in a row means trade everybody."  Exaggerated, but more or less true.  Case...
NHL News

Delivered to your inbox

You'll also receive Yardbarker's daily Top 10, featuring the best sports stories from around the web. Customize your newsletter to get articles on your favorite sports and teams. And the best part? It's free!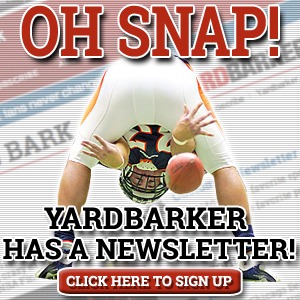 Latest Rumors
Best of Yardbarker

Today's Best Stuff

For Bloggers

Join the Yardbarker Network for more promotion, traffic, and money.

Company Info

Help

What is Yardbarker?

Yardbarker is the largest network of sports blogs and pro athlete blogs on the web. This site is the hub of the Yardbarker Network, where our editors and algorithms curate the best sports content from our network and beyond.