Found December 21, 2011 on Red Light District Hockey:
Move over Ryan Nugent-Hopkins. You're not the only rookie in contention for this year's Calder Trophy anymore.
Before Nugent-Hopkins even played his first full season in the Western Hockey League, New Jersey Devil Adam Henrique was already making a name for himself in Canada, hoisting the Memorial Cup with the Windsor Spitfires for the first time. The following year, Henrique won another Cup with the Spitfires, playing a pivotal role in the championship win with 25 points in 19 playoff games.
Henrique may not have been a No. 1 overall draft pick -- in fact, he wasn't even drafted in the first round -- but the first-year forward has become a huge part of his team's success. The New Jersey Devils selected Henrique in the third round in 2008 with the 82nd overall pick. Henrique broke out after his draft selection, winning two consecutive Memorial Cups and experiencing his best junior season in his final year of eligibility, scoring 77 points in 56 points during the regular season, then going on to be a very important piece of the Spitfires 2010 championship squad.
Henrique began his first year out of juniors with the Devils' AHL affiliate in Albany, and didn't take his foot off the gas, carrying over his success from juniors. As a rookie, Henrique led the Albany Devils in goals, scoring 25 goals. His 50 points put him sixth among AHL rookies.
But despite all his success in the AHL, Henrique was called up for just one game in 2010-2011, the Devils' final game of the season on April 10. Now 21 years old, Henrique made the team coming out of 2011 training camp, but was then sent down to Albany only a few games into the season.
Henrique spent three games with Albany before being called up Oct. 22 to replace Jacob Josefson, who went out with a broken collarbone. He was determined to remain with New Jersey and make an impact. "I don't want to go back (to the AHL)," Henrique said. "I want to stay here, so I'll try to prove that."
Though he wasn't putting a lot on the score sheet when he returned to New Jersey, coach Peter DeBoer took notice of his play, and took a risk by putting Henrique on the top line for a game on Nov. 2, centering Zach Parise and Ilya Kovalchuk. DeBoer said Henrique's age and rookie status were "not a reason not to give him an opportunity. All great careers start somewhere. He's earned the right to be there."
"I feel like I've been playing well," Henrique said that day. "Going into tonight, playing with these guys, I'm not going to change anything I've been doing. Just going to keep playing the same way, keep working it down low and keep trying to get pucks to the net."
Apparently, Henrique's philosophy suits Parise and Kovalchuk just fine. Henrique exploded after being paired with the offensive dynamos, scoring 24 points in 23 games while on the first line. Henrique is now in second place behind Nugent-Hopkins among rookie point and assist leaders with 25 points and 17 assists. He's being used in all situations, including the penalty kill, in which Henrique leads rookies in shorthanded goals with two, also tied for third among all NHL players.
It's not just Henrique that has excelled with the line combination. Since Henrique has been paired with Parise and Kovalchuk, the line has averaged over one point per game.
With the top line on a roll, Parise is happy to play with a rookie like Henrique. "He's playing with confidence right now," Parise said. "That's great for us and it's great for him. He's fun to play with. He makes good plays and he's only going to get better. He's a finisher. We need some finish around here."
When Henrique was younger, he needed improvement in playing away from the puck, but two years with a Memorial Cup-winning team and a year tearing up the American Hockey League has clearly honed his skills. Now, he understands that his role is not always going to be that of a goal-scorer.
"Anytime you can score goals and help the team to win is great," Henrique said. "My focus every game is not to come in and score two goals. It's to come in and do what I can to help the team win. Some nights that's not going to be scoring goals. Some nights that's going to be taking care of the 'D' zone."
Coach DeBoer has been impressed with another aspect of Henrique's development: his poise under pressure. "He has the skills to (be a top scorer in the NHL). We've asked an awful lot of him here throwing him into the situation he's in, with the minutes and the role he's playing with us," DeBoer said. "He has the personality to handle it. He doesn't get overwhelmed."
While Nugent-Hopkins gains attention with his point totals, Henrique, as a rookie, already possesses all the intangibles that it takes to make a great hockey player. With his talent and composure, Henrique may quietly sneak his way to the top of the competition for the NHL's rookie of the year title.
Photo credit: Getty Images
Original Story:
http://www.rldhockey.net/2011/12/devi...
THE BACKYARD
BEST OF MAXIM
RELATED ARTICLES
Speaking with The Star Ledger, Devils' goalie Martin Brodeur gave his thoughts on HBO 24/7. "If we get to the Winter Classic I'm sure we'll be asked to do it," Brodeur said today. "These are things that I think are really good for hockey. I think it gives a perspective to people that don't know much about the game and what we have to go through. I'm not a...
They dropped gloves right off the opening facoff
Newark, NJ -- Not Carl Hagelin's awesome trip following his shorthanded goal but, NJ Devil Cam Janssen really, really wanted to get to the team bench. Every time you take a sip of coffee, think --... Full story at Bob's Blitz ~ http://www.bobsblitz.com
The New York Rangers (18-8-4) visit the New Jersey Devils (18-13-1) at the Prudential Center tonight starting at 7:00 p.m. For a preview go to Yahoo! Sports. Rangers Game Notes TV: MSG; Radio: ESPN Radio 1050AM, XM 292Live Stream:http://www.firstrowsports.tv/watch/99032/1/watch-new-jersey-devils-vs-new-york-rangers.htmlProbable Lines:Anisimov...
Game Preview ---> Tonight's Game AT The Rangers will face-off against the New Jersey Devils tonight at Prudential Center (7:00 p.m.), in the first of four straight gam...
Patrik Elias, Henrik Tallinder, coach Pete DeBoer among those to opt out
Coach Pete DeBoer has recovered from illness
NHL News

Delivered to your inbox

You'll also receive Yardbarker's daily Top 10, featuring the best sports stories from around the web. Customize your newsletter to get articles on your favorite sports and teams. And the best part? It's free!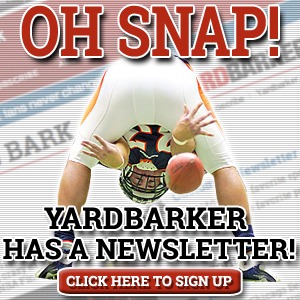 Latest Rumors
Best of Yardbarker

Today's Best Stuff

For Bloggers

Join the Yardbarker Network for more promotion, traffic, and money.

Company Info

Help

What is Yardbarker?

Yardbarker is the largest network of sports blogs and pro athlete blogs on the web. This site is the hub of the Yardbarker Network, where our editors and algorithms curate the best sports content from our network and beyond.