Found May 06, 2013 on Awful Announcing:
As news continues to trickle down the pipeline about Comcast SportsNet Chicago reporter Susannah Collins' dismissal, the latest bit of news from the Chicago Tribune could set an ugly precedent for the future. According to the Tribune and reporter Robert Channick, a letter from Chicago Blackhawks chairman Rocky Wirtz apparently played a role in Collins' dismissal. "In my opinion and those of others, (the videos) are incredibly offensive to a number of audiences, going well beyond professional athletes," Wirtz said. "Had we known of this earlier, we would have raised the issue immediately." The letter went on to ask CSN to "remove her from our broadcast immediately." This isn't the first time tha the Blackhawks have meddled in CSN activity. Former Blackhawks reporter Josh Mora didn't have his contract renewed after he was critical about the team's management in a blog entry. A quote from Mora in the Tribune story is telling about how CSN operates. "I think the network feels that its first responsibility is to the team," said Mora, director of sports partnerships and curriculum at Full Sail University in Winter Park, Fla. "The team is their partner, the team is their client and the reporters and anchors are just the employees. I think if there's ever a conflict between the two entities they're going to resolve it in the team's favor first." The firing of Collins compounded with the non-renewal of Mora's contract is creating potential for an ugly situation surrounding the Blackhawks. Dan Bernstein of CBS Chicago raised the question about Bobby Hull's employment as a Blackhawks ambassador despite a past that is loaded with much more ugly tidbits than Collins' Sports Nutz videos.  The situation with Collins is nowhere near as cut and dry as the firing of Jen Patterson in 2010 after it was revealed that she was dating Nick Boynton of the Blackhawks. That's actually a potential conflict of interest as opposed to big spoonful of hypocracy, and there's also precedence after Carolyn Hughes was fired by Fox Sports West after having an affair with Dodgers pitcher Derek Lowe. But how much of an impact should teams have in personnel decisions for their flagship network? If a team spurs a network to let someone go from their job because they're not good at it (see: Beth Keener at Fox Sports South) then that's one thing, but to spur a network to fire an employee because of their past that was initially not a problem for the network or because they were being critical of the team? That's a much more murky area. If you dig deep enough, you can find skeletons in anyone's closet. and if you simply want a supply of homer announcers or writers, you might as well work on attempting to clone Hawk Harrelson. [Chicago Tribune]
Original Story:
http://www.awfulannouncing.com/2013/m...
THE BACKYARD
BEST OF MAXIM
RELATED ARTICLES
The Blackhawks and Wild went to overtime for a second time in three playoff games on Sunday afternoon. This time, the Wild were able to emerge victorious. Corey Crawford had to carry the Blackhawks through most of the regulation periods, … Continue reading →The post Blackhawks Fall To Wild In Overtime appeared first on Committed Indians.
Five days after being fired by CSN Chicago, when her role in an off-color web series came to light following an embarrassing on-air slip-up, Blackhawks reporter Susannah Collins is finally speaking out, and she's taking the high road with regard to her dismissal. On Tuesday, Collins posted a message to her Facebook page accepting responsibility for her involvement in Sports...
Chicago Blackhawks forward Brandon Saad was named one of three finalists for the Calder Trophy on Monday morning. Montreal's Brendan Gallagher and Florida's Jonathan Huberdeau are the other two finalists. Huberdeau finished tied with Edmonton's Nail Yakupov for the NHL … Continue reading →The post Brandon Saad Named Calder Trophy Finalist appeared first on Committed Indians.
Susannah Collins, the former Comcast SportsNet Chicago reporter who was fired by the company last week, released a statement on Tuesday acknowledging how "Sports Nutz," a web series she participated in before becoming a Chicago Blackhawks sideline reporter, could be considered offensive and apologized for her role in it. The "Sports Nutz" videos, which came to light after...
    I'm sure we all remember the CSN Chicago reporter Susannah Collins from a few weeks ago when she slipped up on camera and said that the Chicago Blackhawks had 'tremendous amounts of sex' this season. We won't get the chance to see any other potential slip ups because apparently she has been fired by CSN. Denying that it had anything to do with her slip up on air, CSN...
    After a game in which Chicago Blackhawks goaltender Corey Crawford played remarkably well and in all likelihood prevented the Minnesota Wild from absolutely kicking the **** out Chicago by a score of 7-2 or something in that range Corey, again, is the blame by many NHL fans and media. Why not blame the [...]
from Mark Lazerus of the Chicago Sun-Times, While even coach Joel Quenneville was noticeably curt in his post-game interview (Asked how the Hawks could improve their power play, his response was as succinct as it could be: "Shoot."), Toews typically was soft-spoken, resolute and spot-on, especially when it came to the obvious storyline of the game -- the Wild's...
Talk about a whirlwind of a day. Chicago Blackhawks defenseman will be in uniform on Tuesday night and will take the ice with this teammates as they face the Minnesota Wild in Game 4 of the teams' Western Conference quarterfinal series at Xcel Energy Center in St. Paul, Minn. Keith was not present for team's morning skate on Tuesday but he had a more-than-legitimate excuse for...
The win puts the Wild down 1-2 in their series with the Chicago Blackhawks.  
Both of the afternoon games yesterday followed a similar pattern. We had two 1 vs. 8 matchups with the lower seed vastly outplaying the higher ranked team and both games going to overtime. The difference between the two games is unlike the Islanders, the Wild actually got rewarded for their efforts and were able to finish off the Blackhawks in overtime to stay alive in the series...
Coverage of Tuesday nights Game 4 of the Stanley Cup playoffs series between the Minnesota Wild and Chicago Blackhawks will air on both FOX Sports North and the FOX Sports Wisconsin Alternate Channel, starting at 7:30 p.m. with a one-hour pregame. Channel listings are as follows: DirecTV: 668 (FOX Sports North)Dish: 436 (FOX Sports North)Time Warner: Channels 310 SD and 1310 HD ...
NHL News

Delivered to your inbox

You'll also receive Yardbarker's daily Top 10, featuring the best sports stories from around the web. Customize your newsletter to get articles on your favorite sports and teams. And the best part? It's free!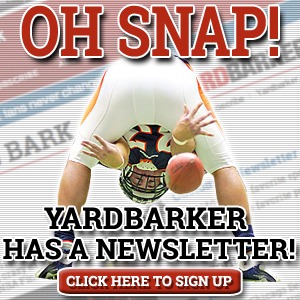 Latest Rumors
Best of Yardbarker

Today's Best Stuff

For Bloggers

Join the Yardbarker Network for more promotion, traffic, and money.

Company Info

Help

What is Yardbarker?

Yardbarker is the largest network of sports blogs and pro athlete blogs on the web. This site is the hub of the Yardbarker Network, where our editors and algorithms curate the best sports content from our network and beyond.