Found August 02, 2012 on Shutdown Line:
PLAYERS:
Jim Rutherford
,
Jeff Skinner
,
Ryan Nugent-Hopkins
,
Marc Savard
,
Matt Cooke
,
Milan Lucic
,
Shawn Thornton
,
Andy Sutton
,
Brooks Orpik
,
Cal Clutterbuck
,
Ryan Reaves
,
Tim Jackman
,
Jamal Mayers
,
Cody McLeod
,
Stu Bickel
,
Matt Hendricks
,
Mike Brown
,
Zac Rinaldo
,
Zenon Konopka
,
Derek Dorsett
,
Krys Barch
,
Jared Boll
,
Gregory Campbell
,
Brandon Prust
,
George Parros
,
Chris Thorburn
,
Brad Staubitz
,
Drayson Bowman
,
Tuomo Ruutu
,
Tim Gleason
,
Anthony Stewart
TEAMS:
Carolina Hurricanes
,
Edmonton Oilers
,
Boston Bruins
,
Pittsburgh Penguins
,
Minnesota Wild
,
St. Louis Blues
,
Calgary Flames
,
Chicago Blackhawks
,
Colorado Avalanche
,
New York Rangers
,
Washington Capitals
,
Philadelphia Flyers
,
Columbus Blue Jackets
,
New Jersey Devils
,
Montreal Canadiens
,
Florida Panthers
,
Winnipeg Jets
,
Anaheim Ducks
It has been a bit of a wild summer in Raleigh as the Hurricanes have made a couple very big moves to bolster their team for next season and years to come. Jim Rutherford, however, is not done searching for players, though as he has said a few times that he still wants to acquire a "tough guy" for the fourth line. He never specified that he was looking for an "enforcer," but I do recall him stating that he wants to add someone who can protect some of the team's younger stars like Jeff Skinner, so I assume that he is looking for someone who plays that kind of role. Skinner was knocked around a few times last year by bigger opponents and there were a few teams who took liberties with him as well as other players on the team, so it's understandable that Rutherford wants the team to get tougher. The problem is that adding a fourth line "tough guy" or an "enforcer" isn't going to do much to prevent this.
Jonathan Willis of Oilers Nation addressed this point a few months ago when the Oilers were concerned with getting protection for their young star, Ryan Nugent-Hopkins. Willis discusses how Marc Savard was not protected from Matt Cooke despite Milan Lucic being on ice at the time and Shawn Thornton lining up opposite of Cooke earlier in the sequence. Cooke has also had to answer the bell against other team's enforcers a couple of times and he still continued to deliver cheap hits despite that. The overall point of the article is that you can try to protect your stars all you want but players like Cooke, Andy Sutton, Brooks Orpik and Cal Clutterbuck are still going to deliver big hits when they get the opportunity. Having an enforcer or a "tough guy" on your team isn't going to prevent that. 
Another issue with the Canes acquiring a "tough guy" is that most of those who are fourth line specialists do not contribute much to their teams other than being able to drop the gloves. If you look at the leaders in fight minutes last season, you'll see that there are some useful players who fight regularly but what makes them valuable is that they contribute in other areas and be used outside of the fourth line. A look at some underlying stats from Behind The Net hockey should tell you which players are useful and which ones are not.
Player
TOI/60
QoC Rk
Corsi ON/60
OZ%
4v5 TOI
Ryan Reaves
6:29 16 7.86 62 0:01
Tim Jackman
8:44 15 -2.11 49.3 0:02
Jamal Mayers
8:09 15 -2.18 45.8 1:20
Cody McLeod
7:07 13 -2.47 54.9 0:05
Stu Bickel
10:05 6 -5.13 51.9 0:18
Matt Hendricks
10:46 4 -5.72 44.2 1:07
Mike Brown
8:37 14 -5.99 41.4 0:38
Zac Rinaldo
7:25 9 -6.87 47.6 0:01
Shawn Thornton
9:10 13 -6.92 51.9 0:02
Zenon Konopka
6:50 13 -7.19 48.9 0:49
Matt Martin
10:28 9 -8.81 43.5 1:16
Derek Dorsett
11:58 5 -9.12 35 1:45
Krys Barch
7:19 18 -9.18 50.9 0:01
Jared Boll
8:30 13 -9.52 49.3 0:00
Gregory Campbell
10:48 12 -9.76 42.2 1:38
Brandon Prust
10:12 10 -11.34 33.7 1:40
George Parros
6:23 16 -15.34 61.3 0:00
Mike Rupp
6:27 12 -16.28 43.2 0:01
Chris Thorburn
9:36 3 -17.7 38.8 0:29
Brad Staubitz
6:30 16 -20.99 44.8 0:01
You can see that there is a difference in how these players are used. There are some fighters like Derek Dorsett, Chris Thorburn and Matt Hendricks who play a big defensive role on their respective clubs while there are others who only play 5-8 minutes a game and manage to give up a ton of shots against in the process (Hello, Brad Staubitz). If the Hurricanes absolutely need to acquire an "enforcer" then they should look for someone in the mold of Dorsett, Hendricks or Campbell because they are actually skilled in other areas. Then again, if the Hurricanes do acquire a tough guy, then where would he fit in the lineup and what does it mean for the rest of the team?
There are no vacancies in the Hurricanes' top-six, so the Canes are going to have at least eight players battling for spots in the bottom-six in training camp. All adding an enforcer to the mix does is make it more difficult for someone like Drayson Bowman to earn a spot on the roster, something he should be considered for after his play last season. Bowman has proven himself to be very solid in a checking role, so I don't like the idea of taking away a roster spot from him or anyone else just so we can have a "tough guy" play five minutes a game, do his business and not play a shift for the rest of the contest. It's not the most efficient way to run a team.
Also, if we're looking for players to protect Jeff Skinner, then why not look to those who are already on the roster? I'm pretty sure that most would consider Tuomo Ruutu a tough player and he is also a regular linemate of Skinner. If the Canes want someone to provide an intimidating presence and have some protection for Skinner, they could look to Ruutu to do so. Tim Gleason and Anthony Stewart also have a history of sticking up for teammates despite not being the most experienced fighters so they could also protect Skinner if needed.
In the end, it doesn't matter. Having an enforcer or a tough guy out there is not going to prevent other teams from delivering big hits on players like Skinner. It didn't work for the Bruins or the Oilers and it certainly isn't going to work for the Hurricanes. Most of these "tough guys" end up doing more harm than good anyway so it's hard to justify the Hurricanes acquiring one of these players this off-season.
Original Story:
http://www.shutdownline.com/hurricane...
THE BACKYARD
BEST OF MAXIM
RELATED ARTICLES
Do fans and media obsess over how much money teams spend on players?  Alexander Semin's 1-year experiment in Carolina could be a case study.  In episode 2 of my 5-part audio series with Joe Pinzone of Buffalo Wins, we debate the importance of team salary structures, and I explain why paying Semin $7M to play a season in Buffalo would've been an awful idea. Continue reading...
One of the lesser-known trades made by Jim Rutherford over the last year was him sending Jon Matsumoto and Mattias Lidstrom to the Flordia Panthers for AJ Jenks and Evgenii Dadonov. There wasn't much thought put into this trade because none of the players in the deal had much NHL experience but the Hurricanes did end up getting the best player in the trade, or at least that&...
NHL News

Delivered to your inbox

You'll also receive Yardbarker's daily Top 10, featuring the best sports stories from around the web. Customize your newsletter to get articles on your favorite sports and teams. And the best part? It's free!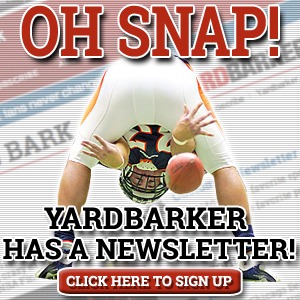 Latest Rumors
The Backyard

Today's Best Stuff

For Bloggers

Join the Yardbarker Network for more promotion, traffic, and money.

Company Info

Help

What is Yardbarker?

Yardbarker is the largest network of sports blogs and pro athlete blogs on the web. This site is the hub of the Yardbarker Network, where our editors and algorithms curate the best sports content from our network and beyond.