Found August 06, 2012 on The Rangers Tribune:
Yes, the Shane Doan talk is beginning to get dragged out to an extent where it's a tad bit annoying to continuously read about. However, the New York Rangers' strong interest in the 35-year-old winger is not going away anytime soon, nor is the mutual interest from the other side. 
We all know by now that the Blueshirts and Doan, in some capacity, would like to work out a agreeable deal to bring the match together for the 2012-13 season. And according to Larry Brooks in his most recent New York Post piece, Doan only shares such interest with the Pittsburgh Penguins and the Vancouver Canucks, in addition to New York. 
What's stopping the Rangers and Doan from uniting, and coach John Tortorella and Doan from RE-uniting, aside from his hesitancy from leaving the Phoenix organization, is the length in which his preferred contract has been announced to be.
Also according to Brooks, that length is four years - locking him in until he is 39-years-old...
Doan, who understandably wants this to be the last move he makes, is believed to have narrowed his sights on Manhattan, Pittsburgh and Vancouver. It's unclear if Rangers general manager Glen Sather is willing to go four years, but if he does, Doan is more likely than not to become a Blueshirt.
Remember, though, that Doan would like to become a Ranger more than anything other. So, within the realm of possibility would lie the chance that Doan agrees to a three-year deal in order to come to New York. A three-year deal which one would assume is much more satisfactory for GM Glen Sather as compared to one of four years. 
Just a guess, really.
But as I've said time and time again, bringing Doan here after stealing Rick Nash from the Columbus Blue Jackets (and yes, "steal" was used there for a reason) would complete the perfect summer for Slats and set-up the Rangers perfectly for the 2012-13 season, at least from an offensive standpoint. 
At this point, I'd be quite surprised if Doan is not a Ranger by the end of August. 
BLOG UPDATES
Over the past week I've hinted at the fact that The Rangers Tribune will be undergoing some substantial changes for the better this month, and that you all are not far from seeing it all come to fruition. 
First and foremost, I brought on a new staff of writers for next season to bring a variety of opinions to the site and lighten the workload for myself. If you haven't already, you can get to know the new writers here. 
In addition to that, which is a fairly large change in its own right, will be the launching of "Rangers Tribune 2013" - a project that I have wanted to bring to life for a while now. I don't want to give too much away since it should be a surprise when launched (plus I do not want certain blogs out there jockin our swag anymore than they already have), but I will say that I am working with a hired design team to make it all possible by September. 
Keep tabs on Twitter this week for sneak peeks!
Original Story:
http://www.rangerstribune.com/the-ran...
THE BACKYARD
BEST OF MAXIM
RELATED ARTICLES
While every NHL player's future is up in the air with the ongoing labor issues, Shane Doan's is especially unpredictable. The longtime Coyotes captain is a free agent, and while he's expressed a desire to remain with Phoenix, the franchise faces ownership issues that could force the forward to look elsewhere. If he does, the San Jose Sharks are among the favorites to...
According to Pat Leonard of the New York Daily News, the New York Rangers are a favorite to land Phoenix Coyotes' Shane Doan. "The Rangers' strengths include their formidable roster but also Doan's connections with their coaching staff: Assistant GM/assistant coach Jim Schoenfeld coached Doan for two seasons in Phoenix (1997-98 and 1998-99), with John [...] [[ This is a...
The Shane Doan free agency tour is still in progress, but it appears as if things are becoming a bit more settled. The 35-year-old free agent who has spent his entire 16 year NHL career with the Phoenix Coyotes may be leaving the desert due to an unsettled ownership situation, and, if he does in fact leave, he has reportedly narrowed down his list of tams to play for...
  Half the NHL would welcome Shane Doan if the unrestricted free agent left the Phoenix Coyotes due to their unsettled future in Arizona, but Doan has apparently narrowed his list of potential destinations to just three teams.Doan will choose between the New York Rangers, Pittsburgh Penguins and Vancouver Canucks, writes New York Post scribe Larry Brooks, who goes as far as saying...
from NHL.com, Shane Doan reiterated Saturday that his preference is to re-sign with the Phoenix Coyotes. "Right now I'm doing everything I can to stay there and that's kind of my goal," Doan said in an interview with TSN. "At the same time, I'm having to do some due diligence, now in the fact that the longer it takes the more likely and the harder it seems to be to get...
Sunday Larry Brooks of the New York Post reported that free agent forward Shane Doan cut his list of destinations to three teams, Pittsburgh, the New York Rangers and Vancouver. This is obviously concerning for some Wings fans who were still holding out hope that Holland would continue to make a pitch for the veteran forward. However according to Mike Sunnucks of the Phoenix Business...
In an interview done with TSN recently, free agent Shane Doan discussed his current status and what his mentality is as the ownership situation in Phoenix continues to weigh on him and his decision-making for his next contract."I'm doing everything I can to stay there and that's kind of my goal. At the same time, I have to do some due diligence now in the fact that the longer...
After landing the player they have wanted for a long time in Rick Nash, the New York Rangers might be at it again, this time with UFA Shane Doan. In last weekend's New York Post, Larry Brooks wrote the following: Depth has been compromised. Dependency on young Chris Kreider and Carl Hagelin to accelerate the learning curve is not insignificant. If the season starts on or close...
Did you think the summer would be drama free after Rick Nash was finally traded? Wrong you were. Shane Doan continues to deliberate over his future, contemplating finishing his career out with Phoenix or taking on a new venture with a new club. Numerous teams have been linked to Doan including the Vancouver Canucks, Pittsburgh Penguins and the New York Rangers (Source). Would...
So slow that I've read stories today about five teams still have an interest in Bobby Ryan.  Funny, I would think 29 teams would have an interest in him. Another story, Shane Doan narrows decision down to three teams.  Really, I believe Doan when he says he will do everything to remain in Phoenix, but when his agent talks, and notice, he hasn't in over a week, anything goes...
NHL News

Delivered to your inbox

You'll also receive Yardbarker's daily Top 10, featuring the best sports stories from around the web. Customize your newsletter to get articles on your favorite sports and teams. And the best part? It's free!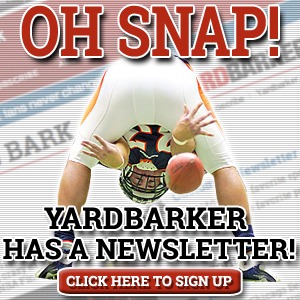 Latest Rumors
The Backyard

Today's Best Stuff

For Bloggers

Join the Yardbarker Network for more promotion, traffic, and money.

Company Info

Help

What is Yardbarker?

Yardbarker is the largest network of sports blogs and pro athlete blogs on the web. This site is the hub of the Yardbarker Network, where our editors and algorithms curate the best sports content from our network and beyond.