Found June 11, 2012 on Awful Announcing:
We all know Don Cherry dresses outlandishly and says outlandish things, but this line from CBC's coverage of Game 5 of the Stanley Cup Final was an eyebrow raiser even by the coach's lofty standards.  While host Ron MacLean was discussing travel distances, Cherry scoffs at his use of kilometers and angrily snarls, "don't give me any of that commie stuff."  Oh, boy... Harrison Mooney over at Puck Daddy actually makes a pretty solid case where Don Cherry may actually get the whole notion of an elaborate Communist conspiracy using the metric system since it was adopted in Canada 40 years ago.  America got The Beatles while our friends north of the border got centimeters, kilograms, and old Communist conspiracies put forward by hockey analysts wearing brightly colored suits. There is just so much to unpack in this brief clip.  First of all, the metric system was invented by the French, not by communists.  Secondly, the metric system is fairly standard all over the world from industrialized nations to third world countries, democracies, dictatorships, socialists, capitalists, and communists.  The whole point of the metric system is that it can be universally used by everyone. Thirdly, anyone who has even taken a high school level science class should tell you the metric system is far more simple and practical than this convoluted North American/Imperialistic measurement thing we have going on.  12 inches = 1 foot and 5280 feet = 1 mile?  Whoever thought that was a good idea for standard use?  Oh yea, and freezing temperature is magically 32 degrees instead of a number that makes sense, like oh, let's say zero.  Please!  You know who uses the Farenheit system in day to day life?  Us and Belize.  That's it!  That's the list!  And I love Belize, it's a beautiful country, but we have to get with the times.  One day we'll eventually adopt the metric system and our grandchildren and great-grandchildren will wonder why their stubborn ancestors like Don Cherry didn't embrace it sooner. (assists to Puck Daddy & jonkit)
Original Story:
http://www.awfulannouncing.com/2012-a...
THE BACKYARD
BEST OF MAXIM
RELATED ARTICLES
Canadian hockey commentator Don Cherry referred to the metric system as "commie stuff" during his postgame comments after the New Jersey Devils defeated the Los Angeles Kings in Game 5 of the NHL Stanley Cup Finals on Saturday night. Fellow commentator Ron MacLean asked Cherry if he thought that 120,000 kilometers of traveling over the course of the season was catching...
The Bernier hit was the main topic tonight on Coach's Corner but also discussed was players wearing rings on their fingers and some Quick and Brodeur talk too.
Don Cherry on Coach's Corner talks about the first goal New Jersey goal, Ilya Kovalchuk, Adam Henrique and other topics.
NHL News

Delivered to your inbox

You'll also receive Yardbarker's daily Top 10, featuring the best sports stories from around the web. Customize your newsletter to get articles on your favorite sports and teams. And the best part? It's free!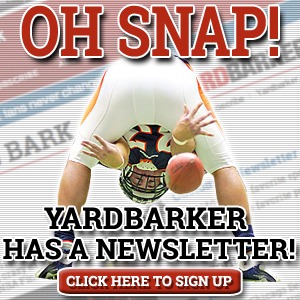 Latest Rumors
Best of Yardbarker

Today's Best Stuff

For Bloggers

Join the Yardbarker Network for more promotion, traffic, and money.

Company Info

Help

What is Yardbarker?

Yardbarker is the largest network of sports blogs and pro athlete blogs on the web. This site is the hub of the Yardbarker Network, where our editors and algorithms curate the best sports content from our network and beyond.