Found June 08, 2012 on Blue Seat Blogs:
In an effort to bring you all the best and the brightest opinions on Rangers prospects and the coming NHL draft, we decided to reach out to friend of the blog Jess Rubenstein. For those of you who aren't familiar, Jess runs a highly regarded draft/prospect analysis website called The Prospect Park. Unlike most websites that track this aspect of hockey, Jess actually writes his own scouting reports and takes the time to go watch many of these young men play. I know, what a concept!
Anyway, we asked him about the Rangers farm system and the upcoming draft. See what Jess had to say and don't forget to check out his site!
Q. Do you think the Rangers trade up/down at the draft, or do they stay where they're at?
Jess: I would be shocked if they traded up, but I would actually urge them to trade down from 28. Once you get past the 10th spot in the 1st rd then there really is not much difference in talent level. NYR only have 4 picks (28, 59th, 89th and 119th) as of right now, so trade down because you will find strong prospects even at the end of the 2nd rd. You could drop 10 spots and still get someone like a Henrik Samuelsson or a Jordan Schmaltz.
Q. With Kreider likely on the roster next season and prospect tag removed, who do you think the next Rangers prospect is to make the roster (lets exclude Erixon)?
Jess: That is a tough one because I am seeing a gap in the prospect pipeline for about a year because Kreider and Hagelin actually arrived a year ahead of schedule. I think people might be surprised, but I think Cam Talbot needs to be the next prospect to become ready. Knock on wood that Lundqvist has not been hurt, but IMO every NHL franchise needs to have 3 NHL ready goalies playing for them.
Q. Which Rangers prospect do you think has the biggest offensive upside?
Jess: Actually I see 3 different prospects doing 3 different things. First I like Michael St. Croix and Christian Thomas for overall goal scoring both having NHL quality shots. Second Jesper Fast is going to be popular because of his "smarts" and I can see him as a playmaker. Steven Forgarty is going to be the big game goal scorer, as he loves the pressure of the big game.
Q. Which seldom talked about Rangers prospect do you think deserves more coverage and could snag a roster spot in the coming seasons?
Jess: Steven Fogarty without question, people don't realize that the BCHL has produced a ton of NHL players. Fogarty as I just said is a big game player. Of his 33 regular season goals, 10 were game winners, 4 shorthand and 6 power play. In the playoffs, he was used as defensive stopper and he was excellent at it. He is built like a linebacker (6'3 215 at 18), but might be the smartest prospect the NYR have (next year attending Notre Dame).
Q (from Dave). Do the Rangers draft for need or for best player available? Can you draft for need this late in the first round?
Dave at 28 you really have to go for best player because you can always trade down for need. This year's draft is overloaded with quality defenders and I think because of that it increases the chances of a solid forward dropping down to 28. I would say look at how Gordie Clark has drafted the last couple of years and I would say he will take someone who has size and plays physical no matter which position.
Q (from Kevin). Thoughts on the trio with Rangers ties, Matteau, Stepan and Samuelson.
Jess: Samuelsson has the best upside, as he has good size (6'2 195), while he is better known for playing with the same kind of chip that his dad did. Henrik has twice the talent. He needs to grow into his body, but I would not be shocked if he goes in the 1st rd. He needs to improve his skating, which is almost automatic these days.
Stefan Matteau depending on the day will be a 1st or 2nd rd pick. I think he made a mistake choosing the QMJHL because he is one of those players who the NCAA route would have helped his development. He has skill, but when scouts are in such a disagreement over your potential (some have him at 27 others at 45) college is the best route because you are playing against older players all the time.
Zach Stepan is at best a 3rd-4th rder. He has skill, but unlike cousin Derek, doesn't have the ability to read the ice as fast. Think he is making right move playing in USHL (I would have urged BCHL) before going to college at Ohio State (not a strong program).
Q. Any highly ranked prospect that you think could fall to us?
Jess: Not this year.  If anything the Rangers are in a better position to trade down this year because other teams gave away their 1st round picks (Nahsville, Colorado) in bad/earlier trades. If NYR can add a couple of extras picks by trading down then do it. I see this draft as a strong one 3 rounds deep.
If anyone has any additional questions, feel free to drop them in the comments section.
Original Story:
http://www.blueseatblogs.com/2012/06/...
THE BACKYARD
BEST OF MAXIM
RELATED ARTICLES
Over the next few weeks leading into free agency, we will be looking at the Rangers UFAs and RFAs and analyzing their contribution to the team, potential asking price, and potential future with the Rangers organization. In typical BSB fashion, we like to kick things off with the player that brings up the most debate in regards to keeping him. That player, of course is John Mitchell...
From Katie Strang of ESPN: #NYR Told there has been "progress" in contract talks btwn Rangers and goaltender Martin Biron. Had good year, works well with Lundqvist — Katie Strang (@KatieStrangESPN) June 7, 2012 Marty Biron, age 34, played in a total of 21 games during the 2011-12 regular season, and in that time managed to post a record of 12-6-2. The Quebec...
Prior to the start of the 2011-12 season, center Brian Boyle had developed himself into a trustworthy and reliable role player for the New York Rangers. His contributions in all areas of the ice built themselves up as the years went by, as did his offensive numbers. Boyle was then handed a $1.7 million contract to re-sign with the Blueshirts last summer when he became a restricted...
This, along with that of Henrik Lundqvist, will be the easiest of the player reviews to write.  Ryan Callahan had a breakout year with the New York Rangers during the 2010-11 season, reaching career highs in all statistical categories and really making a name for himself League-wide. I remember writing an article back on December 14 of 2010 on Callahan becoming the epitome of...
The 2011-12 season for the New York Rangers is unfortunately over. The fun, the passion and the excitement of this season is now behind us but a new excitement is coming, the off-season. But before we get to the off-season let's grade the season that we all had the pleasure to witness. The writers from [...]
Assuming Brandon Dubinsky is indeed available, Thursday's news of David Jones being rewarded with a new four year, $16m contract from the Colorado Avalanche may make Brandon Dubinsky's contract more appealing to potential suitors. Dubinsky stumbled through a miserable campaign in 2011/2012 with a mere 34 points, a full 20 points and 14 goals less than the previous year where...
For the last four and a half years, I have put my heart and soul into The New York Rangers Blog. I've bled blue all over this blog and it has been an honor to cover the Blueshirts on this platform.I started this blog because I felt that Rangers fans deserved a place where they could go to find out everything about their Blueshirts.And from Day 1 in November of 2007, when I had...
Hello everybody. I'll be in New York in less than two weeks and it will feel odd. It will be the first summer time trip there and the first time outside of hockey season. No Rangers? Not right. I'm sure I'll cope though. On to the musings The Montreal Canadiens will be starting next season with Marc Bergevin and Michael Therrien at the helm of the storied franchise. I can't...
But this time it wasn't John Tortorella. It was porn star Taylor Stevens at the Staple Center last night. She tweeted from the game to boot. Lol go kings I'm behind the devils bench glad u can... Full story at Bob's Blitz ~ http://www.bobsblitz.com
Take a good look at this picture. Those aren't the legs of a man who slacks or avoids the gym. This is a photo of a man who is serious about being in the best possible shape you can be in. Jagr's training and conditioning is bar none and it is one of the reasons why he has dominated professional hockey for 20+ years. As a member of the New York Rangers, Jagr's ability to...
Don't laugh, don't get angry, don't ignore the rest of the post. I'm serious on this one. Michael Rozsival could be a good temporary solution to the defensive depth issues we saw during the Rangers playoff run this year. His name brings out the boo birds at MSG, and to be honest, it's easy to see why. Many looked at his contract, that $5 million per year contract, and saw...
Rangers News

Delivered to your inbox

You'll also receive Yardbarker's daily Top 10, featuring the best sports stories from around the web. Customize your newsletter to get articles on your favorite sports and teams. And the best part? It's free!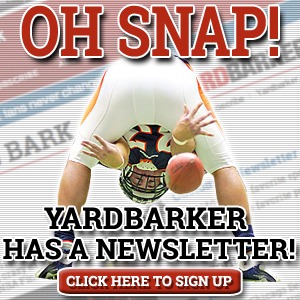 Latest Rumors
Best of Yardbarker

Today's Best Stuff

For Bloggers

Join the Yardbarker Network for more promotion, traffic, and money.

Company Info

Help

What is Yardbarker?

Yardbarker is the largest network of sports blogs and pro athlete blogs on the web. This site is the hub of the Yardbarker Network, where our editors and algorithms curate the best sports content from our network and beyond.