Found November 21, 2013 on The Farm Club:
PLAYERS:
Tim Jackman
,
Brad Staubitz
,
Roman Horak
,
Laurent Brossoit
,
Ladislav Smid
,
Corban Knight
,
Ryley Grantham
,
Joni Ortio
,
Coda Gordon
,
Tim Harrison
TEAMS:
Calgary Flames
,
Anaheim Ducks
,
Columbus Blue Jackets
,
Toronto Maple Leafs
As per TSN, the Anaheim Ducks have traded a sixth round pick in the 2014 NHL Entry Draft to the Calgary Flames for forward Tim Jackman.  Jackman has 1 goal and 41 penalty minutes in 10 games so far this season, a simple indicator of the reason he was both traded, and traded for. Jackman had spent the last three full seasons as a member of the Flames, his first of which saw him tally career highs in goals, assists and points, with 10, 13 and 23 respectively.  Since then however, he has failed to break double digits in points, and has only managed 1 goal per season. Who is Tim Jackman? Despite the numbers quoted above, Jackman is not your typical "goon" in that the guy can actually play a little bit of hockey.  Let's examine his history briefly: Scored 53 points in 73 games over 2 seasons in NCAA hockey for Minnesota State; Drafted 38th overall by the Columbus Blue Jackets in 2001; Has 188 points in 407 career AHL games, including hitting double digits in goals 4 times, and reaching the 20+ point plateau 6 times; Has 64 points in 400 NHL games. He also has a career plus/minus of -58, but those that read my pieces regularly will know I have severe doubts about that stat's usefulness.  That none of Jackman's NHL teams have ever made the playoffs indicate that he has had the disadvantage of playing on some really bad teams.  Of course, he isn't blame-free – he was a part of those teams – but the facts are that he can play a more reliable regular shift in the NHL than a lot of his enforcer brethren. This is reinforced by his underlying numbers; by looking at Rob Vollman's Player Usage Charts, we can see that prior to this year, Jackman had some nice Relative Corsi numbers on bad Calgary teams, whilst not being sheltered as much as other designated fighters often are.  That's not to say he's a tough-minutes beater, far from it, but the guy has a history of "not being a liability", and whilst that's not a glowing endorsement, generally speaking he won't hurt your team too badly when on the ice, so if you're gonna have a fighter, make it a guy like Jackman. His numbers this year are in the tank however, sporting some of the worst possession numbers on the team even with the most extreme offensive zone-starts he's gotten in recent years.  Why is that?  Well, for one, Calgary are simply terrible this year.  They've been bad for years, but this year they are really, really bad.  Funnily enough, his on-ice save percentage is very good at 94.6%, so he's actually been lucky on that front.  But his on-ice shooting percentage is at a lowly 3.6%, which is the polar opposite.  With a 42.3% Corsi rate, he hasn't exactly been helping the issue, but I'm fairly comfortable in saying that, given his history, he won't be nearly as bad as that once he gets playing for one of the league's better teams in Anaheim. Enough stats, what are they getting? In short then, what is Anaheim getting for departing with a precious 6th Round Pick? A guy who's averaged over 11 fights per season the last 3 years, and over a full season he'd be on pace for 16 this year, so if you're into that kind of thing he's golden. His 6'2″, 225lb frame has averaged over 130 hits per season the last 3 years, and is on pace for 108 over a full 82 games this year, so if you like "team toughness", he's bound to help. He has a history of receiving some powerplay time, nothing big but given he's not entirely useless with the puck he can provide that big body net presence from time to time, something Anaheim might consider with their anemic powerplay. He doesn't kill penalties, but has a history of being a fairly reliable 5v5 player defensively. Can score the (very) occasional goal. Why did the team make this move? Well, a 6th Round Pick is right at the bottom end of the draft, so first and foremost the odds of getting an eventual NHLer at that point are very slim; it's an asset, but a tiny one.  Jackman can play in the NHL, and adds size (not that they're short on that) and a designated fighter, which they don't currently have, and haven't since Brad Staubitz joined the Leafs. One bizarre thing, and feel free to correct me if I'm wrong, but it appears as though the Ducks are now at the 50-contract limit, which unless another move is forthcoming, gives the team very little flexibility. What about Calgary? They rid themselves of another player-under-contract, having already seen off Roman Horak and Laurent Brossoit for Ladislav Smid, and now sit at 45 contracts, giving them a great amount of flexibility to add to their roster over the coming months.  They also gain $612,500 in cap space, whilst perhaps making room for one of their younger players on the farm in Abbotsford such as the highly touted Corban Knight, currently enjoying a very successful rookie pro season with 17 points in 21 games. And finally, what about the sixth rounder?  Apart from being a potential asset to trade away for more picks or players, they could of course use it to *shock horror* draft a player. What kind of success have they had in recent years, with sixth rounders?  Let's look at the picks from 2008 onwards Ryley Grantham, 168th Overall (2008) – center who struggled to score in the WHL, and wasn't any better once turning pro.  Has been everywhere from the Central Hockey League, to the ECHL, to the AHL, no longer a part of the organisation. Joni Ortio, 171st Overall (2009) – Finnish goalie had two brief but awful stints with Abbotsford from 2010 to 2012, but went back to Finland and settled his game down.  Returned to North America this year, where he's been very good for both the Alaska Aces and Abbotsford.  Still a prospect of interest. Laurent Brossoit, 164th Overall (2011) – famous goalie prospect thanks to a stunning run as part of the powerhouse Edmonton Oil Kings of the WHL, won the WHL Playoff MVP award in 2012.  Is currently in his rookie pro season, with mixed results.  Still a prospect of interest, but not for the Flames – was traded to Edmonton along with Roman Horak for Ladislav Smid. Coda Gordon, 165th Overall (2012) – a left-winger in the WHL, has seen his offensive numbers improve each year and is currently scoring at over a point-per-game for Swift Current.  Has an impressive physical game aswell, though is not a great skater.  A prospect of definite interest down the line. Tim Harrison, 157th Overall (2013) – little known right-winger possesses decent size, had very good numbers in high school and is playing this year for Colgate of the NCAA.  Currently has 1 point in 10 games played.  Not currently a prospect of interest. A mixed bag there, no NHL games yet but three of them – Ortio, Brossoit and Gordon certainly have the potential, so overall the Flames have made decent choices with their 6th rounders.  Time will tell whether they'll do it again following this trade.   Follow Chris on Twitter. RELATED ARTICLES: Anaheim Ducks' Season So Far: Rockin' & Rollin' A Tale Of "Silfver" Linings NHL First Quarter Report The post Ducks Acquire Tim Jackman from Flames appeared first on The Farm Club.
Original Story:
http://feedproxy.google.com/~r/TheFar...
THE BACKYARD
BEST OF MAXIM
RELATED ARTICLES
The Anaheim Ducks acquired veteran forward Tim Jackman from the Calgary Flames on Thursday for a sixth-round pick in the 2014 NHL Draft. Jackman, 32, has played 10 NHL seasons, the past four in Calgary, and has 24 goals, 64 points and 654 penalty minutes in 400 games. In 10 games with the Flames this season, Jackman had one goal and 41 penalty minutes. He had a season high 17 penalty...
The Anaheim Ducks have acquired right wing Tim Jackman from the Calgary Flames for a sixth-round pick in the 2014 draft. The clubs made the trade Thursday. Jackman has one goal and 41 penalty minutes in 10 games for Calgary this season. The 32-year-old North Dakota native has spent parts of 10 seasons in the NHL with five clubs, including the New York Islanders, Los Angeles, Phoenix...
ANAHEIM, Calif. - The Anaheim Ducks announced today that the National Hockey League (NHL) club has acquired right wing Tim Jackman from the Calgary Flames in exchange for a sixth-round selection in the 2014 NHL Entry Draft. Jackman, 32 (11/14/81), has scored 24-40=64 points with 654 penalty minutes (PIM) in 400 career NHL games with Columbus, Phoenix, Los Angeles, the New York...
The Anaheim Ducks have acquired forward Tim Jackman from the Calgary Flames in return for a sixth-round pick in the 2014 NHL Draft. The 32-year old Jackman has scored 64 points (24 goals), while maintaining a scary -58 +- ratio in 400 games played. If nothing else, the Ducks are acquiring depth and the type of enforcer who can boost the team's "tough" attribute. Over the course...
Life post-Mikka Kipprusoff has been a goalie carousel for the Calgary Flames, but Wednesday night it paid off. The Flames are once again in the midst of a disappointing season — not quite bad enough to launch into rebuilding mode, but not quite good enough to rise above the playoff bubble. It can be tough for Flames fans sometimes, especially since longtime face of the franchise Jarome...
While goaltending has been an issue for the Calgary Flames most of this season, Swiss product Reto Berra has taken a hold of the Flames' starting spot. If he can keep making saves like this, he most certainly will be a fixture in net for Calgary going forward. In the first period of the Flames' game Wednesday against the Columbus Blue Jackets, Berra made a show-stopping save...
Sean Monahan scored in the sixth round of the shootout to lift the Calgary Flames to a 4-3 win over the Florida Panthers on Friday night. Joe Colborne had a goal and an assist in regulation for his first multiple-point game with the Flames since being acquired from Toronto in the offseason. Sven Baertschi and Blair Jones also scored for Calgary, which has secured at least one point...
Calgary Flames goalie Reto Berra went to poke-check a loose puck out of the zone to prevent the Florida Panthers from having a breakaway on him.  Let's just say that his plan went horribly wrong.  He misplayed the puck and it went right to Jimmy Hayes who had a virtually open net.  It was pretty funny to watch Berra skate back to the net after playing the puck, clearly regretting...
Article found on: Next Impulse Sports
Sean Monahan is making a convincing case for the crown. Apparently, though, the nickname is already spoken for. "They call (Reto Berra) the King of Shootouts in Switzerland," revealed Calgary Flames winger Sven Baertschi after Friday's 4-3 shootout victory over the Florida Panthers at the Saddledome. Monahan might have something to say about that. For the second time in...
  The Calgary Flames have acquired left wing Lane MacDermid from the Dallas Stars in exchange for Calgary's 6th round pick in the 2014 NHL Draft, the same pick they had acquired the day before from Anaheim in the Tim Jackman deal. MacDermid was selected by the Boston Bruins in the 4th round (112th overall) of the 2008 NHL Entry Draft During the shortened 2012–13 season, [...]
The Calgary Flames continue to make changes in the hopes of being younger. The Flames acquired left winger Lane MacDermid from the Dallas Stars for a sixth-round draft choice Friday and assigned him to the AHL Abbotsford Heat. MacDermid, 24, is a 6-foot-3, 205-lb., winger who played six games this season with the Stars and managed two assists.
NHL News

Delivered to your inbox

You'll also receive Yardbarker's daily Top 10, featuring the best sports stories from around the web. Customize your newsletter to get articles on your favorite sports and teams. And the best part? It's free!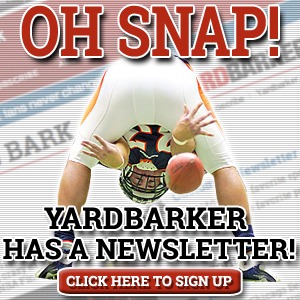 Latest Rumors
Best of Yardbarker

Today's Best Stuff

For Bloggers

Join the Yardbarker Network for more promotion, traffic, and money.

Company Info

Help

What is Yardbarker?

Yardbarker is the largest network of sports blogs and pro athlete blogs on the web. This site is the hub of the Yardbarker Network, where our editors and algorithms curate the best sports content from our network and beyond.