Found December 04, 2012 on Fox Sports West:
PLAYERS:
Bobby Ryan
,
Anze Kopitar
,
Marcel Hossa
,
Shawn Horcoff
,
Dan Cleary
,
Andreas Lilja
,
Davis Drewiske
TEAMS:
Anaheim Ducks
,
Los Angeles Kings
,
Edmonton Oilers
,
Detroit Red Wings
,
Philadelphia Flyers
One obscure argument to ending the lockout is that Freeway Faceoff is much more alliterative and marketable than Swedish National Road 70 Faceoff. But until that agreement is reached, the greatest collection of premier in-season Southern California hockey talent can be found when Mora IK matches up against Sodertalje SK in Swedens second-tier Hockey Allsvenskan, which has emerged as a popular stopping ground for locked-out NHL stars. On Tuesday, Cam Fowlers Sodertalje club traveled four hours north on a national road to Dalarna County and FM Mattsson Arena before emerging as 3-2 winners over Mora IK, the club of Anaheim Ducks teammate Bobby Ryan and Los Angeles Kings rival Anze Kopitar. It was a Sodertalje win that came with a price, at least for one defenseman. I wired a wristshot off his foot, so hes a little unhappy with me, Ryan said of Fowler. Ive got to go apologize. One subject that needs no apology is Ryans level of play since joining Mora. The right wing coming off a fourth straight 30-goal season in Anaheim has immediately rekindled his scoring touch while skating on the same line as a player hed ordinarily be going to battle against in one of the Western Conferences fiercer rivalries. Its nice to be on this side of the ice with him a little bit, instead of trying to shut him down, because hes made me a minus quite a few times, Ryan said. Instead, Kopitar has assists on three of Ryans four goals in the three games theyve played together. Trailing by two late Tuesday, Kopitar had a fraction of a second with the puck and used it to feed a well-positioned Ryan at the top of the right circle for a power play one-timer that took the sniper down to his knee to finish off. Its not really any surprise that the two skilled players have found their chemistry quickly on a larger ice surface that illuminates Ryans speed and allows more room for artistry. Our power play is pretty different when Ryans playing for us, said head coach Patrik Wener. The skill set Ryan brings to central Sweden appears to be greatly in concert with his teams efforts and schemes. Its much more of a skilled and patient game, thats for sure, Ryan said. Thats always been something that Ive tried to at least use in the NHL. Its translated pretty well over here. Obviously the systems are different, but I think with the big ice and more time to build up speed and things like that, youre able to come through the neutral zone and have some more options. I dont think tonight was much of an indication, but there certainly have been a lot of chances for us. Mora has floated amongst the top four-to-eight teams for much of the Allsvenskan season, and Kopitars 26 points (in 23 games) rank him sixth amongst league scorers. Looking to expand the scoring depth of his club and continue to build on the teams success in landing locked-out talent Marian and Marcel Hossa, Shawn Horcoff, Dan Cleary and Andreas Lilja played for Mora in the top-tiered Elitserien during the 2004-05 work stoppage club director Peter Hermodsson and a coach chatted with Kopitar last month to find out if he knew any other goal scorers, according to Kopitar, that might be interested in joining the team. Word travels fast during the lockout. After Kopitar asked his agent about Ryans status, he went to sleep and woke up the next day to an email from Ryan inquiring about Mora. From there, it was only a matter of finalizing contractual minutiae. Hes definitely fun to play with, Kopitar said. You just appreciate more, I think, the guy when you play with him instead of against him. Hes definitely a big world-class player. Earlier in the season Anze Kopitar drew attention when he signed with Mora so he could play on the same line as his younger brother, Gasper, while staying in game shape during the lockout. But Gasper is currently on the mend hes eyeing a weekend return from a minor knee injury and Ryan has inserted himself alongside Kopitar seamlessly. The respect runs both ways for the two traditional rivals. To see him six times a year, and getting to know him and playing against him for all those years, he does a lot of special things away from the puck, as well, Ryan said of Kopitar. Hes definitely a player that when he touches the puck, youre up and ready for something special. He delivers a lot of the time. Until the collective bargaining agreement is reached, theyll attempt to drive Mora up the standings so that it has a favorable position in advance of the Kvalserien, a round robin tournament in March that pits two Elitserien and four Alsvenskan teams against each other in an effort to determine which two teams will play in the Elitserien the following season. In its current position, Mora would have to emerge from the Forkvalserien, a pre-tourney pool of four teams, to even gain entry in the six-team Kvalserien. Weve been playing OK, Kopitar said. Weve been playing some good games and some not-so-good games. I think consistency is key, just like it is in any other team. It brings me back a couple years when we were the same thing with L.A. Its just consistency, and older guys leading the charge. Shortly after Kopitars arrival in town, Mora IK was expecting to also secure the services of Los Angeles defenseman Davis Drewiske, who at the last moment decided to remain in Southern California during the lockout. Living at roughly the same latitude as Anchorage, Alaska is a challenge for any professional athlete, but if theres anyone who can weather the surroundings of a sub-arctic boreal forest, it has to be someone who lives part-time in Idaho, right? I havent seen much of Idaho in the winters, Ryan said. But Ive never felt cold like this. It gets to minus-25, but its just a different kind of cold. It goes straight to the bone. Its a different landscapeand much different culturally, thats for sure.
Original Story:
http://www.foxsportswest.com/12/04/12...
THE BACKYARD
BEST OF MAXIM
RELATED ARTICLES
Los Angeles Kings forward Dustin Penner appeared on the Conan O'Brien show Monday night as an "intern" looking for a way to keep himself busy during the NHL lockout. The result is comedy gold as Penner quickly makes his presence felt as the "enforcer" behind the scenes. Video via TeamCoco. H/T Puck Daddy. Thunderstruck, starring Kevin Durant, comes...
With the lockout in full effect across the NHL, players are forced to look elsewhere to keep themselves buys. LA Kings forward Dustin Penner looked no further than late night television. He told the Winnipeg Sun: "I called my agent, who used to work in Hollywood, and asked if he could find me something to do," Penner said. "I don't want to get paid. I'm not looking for...
With the NHL lockout going on 80-plus days now, NHLers not playing in Europe are looking for ways to fill the hours normally spent on the ice.  L.A. Kings forward Dustin Penner's lockout endeavors included an interning gig with late night talk show host Conan O'Brien.  Penner did all the normal stuff interns are supposed to do—make photocopies, cook Conan a delicious pie...
With the NHL locked out, players are looking for work where they can. Unfortunately for LA Kings forward Dustin Penner it doesn't always mean getting paid. After winning the Stanely Cup in June, Penner is now an unpaid intern for the Conan O'Brien show. But this isn't Penner's first encounter with Conan. In July, Penner and O'Brien were in a Twitter feud, when @ConanOBrien...
Being an unpaid intern is as low as you can get in the professional world, but when you're currently unemployed like Los Angeles Kings winger Dustin Penner, you'll take what you can get. As the NHL lockout approaches the dreaded Dec. 15 deadline for a new CBA, players all over the world are looking for ways to spend their time. Penner, fresh off a Stanley Cup championship, decided...
I managed to land a fantastic new addition to my Ryan Getzlaf Collection at the end of September via our good friend eBay. I debated whether or not to bid, as it was a bit more than I wanted to pay, but my PC was without the card, it wasn't too exorbitant price-wise, and it's a sweeeeet piece of cardboard with a special serial-number to boot.Numbered 15/75, it's an awesome...
There are two Flyers-related games on the schedule today; one in Europe and one prospect. * Allsvenskan: Matt Read and Södertälje SK are in central Sweden to take on Anze Kopitar and Mora IK. Game time is 1:00 PM EST. Live in-game updates will be available here. The team's game on Thursday against Oskarshamn will be televised on the Viasat channel and online at Viasat...
NHL News

Delivered to your inbox

You'll also receive Yardbarker's daily Top 10, featuring the best sports stories from around the web. Customize your newsletter to get articles on your favorite sports and teams. And the best part? It's free!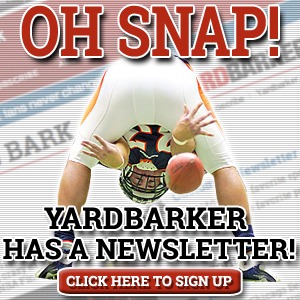 Latest Rumors
The Backyard

Today's Best Stuff

For Bloggers

Join the Yardbarker Network for more promotion, traffic, and money.

Company Info

Help

What is Yardbarker?

Yardbarker is the largest network of sports blogs and pro athlete blogs on the web. This site is the hub of the Yardbarker Network, where our editors and algorithms curate the best sports content from our network and beyond.