Found May 11, 2013 on Kukla's Korner:
from AJ Manderichio of AnaheimDucks.com, "When you're a kid, you have dreams that you're playing Game 7 of the Stanley Cup playoffs," Corey Perry said. "That's the fun part of the hockey. You dream about Game 7s and to be that one guy to step up [and win one] is pretty special." "You don't get many opportunities like this," Cam Fowler said. "You try and cherish that moment and you look forward to it. It's another game of hockey, but the stakes are raised a little bit. "I'm looking forward to it. No butterflies, just excitement." Bruce Boudreau has both played and coached in Game 7, and believes playing carries less pressure. more and a 3 minute video can be watched below with a few Ducks including Boudreau talking about game 7... Continue reading "Ducks Today"
Original Story:
http://kuklaskorner.com/tmr/comments/...
THE BACKYARD
BEST OF MAXIM
RELATED ARTICLES
During Wednesday's match-up between the Anaheim Ducks and Detroit Red Wings in Game 5 of the teams' Western Conference quarterfinals series, Ducks winger Corey Perry committed two separate egregious affronts to the crotchal region of Red Wings goaltender Jimmy Howard within a few-second time span. It appears that the first one netted Perry a two-minute [...]The post Corey Perry...
Corey Perry has a bit of a bad reputation around the NHL for questionable hits and dirty plays after the whistle. In Game 5 between the Anaheim Ducks and Detroit Red Wings, Perry was given a two-minute penalty for interfering with goaltender Jimmy Howard. Perry certainly earned his two minutes, kicking Howard in a sensitive area. Twice.  You could make a case that the first...
The Anaheim Ducks finished second in the Western Conference, winning their second Pacific Division banner and giving their fans high hopes for the post-season. They were expected to make the playoffs this season, but the finish, despite the presence of superstars like Corey Perry, Teemu Selanne, Bobby Ryan, and Ryan Getzlaf, was a pleasant surprise. A team with a 30-12-6 record...
Leave it to the Ducks to screw up a showdown with the Kings in what might be Teemu Selanne's final season. How can the Ducks lose to THAT defense? I'll tell you how. Bruce Boudreau in the post season is horrid: This is his record with an amazing Washington team: 2007-08 Washington - Lost in round 1 2008-09 Washington - Lost in round 2 2009-10 Washington ...
This game had it all. Extreme highs, matched with heart breaking lows. I may have even cried at times. We saw Zetterberg pull this team up on his shoulders and lug them down the ice into the offensive zone. As much as I hated to see this game almost go down the toilet in the 3rd, there is no better feeling than seeing Zetterberg rocket a shot past Hiller in OT while the Ducks skated...
A theatrical playoff series gets an appropriately grand finale when Anaheim hosts Detroit in Game 7 on Sunday night. Although the Ducks and Red Wings could be stressed by this test, most are treating it as an opportunity and a reward for nearly two weeks of exhausting work. After all, somebody gets to be the hero. ''If you can't enjoy it, then you're in the wrong...
2 1/2 minutes of a few players and Bruce Boudreau talking about tonight's game.  
There's nothing I hate more than having a blog deleted - It's all fine and dandy when there are hundreds of thousands of hits with the Montreal: 20 years and counting, but I tell the truth about Bruce Boudreau and the thread is deleted. Thanks Eklund for giving me a space to voice my opinions Come over to www.bigmouthbarry.com if you want some real UNEDITED entertainment...
The Detroit Red Wings nearly did themselves in against the Ducks, thanks to some awful play by Valtteri Filppula, on uncalled trip by Corey Perry and some terrible mistakes by the Quincey-Smith pairing... But Jimmy Howard was masterful, Henrik Zetterberg was clutch, the Wings got butts in front of Jonas Hiller, and 1:09 into OT, the Red Wings defeated the Ducks 4-3--despite blowing...
This could be it, friends. This could very well be the last Red Wings game played as a member of the Western Conference. This could be the last game of an all too short season. This could be the end of our stress and the beginning of our summer-long depression. Hockey is a funny sport in that the harder working team can lose. A sport where a degenerate thug like Corey Perry can do...
Paul's been doing yeoman's work and then some and the Chief captured the moment that I didn't see--perhaps thankfully, due to Fox Sports Detroit's broadcast of Friday's game--of the Ducks' version of "leadership," via Corey Perry spitting water on the ice while his BFF Ryan Getzlaf tried to challenge Henrik Zetterberg to who-the-f***-knows-what with...
Ryan Getzlaf has been dominant when the Anaheim Ducks have needed their captain most, scoring clutch goals in two of their three wins. ''Isn't that what he's supposed to do?'' coach Bruce Boudreau asked after his team arrived Thursday night in Detroit. ''Your best player is supposed to be your best player.'' It hasn't worked out that...
Ducks News

Delivered to your inbox

You'll also receive Yardbarker's daily Top 10, featuring the best sports stories from around the web. Customize your newsletter to get articles on your favorite sports and teams. And the best part? It's free!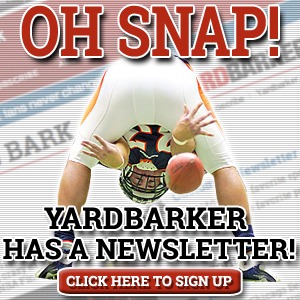 Latest Rumors
The Backyard

Today's Best Stuff

For Bloggers

Join the Yardbarker Network for more promotion, traffic, and money.

Company Info

Help

What is Yardbarker?

Yardbarker is the largest network of sports blogs and pro athlete blogs on the web. This site is the hub of the Yardbarker Network, where our editors and algorithms curate the best sports content from our network and beyond.