Found April 23, 2013 on Awful Announcing:
After a 3-1 loss in Vancouver last night, Blackhawks defenseman Duncan Keith had an exchange with Vancouver sportscaster Karen Thompson that caused the sports world to rise up with jeers of sexism.  Keith appeared to slash Daniel Sedin on a Canucks goal, but was not called for a penalty.  After the game, Thompson tried to bring up the slash to Keith and prodded him about it not being called.  Keith didn't appreciate the line of questioning, which led to a weird exchange of Keith derisively saying she should be a "female referee" and that Thompson didn't know the game. Immediately, alarm bells went off about Keith being a misogynistic neanderthal and taking us back 30 years to when female reporters weren't welcomed in locker rooms.  However, after listening to the full exchange, I'm not sure Keith's crime here is as much sexism as it is a graceless tete a tete with any reporter that would challenge him in the locker room.  Here's the full audio... The female referee comment is what leads you to believe Keith may be acting in a sexist manner here.  It's a dumb thing to say, but it sounds like he's more upset over Thompson needling him about a penalty that wasn't called.  The question is whether or not he'd make the same comment about knowing the game as he would to a male reporter that admitted he couldn't skate, which Keith probably would.  In that case, Keith's crime isn't necessarily sexism (although he walks dangerously close to the line) as it is the backwards viewpoint that anyone who can't play the game at a high level has no right to comment on it. That's a classic retort from an athlete who's boxed into a corner by a reporter and is almost as lame as saying my dad could beat your dad in a fight.  If that were the case, pretty much everyone in media and analytics in any industry would be without a job and we'd live in a world where Mike Milbury and Pierre McGuire would announce every single hockey game.  Surely that's not a world Duncan Keith would want to live in, is it? H/T Chicago Tribune
Original Story:
http://www.awfulannouncing.com/2013/a...
THE BACKYARD
BEST OF MAXIM
RELATED ARTICLES
Blackhawk Duncan Keith was asked about a non-call by TEAM 1040 reporter Karen Thompson last night after the Canucks clinched the Northwest with a win over Chicago. Keith hacked an about to score... Full story at Bob's Blitz ~ http://www.bobsblitz.com
Chicago Blackhawks defenseman Duncan Keith says he meant no disrespect to women during an argument with a female radio reporter in Vancouver. Keith, preparing for a game in Edmonton against the Oilers, said Wednesday he was ''fired up'' after Chicago lost 3-1 to the Vancouver Canucks. Reporter Karen Thomson asked him about a possible penalty involving Canucks forward...
As the resident woman around Puck Drunk Love, whenever some odd scandalous comment pops up that could be perceived as "anti-woman" or "misogynist" pops up, I take a look at it. Normally I mock it, like While the Men Watch or a Guide to Hockey for women. In Duncan Keith's case, I find myself, as a Blues fan, in the unfortunate position of defending a member...
Duncan Keith was understandably disappointed by the Blackhawks 3-1 loss to the Vancouver Canucks last night. After the third Canucks goal, Keith slashed the back of Daniel Sedin, a blatant penalty that somehow went undetected by the refs. Karen Thomson, a female reporter for Team 1040 in Vancouver asked Keith about the unpenalized slash, clearly striking a nerve with him and causing...
Duncan Keith, aka the Keith of Thrones was interviewed by Karen Thompson of a radio station in Vancouver last night. Here it is, in it's entirety via the Chicago Tribune: Thomson: "Can you talk about what happened after the Daniel Sedin goal?"  Keith: "Which one was that one? Thomson: "The third goal." Keith: "The third one? Well, we...
After losing to the Vancouver Canucks on Monday night 3-1, Chicago Blackhawks defenseman Duncan Keith was pretty annoyed with a female reporter.  The play she is referring to is in the video above, where Keith takes a solid whack at Daniel Sedin following his goal. The reporter Keith was annoyed with was Karen Thomson, a reporter for Team 1040 in Vancouver.  Chicago Tribune reporter...
From the LA Times When Karen Thomson of Team 1040 radio in Vancouver asked about the Canucks' third goal of the game, during which it appeared Keith might have gone unpenalized for a slash, the player acted like he didn't know what she was talking about twice. He finally asked her, "What did you see?" She responded: "It looked like maybe there was...
The Blackhawks lost in Vancouver 3-1 on Monday night. Daniel Carcillo scored the only Hawks goal. Brandon Bollig and Viktor Stalberg skated on penalty kill duty. And Dave Bolland left after five shifts with a groin injury. And that's… about … Continue reading →The post Blackhawks Lose In Vancouver appeared first on Committed Indians.
The Chicago Blackhawks want to clinch the President's Trophy, awarded to the NHL team with the best regular season record. They want to enter the playoffs on a good note.On the other hand, common sense dictates that coach Joel Quenneville will ease up on the throttle and allow his team to coast a bit during the final week. The Blackhawks need to catch their breath before embarking...
Ladies, have you been thinking of having a sports-themed wedding because, like, you really love sports and can'…
Chicago Blackhawks coach Joel Quenneville called his team's most recent performance the "worst game of the year." That doesn't necessarily mean he's forgotten about what happened in the last matchup with the Edmonton Oilers. Chicago looks to move closer to clinching its first Presidents' Trophy in 22 years when it faces an Edmonton team looking to end a...
NHL News

Delivered to your inbox

You'll also receive Yardbarker's daily Top 10, featuring the best sports stories from around the web. Customize your newsletter to get articles on your favorite sports and teams. And the best part? It's free!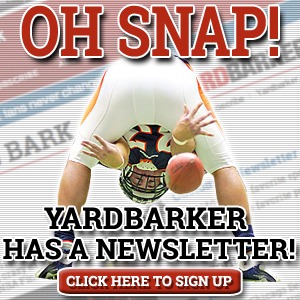 Latest Rumors
The Backyard

Today's Best Stuff

For Bloggers

Join the Yardbarker Network for more promotion, traffic, and money.

Company Info

Help

What is Yardbarker?

Yardbarker is the largest network of sports blogs and pro athlete blogs on the web. This site is the hub of the Yardbarker Network, where our editors and algorithms curate the best sports content from our network and beyond.