Found May 21, 2012 on Blue Seat Blogs:
PLAYERS:
David Clarkson
,
Anton Stralman
,
Alexei Ponikarovsky
,
Bryce Salvador
,
Ryan Callahan
,
Artem Anisimov
,
Zach Parise
,
Travis Zajac
,
Dan Girardi
,
Derek Stepan
,
Dainius Zubrus
,
Ilya Kovalchuk
,
Ruslan Fedotenko
,
Marek Zidlicky
,
Anton Volchenkov
,
Martin Brodeur
,
Michael Del Zotto
TEAMS:
New Jersey Devils
,
New York Rangers
This game sure got ugly fast. The Rangers were playing like they just wanted to get out of New Jersey (let's be honest, who doesn't want to get out of that state?). Two first period goals by the Devils and the Rangers never recovered. It was a total team letdown, not one person can be blamed for anything, and it is what it is. It's a best of three now, move on. Here's the goal breakdown, and after the jump we talk about the third period melee as well. 1-0   NJD, Salvador with a seeing eye goal This goal begins when David Clarkson wins a battle along boards to get puck away from Anton Stralman. The loose puck winds on Alexei Ponikarovsky's stick in the opposite corner, who moved the puck up to Bryce Salvador at the point. Ryan Callahan bit a little too hard on Poni in the corner, leaving Salvador open at the point with room. The shot itself wasn't a hard shot, but there were seven bodies in front, and the puck was just a seeing eye shot. It happens sometimes. 2-0   NJD, Zajac scores on a 2-on-1 This play begins when Michael Del Zotto attempts to get the puck to Artem Anisimov, but winds up turning the puck over to Zach Parise. Parise brings the puck up and moves around MDZ, who wrongly stepped up at the blue line.  This left Parise and Travis Zajac on a 2-on-1 rush with Dan Girardi back. Girardi did his usual lay down on the ice schtick, which almost never works, and Hank can't get across in time. Nothing Hank can do. That goal is on MDZ. 3-0 NJD, Parise puts it away on the powerplay After a Derek Stepan penalty, a clean face off win by Dainius Zubrus to the Ilya Kovalchuk at the point with room. Hank can't swallow up Kovalchuk's slapper from the point and Parise gets the rebound for the easy goal. Cally and Girardi failed to cover Parise in the slot. They were just caught watching. Sloppy goal. 3-1 NJD, Rangers get on the board Del Zotto made a good, smart hockey play by keeping the puck away from Kovalchuk and flipping the puck to Richards with a nice backhand saucer pass. Richards hit Ruslan Fedotenko on the other end of the ice with room after Marek Zidlicky was a step out of position. Feds waits for a screen from a returning Zidlicky and fired it past Brodeur stick side. 4-1 NJD, Parise gets the empty net goal Empty net goal, nothing to really analyze. I have to touch on that melee in the third period. First, Mike Rupp appeared to leave his feet on the initial hit on Anton Volchenkov, but then again Parise left his feet on his hit on Del Zotto last game. It is what it is. But the shove of Martin Brodeur, while embellished slightly by Brodeur, was unnecessary and uncalled for. Rupp has been one of the best Ranger forwards this series (that doesn't say much) and that really brought him down a notch. The Rangers can't be "that team" that cheap shots the opposition when losing. Be the bigger team, don't sink down to their level. The series is tied, it's a best of three.
Original Story:
http://www.blueseatblogs.com/2012/05/...
THE BACKYARD
BEST OF MAXIM
RELATED ARTICLES
Through two rounds of the Stanley Cup Playoffs, the New York Rangers appeared to be fine without two key forwards in Brandon Dubinsky (ankle) and Mats Zuccarello (wrist). In fact, when injury struck during the regular season, the Rangers never were a team to lose a step because of it; they continued to trudge on and play through it, finding alternative ways to win hockey games. It...
Whether you agree with the suspension or not, Brandon Prust will not be playing in tonight's Game 4 against the Devils. With the opportunity to build a two game lead, the Rangers will be without one of their warriors and top penalty killers. It's a blow, but not a blow that can't be overcome. Unlike with Carl Hagelin, the Rangers have a few options readily available to replace...
Maybe it was the hubris an athlete must possess in order to be successful at the highest level of his sport. Maybe it the unshakable belief an athlete has in a team that finished the regular season with an Eastern Conference-best 51 wins and 109 points. Or maybe it was simply a case of an athlete spitting into the wind. "It's pretty evident that we're clicking on...
Here's an interesting statistic for you: The Rangers are unbeaten in Games 1, 3, and 7 this postseason. They are a perfect 8-0 in those games. Another interesting stat: The Rangers haven't won in Games 2 or 4 this postseason. They are a combined 0-6 in those games. Scary, right? In fact, the Rangers have never built a two game lead during these playoffs. The Blueshirts have a...
Both Brandon Dubinsky and Mats Zuccarello taking part in #NYR practice; Stu Bickel wearing red defensemen jersey— New York Rangers (@thenyrangers) May 22, 2012 ...i wouldn't be surprised if both Dubinsky and Zuccarello find their way back in the line-up tomorrow night. Team needs a spark offensively big time. And while Dubinsky gave them nothing in the scoring department...
New York Rangers winger Brandon Prust has been suspended for one game by the NHL for his elbow to New Jersey Dgvils defenseman Anton Volchenkov on Saturday, the league announced Sunday. As a result, Prust will sit out Monday's Game 4 against the Devils, with the Rangers leading the series 2-1. Prust received no penalty on the play, which occurred during the Rangers' 3...
Tempers flared— both on the ice and between the benches— after Mike Rupp of the New York Rangers shoved New Jersey Devils goalie Martin Brodeur after getting called for a penalty during the third period of last night's matchup at the Prudential Center. After Rupp was told to leave the ice, players from both teams got into a scrum in front of the Devils' net and the head...
Practice for the New York Rangers went from optional to mandatory. Their attitude shifted from agitated to optimistic. For the third straight series, the Eastern Conference's top-seeded team is all even through four games, and each time New York has headed into Game 5 off the disappointment of a loss that would have given the Rangers a commanding 3-1 edge. The negative view...
New York Rangers goalie Henrik Lundqvist was nothing short of amazing during the Stanley Cup Playoffs and this was no different this past Saturday against the New Jersey Devils. Check out this save by the all world goalie Lundqvist as he stopped a Ilya Kovalchuk breakaway attempt with the game score still tied at 0-0. Related articles Lundqvist Puts Stopper on Devils ...
from Larry Brooks of the NY Post, Maybe this is what John Tortorella meant by gamesmanship, maybe the Rangers' coach defines that as racing to the front of his team's bench for an exchange of angry words with Devils coach Pete DeBoer, a man whose presence he clearly cannot abide. Maybe this latest incident, coming at 6:18 of last night's third period after Mike Rupp punched...
NEW YORK (May 22, 2012) – The National Hockey League announced today the schedule for the 2012 Stanley Cup Final. Based on their superior regular-season point totals, either the New York Rangers or the New Jersey Devils will host Games One and Two of the best-of-seven Final, as well as Games Five and Seven.  Games Three and Four will be hosted by the Western Conference champion...
What exactly are the yips? The yips are defined as a state of nervous tension affecting an athlete (as a golfer) in the performance of a crucial action. Athletes across sports are victims to the yips, especially those who play in New York-- the bright lights, roaring crowd, and worst of all, never-ending expectations of greatness are enough to get to most athletes, regardless of...
NHL News

Delivered to your inbox

You'll also receive Yardbarker's daily Top 10, featuring the best sports stories from around the web. Customize your newsletter to get articles on your favorite sports and teams. And the best part? It's free!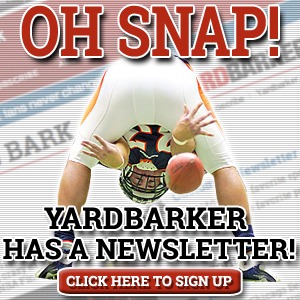 Latest Rumors
Best of Yardbarker

Today's Best Stuff

For Bloggers

Join the Yardbarker Network for more promotion, traffic, and money.

Company Info

Help

What is Yardbarker?

Yardbarker is the largest network of sports blogs and pro athlete blogs on the web. This site is the hub of the Yardbarker Network, where our editors and algorithms curate the best sports content from our network and beyond.