Found April 24, 2012 on Fox Sports Midwest:
ST. LOUIS Before Brian Elliott closed his Western Conference quarterfinals series against the San Jose Sharks with a combined 50 saves in the last two games before he established himself once again as a trusted option for the St. Louis Blues alongside Jaroslav Halak one of the NHL's most surprising goalies was frustrated. On April 16, Elliott spoke with Blues winger Jamie Langenbrunner after St. Louis' victory over San Jose in Game 3 at HP Pavilion. Elliott had made 26 saves in his first start of the series after replacing Halak, who left in the second period of Game 2 with an undisclosed lower-body injury. To Elliott, though, his performance in San Jose had failed to meet his standard. He had allowed two goals in the last 3 minutes before the Blues clinched a 2-1 series lead. The late lapse that was inconsistent with his strong season bothered him, and he vented to his veteran teammate about missed chances. "He was upset about a couple of those goals even though we got the win," Langenbrunner told FOXSports.com on Tuesday. "That shows his competitive level, and it's great to be a part of that." Elliott's competitive streak is a reason why the Blues remain a threat to win their first Stanley Cup. The 27-year-old netminder went from facing an uncertain future in training camp to earning nine regular-season shutouts and claiming the William Jennings Trophy with Halak. Now, Elliott has another opportunity to make an impression. On Monday, coach Ken Hitchcock named him the starter for Games 1 and 2 of the Blues' Western Conference semifinals series against the Los Angeles Kings. For weeks, the question has been hot throughout hockey circles in the Gateway City: Do you start Elliott or Halak in the playoffs? For now, the debate has been settled: Halak's injury and Hitchcock's vote of confidence have given Elliott an opening to show his value in the postseason. The opportunity is appropriate. After all, Elliott is an example of the depth that has allowed the Blues to become the highest-remaining seed in the Western Conference. He entered the playoffs with a 1.56 goals-against average, a modern-day NHL record. His regular-season shutouts were a franchise-best total. So was a personal scoreless streak of 241:33. That pattern of play continued against San Jose. He made 93 saves and allowed just five goals. Of course, Halak is a valuable asset for the Blues, but Elliott has proven himself worthy of the two-year, 3.6 million contract extension he signed in January. Without him, the Blues have trouble advancing past the Western Conference quarterfinals for the first time in 10 years. Without him, they aren't as strong. "He's very even-keeled minded," Blues winger Alexander Steen said of Elliott. "He never gets too high or too low on himself. Just his work ethic he works extremely hard. When he doesn't play, he works extremely hard at keeping himself focused and in shape and ready. He has proven it all year." And he has proven it in many ways. He has shown focus and determination in front of the net as well as skill and versatility. His composure has helped the Blues advance this far, and it could carry them in their attempt to reach the Western Conference finals for the first time since 2001. "It's a new season right now," Elliott said. "You're not looking back to those games (in the regular season against Los Angeles). You're looking forward. I'm sure they've changed some things since the last time we played them, so we'll just have to refocus. It will be a tough series. I think we're both ready to go. It's going to come down to small breakdowns and small decisions with the puck that might cost you." Elliott will be tested against the Kings. He lost in both appearances against them in the regular season: He surrendered one goal in a little less than 20 minutes on the ice during a 5-0 defeat Oct. 18, and he fell in a shootout despite stopping all 37 shots in regulation March 22. Meanwhile, Kings goalie Jonathan Quick won't give Elliott much room for error. He allowed eight goals in helping Los Angeles upset the Vancouver Canucks in five games in the Western Conference quarterfinals. Earlier, he went 2-1 against the Blues in the regular season and earned two shutouts. "For me, we've got good goaltenders, they've got good goaltenders," Hitchcock said. "I think it's going to be how you find ways to beat them. We all talk about the same crap more traffic, more this, more that. But at the end of the day, we are what we are: We are teams built around defense. "I think both teams are comfortable playing one-goal games late. It's going to be the time of the score and when you can get your timely goals against these guys, because I don't think either guy is going to give up very much right now." Elliott sure hasn't given up much lately. Because of it, the Blues are confident even with Halak's future unclear.
Original Story:
http://www.foxsportsmidwest.com/04/24...
THE BACKYARD
BEST OF MAXIM
RELATED ARTICLES
ST. LOUIS - Arguably the two hottest goalies in the NHL will meet when the St. Louis Blues and Los Angeles Kings meet in the Western Conference semifinals beginning later this week. The second-seeded Blues reached the second round by defeating the San Jose Sharks in five games while the eighth-seeded Kings pulled off a shocker by upsetting the Presidents Trophy winning Vancouver...
ST. LOUIS - St. Louis Blues goaltender Jaroslav Halak will not play in the first two games of the upcoming second-round playoff series against the Los Angeles Kings. Blues coach Ken Hitchcock disclosed his decision Monday. Halak was injured in the second game of the Blues' first-round series against San Jose, leaving with an undisclosed lower-body injury that is believed to...
Courtesy: Blues Media Relations ST. LOUIS St. Louis Blues Executive Vice President and General Manager Doug Armstrong has been named a finalist for the 2011-12 General Manager of the Year by the National Hockey League (NHL). Armstrong became the 11th General Manager in Blues history on July 1, 2010 and is in his second full season as Blues GM. Since taking the reins in 2010-11...
St. Louis Blues goaltender Jaroslav Halak will not play in the first two games of the upcoming second-round playoff series against the Los Angeles Kings. Blues coach Ken Hitchcock disclosed his decision Monday. Halak was injured in the second game of the Blues' first-round series against San Jose, leaving with an undisclosed lower-body injury that is believed to be a sprained...
The Kings will open their Western Conference semifinal playoff series against the St. Louis Blues on Saturday in St. Louis. Game 2 will follow Monday. The Kings then head home for Game 3 and 4, which will be Thursday, May 3, and Sunday, May 6, respectively, at Staples Center. Games 5 to 7 and game times for the entire series have not been announced and will not be until the entire...
Follow me on Twitter: @JTQ_1 - It takes the right mix of skill, smarts, and determination to excel in the defensive aspects of the game. St. Louis Blues captain David Backes has the correct combination and has displayed it time and again over the last few years. His inclusion on the Selke Trophy finalist list announced Monday, along with Detroit Red Wings centerman Pavel Datsyuk...
The start of the 2nd Round of the NHL Playoffs are getting closer and closer for the Los Angeles Kings. And that can only mean one thing! An in-depth look at the Kings opponent by Brigitte from One Girl, One Puck. Now, the 2nd Round is definitely uncharted territory for the LA Kings... and Brigitte has decided to take her team previews into the one aspect she hasn't featured...
I hoped to post my St. Louis Blues and LA Kings series preview today, but work and birthday activities have combined to prevent that. I'd also like to include the series schedule. So it can wait another day or so. A little more tuning won't hurt. In the mean time I'd like to share a thought and pose a question. Every hockey fan has a beginning. There has to be...
As pointed out by fellow Bloguin blog Awful Announcing, Grantland's Bill Simmons has an issue with the St. Louis Blues. Whatever did the Blues ever do to him, you might ask? Well, they didn't credential writer Katie Baker for the second round of the NHL Stanley Cup playoffs. Horrors! A major sporting event with a press box full of media types didn't have room for a...
I'm pretty sure most Eastern Conference teams would love to have a Jonathan Quick of their very own... or a Mike Smith, or a Pekka Rinne, or a Brian Elliott. Heck, a nice Cory Schneider would help any of the Eastern Conference teams out in a pinch. Quite frankly, the goaltending coming out of the Eastern Conference quarter-finals so far has been underwhelming at best. The most...
The first round of the Stanley Cup playoffs has produced some improbable results.  Many of the stronger teams in the NHL have been eliminated.  One explanation for this is goaltending.  Goaltending has been proven over the years to be able to steal a playoff series.  Goaltending has been stronger than one would expect in the first round of the playoffs and many of the teams...
One thing that is as certain as the teams that will be moving on to the second round of the playoffs in the Western Conference, is that each team is lead by a suffocating defense and anchored by exceptional goal-tending. Jonathan Quick of the Los Angeles Kings, Mike Smith of the Phoenix Coyotes, Pekka Rinne of the Nashville Predators, and Jaroslav Halak and Brian Elliott of the...
NHL News

Delivered to your inbox

You'll also receive Yardbarker's daily Top 10, featuring the best sports stories from around the web. Customize your newsletter to get articles on your favorite sports and teams. And the best part? It's free!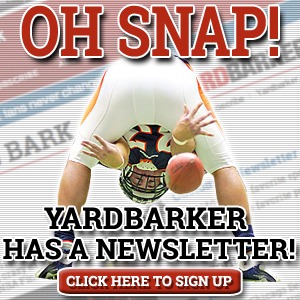 Latest Rumors
The Backyard

Today's Best Stuff

For Bloggers

Join the Yardbarker Network for more promotion, traffic, and money.

Company Info

Help

What is Yardbarker?

Yardbarker is the largest network of sports blogs and pro athlete blogs on the web. This site is the hub of the Yardbarker Network, where our editors and algorithms curate the best sports content from our network and beyond.