Found March 04, 2013 on Fox Sports Carolinas:
PLAYERS:
Cam Ward
,
Dan Ellis
,
Jose Theodore
,
Joe Corvo
,
Jack Skille
,
Roberto Luongo
,
Chris Mason
,
Jordan Staal
,
Evgeni Nabokov
TEAMS:
Carolina Hurricanes
,
Florida Panthers
,
Vancouver Canucks
,
Nashville Predators
,
New York Islanders
For a goalie of Cam Ward's stature, there have been some uncomfortable moments this season. Mostly, they have come in terms of Ward's having to fight for his starts something the 29-year-old has not had to do since his rookie season of 2005-06, when he ultimately led the Carolina Hurricanes to the Stanley Cup, winning the Conn Smythe Trophy as playoff MVP in the process. Coach Kirk Muller, who, assuredly, has a strong mandate from management, has not allowed Ward to start games by default, as he might have in the past. This season, Ward's eighth, has proved a rarity in that his back-up Dan Ellis frankly has outplayed him to this point. Now, with the announcement by the Hurricanes on Monday that Ward will miss the next six to eight weeks possibly the remainder of the regular season with a third-degree sprain of his MCL in his left knee, that point is moot. The task of keeping the 'Canes on top in the Southeast Division now falls to Ellis, but this time as a No. 1, which is an entirely different dynamic, with different pressures associated with it. Trading for a goalie does not seem to be much of an option. Ottawa, in direct competition with Carolina for a spot in the Eastern Conference playoffs, already lost No. 1 Craig Anderson. Florida's No. 1, Jose Theodore, could be out for a prolonged period. There's not much supply and plenty of teams are within striking distance of the playoffs. To his credit, Ellis has been a No. 1 before, and he's playing like it again this season. However, it has been a few years since he has done so. Much of the Canes hopes now rest on whether he is up to the task. With a little more than half of the season left, the Hurricanes entered Monday with 25 points, four ahead of Winnipeg and six over Tampa Bay. All three teams have played 21 games. If the Canes stumble, nothing is guaranteed. Even Washington, currently eight points back and tied for last in the division, seemingly has a chance to catch them. Ironically, Ellis was scheduled to start on Sunday at Florida but did not because of illness. That set the stage for a freak accident in the second period when Canes defenseman Joe Corvo, after knocking Florida forward Jack Skille to the ice, slid into Ward. A few minutes later, Ward had to leave the game when he attempted to push off with the injured knee and it gave out. Perhaps because of the small, nontraditional market he plays in, Ward is one of the games most underrated goalies. In 2010-11, his 37 wins ranked second in the NHL only one behind league-leader Roberto Luongo of Vancouver yet the Canes failed to qualify for the playoffs, which might have diminished an otherwise great season in the eyes of voters for the Vezina Trophy (top goalie). That season, Ward's 2,191 saves were the most in the league, more than 200 more than the next highest goalie. He also led the league in games played (74) and minutes (4,318) but was not even a finalist for the award. In 2009, he took his underdog team to the Eastern Conference finals, where the Canes lost to eventual Stanley Cup champion Pittsburgh. The resume speaks for itself. What makes Ward one of the games better goalies is his ability to focus and compete. That was on display in a 4-2 win over the New York Islanders on Feb. 24. Ward was not great, as he allowed two goals in the first 12:25 of the first period to the Islanders. Yet from there, he yielded nothing and the Canes rallied to win with four straight goals. Can Ellis show the same mental toughness? That is the question. In 2007-08, he wrested the No. 1 job in Nashville from Chris Mason and was Nashvilles starter for a six-game playoff loss in the first round against eventual Stanley Cup champion Detroit. That season, Ellis set what is still the longest shutout streak in Predators history, going from March 22 to March 30, 2008 233 minutes 39 seconds without yielding a goal. Ellis went 23-10-3 with a 2.34 goals-against average and .924 save percentage, which accounted for career bests in wins and the latter two categories. This season, he is near that form. His .923 save percentage is a good bit higher than Wards at .908. His GAA of 2.53 also is better than Wards, which is 2.84. The difference is that Ward has played almost 600 minutes (10 games) more. How will Ellis function when he knows that he is not just starting one out of every three games but two or three out of every three? How will we respond to the wear-and-tear of playing so many games in such a short season? He has never played more than the 44 games in a season (both in 07-08 and in 10-11). The last couple of times he has been given a chance to be a No. 1, the results were not great. In 2010-11 for Tampa Bay, he played 31 games before he was traded in late February, registering an .889 save percentage. The last time he had a playoff start that same 2010-11 season after Anaheim acquired him Ellis was pulled after 41 minutes in Game 1 against his former Nashville team when he allowed four goals on 24 shots. He did not see any action in the series after that, a six-game loss by his club. The good news for the Cans is that Ellis looks like a different player in 2013. This is an important season for the Canes, who have not qualified for the postseason in four years. With the trade for Jordan Staal and the signing of forward Alex Semin for just one year at 7 million, the Canes showed that they are "all in," so to speak. If Ellis falters, maybe, a team like the Canes can pry Evgeni Nabokov from the Islanders before the trading deadline, but Nabokov has not played well. That means to help the Canes fulfill their postseason dreams, Ellis will have to be equal to the task.
Original Story:
http://www.foxsportscarolinas.com/03/...
THE BACKYARD
BEST OF MAXIM
RELATED ARTICLES
The Carolina Hurricanes say goalie Cam Ward will miss six to eight weeks with a sprained knee ligament. The team announced Ward's diagnosis Monday and said the former All-Star goalie will not require surgery. The team says Ward suffered a third-degree sprain to his medial collateral ligament midway through the second period of Sunday night's 3-2 win at Florida. He hurt...
The Carolina Hurricanes say goalie Cam Ward will miss six to eight weeks with a sprained knee ligament. The team announced Ward's diagnosis Monday and said the former All-Star goalie will not require surgery. The team says Ward suffered a third-degree sprain to his medial collateral ligament midway through the second period of Sunday night's 3-2 win at Florida. He hurt...
The first part of the video you see Jack Skille of the Panters sliding into Ward, who was slow to get up.  When play started again, Ward stretched a bit to make a save and then went down on his own. Injury appears to be either his back or leg but you can see he was uncomfortable coming off the ice. Dan Ellis who replaced Ward was scheduled to start the game but was ill, so Ward...
The Canes picked up another 2 points in Florida last night in lackluster game where both teams just looked worn out. But the bigger news heading into today was the status of Cam Ward. He left the game after a Canes defenseman came barreling into him with a Panther in tow. Strange was that he was slow to get up, but after being attended to by trainer Pete Friesen, he stayed in...
Hurricanes fans are fearing the worst right now, as it was announced earlier this morning that their goaltender Cam Ward will miss the next 6-8 weeks with an MCL sprain. Things certainly could have been a lot worse judging from how bad the injury looked when it happened, but at the very least, it's good to know that this isn't anything season-ended or career threatening....
RALEIGH, NC – Jim Rutherford, President and General Manager of the National Hockey League's Carolina Hurricanes, today announced that goaltender Cam Ward has been diagnosed with a third-degree sprain of the medial collateral ligament (MCL). Surgery will not be required for the injury, and he is expected to be out six to eight weeks.
Cam Ward and Jose Theodore owners haven't exactly had it easy this season, even before the news that both goalies would be sidelined for much of what's left of the fantasy hockey season. But when one door closes, another one opens – unless someone else beat you to the waiver wire for their possible replacements. Regardless, let's find out how these replacements could shape...
While the Carolina Hurricanes have climbed to the top of the Southeast Division, staying there could prove difficult with their starting goalie sidelined. The Hurricanes try to overcome Cam Ward's absence as they go for a season-best fourth consecutive win and three-game season sweep of the visiting Buffalo Sabres, who are hoping to have Thomas Vanek available Tuesday night...
The schedule makers seemed to be giving the Canadiens a hard time of it this week, calling for five games in eight days, all on the road. But Les Bleu, Blanc et Rouge answered the call Sunday night with a 4-3, come-from-behind win in Beantown. Suddenly, the rest of the week looks quite a bit brighter.   Of the remaining four games, only one is against a team with a winning record...
While the Carolina Hurricanes and Montreal Canadiens finished at the bottom of their respective divisions last season, both find themselves in first with the midway point approaching. The Southeast-leading Hurricanes look to win five straight for the first time in three years Thursday night as they host the Canadiens, who try to bounce back from their first regulation loss in almost...
photo by: sportsdeke.com Welcome to the Weekend Update. This is the weekly article that keeps you up-to-date on the NHL Standings, provides you with videos from around the world hockey in the week that was, and informs Nashvillians on the televised NHL games in the upcoming week. In this edition Ward stops Ward, another milestone for Selanne, the Green Men are back,...
The Hurricanes did themselves a huge favor this weekend by picking up two wins against the Florida Panthers because it now gives them a bit of a cushion on their lead in the Southeast Division. Things are still pretty tight, though as the Winnipeg Jets trail them by only four points and Canes have recently come out of a stretch where they lost three divisional games. Carolina'...
NHL News

Delivered to your inbox

You'll also receive Yardbarker's daily Top 10, featuring the best sports stories from around the web. Customize your newsletter to get articles on your favorite sports and teams. And the best part? It's free!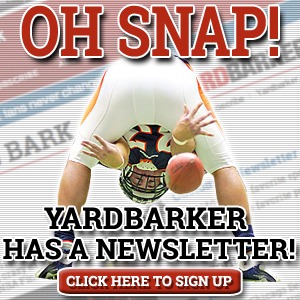 Latest Rumors
The Backyard

Today's Best Stuff

For Bloggers

Join the Yardbarker Network for more promotion, traffic, and money.

Company Info

Help

What is Yardbarker?

Yardbarker is the largest network of sports blogs and pro athlete blogs on the web. This site is the hub of the Yardbarker Network, where our editors and algorithms curate the best sports content from our network and beyond.