Found January 21, 2013 on The Prospect Park:
Griffin Reinhart (Edmonton Oil Kings) Forgive me but a quiet Sunday of hockey left me enough time to watch the New York Ranger's home opener and that gave me time to have way too many evil thoughts regarding the Ranger's "performance". It is funny but I got to check out Griffin Reinhart (NYI 2012 1st) and Michael St. Croix's (NYR 2011 4th) Edmonton Oil Kings just spank the Prince George Cougars 6-1 and then watched (actually skimmed once the score got to 4-1) the Ranger's "efforts." I have never been a fan of trading future first round picks and this is not a knock on Rick Nash who has been really the only Ranger to show up. Poor Nash, he must be having this horrible nightmare where he thinks he is back in Columbus. Back to Nash and the 2013 first round pick the Rangers gave to Columbus as part of the trade. Picture Brandon Dubinsky and Artem Anisimov strolling up to the podium at the 2013 NHL Entry Draft (scheduled to be held in Newark no less) and good old Dubi announcing that with the 1st pick of the 2013 NHL Entry Draft Columbus selects Seth Jones of the Portland Winterhawks. The pick of course being the one the Rangers gave to Columbus as part of the Nash trade. Say hello to your worst nightmare Ranger fans after 2 efforts that left many a Ranger fan ready to wish the lockout was still going on. Still the day was pretty good as watching Griffin Reinhart putting on a textbook display on how to be a shutdown defender was fun. One thing is for sure, Reinhart is very much an expert on how to kill off a penalty. Rienhart's defense was why he earned the game's 3rd star as he was an artist slamming the door and holding Prince George to just 1 power play goal despite the Oil Kings giving up 9 power plays. Yes I can and I will say that this would have been a totally different game if Reinhart was not there. Michael St. Croix still isn't scoring goals but he made a nifty pass to Trevor Cheek for Edmonton's first goal of the game. The puck just is not going in for St. Croix but he is out there working hard and Edmonton coach Derek Laxdal is keeping him in the lineup. St. Croix is 21-30-51 and while he is no where near his offensive numbers of last year; St. Croix is on pace for 78 points which isn't bad to have. More importantly this win allowed the Oil Kings jump past the Calgary Hitmen for 1st place in the WHL's Eastern Conference who were idle. In the QMJHL, the dream season that Samuel Noreau (NYR 2011 5th) and his Baie-Comeau Drakkar are having kept on rolling after the Drakkar held off the Shawinigan Cataractes 4-3. The Drakkar extended their unbeaten streak to 11 games (10-0-1-0) and improve to 31-11-2-2 66 points which is good for 2nd in the QMJHL. Not bad for a team that last season was 29-34-1-4 63 points which was good for 13th. Noreau himself is having a career season as he continues his quest for a Ranger contract. Noreau had the secondary assist on the Drakkar's 3rd goal of the game which tied the scored at 3-3 at 3:29 of the 3rd period. It was Noreau's 20th assist and 26th overall point both are career bests. It was also Noreau's 4th straight game with a point and he is right now making it hard for the Rangers not to offer him at the least a AHL ELC contract. Gordie Clark says with prospects that a big part is has that prospect shown improvement since being drafted? Noreau's answer is yes he has. Andrey Pedan (NYI 2011 3rd) had the primary assist on his Guelph Storm's 2nd goal as the Storm jumped out to a 3-0 first period lead and then cruised to a 5-3 win over the Kingston Frontenacs. The win was the 5th straight for the Storm as they kept pace with the 4th placed Kitchener Rangers in the battle for home ice in the OHL playoffs. Pedan also stayed out of the penalty box to improve to 11-19-30 on the season. Peter Ceresnak (NYR 2011 6th) returned to the Peterborough Pete's lineup after missing a game as his Petes dropped a 2-1 decision to the Brampton Battalion. Credit the Battalion as they put on a very solid defensive performance holding the Petes to just 15 shots. And while the rest of you are working on Martin Luther King day, yours truly is going to check out Brenden Kichton (NYI 2011 5th) and his Spokane Chiefs as they visit the Portland Winterhawks in a unique event where they will be opening the curtains to let the daylight in the Portland Memorial Coliseum. It is like getting to play a hockey game outdoors only without the cold. It is an interesting experience and one that is popular among Winterhawk fans.
Original Story:
http://feedproxy.google.com/~r/ThePro...
THE BACKYARD
BEST OF MAXIM
RELATED ARTICLES
DATING GAME
Is Boomer Esiason's daughter dating an NHL player? Signs seem to point to that being the case, especially after she shot down another NHL player.
According to Katie Strang of ESPN New York, 2010 fifth-overall pick Nino Niederreiter has seen enough of the Islanders. #Isles Nino Niederreiter's camp is seeking a trade from the Islanders, a source tells ESPNNY. Unhappy with current situation — Katie Strang (@KatieStrangESPN) January 22, 2013 Niederreiter has been the most consistent point producer for the...
New York Islanders head coach Jack Capuano is out of the hospital following surgery to treat kidney stones, but it is unknown when he will make his season debut behind the bench. Capuano was released Sunday morning after having surgery Saturday night, when the Islanders opened the season with a 2-1 home loss to the New Jersey Devils. It wasn't until about 25 minutes before...
UNIONDALE, N.Y.- In racing out to a four-goal lead on Monday afternoon, the New York Islanders provided reason to believe they're ready to end a five-year playoff drought and pursue the franchise's first postseason series victory in 19 seasons. The Islanders also know they remain a work in progress, after an apparent rout turned into a nail-biting 4-3 win over the Tampa...
David Ullstrom scored early in the third period to give the Islanders a big lead, and New York held off the Tampa Bay Lightning 4-3 Monday. Coach Jack Capuano returned to the Islanders and guided them to their first win of the season. He missed the opening-night loss to New Jersey on Saturday because of surgery to remove a kidney stone. Michael Grabner, Matt Martin and Kyle Okposo...
UNIONDALE, N.Y. (AP) -- David Ullstrom scored early in the third period to give the Islanders a big lead, and New York held off the Tampa Bay Lightning 4-3 Monday. Coach Jack Capuano returned to the Islanders and guided them to their first win of the season. He missed the opening-night loss to New Jersey on Saturday because of surgery to remove a kidney stone. Michael Grabner,...
Another Martin Luther King Day kids even for the New York Islanders. This one stocked with Marvel Super Heros. But the one who has been deadly for the Islanders for years has always been Marty St. Louis. The two teams has split the last four games they have played against each other but that's ancient history. Today is what counts. The Bolts did a number on the Caps...
Lightning captain Vinny Lecavalier played his 1,000th game today against the New York Islanders. Unfortunately, Tampa Bay could not find a defensive answer and a late offensive surge was not enough as they fall to the Isles 4-3. The Islanders were out in front 4-0 in the third period before the Lightning can even put a legitimate offensive threat together. Martin St. Louis got the...
Right off the drop of the puck these two teams started going at it.  Not just one, but two pairs of guys squared off to get the game started.  Lightning's BJ Crombeen squared off first with the Islanders' Matt Martin and had a pretty good tilt.  These two know each other well, and they fought last year too.The other pair that got mixed it up was Tampa Bay's Pierre-Cedric...
What should have been a non-story turned into a small brush fire when Katie Strang reported that Nino Niederreiter's agent has requested a trade from the NY Islanders. There was no official word from the Isles camp until 3:43 pm when Art Staple quoted GM Garth Snow that all conversations with players remain private, however he did not speak with Nino. They did confirm the...
NHL News

Delivered to your inbox

You'll also receive Yardbarker's daily Top 10, featuring the best sports stories from around the web. Customize your newsletter to get articles on your favorite sports and teams. And the best part? It's free!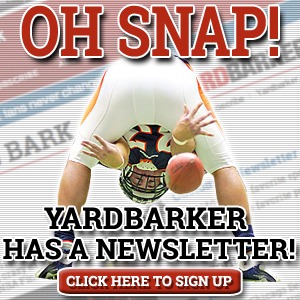 Latest Rumors
The Backyard

Today's Best Stuff

For Bloggers

Join the Yardbarker Network for more promotion, traffic, and money.

Company Info

Help

What is Yardbarker?

Yardbarker is the largest network of sports blogs and pro athlete blogs on the web. This site is the hub of the Yardbarker Network, where our editors and algorithms curate the best sports content from our network and beyond.