Posted October 29, 2013 on AP on Fox
PLAYERS:
Mark Giordano
,
Lee Stempniak
,
Sean Monahan
,
Jiri Hudler
,
Jarome Iginla
,
Dennis Wideman
,
Alexander Ovechkin
,
Derek Smith
TEAMS:
Calgary Flames
,
Boston Bruins
,
Toronto Maple Leafs
,
Detroit Red Wings
,
Washington Capitals
,
Los Angeles Kings
Calgary Flames defenseman Mark Giordano is out 6 to 8 weeks with a broken ankle. He took a shot off the right ankle in the second period of a road game at the Los Angeles Kings on Oct. 21. The Flames revealed the severity of his injury Tuesday. ''It's brutal,'' Giordano said. ''You don't want to miss any time, but if you have to you're hoping it's something not as significant as that time frame.'' Another shot broke a bone in the foot of winger Lee Stempniak last week in Dallas. His status is week to week. Both Flames had their lower right legs encased in plastic walking casts Tuesday. ''I feel like the team is playing well and to not be a part of it is tough,'' Stempniak said. ''The swelling is going down so hopefully it's not too long.'' The rebuilding Flames (5-4-2) were giving their fans reasons for optimism. An unexpected surprise has been the performance of 19-year-old forward Sean Monahan, who is among the league's rookie scoring leaders with six goals and four assists in 11 games. But the Flames will miss Giordano and Stempniak. Giordano and Stempniak were tied for third in points on the team with nine each behind Monahan with 10 and Jiri Hudler with 13. It's likely Giordano won't return to the lineup before his predecessor as Flames captain, Jarome Iginla, returns to the Saddledome on Dec. 10 as a member of the Boston Bruins. With defenseman Chris Breen day to day with an abdominal strain, the Flames had just six healthy defenseman Tuesday. Coach Bob Hartley didn't seem to be in a hurry to summon reinforcements from AHL Abbotsford. Calgary hosts the Toronto Maple Leafs on Wednesday and the Detroit Red Wings on Friday before departing on a four-game road trip. ''I'm very comfortable,'' Hartley said. ''We're not in back-to-back situations. We feel that it's important for our young players to play in the American League. ''If we'd had a back-to-back and Abbotsford far away from us we'd probably call up someone, but in this situation right now, we feel very comfortable.'' Giordano said an initial scan of his ankle after the Kings game didn't reveal a fracture. He tried to skate the next day in Phoenix prior to facing the Coyotes, but pain forced him off the ice. A subsequent scan revealed the injury. ''One guy coming in and out of the lineup isn't going to change the way we play,'' Giordano said. ''Guys have done a great job. I'd like to be around the guys as much as possible. Obviously being hurt you're not in it as much as when you're playing. ''You almost feel it's a letdown for the team, but there's nothing I can do about it now.'' Calgary is 1-2 since Giordano was sidelined. Stempniak continued to play last Thursday in Dallas after a shot from teammate Dennis Wideman deflected hard off his skate boot. ''It's one of those things when it's not bad and your (foot) is in your skate and it feels all right and then it gets a little bit worse once you take your skate off,'' Stempniak said. Calgary held Alex Ovechkin to zero points and defeated the Washington Capitals 5-2 on Saturday. ''Every player -- you ask Derek Smith, you ask Shane O'Brien, you ask anyone on this team -- if they want extra responsibility, the answer is pretty simple and very easy and it's `yes,''' Hartley said. ''It's up to you when you get that chance to really make the best of it. ''If one guy picks up a 5 percent, another guy picks up a 10 percent and 15 percent, we might compensate and we have to find a way. No one feels sorry for us. We can't shut down.''
Original Story:
http://msn.foxsports.com/nhl/story/ca...
THE BACKYARD
BEST OF MAXIM
RELATED ARTICLES
The Calgary Flames have been on of the NHL's feel good stories during the first quarter of the season. But the loss of defenseman Mark Giordano is a hard kick to the lower midseason. He been like a poor man's Scott Stevens for Calgary, serving as captain, playing tough, logging big minutes, contributing points and helping young partner T.J. Brodie settle in at this level.Now...
Mark Giordano, the Calgary Flames 29 year old captain was put on injured reserve due to a broken ankle that will keep him out 6-8 weeks, while their veteran winger Lee Stempniak will also be lost for 3-4 weeks with a broken foot. Before making his NHL debut in 2005-06, Giordano was a former standout with OHL Owen Sound, signed with the Flames as an undrafted free agent in 2004,...
The Calgary Flames will be without captain Mark Giordano for the next 6-8 weeks with a broken ankle. The veteran defenceman was placed on injured reserve by the team on Tuesday. Giordano had already missed three games with a lower body injury. Forward Lee Stempniak is also out after suffering a broken foot. He is listed as week-to-week. Stempniak missed Saturday's game against...
The rampant paranoia, the John le Carre/CIA coverup secrecy levels surrounding NHL injuries have, alas, reached epidemic, leaguewide proportions. "Lower-body" injuries could, technically, mean anything from an inflamed ingrown toenail to amputation below the knee. Well, it can be revealed — and was, in fact, in front of a couple thousand witnesses Sunday — that the "lower"...
Chat with Calgary Flames rising-star blueliner TJ Brodie, and you get the sense he's the biggest critic of his own play. Chat with his head coach, Bob Hartley, and he'll tell you the 23-year-old defenceman might not be asking enough from himself. Might not even realize how sky-high his expectations could and should be. "What he has to learn is that he's going to get better...
Follow Colin on Twitter!: @ColinDJD After being eaked quite some time ago by EASports, the Calgary Flames have released their new third jersey yesterday at the Saddledome. When I originally wrote the blog about a month ago, most were not too impressed with the potential leaked images of said jersey, and it appears that they were in fact accurate with no chances made despite...
via the Calgary Flames, Mark Giordano (defense) – broken ankle – 6-8 weeks (Injured Reserve) Lee Stempniak (right wing) – broken foot – week to week Chris Breen (defense) – abdominal wall strain – day to day
Follow Colin on Twitter!: @ColinDJD On a day like today with no games scheduled until tomorrow, I thought it would be a good idea to cover a few Flames prospects currently playing outside of the NHL. With many prospects playing at the NHL level and constantly in discussion, those who are still a few years away have been doing quite well and Calgary's prospect stock is...
Change is in the air for the Calgary Flames. As they enjoy the early success of a competitive young team with a bright future, and smile at the immediate impact of 2013 1st round pick, Sean Monahan, the Flames revealed…Read more →The post Calgary Flames reveal new 3rd jersey appeared first on The Hockey Daily.
USA Today engaged in an intriguing exercise this morning, having Calgary Flames president Brian Burke pen a "guest column" in support of fighting, USA Hockey's Michael J. Stuart and the Mayo Clinic's David W. Dodick and Aynsley M. Smith pen a guest column aruging for the abolishment of fighting in hockey, and USA Today's Kevin Allen speaking with NBC Sports...
Follow Colin on Twitter!: @ColinDJD The Calgary Flames will host the Toronto Maple Leafs tonight in what may seem like a reunion to some. Having several ex-Leaf players on their roster, and even management staff, the Flames will look to use said players to their advantage tonight against their former clubs. With Matt Stajan centering the first line and Joe Colborne appearing...
NHL News

Delivered to your inbox

You'll also receive Yardbarker's daily Top 10, featuring the best sports stories from around the web. Customize your newsletter to get articles on your favorite sports and teams. And the best part? It's free!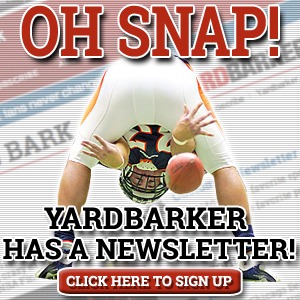 Latest Rumors
The Backyard

Today's Best Stuff

For Bloggers

Join the Yardbarker Network for more promotion, traffic, and money.

Company Info

Help

What is Yardbarker?

Yardbarker is the largest network of sports blogs and pro athlete blogs on the web. This site is the hub of the Yardbarker Network, where our editors and algorithms curate the best sports content from our network and beyond.