Found June 25, 2012 on Philly Sports World:
Newly acquired defenseman Luke Schenn positions the Flyers well on defense. The Flyers draft class was kind of an unusual one. The Flyers passed on a couple of highly touted defensemen to draft a player at #20 in Scott Laughton that most thought would have been there for the Flyers in the second round. They went on to take 4 defenseman, a goalie and a winger with the rest of their picks. I wrote on Friday that the drafting of Laughton indicated to me that the Flyers were going to make other moves. Sure enough, they did. Executing a trade that had been rumored since January, the Flyers sent winger James van Riemsdyk to the Toronto Maple Leafs in exchange for defenseman Luke Schenn. It's a solid move that will certainly bolster the Flyers' defense corps. Some fear that the move will leave the Flyers short on offense, but I recall the same argument last year when the Flyers traded Carter and Richards. The Flyers actually scored more goals this year than last. And in the end, JVR scored 11 goals this year and was out of action for long stretches. It's not like we're trying to replace Claude Giroux here. Ultimately, the draft is a crap shoot. No one knows if the defenseman the Flyers selected will pan out. But to negate the possibility that they won't, the Flyers made a solid move to insure the next couple of years on defense. If Matt Carle signs an extension with the team, they should be pretty well set. They'll also have plenty of cap space to add a couple or several pieces, depending on how they want to play it. With Pronger's money moved to the long term injured reserved list, the Flyers could have about $11 million under the cap to pursue free agents. That's not too shabby. The Flyers should be well positioned for the future. Similar Posts:
JVR Traded to Toronto for Defenseman Luke Schenn
Flyers Pick Center in 1st Round Amid Rumors of Trades
Flyers Deny JVR is Putting Off Surgery and Holding Up Deal
Giroux, JVR Among Flyers Requiring Surgeries
Flyers Potential Free Agent Break Down
Original Story:
http://phillysportsworld.com/flyers-m...
THE BACKYARD
BEST OF MAXIM
RELATED ARTICLES
On Saturday, the Flyers ended the continuous rumors and traded winger James van Riemsdyk to the Toronto Maple Leafs for defenseman Luke Schenn. The two teams have been in talks about a trade involoving these two pieces "since the winter", according to Paul Holmgren.  So why does this trade work? Here's why: Needs- Toronto needed a big forward, while the Flyers needed...
The Philadelphia Flyers acquired defenseman Luke Schenn from the Toronto Maple Leafs for forward James van Riemsdyk on Saturday. The 22-year-old Schenn should help replace the void created by the loss of captain Chris Pronger, who is unlikely to return because of post-concussion symptoms. Schenn has 14 goals and 61 assists for 75 points in four seasons. He's the older brother...
I said earlier this week that where there is smoke there is fire. There was smoke and according to multiple reports, there is now fire. The Philadelphia Flyers, fresh off of the NHL draft have traded winger James van Riemsdyk to Toronto for defenseman Luke Schenn. Toronto Maple Leafs GM Brian Burke has had a longstanding love affair with JVR and was looking to make a move earlier...
Rangy forward James van Riemsdyk has been on the block in Philadelphia for some time. Similarly, trade rumors have dogged stay-at-home defenseman Luke Schenn in Toronto for months.So it is only natural that the Leafs and Flyers would swap those players. This trade made Toronto bigger up front and gave the Flyers additional blue line protection in the wake of Chris Pronger's career...
via Damien Cox tweet, BREAKING NEWS: Toronto Star is reporting Leafs have traded Luke Schenn to Philly for James Van Riemsdyk. added 4:55pm, via Darren Dreger tweet, Breaking News!!!! Toronto trades Luke Schenn to Flyers for James Van RiemsDyk. Done deal
TSN reports that the Flyers have traded winger James van Reimsdyk to Toronto Maple Leafs for defenseman Luke Schenn. More to come.
In what seems to be the current trend in NHL trades, for the second time in two days brothers have been united in playing for the same team. While yesterday there was little surprise in Jordan Staal being traded to the Carolina Hurricanes to play with his brother Eric, few expected Luke and Brayden Schenn to both be members of the Philadelphia Flyers at the end of the second day...
The man that has been rumored to be traded seemingly ever since he was drafted has finally been dealt: the Flyers have traded James van Riemsdyk to the Maple Leafs for defenseman Luke Schenn.  This deal has been rumored to be happening for the last year or so and the Flyers finally pulled the trigger to trade the two straight up for one another.Schenn, who is indeed the brother...
   Two players who were promised to be future stars by Toronto Maple Leafs GM Brian Burke were sent packing from the lowly NHL club on June 23. Defenseman Luke Schenn was traded to the Philadelphia Flyers in return for James Van Riemsdyk and the negotiating rights to goalkeeper Jonas Gustavsson were shipped off to the Winnipeg Jets in return for a seventh-round pick in next year's...
NHL News

Delivered to your inbox

You'll also receive Yardbarker's daily Top 10, featuring the best sports stories from around the web. Customize your newsletter to get articles on your favorite sports and teams. And the best part? It's free!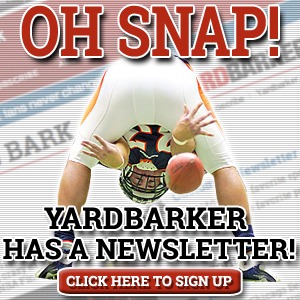 Latest Rumors
Best of Yardbarker

Today's Best Stuff

For Bloggers

Join the Yardbarker Network for more promotion, traffic, and money.

Company Info

Help

What is Yardbarker?

Yardbarker is the largest network of sports blogs and pro athlete blogs on the web. This site is the hub of the Yardbarker Network, where our editors and algorithms curate the best sports content from our network and beyond.