Found March 14, 2012 on Fox Sports West:
PLAYERS:
Bill Masterton
,
Colin Fraser
,
Matt Greene
,
Ryan Smyth
,
Kyle Clifford
,
Jordan Nolan
,
Sidney Crosby
,
Shea Weber
,
Mike Richards
,
Jeff Carter
,
Max Pacioretty
,
Andy Macdonald
,
David Perron
,
Dave Taylor
,
Gilbert Brule
,
Jimmy Howard
,
Dustin Brown
TEAMS:
Los Angeles Kings
,
Detroit Red Wings
,
Edmonton Oilers
,
Chicago Blackhawks
,
Pittsburgh Penguins
,
Nashville Predators
,
Montreal Canadiens
,
St. Louis Blues
,
Arizona Coyotes
The Los Angeles Kings have nominated defensive center Colin Fraser for the Bill Masterton Trophy, an award presented annually by the Professional Hockey Writers Association. Though by definition it honors a player who displays "qualities of perseverance, sportsmanship, and dedication to hockey", in recent years it has gone to a higher profile player who has missed significant time due to injury, illness or personal tragedy before returning to play a prominent role for their team. While he figures to be a longshot to win the award, Fraser certainly plays a prominent role on the defensive-minded Kings, who have relied upon his defensive zone smarts, keen positioning and toughness during a 5-2 win over the visiting Detroit Red Wings on Tuesday. "Fraser does so many good things out there that just go unnoticed," defenseman Matt Greene said. "He's just such a subtle player, but he does everything right." "He doesn't get a lot of credit for what he does, but in just terms of taking away lanes, having a great stick out there, just being in the right spot. He's never getting beat due to him being out of position, or not making the right reads. That's all you can do on PKs you've just got to hopefully give them the lowest percentage shot and have your goaltender make the save." A consolation prize acquired from Edmonton when Ryan Smyth had asked for a trade back to Alberta last summer, Fraser endured a slow-to-heal foot fracture and cyst that kept him out of full contact practices and off the official roster until after the team returned from their season-opening trip to Europe. Scoring his lone goal this season in just his second game on November 12, he hasn't missed a game since his return and has skated with Kyle Clifford and Jordan Nolan recently as a fourth-line energy grouping capable of raising Los Angeles' hit total, which ranks second in the NHL. Noting that "he didn't let the frustration of the situation prevent him from working hard and coming back" and noting his "long rehabilitation process" in a statement Tuesday to support his Masterton bid, Los Angeles nominated a player that quickly endeared himself to Darryl Sutter. "Our fourth line has a centerman that has won championships at this level and at the World Junior level and he's probably significantly ahead of the way he thinks the game and the way he recognizes what's going on in the game than some of our players who get significant attention," Sutter said, referring to his Stanley Cup with the Chicago Blackhawks in 2010 and his participation in the 2005 World Junior Championships, where he won a gold medal with Canada as a teammate of Sidney Crosby, Shea Weber, Mike Richards and Jeff Carter. "I just want to provide energy and just quality minutes on the fourth line," Fraser said earlier this year of the role he expected to play. "Good penalty kill, win faceoffs, maybe do the little things that maybe go unnoticed, but the guys on the bench can take from and work with." He nearly took the words out of Greene's mouth. The Kings' win Tuesday hinged on killing a Detroit two-man advantage successfully early in the third period while protecting a two-goal lead, though Fraser wasn't on the ice for it. Despite the team's 32 consecutive kills and his penchant of intelligent, gritty play in his own zone, some of Fraser's minutes on the penalty kill have been absorbed by Jeff Carter, whose chemistry with a former teammate has translated to the team's shorthanded success. "He and Richards have so much history together you slap them up top together on the PK, and it's a pretty good unit right there," Greene said of one of the team's shorthanded pairings. "You don't have to teach them too much. It's Johnny Stevens' system coming over, so they know that system really well, too." It's a penalty kill that has shown consistency from the season's first drop of the puck to the waning moments of Tuesday's third period. In addition to the current streak, the Kings also killed off 42 straight penalties from December 17 to January 12. "A lot of times there's a homeroad difference, and penalty killing is right near the top, both home and road," Sutter said. "Power play the last probably 15 games is probably near the top, too." "I think since Carter got here we have two units that can compete a little bit more for the privilege of playing on the power play." Though the Masterton Trophy will almost certainly be awarded elsewhere Montreal's Max Pacioretty and Washington's Dennis Wideman have already been nominated, while St. Louis' Andy MacDonald and David Perron will also get looks, in addition to Sidney Crosby Buch Goring (1977-78), Bob Bourne (1987-88) and Dave Taylor (1990-91) have all won the award as a member of the Kings. It's all major added roster value for Los Angeles, who at one point considered acquiring Gilbert Brule from Edmonton in the Smyth trade before deeming his concussion history a red flag. They're more than happy with their consolation prize. Considering Fraser's five hits in his limited nine minutes and five seconds of ice time, his physical play has rubbed off onto his teammates, raising the team's energy in Tuesday's win. "I thought Clifford and Fraser and Nolan did a good job of trying to do that for us defensively." NOTES: Detroit goaltender Jimmy Howard returned after missing three games with a strained groin, saying after the game "They played better on special teams than we did tonightIt was a tough night for the special teamsThere were a lot of things I thought I could have done better. At the same time it was my first game back in a week and a half so I have just got to continue to work hard in practice and get the rhythm back and feeling back of being out there. I thought the game was extremely fast in front of me so I have to find a way to slow it down until I get back to the game speed of things...We have got to find a way to win games and be better. Myself included." Dustin Brown has points in nine straight games (5-9=14), tying his career-high, set in 2007-08. He has assists in five straight. Los Angeles is 21-1-2 when scoring three-plus goals in a game. Their one regulation loss came in last week's 4-3 loss in Detroit.
Original Story:
http://www.foxsportswest.com/03/14/12...
THE BACKYARD
BEST OF MAXIM
RELATED ARTICLES
WHERE'S PETER SCOLARI?
Things were relatively quiet last night in the NHL as everyone prepares for Thursday's return of soupy brain Sidney Crosby. St. Louis lost in Chicago. Boston got drilled in Tampa Bay. Blah, blah, blah. At this point in the season we need some fans fighting to spice up a quiet season. Seriously, the only video from last night that is even close to being BC worthy is Tom Hanks...
LOS ANGELES -- While it may not be time for the Red Wings to panic, it certainly should be time for them to sweat. Under coach Ken Hitchcock, the St. Louis Blues have taken command of the Central Division and the Western Conference. The Blues have 98 points, six ahead of the Vancouver Canucks in the West and seven ahead of the Wings in the Central. The Wings did not do themselves...
LOS ANGELES (AP) -- Drew Doughty had a goal and his first assist in 19 games, Anze Kopitar had a short-handed goal and an assist, and the Los Angeles Kings stayed in the thick of the playoff chase with a 5-2 victory over the injury-depleted Detroit Red Wings on Tuesday night. Jeff Carter and Justin Williams also had a goal and an assist, and Jonathan Quick made 22 saves in the Kings...
Drew Doughty thought the Kings' loss in Detroit four days earlier epitomized much of what went wrong for Los Angeles this season. The Kings' one-sided victory in the rematch showed every reason their $56 million defenseman hopes it can still turn out all right. Doughty had a goal and his first assist in 19 games, Anze Kopitar had a short-handed goal and an assist, and the...
from Mike Sielski of the Wall Street Journal, To watch the closing seconds of the Los Angeles Kings' 3-2 win last month over the Columbus Blue Jackets is to see a thrilling sequence of hockey. At the last possible moment, with the score tied, Kings defenseman Drew Doughty snaps the puck past Columbus goaltender Curtis Sanford. The goal wins the game. The crowd thunders. Most regular...
LOS ANGELES (AP) -- Drew Doughty had a goal and his first assist in 19 games, Anze Kopitar had a short-handed goal and an assist, and the Los Angeles Kings stayed in the thick of the playoff chase with a 5-2 victory over the injury-depleted Detroit Red Wings on Tuesday night. Jeff Carter and Justin Williams also had a goal and an assist, and Jonathan Quick made 22 saves in the Kings...
The Los Angeles Kings missed an opportunity last week to earn their first win over the Detroit Red Wings this season and give a boost to their playoff hopes. The Kings might have a better chance of ending their losing streak against the Red Wings during the season's final matchup. Following a positive end to a four-game trip, Los Angeles will try to take advantage of Detroit...
This afternoon Bruce Garrioch announced that the Ottawa chapter of the Professional Hockey Writers Association (PHWA) had selected Daniel Alfredsson as the Senators' nominee for the NHL's Masterton Trophy. The Bill Masterton Memorial Trophy is awarded annually to the National Hockey League player who best exemplifies the qualities of perseverance, sportsmanship, and dedication...
NHL News

Delivered to your inbox

You'll also receive Yardbarker's daily Top 10, featuring the best sports stories from around the web. Customize your newsletter to get articles on your favorite sports and teams. And the best part? It's free!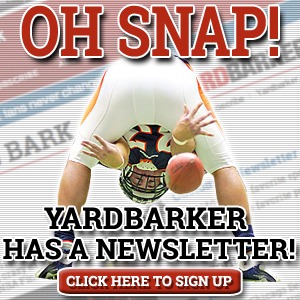 Latest Rumors
The Backyard

Today's Best Stuff

For Bloggers

Join the Yardbarker Network for more promotion, traffic, and money.

Company Info

Help

What is Yardbarker?

Yardbarker is the largest network of sports blogs and pro athlete blogs on the web. This site is the hub of the Yardbarker Network, where our editors and algorithms curate the best sports content from our network and beyond.