Found June 29, 2012 on Blue Seat Blogs:
PLAYERS:
Sidney Crosby
,
Evgeni Malkin
,
Zach Parise
,
Ryan Suter
,
Jay Feaster
,
Carlo Colaiacovo
,
Derek Stepan
,
Ryan McDonagh
,
Matt Gilroy
,
Tim Erixon
,
Bobby Ryan
,
Rick Nash
,
Michael Del Zotto
TEAMS:
Pittsburgh Penguins
,
New Jersey Devils
,
Nashville Predators
,
St. Louis Blues
,
New York Rangers
,
Ottawa Senators
,
Anaheim Ducks
,
Columbus Blue Jackets
The musings are a day late today, but that's only because all of the big news happened yesterday. Don't blame us, blame everyone else for not making all this stuff happen before Thursday. I swear, everyone else is to blame, not us!
So Sidney Crosby gets $104.4 million over 12 years. From a hockey standpoint, that is a very risky contract. Crosby has had significant concussion issues, and could be one poorly placed hit away from early retirement. From a business standpoint, it's a savvy investment in the face of the franchise. For an average of $8.7 million per season, the Pens get to keep their boy in Pittsburgh and reap the marketing benefits of having him there. They make more off him than he does off them, that's for sure.
Sticking with the Pens, it's assuming that Evgeni Malkin will sign a similar deal. With their two top stars locked down, 18 players under contract, and oodles of cap room (~$14 million), the Pens are poised to make runs at both Zach Parise and Ryan Suter. The scary part: They can afford them too.
Even scarier than the Pens signing both Parise and Suter: Calgary GM Jay Feaster trading for Dennis Wideman, then signing him to a deal worth $5.25 million a season. You have to wonder though, at some point the GMs around the league must dismiss what Calgary does from market value. At this rate, Carlo Colaiacovo will be getting $5 million a year. It's getting to the point where you need to calculate market value without Calgary, then add them in to see how much it gets skewed.
So apparently the Rangers are one of five teams in on Justin Schultz, and the only American team still in the running. That Wisconsin connection with Derek Stepan and Ryan McDonagh sure does mean a lot I guess.
Speaking of Schultz, it's rumored that he wants guaranteed playing time. No GM is going to do that, no one gets guaranteed time. He will be guaranteed a long look at camp. Even Ryan McDonagh needed two months in the AHL before he was ready.
One last bit about Schultz: Remember that prospects are not a given. The last UFA defenseman that was hyped was Matt Gilroy. If that doesn't sway you, then the last high draft pick that forced his way off his drafting club was Tim Erixon. Everyone thought Erixon was NHL ready, but he played almost the entire year in the AHL. When it comes to prospects, nothing is a given. Period.
What I don't get is why fans are insistent on trading Michael Del Zotto if the Rangers sign Schultz. Sure, if you can package him for Bobby Ryan (just say NO to Rick Nash), then you do it, but you don't trade someone just to trade him. There's nothing wrong with having both Schultz and MDZ fighting for that top powerplay spot.
The salary cap ceiling next season will be $70.2 million, and the cap floor is set to $54.2 million (pending a new CBA of course). Seven teams finished under the cap floor this season (NYI, COL, DAL, CAR, OTT, WPG, NSH), and a whopping 20 teams are currently under that number. You think last year was bad with the contracts given out? Just wait until Sunday. Of course, it'll be even more interesting in September when a new CBA is signed. Makes you wonder if there are going to be grandfathered contracts.
Original Story:
http://www.blueseatblogs.com/2012/06/...
THE BACKYARD
BEST OF MAXIM
RELATED ARTICLES
Sid the Kid is sticking around. The Pittsburgh Penguins and superstar center Sidney Crosby have agreed to a 12-year contract extension Thursday that leaves little doubt Crosby has overcome the concussion-like symptoms that sidelined him for most of the last two seasons. The deal keeps the 24-year-old Crosby in Pittsburgh through 2025 and gives the team some room to play in the...
The Penguins are set to show their position on the persistent Sidney Crosby durability questions and do their talking with plenty of zeroes. TSN's Darren Dreger reported Thursday that Crosby and Penguins will announce a long-term extension with an average annual value of more than $9 million and a total value over $100 million. Crosby is not having any concussion-related...
                Sidney Crosby's 24 years old. He's about to add $100 million to his bank account. The Penguins captain is expected to sign a contract extension that would keep the superstar in Pittsburgh for what is reportedly the next 12 years, all for a cool $100 million dollars. Crosby will be entering the last year of a 5 year $43.5 million dollar contract signed...
So Sidney Crosby is going to get Ilya Kovalchuk money? That only seems fair, despite Crosby's scary concussion history.The Pittsburgh Penguins are prepared to lock in Crosby with a $104.2 million extension over 12 years, with an annual salary cap hit of $9 million. So reports the folks at TSN. That deal comes on the heels of center Jordan Staal rejecting a 10-year, $60 million...
The Penguins officially announced Crosby's new deal: #Pens and Sidney Crosby agree to terms on 12-year, $104.4 million contract extension bit.ly/Lj00Tf — Pittsburgh Penguins (@pghpenguins) June 28, 2012     At first glance you wonder if that is allowed, but according to a few people in the know, it is more or less an agreement in principle so it is fine...
So Sidney Crosby is going to get Ilya Kovalchuk money? That only seems fair, despite Sid the Kid's scary concussion history.The Pittsburgh Penguins are prepared to lock in Crosby with a $104.2 million extension over 12 years, with an annual salary cap hit of $9 million. That deal, reported by TSN, came on the heels of Jordan Staal rejecting a 10-year, $60 million deal to stay...
via Darren Dreger tweet, Expect the Penguins to announce Sidney Crosby's contract extension on Sunday. Over $100 million dollars with an AAV of close to $9 mil per.
The Los Angeles Kings and Pittsburgh Penguins just got a little better for the next ten plus years. It was announced today that, the Kings have agreed to terms that will keep Conn Smythe winner, Jonathan Quick, in Los Angeles through the 2022-2023 season, and the Penguins have locked up former Olympic gold medalist, Sidney Crosby, through the 2024-2025 season.It is rumored that the...
from Sam Carchidi of Broad Street Bull, For the Flyers, the bad news coming out of Pittsburgh on Thursday was that superstar Sidney Crosby had signed a 12-year, $104.4 million extension, a cap hit of $8.7 million _ the same as this season. It's bad news because Crosby, arguably the NHL's best player when healthy, probably could have gotten a shorter deal….and more money per...
The ESPYS are coming up on July 11th and the city of Pittsburgh doesn't have many nominated this year.  But a couple of Penguins were nominated in two different categories.  Evgeni Malkin was nominated for Best NHL Player.  His competition is Steven Stamkos, Henrik Lundqvist, Jonathan Quick and Claude Giroux (barf). Sidney Crosby was also nominated for Best Comeback Athlete...
Free agency is looming in the NHL.  Big name players are already signing some big contracts and the real madness does not begin for a couple years.  Yesterday we saw Sidney Crosby sign a 12 year $104.4 contract with Pittsburgh and Jonathan Quick sign a 10 year $58 million contract with Los Angeles.  Potential free agent Dennis Wideman signed a five year $26.25 million contract...
from Eric Duhatschek of the Globe and Mail, As Holland says, the Red Wings can't sell climate, anonymity, or a state-of-the-art facility to players. Their pitch revolves strictly around the hockey-playing experience. With Nicklas Lidstrom now retired, the Red Wings have the need, the will and the cash (roughly $20-million in available salary-cap space) to land one or both of Parise...
NHL News

Delivered to your inbox

You'll also receive Yardbarker's daily Top 10, featuring the best sports stories from around the web. Customize your newsletter to get articles on your favorite sports and teams. And the best part? It's free!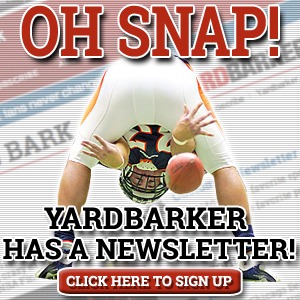 Latest Rumors
Best of Yardbarker

Today's Best Stuff

For Bloggers

Join the Yardbarker Network for more promotion, traffic, and money.

Company Info

Help

What is Yardbarker?

Yardbarker is the largest network of sports blogs and pro athlete blogs on the web. This site is the hub of the Yardbarker Network, where our editors and algorithms curate the best sports content from our network and beyond.