Found July 10, 2012 on NorthWest Sports Beat:
Vancouver's UFA's in 2013 – Part 1
It's going to be a long summer. So over the course of it I'll be taking a look at some of Vancouver's players who have contracts set to expire in the summer of 2013. We'll examine the pros and cons of each player, determine their career potential and where that potential fits in with the Canucks.
Name: Alexander Edler
Contract Expires: July 1st, 2013
Current Cap Hit: $3,250,000
Alexander Edler was a very welcome site when he made his debut for the Vancouver Canucks back in 2006-2007.
As a 20 year old, Edler suited up for 22 games, had 1 goal and 2 assists while averaging 11:27 in ice time. In those 22 regular season games and 3 playoff games that season, fans caught a glimpse into a key part of Vancouver's future on the back end.
Edler played his first full pro season the following year; suiting up for 75 games, Edler notched 8 goals and 12 assists.
Though Vancouver didn't make the playoffs that season, Edler was a bright spot in an otherwise bleak year for the team. He saw his total ice time almost double, jumping from 11:37 in his first pro year to 21: 20 in his second.
He was also the beneficiary of a great defense partner and mentor in fellow countryman Mattias Ohlund.
Edler was Dubbed "Little Ohli" by some of his teammates
Dubbed "Little Ohli" by some of his teammates, Alex Edler benefited from the wisdom and experience of Ohlund.
Edler has continually improved his game, and last season proved to be the power play quarterback that the Canucks needed when they were unable to retain Christian Ehrhoff.
Inconsistent – Understatement
The knock on Edler over the years though has been his inconsistency. You wouldn't know it by looking at his stats, but it's something he's struggled with.
Mental lapses in his own zone and the lack of physical play from a player who is billed at 6'4, 201 lbs has drawn the ire of the fans and the media alike.
While Edler is capable of making big hits, quarterbacking the power play and taking on big minutes, it all comes with a degree of uncertainty.
Which Alex Edler shows up that night?
The one who is by far the best defenseman on the ice? The guy who seamlessly makes that all-important first passes out of the zone? A one-man wrecking ball that punishes opponents with hard, bone crunching hits?
Or do you get the timid looking Edler?
The one that can't keep the puck in, who won't pinch or make big hits? It's hard to say. Unfortunately, it's this inconsistency that has made people doubt if Edler can be a legit top pairing defenseman.
2013 Free Agency Is Calling
It's hard to gauge what Edler would be worth or even command on the open market.
The fact that there's no CBA right now makes it hard to guess. But some people have suggested he could command as much as a 10-year deal worth a total of $60 million dollars.
I don't disagree with that either. It minimizes his cap hit to $6 million, while giving the player and the team a significant term.
However, with that term comes the risk that Edler falls into prolonged slumps and becomes a liability. With that risk is always the reward, and if you're able to get the best out of Edler, at his age that 10 years and that $60 million dollars will be well spent.
So what's the ceiling for Alexander Edler?
And is he capable of achieving that ceiling in Vancouver? In my opinion, if he can stay focused mentally and bring his best to the rink every night, there is no reason why Alex Edler can't be a top pairing defenseman.
He has all the tools to do so.
With Bieksa, Hamhuis and now Garrison in the mix what's the ceiling for Alexander Edler?
However, I don't think Edler will reach that ceiling in Vancouver.
With Kevin Bieksa and Dan Hamhuis locked up for another four years each, and Jason Garrison for six, it's hard to imagine Edler cracking that top 2 while in a Canucks uniform.
That's not to say that Edler is done in Vancouver after this season, maybe he's OK with being slotted in the 3-4 pairing.
If he is, his cap hit will have to be on par with the likes of Bieksa and Hamhuis.
Something I don't know that Edler is willing to do, especially when there are teams that would offer him much more money and more ice time.
Life without Edler
It would suck long and hard to lose a player of Edler's ability, but that's the reality of it all. His services will be highly sought after on July 1st, 2013, there's no shortage of work for a player who has all the tools that Edler has, there's also no telling how much money could be thrown his way.
If Edler really is comfortable playing the role he's playing with the team, I'm sure they can find a way to make things work.
If not, well, like I said, no shortage of teams, or money to be thrown Edler's way.
Can we get some more of these though?
CLICK HERE TO CHECK OUT THE CANUCKS BLOG IN THE CLUBHOUSE TODAY!
© Mitch Dyck for North West Sports Beat, 2012. | Permalink | No comment |
Follow NWSB on Twitter or join US on Facebook for real-time updates OR... | Share This on Twitter | Share NWSportsBeat.com on Facebook
Post tags:
Alex Edler
,
Canucks
,
Canucks Blog
,
Canucks Cap Hit
,
Canucks headlines
,
Canucks news
,
Canucks Roster
,
Canucks rumor mill
,
Christian Ehrhoff
,
Dan Hamhuis
,
free agent
,
hockey
,
jason garrison
,
Kevin Bieksa
,
Mattias Ohlund
,
NHL
,
NHL Free Agency
,
Salary Cap
,
UFA
,
vancouver
,
Vancouver Canucks hockey
Original Story:
http://www.nwsportsbeat.com/canucks/v...
THE BACKYARD
BEST OF MAXIM
RELATED ARTICLES
We found out today via the Vancouver Canucks on Twitter and via their press release that they've re-signed Mason Raymond. It's a 1 year 2.275M contact. WOW. Congrats May-Ray. Your rich. Queue the band in Vancouver, as this move will be met with a chorus of Boos and Jeers I'm sure. Per Darren Dreger Canucks settle with Mason Raymond before arbitrations. 1 year, $2...
Raymond getting yet another shot… Ok, first off, I would like to make a disclaimer, I do not "hate" Mason Raymond.  Too often when fans of teams are discussing their squads' underachievers or busts, they throw personal attacks and disdain onto the player. By all accounts, Raymond is a great guy, and had had some really good moments with the Canucks, although, none of it...
"Just because you can skate, it doesn't mean you're going to have a successful time out there" – Mason Raymond. In what is probably second only to news regarding Dale Weise in terms of making me aggravated, the Vancouver Canucks have announced that they have come to terms with restricted free agent and worlds filthiest little milt, Mason Raymond. Raymond, as you may remember...
Compare / Contrast Last week the Vancouver Canucks top prospect Nicklas Jensen was discussing the possibility of foregoing his last year of major junior eligibility with the Oshawa Generals in order to play a season in the Swedish Elite League should he not make the Canucks roster for the 2012/13 season. It is an ambitious and intriguing notion from a thought provoking player. Similarities...
Vancouver's UFA's in 2013 – Part 2 Hey everyone, hope you enjoyed part 1 of our look ahead series on Alex Edler. Today in part two we take a look down the middle of the ice. It's not the Canucks deepest position, and depending on how this season goes, it could get a little thinner around July 1st, 2013. Name: Manny Malhotra Contract Expires: July 1st, 2013 Current Cap Hit...
Roberto Luongo's future is a mystery. He appears destined to leave the Vancouver Canucks, a story we talked about here. Where will Luongo play in 2012-13? What twists and turns will life deal Luongo next? Interestingly enough, Luongo may have a potential career doing something completely unrelated to hockey. The World Series of Poker's biggest event, the Main Event, is currently...
Looking for Canucks news? If there were ever a player whose short list I would want the Vancouver Canucks to be on, it would be Shane Doan's. Earlier today Doan's agent Terry Bross confirmed to Vancouver radio station CKWX, News 1130 sports that the Coyotes captain has spoken to the Vancouver Canucks and they're on his list of desired destinations. Earlier today it was also...
This is the fourth installment of Roberto Luongo Trade Rumour Bonanza! The first three editions looked at the possibility of Luongo going to Toronto, Edmonton and Florida. Today, we look at the chances of Luongo going to the arch rival Chicago Blackhawks. Why Chicago? Chicago is a potential destination for Luongo first and foremost because they could use a goalie. Corey Crawford...
Vancouver, B.C. - Vancouver Canucks President & General Manager Mike Gillis announced today that the Canucks have re-signed left wing Mason Raymond. Raymond, 26, collected 20 points (10-10-20) in 55 games played with Vancouver in 2011.12. He also appeared in five post-season games, recording one point (0-1-1). The Cochrane, Alberta native has registered 156 career points (70...
The Vancouver Canucks re-signed forward Mason Raymond to a one-year, $2.275 million deal, TSN reported Monday. By re-signing Raymond, the Canucks avoided an arbitration hearing. Raymond, 26, had 10 goals and 10 assists in 55 regular-season games this past season. He missed the first two months of the season while recovering from a broken vertebrae sustained in the 2011 Stanley Cup Final.
RALEIGH, NC – Ron Francis, Vice President of Hockey Operations for the National Hockey League's Carolina Hurricanes, today announced that the team has agreed to terms with defenseman Marc-Andre Gragnani on a one-year, two-way contract. The deal will pay Gragnani $800,000 on the NHL level or $105,000 on the American Hockey League (AHL) level. "Marc-Andre was in the NHL all...
In what seems like an odd move, the Hurricanes decided to bring another defenseman on board for next year by signing Marc-Andre Gragnani to a one-year, two-way deal. The contract will pay Gragnani $800,000 in the NHL and $105,000 in the AHL, which is a slight raise over the $550,000 he made last season. He spent all of last season in the NHL with the Buffalo Sabres and the Vancouver...
NHL News

Delivered to your inbox

You'll also receive Yardbarker's daily Top 10, featuring the best sports stories from around the web. Customize your newsletter to get articles on your favorite sports and teams. And the best part? It's free!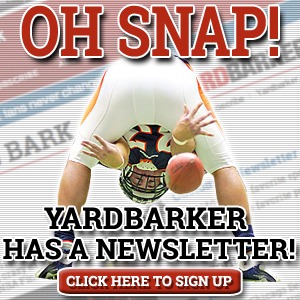 Latest Rumors
Best of Yardbarker

Today's Best Stuff

For Bloggers

Join the Yardbarker Network for more promotion, traffic, and money.

Company Info

Help

What is Yardbarker?

Yardbarker is the largest network of sports blogs and pro athlete blogs on the web. This site is the hub of the Yardbarker Network, where our editors and algorithms curate the best sports content from our network and beyond.