Found February 24, 2013 on Shutdown Line:
PLAYERS:
Lubomir Visnovsky
,
Evgeni Nabokov
,
Rick DiPietro
,
Kevin Poulin
,
Ryan Murphy
,
John Tavares
,
Riley Nash
,
Frans Nielsen
,
Marty Reasoner
TEAMS:
Carolina Hurricanes
,
New York Islanders
,
Montreal Canadiens
,
Tampa Bay Lightning
Carolina Hurricanes at New York Islanders 7 p.m., Nassau Coliseum TV: FS-Carolinas, MSG+ Forgetting about last night's terrible 5-2 loss to the Tampa Bay Lightning should be easy because the Canes play again tonight and hopefully they can restore some confidence with a win. They're still going to be without five key players but injuries haven't stopped other teams from winning, so the Hurricanes will continue to have to make do with what they have and put together a better effort than they did last night. Injuries are often considered an "excuse" by fans and in many cases, injuries can prevent a team from delivering their game plan effectively and make it tougher to win. This is why I'm not looking at soley wins and losses with this particular Hurricanes roster. What I want to see is them giving their full effort and show some progress heading forward. They did this on Thursday but lost because of terrible goaltending but they didn't last night when they completely laid an egg in the third period. What happens tonight against the Islanders remains to be seen, but head coach Kirk Muller was clearly unhappy with the team's performance last night so we could see some changes to the lineup and hopefully a better looking team than last night.  What Happened Last Time? The Hurricanes rallied back in the third period to get a 6-4 win their last time on Long Island, capped off by a four-goal performance in the third period. They were able to outplay the Islanders at even strength for most of that game and got the best performance of the season from their first line, as well. This was also the infamous game where were tagged with four powerplay goals against and they probably can't let that happen again if they want to leave Uniondale with a win tonight. The Islanders even strength play hasn't been great this year but their powerplay has been one of the best in the league and it's only gotten better with the mid-season addition of Lubomir Visnovsky. 33.3% of the Islanders goals this season have come when they've had the man advantage, so the Hurricanes penalty kill is going to be in for another tough task tonight if the team has discipline problems. The Islanders have been a little better since the last time Carolina played them and they're coming off two straight wins including a dramatic OT win over the Montreal Canadiens earlier this week. They were near the bottom of the league in 5v5 Shot Attempt% to start the year, but they've climbed up in the rankings since then. This is another area where adding Visnovsky has helped. Goaltending is what has really done the Islanders in this season, as Evgeni Nabokov has really struggled this year and they recently had to waive Rick DiPietro. Nabby got the start in their game against Buffalo last night, which means Carolina's old friend Kevin Poulin will be in net tonight and I'm sure Canes fans are thrilled about that. Poulin's true talent is unknown at this point but he hasn't been terribly impressive for Bridgeport in the AHL this season with a .904 save percentage in 32 games. However, he is still an improvement over DiPietro and if his two games against Carolina last season are any indication, he really likes to play against the Hurricanes. Tentative Lines Tlusty - E. Staal - Semin Jokinen - J. Staal - Dwyer Bowman - Nash - LaRose Wallace - Welsh - Westgarth Corvo - Faulk Harrison - Murphy Sanguinetti - Jordan Ward Ellis Boyes - Tavares - Moulson Okposo - Reasoner - Grabner Aucoin - Nielsen - Bailey McDonald - Cizikas - Martin Streit - Finley Hamonic - MacDonald Hickey - Visnovsky Poulin Nabokov Five Things to Watch For - Kirk Muller has been giving Ryan Murphy a ton of minutes in his first couple of games here. Murphy has to go back to junior whenever any one of their defensemen becomes available, so I understand wanting to get the most out of him while he's here. However, both Murphy and Harrison were crushed by Tampa Bay's top-six last night while Faulk was held to under 15 minutes of even strength ice-time. Considering how dangerous John Tavares is and what he has done to the Hurricanes in the past, it may not be the best idea to keep Murphy/Harrison out against them tonight. There isn't much we can conclude bout Murphy since he has only played in two games, but matching up a 19-year-old kid with only two games of NHL experience out against one of the best players in the NHL isn't the best strategy. Not when you have other options available in Faulk/Corvo, who have actually been quite good together. - In a perfect world, even strength play would be what dictates games, but things have been very different this year with the referees calling more penalties than usual and we've seen more games decided by special teams. This hasn't worked in favor of Carolina, as both their powerplay and penalty kill have been miserable this year while the Islanders are one of the best teams in the NHL in both categories. The Canes were able to get by the last game despite getting torched on the penalty kill, but that probably wont happen again, so let's hope they can stay above water in special teams while winning the battle at even strength. Carolina is the better even strength team, so they should be able to win that battle but it might be different with this particular roster. - The Canes depth players were some of the only players to show up for the third period last night and they were rewarded with some extra ice time. They have a favorable matchup tonight against the Islanders bottom-six, so they might be able to earn the coaches trust again. Riley Nash was someone who I thought really stood out for Carolina last night and hopefully he can build off that performance tonight. - On the subject of matchups, the Islanders lines have been shaken up a bit in recent games with Frans Nielsen being demoted and Marty Reasoner taking his place on the "second line." Nielsen is normally their tough-minutes player but he has been awful at even strength this year for whatever reason, so the Hurricanes first line might get a favorable matchup against a weaker center in Reasoner. My guess is that the Islanders are using Reasoner on this line because he is a good face-off guy and a defensive center who can play tough matchups, but he doesn't bring the two-way game that Nielsen normally does. If he is out against Staal, Tlusty and Semin then this is something the Hurricanes should be able to expose. Hamonic/MacDonald should continue to play against Carolina's top line on the back-end. - Everyone remembers the bad third period from last night but their biggest problem with their last meeting against the Islanders was with how they started the game. Carolina was outchanced 9-2 in the first period in their last game against the Islanders and spent the rest of the time fighting an uphill battle. They ended up pulling off a comeback, but playing for a full-60 minutes has been a problem for this team all season long and it really can't continue if they want to be in the playoffs. Carolina's going 4-1-1 on their last road trip is proving to be huge now since they followed it up by losing three of four games, but hopefully this is just a small bump in the road in a good season. The injuries are making things very tough to deal with, obviously but it's something that all teams are going to have to deal with in this shortened season. Those with good depth will be the ones who prevail and so far, depth hasn't been one of the Canes strongest assets but there is still plenty of time to turn things around.
Original Story:
http://www.shutdownline.com/hurricane...
THE BACKYARD
BEST OF MAXIM
RELATED ARTICLES
A little under four weeks ago, the Hurricanes made the decision to send Zac Dalpe down to the AHL to make room for Tim Wallace. Dalpe has been one of Carolina's best forward prospects for quite some time now but he has yet to make his mark in the NHL despite making the Hurricanes out of training camp for three years in a row. I'll admit that he was in a bit over his head...
Last night's 4-2 win over the Islanders was an ugly win for the Hurricanes, so it probably won't surprise you to hear that they were outchanced at even strength. The Canes have made somewhat of a habit of pulling out wins like this as last night was only the fifth time this season they were outchanced and the third time they won a game where that happened. I'm not sure...
Former Capital Alexander Semin will make his first appearance at Verizon Center on Tuesday with his new team, the Carolina Hurricanes. Semin was a polarizing figure in Washington, either going on jaw-dropping scoring binges or long droughts with poorly-timed penalties. And that was when he wasn't injured.
Goaltenders are a tricky bunch to figure out. Fans will either love or hate them depending on how they perform in a ten game stretch. If they stand on their head for and steal a couple of games for their teams, the goalie will be heralded and be a front-runner for Team MVP. Whereas if they have an awful or sub-par stretch for ten games, fans will want their netminder on the first...
By: Joe Daniel Welcome Queen City Sport's fans to Inside the Box, a new weekly column dedicated to the Buffalo Bandits. Heading into the bye week the Buffalo Bandits are 4-3, good enough for 2nd place in the Eastern Conference. The Bandits will have plenty of time to rest and get injured forward John Tavares back who has been out of the lineup due to a calf injury suffered January...
UNIONDALE, N.Y. (AP) -- Bobby Sanguinetti waited quite a while for his first NHL goal, that came at a perfect time for the Carolina Hurricanes. The 24-year-old defenseman snapped a tie midway through the third period, and the Hurricanes rallied to beat the inconsistent New York Islanders 4-2 and snap a three-game losing streak Sunday night. Sanguinetti, a first-round draft pick...
from Cam Cole of the Vancouver Sun, It is a given that the first wave of ridicule in the wake of Friday's news that the New York Islanders had placed Rick DiPietro on waivers would wash over the hapless 31-year-old goaltender, no doubt inflicting a torn knee ligament, assuming they haven't all been removed and sent to the Smithsonian. But if there's a God, the...
The Lightning once again put on a show in the third period to beat the Carolina Hurricanes 5-2. Marc-Andre Begeron got the Lightning on the board first when his spin around shot beat beat Carolina goalie Dan Ellis. Ellis was sharp for the majority of the game but Tampa Bay did what they do best this season and that's score goals in the third period. The lightning added four goals...
Coming into this game off two straight losses and no divisional wins to their name, many fans considered Carolina's game against the Tampa Bay Lightning a "must win." It's still too early to consider any game a must win, but the Canes would have done themselves a huge favor down the line by getting a win over Tampa Bay at home. It would have been a great way to...
The Hurricanes have another game in about 14 hours and I'm sure many fans want to forget about last night's 5-2 loss to the Lightning as quickly as possible, so let's get the statistical analysis over with now. This game will be remembered as a complete stinker for most Carolina followers, but that mostly applies to the third period. Let's not forget that the Hurricanes...
"Here we go again" was the phrase uttered by many Hurricanes fans after they saw their team fall behind early in the first period and were forced to play from behind yet again. Even more grumbles of frustration were unleashed later on that period when the Hurricanes were able to mount an attack but could not get anything past Islanders goaltender Kevin Poulin. Things seemingly...
Soon. #CorvoFace That…that's Mark Eaton's music! OK, yes, we know…the return of Mark Eaton to Pittsburgh is little more than a depth signing. At 35 years of age, Eaton is certainly no longer the top-four caliber defenseman who rode shotgun when Shero moved from Nashville to Pittsburgh to take over the Pens in 2006 (h/t to @demangone, who suggested he may have been...
NHL News

Delivered to your inbox

You'll also receive Yardbarker's daily Top 10, featuring the best sports stories from around the web. Customize your newsletter to get articles on your favorite sports and teams. And the best part? It's free!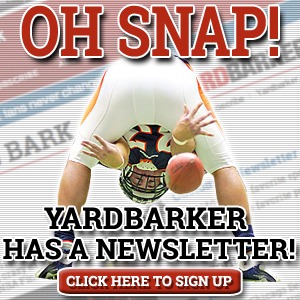 Latest Rumors
Best of Yardbarker

Today's Best Stuff

For Bloggers

Join the Yardbarker Network for more promotion, traffic, and money.

Company Info

Help

What is Yardbarker?

Yardbarker is the largest network of sports blogs and pro athlete blogs on the web. This site is the hub of the Yardbarker Network, where our editors and algorithms curate the best sports content from our network and beyond.