Found January 26, 2013 on Shutdown Line:
PLAYERS:
Dan Ellis
,
Ryan Miller
,
Alexander Semin
,
Jay Harrison
,
Justin Faulk
,
Jamie McBain
,
Tim Gleason
,
Kevin Westgarth
,
Jordan Staal
,
Eric Staal
,
Jiri Tlusty
,
Drayson Bowman
,
Zac Dalpe
,
Joni Pitkanen
,
Jussi Jokinen
,
Tim Brent
,
Jeff Skinner
,
Chad LaRose
,
Joe Corvo
,
Jordan Leopold
,
Steve Ott
,
Christian Ehrhoff
,
Cody Hodgson
,
Drew Stafford
,
Robyn Regehr
,
Mikhail Grigorenko
,
Thomas Vanek
,
Jason Pominville
,
John Scott
,
Patrick Kaleta
,
Nathan Gerbe
,
Andrej Sekera
,
Alexander Sulzer
,
Jochen Hecht
,
Tyler Myers
,
Tyler Ennis
,
Marcus Foligno
TEAMS:
Carolina Hurricanes
,
Buffalo Sabres
Those who are fans of exciting hockey were in for a treat if they watched any of the back-to-back series between the Carolina Hurricanes and Buffalo Sabres, because that is exactly what these two teams delivered. On Thursday, we saw a high-scoring affair that featured a lot of great action at both ends and last night, we saw a terrific goaltending duel between Dan Ellis and Ryan Miller. Both goaltenders recorded 40 saves, as they did all they could to at least get a point for their respective teams but in the end, it was Ellis and the Hurricanes who came out on top with a 3-1 win. Saying that Ellis "stole" this game for Carolina would be somewhat of an accurate statement because he had to make 40 saves and came up huge a few times in the second period to keep the game tied at zero. That being said, I always felt like saying a goaltender "stealing" a game implies that the team in front of him played poorly, which wasn't the case with the Hurricanes last night. They also recorded over 40 shots, were only outchanced 21-20 and had the upper-hand at even strength by outshooting and outchancing Buffalo 34-30 and 16-15 respectively. Ellis played a huge role because the Canes could not get anything by Miller until the third period when it took a perfect shot by Alexander Semin to beat him top shelf. They also got a bit of a lucky bounce on Jay Harrison's game-winning goal but sometimes that's what it takes to beat a goalie who played as well as Miller did. Ellis still deserved the first star of the game, though because the Canes would have likely been playing from behind for most of the game if it wasn't for his performance. They were playing without Justin Faulk for the entire third period, too so the fact that they were able to pick up the win last night is huge. The Canes did a lot of good things last night, though and we'll break those down along with the scoring chances after the jump. Hurricanes at Sabres 1/25/13 Carolina's chances are in red, Buffalo's are in white Period Total EV 5v4 5v3 4v5 3v5 1 6 5 5 5 1 0 0 0 0 0 0 0 2 7 10 6 5 1 0 0 0 0 5 0 0 3 7 6 5 5 2 0 0 0 0 1 0 0 Totals 20 21 16 15 4 0 0 0 0 6 0 0 Carolina and Buffalo were evenly matched throughout most of the game and the one area where the Canes fell behind was in the second period when they took two bad penalties. Buffalo did their best to take advantage of their powerplays but Ellis had other plans and turned away all five of the Sabres' scoring chances. The Hurricanes still had the edge that period when it came to even strength play and ended up having one more chance than the Sabres by the end of the game. This is pretty similar to how the game on Thursday night went, only it was the Sabres who had a slight advantage in special teams play this time. That would have come back to haunt Carolina if it wasn't for the play of Ellis. If it wasn't for him, this could have been a repeat of the Florida game. Hurricanes Individual Scoring Chances # Player EV PP SH 4 Jamie McBain 20:14 5 6 1:17 2 0 2:11 0 2 6 Tim Gleason 14:00 2 6 0:40 0 0 1:45 0 0 8 Kevin Westgarth 3:05 2 0 0:00 0 0 0:00 0 0 11 Jordan Staal 16:47 8 7 3:16 1 0 0:25 0 0 12 Eric Staal 17:09 8 4 4:07 3 0 0:53 0 0 19 Jiri Tlusty 15:17 3 3 1:33 3 0 1:07 0 1 21 Drayson Bowman 11:26 1 4 0:00 0 0 1:01 0 2 22 Zac Dalpe 14:06 6 4 0:00 0 0 0:00 0 0 25 Joni Pitkanen  24:42 9 6 3:36 3 0 1:12 0 3 27 Justin Faulk 10:20 6 3 0:00 0 0 1:31 0 2 28 Alexander Semin 15:29 4 4 4:20 4 0 0:26 0 0 31 Dan Ellis 50:01 16 15 5:02 4 0 4:57 0 6 36 Jussi Jokinen 10:31 1 4 0:13 1 0 1:10 0 1 37 Tim Brent 7:56 2 1 0:00 0 0 1:38 0 2 39 Patrick Dwyer 7:43 2 2 0:42 0 0 1:46 0 3 44 Jay Harrison 19:11 8 8 0:58 0 0 2:15 0 4 53 Jeff Skinner 17:05 6 7 3:29 1 0 0:07 0 0 59 Chad LaRose 9:59 2 5 0:13 1 0 1:21 0 3 77 Joe Corvo 11:43 4 1 0:46 0 0 1:00 0 1 Best EV Forward: Eric Staal +4 Best EV Defensemen: Joni Pitkanen, Joe Corvo & Justin Faulk +3 Worst EV Forwards: Drayson Bowman, Jussi Jokinen & Chad LaRose -3 Worst EV Defenseman: Tim Gleason -4 With Justin Faulk missing most of the third period with an injury, someone had to take over his minutes and that ended up being Joni Pitkanen, who played nearly a half-hour last night. Pitkanen once again did a terrific job offensively and ended up being on-ice for over half of the chances that the Hurricanes produced at even strength. He was also trusted with spending a good chunk of time against Buffalo's top-six to replace with Faulk usually does. Pitkanen still gave up quite a bit defensively but his contributions on offense ended up in him being a net positive on the night, which is more than you can say for almost every other defenseman on the team. I didn't think Pitkanen would be playing this many minutes, but his play last night was about what I expected from him this year. Tim Gleason had a rough night defensively and could be in trouble if Faulk is seriously injured, as that leaves him searching for yet another defenseman to handle the tough minutes with him. Jay Harrison, Jamie McBain, Joni Pitkanen and Joe Corvo each took turns in Faulk's spot last night and to the surprise of many, Corvo actually did a good job in the few shifts where he was alongside of Gleason. He didn't play many minutes overall, though so I'm not sure if he will be playing there in the future. On a more positive note, Eric Staal continued to be a force offensively, as he was on-ice for over half of the overall scoring chances the Hurricanes produced. His line with Jiri Tlusty and Alexander Semin looked very good last night and did a fantastic job in terms of being able to keep the puck in Buffalo's zone for long period of time. They didn't produce as many chances as they could have, they had maybe 3-4 as a unit, but these three look very good together and I'd expect them to remain a line for the time being. There has been a lot of talk of whether or not Eric Staal and Alex Semin could develop chemistry but these two have been doing nothing but produce a high amount of shots and chances when they are on the ice together. It resulted in Semin getting his first goal last night on the powerplay and Staal nearly added another in the second period but he hit the goal post. Last night may have been Jordn Staal's worst game as a Hurricane thus far. He came out as a positive in terms of scoring chance differential, but his three penalties were pretty bad and one of them resulted in the Sabres scoring a powerplay goal. Not being able to stay out of the box has been an issue for the Canes in this young season and it hurts even more when a regular penalty killer like Staal is the one going to the box. His line with Jeff Skinner and Zac Dalp has looked solid at even strength, at least. The only line I've been disappointed by is the third unit of Drayson Bowman, Jussi Jokinen and Chad LaRose. Jokinen's line had a great performance on opening night but since then, they have looked very poor and have been on the losing end of the chance battle for three straight games. Jokinen and LaRose have been able to succeed in protected minutes in the past so I'm not sure what's wrong with them. Could Bowman be that much of a downgrade from Tlusty on this line? Because they didn't start playing poorly until Tlusty was promoted to the top-six. Sabres Individual Scoring Chances # Player EV PP SH 3 Jordan Leopold 17:41 9 11 1:45 1 0 0:00 0 0 9 Steve Ott 10:59 2 0 2:40 4 0 0:00 0 0 10 Christian Ehrhoff 16:00 4 2 3:23 4 0 1:17 0 1 19 Cody Hodgson 15:41 9 5 2:58 5 0 1:42 0 1 21 Drew Stafford 15:58 4 7 1:48 1 0 0:00 0 0 24 Robyn Regehr 15:22 2 3 0:00 0 0 2:23 0 3 25 Mikhail Grigorenko 6:28 1 2 0:11 0 0 0:09 0 0 26 Thomas Vanek 14:57 9 8 2:58 5 0 0:00 0 0 29 Jason Pominville 16:37 9 8 2:58 5 0 1:22 0 0 30 Ryan Miller  50:01 15 16 4:57 6 0 4:44 0 4 32 John Scott  3:21 0 1 0:00 0 0 0:00 0 0 36 Patrick Kaleta 12:24 1 0 0:00 0 0 3:11 0 3 42 Nathan Gerbe 7:14 1 2 0:00 0 0 0:00 0 0 44 Andrej Sekera 20:03 10 8 0:11 0 0 2:04 0 0 52 Alexander Sulzer 14:27 2 2 0:00 0 0 1:10 0 2 55 Jochen Hecht 14:35 3 0 0:11 0 0 3:40 0 4 57 Tyler Myers 16:01 2 6 1:48 1 0 3:10 0 2 63 Tyler Ennis 15:08 3 9 2:06 2 0 0:00 0 0 82 Marcus Foligno 13:47 3 5 1:48 1 0 0:18 0 0 Best EV Forward: Cody Hodgson +4 Worst EV Forward: Tyler Ennis -6 Best EV Defenseman: Christian Ehrhoff +2 Worst EV Defenseman: Tyler Myers -4 I was interested to see how the Stafford-Ennis-Foligno line would perform now that Ruff could get them a more favorable matchup at home. If Ruff did anything different, it clearly didn't work last night as that line was destroyed at even strength. Ennis also lost a key face-off that resulted in Carolina scoring the game-winning goal.  Hodgson, Pominville and Vanek however came out on the winning end of the chance battle at even strength despite some shaky defensive play, which is what Buffalo expected to happen I would assume. That line has still produced every single Buffalo goal at even strength this year after the Ennis line posted another goose egg last night. Head-to-Head at Five-on-Five This reveals what happened to the Ennis line a little more clearly. They played the majority of their minutes against Carolina's top unit and lost that battle without much of a fight. You'd think that Ruff would try to get those three out there against Jokinen's unit a little more often since they weren't getting the job done at even strength. That line wasn't much of a problem for any of Carolina's defense pairings either and Pitkanen/McBain managed to outplay them by a wide margin. Also worth pointing out: Joe Corvo won all of his matchups at even strength, which included some work against the Sabres top line and #1 defense pairing.    
Original Story:
http://www.shutdownline.com/hurricane...
THE BACKYARD
BEST OF MAXIM
RELATED ARTICLES
BUFFALO, N.Y. -- With Ryan Miller standing tall at the other end, the Carolina Hurricanes regrouped late and focused on getting pucks to the net with traffic in front. It worked to perfection. Jay Harrison broke a 1-1 deadlock with just under 5 minutes remaining, and the Carolina Hurricanes went on to defeat the Buffalo Sabres 3-1 at the First Niagara Center on Friday night....
  Ever since Milan Lucic beat Ryan Miller out for a loose puck, the Buffalo Sabres and their fanbase have been crying out for more toughness, for more accountability. Apparently they realized that Patrick Kaleta is softer than a pool of Charmain Ultra. So what do they do? They hire that dude from the band Saliva and Brave Steve Ott. The idea was that those two would keep the...
Jay Harrison scored the go-ahead goal with 4:50 left, helping the Carolina Hurricanes to a 3-1 win over the Buffalo Sabres on Friday night. Harrison fired a slap shot from the right point after Eric Staal won the faceoff, and the puck beat Buffalo's Ryan Miller on the short side. Alexander Semin tied it for the Hurricanes early in the third period, and Jeff Skinner scored an...
Don't look now but the Hurricanes have outchanced their opponents in each of their first three games this year and they managed to do it last night without the "aid" of score effects, as they were playing with the score tied or with a lead for most of the contest. Yesterday's game was easily Carolina's most impressive performance in this still very young season...
Dual plot lines running in Washington today. Thomas Vanek's back strain will not allow him to play today. Rookie Mikhail Grigorenko will play his fifth game if his NHL tryout. Grigo will get top six minutes playing with Ott and Stafford. More to come....
Thomas Vanek is the first player in Sabres history to record eight points in the first three games of the season. Five players have had seven in the first three games: Gilbert Perreault (1972-72 and 1979-80), Don Luce (1975-76), Danny Gare (1979-80), Bob Sweeney (1992-93) and Pat LaFontaine (1992-93). (Source: Elias Sports Bureau). *** Vanek recorded a career-best five points...
For a good chunk of the season, the Charlotte Checkers had been sitting comfortably in first place in the AHL's Western Conference but their run at the top has come to an end as the top spot is now secured by the Texas Stars, who lead the Checkers by one point. This isn't due to a slump by the Checkers, though. They've won seven of their last 10 games and are still playing...
The good thing is Buffalo's top line is scoring all the goals right now. The bad thing is Buffalo's top line is scoring all the goals right now. Call it a blessing, and, a curse. Hodgson (3), Pominville (3) and Vanek (2) have scored 80% of the goals for the Sabres. The 26-19-29 trio has potted eight of the Sabres 10 goals in the first three games. Were it not for...
One of the NHL's leading scorers through the first week is set to miss some time. According to head coach Lindy Ruff, Buffalo Sabres forward Thomas Vanek will not play this afternoon when his team takes on the winless Washington Capitals at 3pm in D.C..  Vanek suffered a muscle strain in Buffalo's 3-1 loss to Carolina on Friday when he fell and went hard into the end boards...
With a chance to get back into the win column after back to back losses to the Carolina Hurricanes, the Buffalo Sabres came up short in the Verizon Center falling 3-2 to the Washington Capitals.  The loss, the Sabres third in a row, drops Buffalo to 2-3-0-0 on the season.  The win was the first this year for Washington who had dropped their first four contests for their worst start...
NHL News

Delivered to your inbox

You'll also receive Yardbarker's daily Top 10, featuring the best sports stories from around the web. Customize your newsletter to get articles on your favorite sports and teams. And the best part? It's free!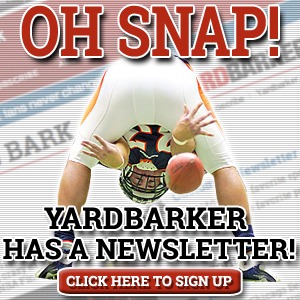 Latest Rumors
The Backyard

Today's Best Stuff

For Bloggers

Join the Yardbarker Network for more promotion, traffic, and money.

Company Info

Help

What is Yardbarker?

Yardbarker is the largest network of sports blogs and pro athlete blogs on the web. This site is the hub of the Yardbarker Network, where our editors and algorithms curate the best sports content from our network and beyond.