Found October 09, 2012 on Puck Drunk Love:
Gary Bettman might be the most hated man in all of sports. As the league continues its third lockout under Bettman's rule, fans and players alike have voiced their displeasure in how Bettman decides to run the league. His tactic of shutting the doors on the league is certainly a controversial one, but is it a smart and calculated one? A recent article from The Globe and Mail got us thinking - Is Gary Bettman a brilliant commissioner or an incompetent one, drunk on power? In order to correctly read this article you'll need to remove your personal hatred for Bettman. Yes, he is the face behind the lockout that's depriving you of the great game of hockey, but try to forget that fact for a few minutes. Bettman the Brilliant It's not easy to write about how smart a guy is when the guy in question has burned a fan base as often as Gary Bettman has. Still, there are plenty of facts out there to support that Bettman is incredibly intelligent and knows exactly wha...
Original Story:
http://bloguin.com/puckdrunklove/2012...
THE BACKYARD
BEST OF MAXIM
RELATED ARTICLES
Bruce Garriouch of The Ottawa Sun writes that there's some growing concern amongst some of the owners about the NHL Lockout and how long it could last. The belief is not everybody on the NHL's board of governors is happy the league is in the midst of its third lockout in 20 years -- all with Bettman at the helm -- and he's getting some heat to try to find a solution...
NEW YORK (October 9, 2012) -- National Hockey League Commissioner Gary Bettman today released the following statement regarding the passing of long-time Detroit Red Wings publicist, broadcaster and public address announcer Budd Lynch: "Budd Lynch had seen so much Red Wings history, had become so much a part of their heritage, that no visit to Joe Louis Arena for a Red Wings...
from Gary Lawless of the Winnipeg Free Press, Can a 24-month lockout be possible? You bet. What the game will look like and what will be left to fight over when that is said and done is unknown. But don't think it can't happen. NHL commissioner Gary Bettman will soon hear demands from his owners to go for larger concessions from the players in order to make up for the...
Gary Bettman. So much to say about the man. Is he great at his job? Many argue yes. The game has grown and he keeps the owners happy. He won the first lockout and he'll probably win this one again. It's not his job to be liked by the fans they argue. As long as the owners are happy, that's all that matters. But I have a slightly different opinion. He's...
Follow me @jaeckel A lot of people are being negatively affected by the NHL work stoppage. But at the end of the day, very few of those people have any power to do anything about it. The rest of us wait for Gary Bettman and NHL owners on one side, and Donald Fehr, players and agents on the other to work something out and save a season of hockey. But while those relatively...
from Bruce Garrioch of the Ottawa Sun,  As the NHL lockout enters its fourth week with no solution on the horizon, a question is quietly being whispered: When are we going to see cracks in the armour? While commissioner Gary Bettman maintains he has the support of all 30 teams in this battle with the NHL Players' Association, not everybody is convinced it will stay...
from Roy MacGregor of the Globe and Mail, NHL owners are in a pressure cooker right now, with the heat guaranteed to be applied increasingly as the lockout cancellations add up and fan frustration boils over. This is no longer the NHL of Clarence Campbell, where owners' heads and voices often rose far higher than the league president's own. There are no Smythes, Ballards...
Devils News

Delivered to your inbox

You'll also receive Yardbarker's daily Top 10, featuring the best sports stories from around the web. Customize your newsletter to get articles on your favorite sports and teams. And the best part? It's free!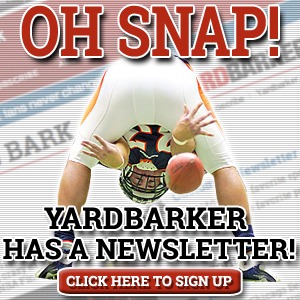 Latest Rumors
The Backyard

Today's Best Stuff

For Bloggers

Join the Yardbarker Network for more promotion, traffic, and money.

Company Info

Help

What is Yardbarker?

Yardbarker is the largest network of sports blogs and pro athlete blogs on the web. This site is the hub of the Yardbarker Network, where our editors and algorithms curate the best sports content from our network and beyond.