Found July 12, 2013 on NorthWest Sports Beat:
PLAYERS:
Tyler Bozak
,
Nazem Kadri
,
Ben Scrivens
,
Roberto Luongo
,
Bo Horvat
,
Phil Kessel
,
Kevin Connauton
,
Derek Roy
,
James van Riemsdyk
TEAMS:
Toronto Maple Leafs
,
Vancouver Canucks
,
St. Louis Blues
Patience isn't always a virtue I'm sure that most Canucks fans will gladly tell you that now. In fact, I'd venture to say that certain people in the Canucks' management would agree with that statement to a varying extent. In the summer of 2012 before the lockout began, it was rumoured that Leafs had offered a package consisting of Tyler Bozak, Nazem Kadri and Ben Scrivens for Roberto Luongo. As we know, Gillis was ultimately forced to deal Cory Schneider for the 9th overall draft pick in the 2013 NHL Entry draft (used to select London Knight center Bo Horvat) as he could not find a trade suitor for Luongo and ownership was unwilling to buy him out. Assuming that this widely rumoured package the Leafs had offered is true, let's take a look at what waiting a year to solve the crease issue ultimately cost the Canucks… The deal that actually happened: Gave up Cory Schneider for the 9th overall pick (Horvat). Schneider is a 27 year old, former 1st round pick of the Canucks and was named the #1 goalie in the playoffs in 2012. He assumed that title until he was ultimately dealt to New Jersey, after the Canucks had invested numerous years grooming in the minors and back-up role to take over the#1 job. In July of 2012, he re-signed for 3 years at a cap-friendly $4m per, after he had been named the #1 goalie. Schneider is widely regarded as one of the best young goaltenders around and holds a career 0.922 save % in his NHL career. Bo Horvat is an 18 year old center who played for the London Knights and put up 33g-28a-61pts in 67 regular season games, then chipped in 16-7-23 in 21 playoff games in the OHL this year. He is widely considered a strong two-way player with the makings of a solid 2nd line center. The (rumoured) deal that got away Tyler Bozak, Nazem Kadri and Ben Scrivens for Roberto Luongo. Bozak, 27, put up 12-16-28 in 46 games while mainly playing alongside Phil Kessel and James Van Riemsdyk on the Leafs' top line in 2013, but ideally would be a #2 center on a contending team. Gillis kept a bitter Luongo, who is 33 years old with a cap hit of $5.33m per season. (Photo by Jeff Vinnick-Canucks) In a year that saw us trade prospect Kevin Connauton and a 2nd rd pick for a rental player in Derek Roy to fill a hole at center, Bozak could've been a useful addition for the Canucks. Kadri was selected by the Leafs' 7th overall in the 2009 NHL draft and was considered a top NHL prospect. He made good of that label this year by putting up 18-26-44 in 48 games played in his first full season in the show and final year of his entry-level contract. He appears to have all the makings to be a front line scoring center. Scrivens, 26, is a serviceable NHL back-up, posting a 0.915 sv% this past season and carried a cap hit of $612,500 (according to CapGeek). Ultimately, the Canucks gave up Schneider and his $4m per year for the next 2 seasons and kept a bitter Luongo, who is 33 years old with a cap hit of $5.33m per season until 2022 (at which point he will be in his early 40′s). Should Lu retire after turning 35 the Canucks will be on the hook for that cap hit until the contract is up, not to mention there's a chance he doesn't report to camp. Meanwhile, the solid 26 year old back-up Scrivens could've been for $612,500 to compliment Schneider and combined for a cap hit of $4.6125m. Compare that combo to Lu's hit + whoever his back-up is and their cap hit and it hurts a little bit more. In addition, the #7 draft pick (Kadri) in 2009 who is a young, NHL-ready player with top end scoring ability that could contribute to a team now was ultimately forgone for the #9 pick this year. This years pick turned into an 18 year old with a bright 2-way future, but it isn't certain when he will be ready to produce at the NHL level. The Derek Roy trade could have been negated, allowing the Canucks to keep their 2nd round pick and Connauton and instead deploy a strong faceoff and two-way center in Bozak. Now I know hindsight is 20-20, but one has to consider that when a deal is offered that includes 3 elements that your team is seeking for a player you are trying to move and a situation that needs to be cleared up, it would be in best interest to take it while its there. Sometimes waiting and out-thinking yourself leads to more problems, rather than fixing a current one. I definitely know that I would love to not here the phrase "the landscape has changed" anytime soon. CLICK HERE CHECK OUT THE CANUCKS BLOG IN OUR CLUBHOUSE SECTION AT NWSB!
Original Story:
http://www.nwsportsbeat.com/canucks/v...
THE BACKYARD
BEST OF MAXIM
RELATED ARTICLES
One Goal For several seasons the Vancouver Canucks have been operated by the same three key personnel. Owner Francesco Aquilini, general manager Mike Gillis, and head coach Alain Vigneault have been working together since Vigneault joined the team in 2007, and the goal has always been the same: to win a Stanley Cup. In pursuit of Lord Stanley the team's ownership has consistently...
Pond Hockey in Van City After rumours leaked a few months ago, the NHL officially announced today that the Vancouver Canucks and Ottawa Senators would hook up in an "outdoor" game at BC Place on March 2. It's an exciting announcement but it also raises a few questions ahead of the big game. 1. Vancouver and…Ottawa? I get this is a heritage classic, heavy on the heritage...
Who's over/under rated? In 2012-13, the Vancouver Canucks won the same amount of playoff games as the Edmonton Oilers, Calgary Flames and Columbus Blue Jackets – zero. But that doesn't mean the Canucks are a horrible team. They've been a strong regular season team for years — just look at all those Northwest Division banners hanging proudly from the rafters of Rogers Arena...
"Outdoor" game a cash grab? I like pizza a lot. But I learned my lesson about six years ago after a cheese coma inducing encounter at a Pizza Hut buffet one fateful afternoon. I gradually regained my vision and ability to form rational thoughts but I discovered that sometimes there truly can be too much of a good thing. It's a simple fact that the NHL has failed to recognize...
Fold or Flop? Entering into the 2013 off-season Vancouver Canucks general manager Mike Gillis possessed two world-class goaltenders in Cory Schneider and Roberto Luongo with the former firmly cemented in the starter`s position. Today the Canucks employ only one NHL-calibre starting goaltender, and the organization isn`t even certain that he will be ready to return to the Canucks...
NHL News

Delivered to your inbox

You'll also receive Yardbarker's daily Top 10, featuring the best sports stories from around the web. Customize your newsletter to get articles on your favorite sports and teams. And the best part? It's free!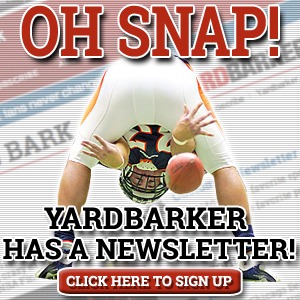 Latest Rumors
Best of Yardbarker

Today's Best Stuff

For Bloggers

Join the Yardbarker Network for more promotion, traffic, and money.

Company Info

Help

What is Yardbarker?

Yardbarker is the largest network of sports blogs and pro athlete blogs on the web. This site is the hub of the Yardbarker Network, where our editors and algorithms curate the best sports content from our network and beyond.