Found March 30, 2013 on Blue Seat Blogs:
PLAYERS:
Carey Price
,
Michael Ryder
,
Steve Eminger
,
Ryan McDonagh
,
Marian Gaborik
,
Andrei Markov
,
Max Pacioretty
,
Dan Girardi
,
Brian Boyle
,
Carl Hagelin
,
Brendan Gallagher
,
Michael Del Zotto
TEAMS:
Montreal Canadiens
,
New York Rangers
This loss is a bit of a difficult one to take. The Rangers played very well int his game. They generated offense, they had a solid powerplay, but they just couldn't solve Carey Price. Price kept it at 1-0 (on that flukey goal) for a long time before one breakdown made it 2-0. Following that, the Rangers didn't give up (still generated good chances), but you could tell something was off. That's what good teams do: They capitalize on the chances they are given. If there's a silver lining, look at this game as a step in the right direction. They played very well, but lost to a much better team. On to the goals: Montreal 1, Rangers 0 Unlucky, but caught being lazy. Michael Ryder made an innocent play to dump the puck into the zone while his linemates were changing. However, the boards behind the net in Montreal are lively, and the puck bounced oddly and wound up banking off the side of the net to the slot. Steve Eminger was a bit flat-footed, and Marty Biron made a lazy poke at the puck instead of trying to swat it behind the net. Ryder picked it up and had a lot of time to find the open net. Montreal 2, Rangers 0 Broken play, led to a goal. Ryan McDonagh rushed the puck in, but got knocked down in deep in front of the Montreal net. Marian Gaborik was back to cover for him at the half boards, but not back enough and was caught in no man's land. The puck was a little deep, but it was clear that Montreal had the puck and was going to maintain control. Once Andrei Markov got the puck past Gaborik to Max Pacioretty, it was a guaranteed two-on-one with Dan Girardi back. Girardi took the pass away, but may have given Pax a bit too much room. Biron had no chance on the shot. Montreal 3, Rangers 0 Del Zotto needs to play the body. Brian Boyle won a key face off on the penalty kill, and the puck winds up swinging around the boards. Carl Hagelin, however, failed to clear the puck at the half boards, allowing the Canadiens powerplay to get a good chance. Markov took a shot from the point, and Boyle took out his man in front following the save by Biron. However, Michael Del Zotto didn't take out Brendan Gallagher, and got caught watching. There was only so much Biron could do. The loss gives the series sweep to the Canadiens, and makes the Rangers 0-7-1 against the Habs, Sens, and Jets. If they didn't play Canadian teams, they'd be a team atop the Eastern Conference. Alas, they are not. That said, there are a lot of positives to take from this game. If the Rangers play like they did tonight throughout the rest of the season, they will win a lot more games. Tweet
Original Story:
http://www.blueseatblogs.com/2013/03/...
THE BACKYARD
BEST OF MAXIM
RELATED ARTICLES
Bruce Bennett/Getty Images North America We've spent a lot of time talking about how the Rangers, as currently constructed, are not a team that is rich with depth. It's something that we've discussed on about a weekly basis at this point, but depth is only a part of the problem. The issue of depth is easy to address, but that won't matter if the star players on the Rangers...
Earlier today, the Rangers announced that they have sent Kris Newbury back to the Connecticut Whale of the AHL. In his second stint with the Rangers this season, Newbury played in four games, collecting an assist, a +1 rating, 2 PIMs, and 4 hits while averaging a little more than 8 minutes of ice time. Tweet
Just win please. The Rangers lost to Montreal last night, which wasn't all that unexpected considering past success there. With the loss, the Rangers sit in 8th place in the East with a 16-15-3 record. They are tied with the Islanders in points, but hold the tiebreaker at the moment. In essence, with the Islanders the only team tied in points, the Rangers control their own destiny...
Simmons/News We have a category for "Irresponsible Rumormongering," but this post probably belongs under "Completely Irresponsible Rumormongering That Might Raise Eklund's Eyebrows."  Sorry for that, but it's that time of year… Marian Gaborik to San Jose for Dan Boyle Boyle for Gaborik is the rumor mentioned most frequently by those in the know and it also happens...
Larry Brooks at the New York Post reports that Marc Staal (eye) has not yet begun skating and with only 14 games remaining in the season there might not be enough time for him to be cleared and properly conditioned before the end of the season. Brooks adds that Staal is being monitored continually and has undergone regular exams. ...got to assume the reason he hasn't...
The #NYR have agreed to terms with free agent defenseman Conor Allen, who played this season at UMASS-Amherst — New York Rangers (@NYRangers) March 29, 2013 Allen will report directly to the CT Whale on an Amateur Tryout Contract (ATO), with his Rangers contract beginning next season. The 6' 1", 210lb Allen finished his career at UMass with 14 goals, 25 assists...
On Tuesday, I wondered with all the head shots Henrik Lundqvist has been taking lately along with his complains of headaches whether he was playing with a concussion. Now comes this report from Pat Leonard at the Daily News that the Rangers will be monitoring Lundqvist to see if the effects of those blows will continue... "...the Rangers will keep a watchful eye on...
When I first started The New York Rangers Blog back in 2007, it was out of my love for the Rangers. I wanted to create a one-stop shop for Blueshirt fans to get their Rangers fix. Updates, stats, rumors and more in one easy to find spot. There was nothing similar available and I felt Rangers fans deserved a blog with the same dedication and commitment they had. Along the way...
Two straight shutouts. Offensive ineptitude on a grand scale. No sign of desperation. And with just 14 games remaining, the door is slowly starting to close. These are your New York Rangers. Now you can look at this two ways. The glass half-full person will say despite the recent stretch of losing, New York is still in a playoff position and can turn things around quickly...
from Stu Cowan of Hockey Inside/Out, The Canadiens held a 10 a.m. open practice at the Bell Centre on Easter Sunday and attracted more than 17,000 fans to the Bell Centre. Yet more proof that hockey is a religion in Montreal. The Canadiens were coming off a 3-0 victory over the New York Rangers the night before that put them in first place in the Northeast Division and...
Bob McKenzie tweeted today that Tomas Kaberle has been put on waivers and then followed up with this tweet... Suspect we'll see more teams do same with waivers in coming days. Put bubble guys on, let em clear, hold onto em, demote only if req'd.
NHL News

Delivered to your inbox

You'll also receive Yardbarker's daily Top 10, featuring the best sports stories from around the web. Customize your newsletter to get articles on your favorite sports and teams. And the best part? It's free!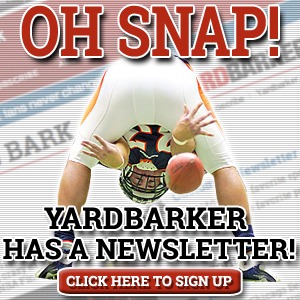 Latest Rumors
Best of Yardbarker

Today's Best Stuff

For Bloggers

Join the Yardbarker Network for more promotion, traffic, and money.

Company Info

Help

What is Yardbarker?

Yardbarker is the largest network of sports blogs and pro athlete blogs on the web. This site is the hub of the Yardbarker Network, where our editors and algorithms curate the best sports content from our network and beyond.