Found January 17, 2013 on Fox Sports Arizona:
PLAYERS:
Don Maloney
,
Ilya Bryzgalov
,
Mike Smith
,
Ray Whitney
,
Antoine Vermette
,
Boyd Gordon
,
Lauri Korpikoski
,
Matthew Lombardi
,
Steve Sullivan
,
Taylor Pyatt
,
David Moss
,
Zbynek Michalek
,
Kyle Turris
,
David Rundblad
,
Shane Doan
,
Mikkel Boedker
,
Radim Vrbata
TEAMS:
Philadelphia Flyers
,
Phoenix Coyotes
,
Dallas Stars
,
Toronto Maple Leafs
,
New York Rangers
,
Ottawa Senators
GLENDALE, Ariz. -- If Don Maloney were the general manager of the Suns, Diamondbacks or Cardinals, hed be a rock star in the Valley. Hes photogenic, hes likeable, hes refreshingly candid for a man in his position and, most important, hes very good at his job. In five seasons as the Coyotes' GM, he has distinguished himself with a litany of shrewd financial moves, his ability to manage a tight cap yet still field a competitive team, and his ability to find hidden gems through trades or free agency. Maloney was criticized in most corners for allowing goalie Ilya Bryzgalov to walk in free agency while he grabbed Mike Smith off the discount rack to replace him. We all know how that worked out, but the list of similar moves is staggering when viewed in its entirety. Ray Whitney, Antoine Vermette, Rusty Klesla, Boyd Gordon and Lauri Korpikoski are just a few of the recent success stories beyond Smith. Clearly, Dave Tippetts coaching staff and the players themselves have contributed to this success, but that just highlights another bullet point in the pro-Maloney column: He has a great relationship with Tippett -- a true partnership that is largely void of egos and power plays. The two respect each other, and because of that, they have brought this franchise to new heights, making them the best GMcoach tandem this organization has ever known. There is a price to pay for all this success, however. Maloney has helped whet the Coyotes fans' collective appetite. Fresh (well, not as fresh we might have been) off an appearance in the Western Conference final, the fan base is hungering for more. For the first time in a long while, there are expectations for the Coyotes beyond simply winning a playoff series. Maloney has done wonders filling in the gaps on this roster, and the deal for center Matthew Lombardi on Wednesday was just another example. At a prorated salary of about 1.1 million (the Maple Leafs are picking up the rest), the Coyotes believe they have a top-six forward at a bargain price. Lombardi missed 80 games two seasons ago with a neck issue and had a dreadful season in Toronto last year. But Maloney feels he was misused and was still working his way back into shape after essentially missing a season. Maloney also feels Tippett can recapture the magic Lombardi had here in one-plus seasons (2008-10) and a terrific playoff series against Detroit. Thats the key to this deal, Maloney said. The long and short of it is we just knew we had a little more insight than maybe the next team. With playoff success now a part of the resume, the Coyotes need to take the next step. And that brings us to a difficult-to-answer question: Is it time for Maloney to swing for the fences, to reach for the big-ticket item that will, fair or not, define the next stage of his stewardship? There is a strong argument to be made that the Coyotes still need another elite talent up front to truly become Cup contenders. The loss of Whitney, the clubs leading scorer last season (77 points), only highlights this need. Steve Sullivan may prove to be another of those deft Maloney moves. Replacing Taylor Pyatt with David Moss, bringing back Zbynek Michalek and salvaging something out of the Kyle Turris debacle (David Rundblad) may be three more. But where will the Coyotes find the scoring to take them to the next level? Shane Doan is a year older, Mikkel Boedker is still just 23 and Sullivan hasnt topped 51 points in his last four seasons. Radim Vrbata clearly loves the Valley, but its too much to ask him to carry the offense like he and Whitney did for long stretches last season. Lombardi may help in that regard if he can recapture his previous form. The Coyotes would be enviably deep at center and would possess great speed with Lombardi, Korpikoski, Boedker and others. But would that be enough? Until Greg Jamison buys this team, it is, of course, a moot point. The lockout, the lack of ownership and the Coyotes continued cap constraints have handcuffed Maloney's efforts. Would we like to add a 50-goal guy? Sure, Id take that, too, Maloney said. If they can come at league minimum, thats about the only way we can afford them. With Lombardi in the fold, the Coyotes can probably afford to wait until the trade deadline and evaluate their personnel for deficiencies. Theyve got solid depth up front, their blue line is one of the best in the league and Smith was arguably the NHLs best goaltender from start to finish last season. But if Jamison does, indeed, buy this team in the next couple weeks, and if he does infuse the added money he has hinted he will, Maloney may finally shed those maddening manacles. At that point, we will finally find out if Dealer Don is the total package. Or maybe he will have already proved it by then. Follow Craig Morgan on Twitter
Original Story:
http://www.foxsportsarizona.com/01/17...
THE BACKYARD
BEST OF MAXIM
RELATED ARTICLES
GLENDALE, Ariz. Heres what we already know about the Coyotes 48-game schedule.: One-third of their games (16) will be played in back-to-back sets. The season will end about three weeks later than last season, and there arent many minor-league players in training camp because the coaching staff and general manager Don Maloney dont have time to evaluate up-and-coming talent or alter...
Everything fell perfectly into place for the Phoenix Coyotes last season as they picked up fans and potentially a new owner on the way to their first Western Conference finals. Even after the 113-day NHL lockout, the Coyotes believe they can keep the momentum rolling. With essentially the same roster that won the Pacific Division and potential owner Greg Jamison on the cusp of...
The last time we saw Raffi Torres on NHL ice in game action was last spring. The Phoenix Coyotes forward had just launched himself into Chicago Blackhawks star Marian Hossa, leaving the playmaking forward motionless on the ice. It was clear to anyone who had seen the hit that the NHL needed to come down hard on Torres for the despicable hit, with the hopes that a lengthy suspension...
Momentum is a term of convenience. When things are rolling a teams way, every player, coach and manager swears its real, but when the losing starts, momentum is just a tool for reporters and fans, a spell easily broken in the next game. Maybe thats as it should be. Confidence is a mandatory commodity for pro athletes every time they compete. Why introduce a negative vibe? On the...
GLENDALE, Ariz. Phoenix Coyotes Chief Operating Officer Mike Nealy announced today that 44 Coyotes regular season games will be televised on FOX Sports Arizona and FOX Sports Arizona Plus during the 2012-13 National Hockey League season, including the season opener on Jan. 19 at Dallas. In addition, to the 44 games offered by its local television partner, three others will be broadcast...
I'm running a bit behind here. Training camps opened on Sunday across the NHL and the Coyotes had their first public practice on Monday. I did attend and took a few pictures (after the jump). Being that it was the first day it is hard to say anyone really stood out or knocked my socks off. I didn't get to see any more so this is all I can go on.Andy Miele did completely undress...
The Phoenix Coyotes had to wait a little longer than expected to build off the most successful season in franchise history. The 113-day lockout, however, was nothing compared to the four years that have passed since the Dallas Stars' last trip to the postseason. With the core of their roster back from last season's historic run, the visiting Coyotes open the 48-game season...
Per TSN's Darren Dreger, the Leafs have traded forward Matthew Lombardi to the Phoenix Coyotes for a conditional draft pick. Will update
You know the NHL is close to returning when Duhatschek's notebook makes a return... from Eric Duhatschek of the Globe and Mail, Dave King, the Phoenix Coyotes' development coach, has a theory that will bear watching as the 48-game season unfolds – that NHL teams are going to have to pay closer attention to shootout preparation than ever before, because the margins...
NHL News

Delivered to your inbox

You'll also receive Yardbarker's daily Top 10, featuring the best sports stories from around the web. Customize your newsletter to get articles on your favorite sports and teams. And the best part? It's free!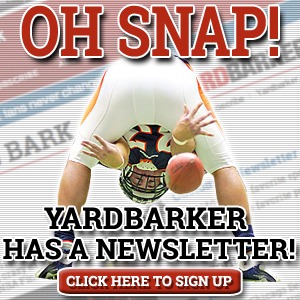 Latest Rumors
The Backyard

Today's Best Stuff

For Bloggers

Join the Yardbarker Network for more promotion, traffic, and money.

Company Info

Help

What is Yardbarker?

Yardbarker is the largest network of sports blogs and pro athlete blogs on the web. This site is the hub of the Yardbarker Network, where our editors and algorithms curate the best sports content from our network and beyond.