Found January 11, 2012 on Blue Seat Blogs:
When you're a team sitting at the top of the NHL standings there's usually not much to moan about. The Rangers have been blessed with production and top quality performances from all over the roster including the top six. A team cannot win consistently if it doesn't get production from its key guys and the Rangers have been getting it. To the grades…
Marian Gaborik. In December we discussed the possibility of whether Gaborik was the league's best right wing this season. That kind of says it all about the year he's having. On pace to establish a new career high in goals, Gaborik is flirting with the magical 50 mark. Despite occasional stretches without production he's been remarkably consistent and blew past his subpar 10/11 season goal total with less than half the season gone. Gaborik is the Rangers best offensive talent and he's showing it. Fully healthy, he looks explosive; the sky's the limit this season. A+
Ryan Callahan. The most underrated captain in the league? The best player in the league no one ever talks about? The Rangers captain does it all. He's 4th in the league in hits, was on course for a 30 goal season and gives 100% every single shift. Seven power play goals, three game winners and a short-hander suggest Callahan produces in every scenario. If there was any kind of criticism of Callahan it may be that he's taken a few too many penalties this season but that would be nitpicking in a brilliant season for the best Rangers captain in several seasons. A+
Brandon Dubinsky. This is a tough grade because it depends what your expectations are for the talented Alaskan. Dubinsky has had a pretty rough first half even though he's clearly improved recently. The bottom line however is that for a player making around $4m annually, counted on to be an offensive contributor, a physical leader on a blue collar team then 5 goals and 21 points do not cut it. Nor does the 6% shooting percentage or the meagre 76 shots. Luckily for Dubinsky, the team has great depth and have coped without consistent production from him. Slowly turning his year around, it's almost like a new addition making the Rangers potentially even more dangerous. C-
Derek Stepan. Please remember this kid is 21. He's centering the top line on the NHL's best team (points wise), is likely to comfortably surpass his rookie totals and doesn't look out of place at all. Stepan was an eagerly anticipated prospect but I'm not sure many people thought he would be this good, this quickly. He still has some developing to do, like his shot selection, but when his contract expires he'll likely be a lot better financially next time he signs on the dotted line. Stepan is scoring important goals (but not enough), playing a pivotal role in Gaborik's bounce back year and is growing up right before our eyes. Rarely do you see Stepan make a bad decision and his passing ability is incredible, as we saw once again throughout the Coyotes win last night. A huge future lies ahead. B+
Artem Anisimov. The Russian is another player showing solid progression this year. Unfortunately he has cooled off lately; pointless in eight games. Anisimov has a tendency to be streaky, and he needs to score more goals but a lot of the work Anisimov has done this season has not shown up on the score board. He's a nice fit on the top line with Gaborik and Stepan and has handled his move to the wing nicely. His play along the boards has improved immeasurably and don't forget Anisimov is also still young at 23 and figures to have room to develop offensively. If his production ever catches up to his talent then he could be a monster. B-
Brad Richards. Like Dubinsky, critiquing Richards' season so far depends on what your expectations were. If you judge Richards with the massive contract in mind or place much emphasis on the relatively small stretch where he wasn't contributing offensively then it may not look that impressive. If you measure the impact his presence has had on the rest of the roster (depth), the clutch goal scoring or the way he has influenced players like Del Zotto then Richards has been a great addition and has had a fine beginning to his Rangers tenure. That said, one of the key reasons for his signing was to help fix the powerplay and he hasn't managed to help turn it into a more effective unit.
Despite being on course for his first 30 goal season he's also on course for his lowest points total since 08/09. Of course that total would have led the Rangers over the last few years but it's a different measuring stick for an elite player. Richards' faceoff results have been quite inconsistent this year too, much like his production. Richards has improved defensively as the year has developed which no doubt helps his game when not scoring. The best part of Richards' year is that there should be more to come. Lined up with Callahan and Dubinsky, the Rangers now have two quality scoring lines. When was the last time they could say that? If Dubinsky really has turned his year around, expect more from Richards as a result too. B-
Original Story:
http://www.blueseatblogs.com/2012/01/...
THE BACKYARD
BEST OF MAXIM
RELATED ARTICLES
Olympic caliber hottie Olivia Munn can no longer be considered the good luck charm of the New York Rangers, she has reportedly (according to the hard-hitting journalists of Us Weekly) dumped Rangers center (and alternate captain) Brad Richards. Sad face!"She ended it with him," an unnamed source told Us. "She had to. It's not really complicated. She just realized...
... but Phoenix goaltender Mike Smith stops him on a penalty shot.  A great save no doubt but the Rangers did win in the shootout.
(source feed provided no summary content for this entry)
• Favre's brother gets one of Haley Barbour's pardons! • Video: Conan reenacts Tebow TD with peanuts • ESPN FAIL That's not how you spell Memphis, moron • So Sad: Olivia Munn dumps NHLer Brad Richards • Hottest Surfer Chick You'll See All Day: Elyse • Miss Universe Kosova Photo Overload! 85 Pics! • Hump Day Hotties Recap for those who work Tues.-Sat. • Baboon's...
Marian Gaborik is, arguably, the New York Rangers' deadliest offensive player. Giving him a penalty shot in overtime — which Phoenix Coyotes defenseman Adrian Aucoin did, slashing him on a breakaway on Tuesday night — would appear to be a handy way to effectively end the game. Coyotes goalie Mike Smith, however, had other plans: Stopping Gaborik with his stick on a spectacular...
Katie Strang at ESPN NY reports that the x-rays taken on Brandon Dubinsky's ailing shoulder were clear, however, he remains a game time decision for tonight's contest vs. the Senators..."It's going to be sore, obviously," he said. "It's just a matter of how well I can deal with that and take it from there."Wojtek Wolski would replace Dubinski if...
  Last month the New York Rangers beat the Phoenix Coyotes with a buzzer beating goal by first year Ranger Brad Richards. The two teams face off tomorrow night at the Garden, as the Rangers try to cushion their first place lead. The Coyotes are coming off a win against the New York Islanders (shocker) where Shane Doan scored his own buzzer beater giving him his first...
Brad Richards scored a last-second goal to beat the Phoenix Coyotes just over three weeks ago - a victory that has sparked the New York Rangers on a surge to the top of the Eastern Conference. Richards looks to continue his scoring surge and the Rangers go for their second five-game winning streak in an 11-game span when they host the Coyotes on Tuesday night. With some help from...
Ye of little faith. Yes, that means you, Henrik Lundqvist. "I was about to skate off," The King admitted with a half-smile when questioned about his emotions when Marian Gaborik skated in on Phoenix netminder Mike Smith with the Rangers down to their final strike in last night's shootout...
Both NHL.com and Puck Daddy project that Henrik Lundqvist, Dan Girardi, Marian Gaborik and Carl Hagelin (rookie game) will represent the Rangers during All Star weekend.Here's Greg Wyshynski of Puck Daddy on the Girardi projection..."There are some obvious choices here, but to explain the less obvious ones: Girardi is the epitome of the merit-based choice for an All-Star...
Courtesy of the Rangers: NEW YORK RANGERS POST-GAME NOTES January 10, 2012 (Game 40, Home Game 18) Madison Square Garden – New York, New York Team Notes: -        The Rangers defeated the Phoenix Coyotes, 2-1, in the shootout tonight at Madison Square Garden to extend their winning streak to five games, and have now won 10 of their last 11 games.  Marian Gaborik and...
Rangers News

Delivered to your inbox

You'll also receive Yardbarker's daily Top 10, featuring the best sports stories from around the web. Customize your newsletter to get articles on your favorite sports and teams. And the best part? It's free!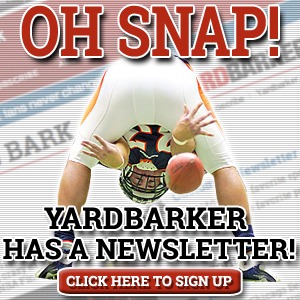 Latest Rumors
Best of Yardbarker

Today's Best Stuff

For Bloggers

Join the Yardbarker Network for more promotion, traffic, and money.

Company Info

Help

What is Yardbarker?

Yardbarker is the largest network of sports blogs and pro athlete blogs on the web. This site is the hub of the Yardbarker Network, where our editors and algorithms curate the best sports content from our network and beyond.