Found February 09, 2013 on Queen City Sports:
PLAYERS:
Tyler Myers
,
Jordan Leopold
,
Christian Ehrhoff
,
Robyn Regehr
,
Andrej Sekera
,
Mike Weber
,
Alexander Sulzer
,
T.J. Brennan
,
Thomas Vanek
,
Cody Hodgson
,
Jason Pominville
,
Marcus Foligno
,
Tyler Ennis
,
Drew Stafford
,
Jochen Hecht
,
Mikhail Grigorenko
,
Steve Ott
,
John Scott
,
Matt Ellis
,
Patrick Kaleta
,
Nathan Gerbe
,
Cody McCormick
,
Ryan Miller
,
Jhonas Enroth
TEAMS:
Buffalo Sabres
Today the Sabres face the Islanders in Nassau Coliseum thus completing the first quarter of this lockout shortened season.  It has been a disappointing start, both for the organization with a 4-6-1 record, and for many of the individual players who have struggled mightily out of the gate.  Injuries, a lack of training camp, and the condensed schedule have been the common excuses for the poor play around the league, but how much effect has the lockout truly had on this team?  Do the players that played elsewhere in November and December have a leg up on those who were working out on their own?  Let's go through this Sabres roster and see. The most glaring issue for the Sabres 11 games in has been the play of their defensemen, particularly the erratic play of Tyler Myers and Jordan Leopold.  Here's a breakdown of how the Buffalo rearguards spent their lockout: Myers wasn't his Calder self even in Austria. (Getty Images) Tyler Myers – 17 gp for Klanegenfurt AC (EBL, Austria) Christian Ehrhoff – 32 gp for Krefeld (DEL, Germany) Jordan Leopold – DNP Robyn Regehr – DNP Andrej Sekera – 25 gp for Bratislava (KHL, Slovakia/Russia) Mike Weber – DNP Alexander Sulzer – 21 gp for ERC Ingolstadt (DEL, Germany) TJ Brennan – 36 gp for Rochester (AHL, United States) From a defensive standpoint it's clear that the players who were playing during the lockout have come into this season a bit more ready than those that haven't.  Christian Ehrhoff and prior to his injury, Andrej Sekera, have been the guys who have looked most at mid-season form, and with each of them playing between 25-35 games they basically are.  The one anomaly would be Tyler Myers, but it shouldn't be a surprise he is struggling.  Tyler was playing poorly in Austria during the lockout, he was a -7 in a league where the level of competition is considerably lower than the NHL.  To top it off he then suffered an ankle injury that sidelined him all the way up to the Sabres shortened camp.  The one player who has played pretty well despite not having suited up during the lockout is Mike Weber, but Weber wasn't inserted into the Sabres line-up until 5 games into the season giving him an additional 9 days of practice time to get himself into game shape. Up front the Sabres have a good mix of forwards who were and weren't actively on a roster during the lockout: Thomas Vanek – 11 gp for Graz (EBL, Austria) Cody Hodgson – 19 gp for Rochester (AHL, United States) Jason Pominville – 7 gp for Adler-Mannheim (DEL, Germany) Marcus Foligno – 33 gp for Rochester (AHL, United States) Tyler Ennis – 10 gp for Langnau (NLA, Switzerland) Drew Stafford – DNP Jochen Hecht – 6 gp for Adler-Mannheim (DEL, Germany) Mikhail Grigorenko – 32 gp for Quebec (QMJHL, Canada) Steve Ott – DNP John Scott – DNP Matt Ellis – DNP Patrick Kaleta – DNP (Nathan Gerbe and Cody McCormick were injured during the lockout) The line of Vanek, Hodgson, and Pominville has been on fire to start the season for Buffalo, and for them that's just a continuation of their lockout play where all 3 players were averaging a point per game or better in their respective leagues.  Marcus Foligno was having a great season in Rochester, and after sputtering a bit in his first 4 games in Buffalo, he has 7 points in his last 7 games.  On the flip side, Drew Stafford is goal-less in 11 games, and may be feeling the effects of missing out on game action the past few months.  He's played well enough to believe he's going to break out, but there's clearly more rust on Drew than his linemates. Jochen Hecht got his game back playing for Adler Mannheim during the lockout. (Getty Images) It's tough to gauge whether or not the lockout has much of an impact on the bottom six forwards.  Jochen Hecht has been a pleasant surprise but hasn't set the world on fire, nor should be be expected to at this point in his career.  Mikhail Grigorenko is an 18 year old rookie making the jump from Juniors, even with all those games in Quebec under his belt the expectations should be tempered for the young Russian.  Steve Ott has performed well, despite not having played during the lockout, but perhaps having a fresher body for such a physical player is an advantage unto itself. In net Ryan Miller spent the off-season working out on his own, while Jhonas Enroth sneaked in a few contests in his native Sweden during the lockout.  Miller has certainly looked a bit rusty to start the year, and outside of an early victory over Toronto he hasn't shown an ability to steal games for Buffalo yet.  When Ryan hasn't been in net Jhonas has been getting shelled, it's difficult for a player of Enroth's mold who needs to get into a groove from playing on a nightly basis but instead comes in completely cold once every couple weeks at best.  Due to the situation that he's used his play during the lockout has little bearing over his early season NHL struggles. Looking across the NHL leaderboard, the top two points leaders (Vanek, Kane) both played overseas during the lockout.  Overall there are 11 players with at least 14 points heading into today, and 6 of them (Vanek, Kane, Malkin, Thornton, Zetterberg, Pominville) played in Europe during the lockout.  That's not an overwhelming percentage, indicating that while it may have helped players playing overseas in the fall, it didn't necessarily hurt everyone who didn't. On the Sabres specifically it appears the players who played in Europe or the AHL have fared better through 11 games than those that haven't.  It's hard to make that determination for the forwards, because it's primarily their top 6 forwards, sans Stafford, that played overseas and they are expected to perform at a higher level than their bottom 6 forwards regardless if they were idle or not. However it is evident that the Sabres defensemen who played during the lockout have been much stronger than their rusty counterparts.  Whatever the cause, Buffalo needs to get everyone back on the same page, and up to the same level of play soon, before the season slips away.   Twitter @SabreHess The post Have Those That Played During the Lockout Had an Advantage? appeared first on Queen City Sports.
Original Story:
http://queencitysports.net/nhl/have-t...
THE BACKYARD
BEST OF MAXIM
RELATED ARTICLES
I've long been a defender of Lindy Ruff. For years, he coached teams that ranked in the bottom of the league in payroll in a cap-free world. As the longest tenured head coach in the NHL, he has lead some squads that overachieved and for a while it was easy to blame outside forces for the team's recent shortcomings.  After all, when the fields evened after the full-season lockout...
If not for the NHL lockout, Buffalo Sabres forward Thomas Vanek would have missed an opportunity to return home to play in his native Austria. The time off and brief but sweet homecoming last fall did wonders for Vanek in rekindling his passion for hockey and his scoring touch. Vanek's newfound perspective has been on display through the first three weeks of the NHL season...
Darcy Regier may have given the impression that Lindy Ruff ain't goin' nowhere if the Sabres' season continues trending downward, but Ted Black was far from willing to use that vernacular when I spoke to the team president last night during Buffalo's 5-4 shootout win over Montreal. Black's refusal to declare the coach as untouchable isn't a news flash for...
from Bucky Gleason of the Buffalo News, High-ranking people from across the league are laughing at the Sabres, just as they did last year after the season turned ugly. What people, you ask? Sorry, but their names will remain private. It's an unfortunate but necessary aspect of the media that many don't understand, but with anonymity comes unfiltered opinions. And...
Sabres defenseman Robyn Regehr has been activated from injured reserve and is expected to play against the Boston Bruins on Sunday. Regehr had missed seven games with a lower body injury from a 3-2 loss at Washington on Jan. 27. To make room on the roster, the Sabres (5-6-1) waived fourth-line forward Matt Ellis for reassignment to Rochester in the AHL. Struggling defenseman Tyler...
Thomas Vanek scored twice in regulation, including the tying goal with 2 seconds left, and also came through in the shootout to rally the Buffalo Sabres past the Montreal Canadiens 5-4 on Thursday night. Jason Pominville also scored in the shootout and Ryan Miller clinched the victory by making a left pad save to stop Brian Gionta on Montreal's final opportunity. Buffalo rallied...
The Bruins played their worst game of the season the last time they faced off with Buffalo, and Sabres forward Thomas Vanek had a great deal to do with that. The 29-year-old Austrian tallied five points, including a hat trick, in his team's 7-4 win over Boston and is off to perhaps the best start of his eight-year career. Vanek leads the NHL in both goals (11) and points (23) through...
Ryan Miller made 41 saves, and Alexander Sulzer scored the tiebreaking goal midway through the third period for the Buffalo Sabres, who earned a 3-2 victory over the New York Islanders despite being badly outshot Saturday night. Thomas Vanek and Christian Ehrhoff added goals for the Sabres, who won their second straight game. Buffalo was outshot 43-15 by the Islanders, who dropped...
Back in 2007 the Sabres brought in longtime hockey coach & broadcaster Harry Neale to serve as Rick Jeanneret's sidekick in the booth. This past off-season however the team made major moves, which included bumping Harry out of the booth in favor of former Sabres tough guy Rob Ray. Harry was delegated to intermission analyst duties, which include his own segment coined "2...
After a Big Bad Blizzard rocked the Northeast the Big Bad Bruins now have to rock the Buffalo Sabres. The two division rivals already faced once this year in a game that did not go well for the defensively minded Bruins. The Sabres scored 7 goals on the Bruins, one an empty net goal, against the Bruins who put up four goals themselves. The Bruins weren't only beat on the score...
The Buffalo Sabres picked up a much-needed two points their last time out thanks to another big game from Thomas Vanek. The New York Islanders, meanwhile, are counting on a couple of fresh faces to help get them back on track. The Sabres try to build on their latest result Saturday night when they visit the slumping Islanders, who hope both Lubomir Visnovsky and Josh Bailey can...
Sabres News

Delivered to your inbox

You'll also receive Yardbarker's daily Top 10, featuring the best sports stories from around the web. Customize your newsletter to get articles on your favorite sports and teams. And the best part? It's free!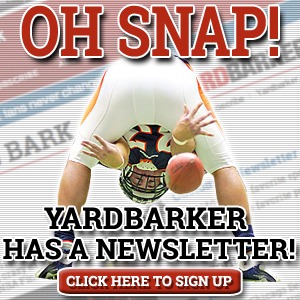 Latest Rumors
Best of Yardbarker

Today's Best Stuff

For Bloggers

Join the Yardbarker Network for more promotion, traffic, and money.

Company Info

Help

What is Yardbarker?

Yardbarker is the largest network of sports blogs and pro athlete blogs on the web. This site is the hub of the Yardbarker Network, where our editors and algorithms curate the best sports content from our network and beyond.