Found December 15, 2011 on The Victory Formation:
PLAYERS:
Bruce Boudreau
,
John Tortorella
,
Rex Ryan
,
Peter Laviolette
,
Cam Ward
,
Paul Holmgren
,
Jaromir Jagr
,
Ilya Bryzgalov
,
Claude Giroux
,
Marian Gaborik
,
Ryan Callahan
,
Sean Avery
,
David Steckel
,
Henrik Lundqvist
,
Brad Richards
,
Michael Del Zotto
TEAMS:
New York Rangers
,
Philadelphia Flyers
,
Carolina Hurricanes
,
Tampa Bay Lightning
Last night we had our first look into what HBO would bring hockey fans for their turn at a reality series. In its first year, the NHL gave audiences Bruce Boudreau and his sailor speeches while prepping for their only domestic outdoor game of the year. Bruce was to 24/7 as Herman Edwards was to Hard Knocks. Forced. This season, it's John Tortorella and (like it or not) the media savvy New York Rangers. Think Rex Ryan less the foot fetish and 150 lbs. I've been waiting for this to debut for about a month now and it was actually the guy who auctioned off his ties that impressed me from the benches in the first run.
I write about hockey for the most part here but I'm not going to pretend I watched all of the Hurricane-Oiler Stanley Cup the year after the lockout. I do remember Peter Laviolette coaching the US team in the Olympics that year when they were played in Torino. That team, along with Canada's national team, didn't medal in those Olympics for men's ice hockey. Laviolette did go on to win a Stanley Cup that Cam Ward managed to steal for him against the 8th seeded Oilers.
Quite the rollercoaster of a year.
John Tortorella's fiery language and unorthodox tactics were kinda the draw for 24/7. Instead, I was more taken in by the stoic nature of Laviolette and the outlook he has on the Flyers in 2011-12. Paul Holmgren even said, "I don't know that we're going to be a better team or a worse team. I do know that we'll be a different team." That doesn't inspire a whole lot of confidence if I'm a Flyer fan. Seeing Laviolette recognize how to utilize his roster, on the other hand, did.
Jaromir Jagr. Max Talbot. Ilya Bryzgalov. The list includes a couple more.
That's the new faces in the locker room at Wells Fargo Arena. All three of those names are fairly significant. Jagr, for his history in the NHL spanning 18 seasons; part of that with the rival Penguins. Talbot, for his recent Cup ring in Pittsburgh with those same hated flightless birds. And Bryzgalov, who Holmgren completely blew up his top six to get. Laviolette knows how to leverage all of them. All three are veterans that can be extensions of their coach in the locker room and on the ice. In the case of Bryzgalov, it's leveraging a certain kind of crazy that acts as comic relief for the team.
Okaaaaaay… moving on.
You would have expected a lot more Claude Giroux from the Flyers side but his injury came relatively early in the taping. The Flyers leading scorer was scarcely seen in this first episode and heard even less. Bryzgalov stood out the most as he just seems like an odd bird. I can only compare him to kinda like the Brian Wilson of the Flyers… but Russian. The Flyers are playing well right now, or at least of the taping, so it'll be interesting to see how they handle the adversity in coming episodes. This team is missing Giroux, Pronger and needs to see how their young players like Couturier can handle the absences of their leaders.
As for the Rangers and Tortorella, the expected took place. A lot of fire from Torts. He especially rode Rangers forward Marian Gaborik hard during a tough loss to the Tampa Bay Lightning. But, if you've followed Torts for any length of time, you know that this is just status quo. He's the Mike Keenan of the current NHL. Abrasive. Brash. Vulgar. Direct. That's how you can characterize his coaching style.
This isn't a criticism of Tortorella and his coaching style, or even the way HBO portrays it. It's merely an observation of something that's retread.
Ryan Callahan's family story and the fact that he's the 26 year old captain of the New York Rangers was the angle shown with the most gravitational pull.  He's American, the first home grown captain of the Blueshirts since Brian Leetch, and the fifth youngest captain for the Rangers in their history. There was a solid 10 minutes of fluff dedicated to his parents watching one of the games at Madison Square Garden. I will admit that Grandma Callahan was a bit of a badass though. Outside of that, the Rangers only featured Sean Avery's modeling career off the ice and Michael Del Zotto's shoulder injury on a collision into the boards with Penguin fan favorite David Steckel.
There was a brief portion that covered Henrik Lundqvist and Tortorella's more prudent use of the netminder this year. The segment detailed how Tortorella plans to use his goaltender less in the regular season to keep him fresh for the playoffs. 60-65 games. Still, you had to expect more from the Rangers side. Something compelling that wasn't something we'd seen before… like Avery's off-ice antics.
While there will probably be a F-Bomb counter somewhere on the internet today for this show, I liked more than just the uncut nature of the selections. For an introductory hour, each team got a fair shake and tried to accentuate their strengths. We got to see the uncut exchanges on the ice that I have to think more casual fans of the game don't expect. The discourse in the locker room between these two teams and their coaches is much more interesting than what we saw for the Capitals and Penguins last season. Nothing against Dan Bylsma, he was insightful last year. But Boudreau made it seem forced and almost cartoonish last year.
As always, we have to give HBO a tremendous amount of credit for the production work of these shows. No matter the content, they always find a way to present the footage in a cinematic fashion. The musical scores remind us of something we'd seem from NFL Films like America's Game. We did get a bit of an insight on the family lives last year of both coaches and some of the players. I'm looking forward to more of that in the next three episodes, something more than what they gave us with Ryan Callahan last night.
Giroux's injury serves as a compelling storyline when the series resumes next week. Brad Richards making a return to Dallas should be compelling for the Rangers side as well. I think the debut served as a positive jumping point instead of a hackish attention grab like last year. If you missed this episode, the first 15 minutes can be found below:
Original Story:
http://www.thevictoryformation.com/20...
THE BACKYARD
BEST OF MAXIM
NHL News

Delivered to your inbox

You'll also receive Yardbarker's daily Top 10, featuring the best sports stories from around the web. Customize your newsletter to get articles on your favorite sports and teams. And the best part? It's free!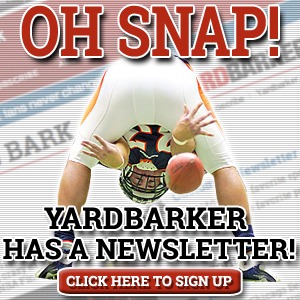 Latest Rumors
The Backyard

Today's Best Stuff

For Bloggers

Join the Yardbarker Network for more promotion, traffic, and money.

Company Info

Help

What is Yardbarker?

Yardbarker is the largest network of sports blogs and pro athlete blogs on the web. This site is the hub of the Yardbarker Network, where our editors and algorithms curate the best sports content from our network and beyond.