Found March 01, 2012 on Fox Sports West:
When you've made 23 straight starts in net, you're going to endure your fair share of situations where forwards are barreling down at you at full speed, looking to will the puck into the net with brute force. When all 205 pounds of Patrick Kaleta steamrolled into Jonas Hiller on an unsuccessful two-on-one Wednesday night, Hiller shrugged it off, returned to his feet, posted a scoreless third period, and following the game showed reporters the tear in his sock where Kaleta's skate blade made contact with his leg. "I was worried to get cut or whatever. But it just hit my kneepad. I'm doing all right," Hiller said after Anaheim's 2-0 loss to the Buffalo Sabres dropped the club to seven points out of the eighth playoff spot with 18 games remaining. It's all part of a well-earned paycheck by Hiller, who will likely make his franchise-record 24th consecutive start on Friday when the Calgary Flames visit Friday for another matchup between two teams desperate for points. He equaled J.S. Giguere and Guy Hebert's jointly held team record by stopping 22 of 24 shots in his 23rd consecutive start on Wednesday. "It has definitely been a lot of games played," Hiller said. "I think Bruce Boudreau is doing a good job of giving me days off and taking care of me. Sometimes it's more the mental part, kind of like being able to focus again, focus again, especially like nights like tonight where you feel like you're playing well and doing good, but you still can't win." Hiller was bested by Ryan Miller for the second time this season, the first coming in Buffalo's 4-1 win in Helsinki on October 7, both teams' season opener. This time around, Miller's 43 saves marked one of the strongest performances by a goaltender against the Ducks this season. "I thought he was pretty good controlling rebounds, making that extra save," Hiller said of Miller. "He got some bounces as well, but as long as you're feeling good and fighting for everything, things go your way, and that's what he did. It's definitely tough for us." Hiller compared the body of work he's produced over the last two months to something that might be more expected in a European club our tournament schedule. "In Switzerland you normally play most of the games, but it's normally like 40 something games or 50 games. The only thing kind of similar to something like this would be the Spengler Cup where you play like five games in six days, stuff like that. It's definitely a lot of games, especially on the road with the travel, which isn't easy." "But I'm feeling well." Wouldn't we all say. Since his consecutive games streak began with a 1-0 overtime loss at Calgary on January 12, Hiller has posted a 14-5-4 record with a 1.84 GAA and a .928 save percentage, allowing between zero and two goals in 18 of his 23 starts. He has consistently given his team a chance to win, marking one of the best runs in net by any Boudreau-coached team. "Right now, he's as good as anybody I've had anywhere," Boudreau said. "You know when you're down that you can take chances because you've got the guy back there that's just not going to let the next one go in. And he didn't tonight. He had two two-on-ones in the third period, and he was there to stop em. He's as good as you can get." Anaheim will need him to re-kindle the best efforts of the season in which he turned 30 years old on February 12. Seven points out of a playoff spot and with a pair of games against playoff hopefuls on Friday at home against Calgary and Saturday at Los Angeles (7:30 PT FOX Sports West), Hiller is likely to get 120 minutes of work over 24 hours in which the direction of the Ducks' 2011-12 season will be clearly identified. Without four points out of the next two games, there won't be enough time for Anaheim to realistically leapfrog over the four teams that separate them from the elusive eighth playoff spot. "We can't win every game, and we've got to focus on the next one," Hiller said. "We've got two really important games coming up. If we win both, we're right back in the battle again." NOTES: According to a report in the Syracuse Post-Standard on Wednesday, it's likely that this will be the final year of the Syracuse Crunch's affiliation with Anaheim. "This was not a surprise," GM Bob Murray said through a team spokesman. "We have known about this for quite some time. We will have options for next year and are currently exploring the possibilities. We hope to have a strong finish to the season and certainly wish Syracuse well in the future." The Crunch are 22-25-4-4 and have the second fewest points in the AHL's Eastern Conference this season. Ducks captain Ryan Getzlaf has only four goals in his last 55 games.
Original Story:
http://www.foxsportswest.com/03/01/12...
THE BACKYARD
BEST OF MAXIM
RELATED ARTICLES
I think the term "White Whale" may have long ago jumped the shark on this here card blog of mine. After picking up my first White Whale, I've acquired a number of other cards that I've chosen to tag with that moniker. Perhaps not all should have been given that label, although each and every one of those cards was a big need for me and an equally big get when I...
Guenin The Ducks have recalled defenseman Nate Guenin from the Syracuse Crunch, Anaheim's primary development affiliate in the American Hockey League (AHL). ...
Anaheim Ducks: Winners The Ducks did not make any moves, showing newfound confidence in their core and casting aside marginal gains from dealing veterans to make a playoff push. They also did not trade any of their many promising prospects for risky rental players. Anaheim will be at a crossroads this offseason with several key players approaching some form of free agency and even...
Yep, the Bettman blog picture is back, so that means it's time for another edition of 30 Teams; 30 Comments. Let's get to it. Anaheim Ducks - I feel sad for the Ducks. They've been making a huge push in the second half of the season for a playoff spot. My numbers tell me they'll finish very close, but will miss out. Good thing for the team they would have ended...
The Anaheim Ducks yawned their way through Wednesday nights 2-0 loss to the Buffalo Sabres. It was the most lackluster 43 shot performance I think I've ever seen. Ryan Miller was good when he had to be especially in the third period when the Ducks flicked 20 shots on net. The shutout was the 26th of Miller's career. The 2010 Vezina Trophy winner is having a down year by...
The last time the Ducks lost two in a row in regulation, it was the end of December/beginning of January.   Since then, they have been smoking hot, making up points that are usually impossible to regain.  Despite all those points earned and made up, they still could not gain in the standings.  A win against the Buffalo Sabres would have bounced them up a notch from 13th to 12th...
At the end of the game, Tyler Myers vs Sheldon Brookbank. Oh there was more before this fight… Continue reading "Ducks Go Down Fighting"
Maybe it was too much road trip.  Maybe it was playing in the second of back to back games.  Maybe it was a little of both.  Whatever it was, the Ducks looked like their earlier season selves in a 4-1 loss to Colorado.  The Ducks did well on Sunday against the Chicago Blackhawks, but lately that isn't saying much.  Going back to the airport to fly to Denver and play the...
ANAHEIM, Calif. (AP) Ryan Miller made a season-high 43 saves in his fourth shutout, Derek Roy and Brad Boyes scored, and the Buffalo Sabres beat the Anaheim Ducks 2-0 on Wednesday night.
It's been a long and grinding road for the Anaheim Ducks since they opened the season across the Atlantic Ocean against the Buffalo Sabres.
The Buffalo Sabres and Anaheim Ducks have been making strong pushes since last month, but both teams suffered losses their last time out. They know they can't afford too many more defeats if they want to overcome their poor starts and make the playoffs. The clubs close out their season series with the Ducks looking to avoid a third straight loss to the Sabres on Wednesday night...
Whenever it is hat night at the Honda Center, fans want a reason to throw their newly acquired chapeaus on the ice.  There was no hat trick, but Ducks fans had plenty to celebrate in the 3-1 victory over the listless Blackhawks.  Chicago was playing in the second of back to back games, having been spanked 4-0 by Los Angeles the night before.  They still had some energy (and probably...
NHL News

Delivered to your inbox

You'll also receive Yardbarker's daily Top 10, featuring the best sports stories from around the web. Customize your newsletter to get articles on your favorite sports and teams. And the best part? It's free!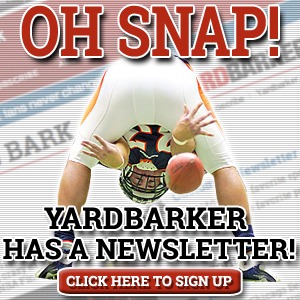 Latest Rumors
The Backyard

Today's Best Stuff

For Bloggers

Join the Yardbarker Network for more promotion, traffic, and money.

Company Info

Help

What is Yardbarker?

Yardbarker is the largest network of sports blogs and pro athlete blogs on the web. This site is the hub of the Yardbarker Network, where our editors and algorithms curate the best sports content from our network and beyond.