Found March 09, 2013 on Puck Huffers:
So the Penguins are in Toronto which is the kind of thing that usually gives us seizures. Sid is in Air Canada Centre for the first time since 2010. God, this could be either the most beautiful or the most ugly thing to ever happen. LEAST TIME TAKEN TO GET READY FOR PROM It has all the makings of a magical spring night. Tomas is fixing MAF's hair before his date arrives. Pens won an innocent looking faceoff really early on. Shot from the point was blocked. Somehow it came to Neal, who put on a routine shot. And the room falls to a hush. It's possibly that Reimer's gown alteration has come back botched. But at least a few of us are ready for the dance early. DARKEST QUESTIONS As the game starts settling in a bit, Reimer's glitz gown is fitting better and we begin asking ourselves idle questions. Like why is Joey V scratched all the time? It's easy to ask ourselves such spoiled questions. Sid takes a couple bloodthirsty shifts. A "GO LEAFS GO" chant gently tries to get started but fades away. Go. . .to where, Leafs? to where? Well, not to the penalty box, because the Leafs manage to fool Beau into taking a silly penalty. Leafs get a PP goal. No photos of the goal exist yet for some reason. Probably in protest. James van Riemsdyk, the Dutch Ghost No idea why our PK is such dicks. But another dark question for the Dark Question Books. LEAST COORDINATION Pens skate out the Effigy Team for the PP but yet some asshole named Kotska still manages to put it over the glass. Of course no one scores on the 5 on 3. Of course the leafs keep being aggressive. Pens again look unprepared for a team that is actually going to get in their faces and prevent them from slow dancing with everyone's girlfriends. TK gets power play time. God help us. Everyone is apparently excited about the possibility of an Engelland-Orr fight when really we just want some vodka and some goals. (We are like Geno in this way.) MOST PUNCH CONSUMED AT THE CONCESSION TABLE Donations are being taken at the snacks and punch table for the local 4-H. Reimer can't get enough of that punch with the sherbet in it. Gets himself waaay off to one side of the net, but Sid is streaking down the wing and puts it basically into an empty net. no idea why everyone lokos so enthused 2-1 Then Malkin starts some kind of insane rush. Paul Martin gets it to the net going kinda deep. Everyone thinks Beau put it in but really it was an own goal for the Leafs. Demoralizing. DUDE BRO GUNNARSSON WHY ARE YOU EVEN MAD BRO Everyone adjourns for cookies to drown their sorrows. But who is going to win the raffle drawing for the Ford Mustang? MOST STOLEN PROM DATE Sid is stolen from CBC for first intermission. There's gonna be a fight in the parking lot for sure. WEIRDEST PARANOIA This is why we hate the Leafs. Because they hate boats. PH staff is all about boats. Have the Leafs ever actually burned a boat? Let's be honest. Maybe Hal Gill. MOST HORROR AFTER CALM Dan Bylsma uses his timeout after an icing. We see this as a confidence move in a 3-1 hockey game. Not too confident. But a little. Leafs don't score on that sequence so we can uphold it as a good move. Things start picking up for the Leafs, though. Crosby accidentally trips Kadri so this is about to be a hot mess. nightmares Franson and JVR Pens can't kill a ******* penalty. MAF with an elite save a few sequences later to keep the Pens in it. MOMENTS THAT CANCELLED EACH OTHER OUT Dupes gets a squeaker in on Reimer. No one was paying attention so Clarke MacArthur whipped his dick out and scored his 5380948302nd goal against the Pens in his career. We were all excited, but then we weren't. Apparently the Toronto goal song is the Harlem Shake? We probably can't hear it over the sounds of Leafs fans' delusions. HIDDEN MELTDOWN OF THE NIGHT Gunnarsson is having a rough night. Own goal, chops Malkin's stick and getting sent to the bathroom with a nip of Schnapps. If only we could take advantage of his fragile mental state. Special teams are apparently an issue. At least we make it out of the period alive-ish. MOST DECEPTIVE PERIOD The second intermission kind of left you feeling like something big was going to happen. And there were chances for that, to a degree, in the former half of the period. Just nothing was actually happening. Plot twist: The Pens get a PP. Nothing happens. The Leafs get a PP, the entire Pens fan base can't breathe. Despres goes for a shorty when he gets wide open on the PK from the center point. My oh my. One of those games where you feel like you're losing even when you have the lead. And then we all get caught smoking cigarettes behind the gym. Malkin gets hit real nasty by JVR. Then Kessel scores. mother of god. It's 4-4 Next sequence Crosby gets upended by Grabovski. Apparently he's fine. But jesus christ we all held our breaths for his perfect head. Everyone might be okay. But we're going to overtime so looks like prom is going to go all night. DIRTIEST BACKSEAT OF A HONDA Leafs fans screaming for penalties in OT. Malkin isn't taking any shifts. Each team still trades terrifying chances. Sidney Crosby does like 3 unbelievable things that don't lead to a goal. We are forced to go to a shootout at the scenic overlook. Bozak first for Toronto. MAF in his mouth (sounds waaay worse with the backseat of the Honda metaphor). Nope. Neal makes Reimer his *****. 1-0 Kadri approaches. Insane toe save. Sid can end it. He does, of course. Sid is the only one to score on prom night. And yes, he used protection. shootout ends 2-0 Pens.  Reimer wtf PENS WIN canada sucks INDIVIDUAL AWARDS MOST LIKELY TO GET KICKED OFF THE DANCE FLOOR FOR INAPPROPRIATE PHYSICAL CONTACT Sid and Dion ALTERNATIVE THREE STARS 1. Pascal Dupuis - because he made **** happen and also I got his jersey in the mail today smelling of burned rubber and China and also six shots. 2. KTang - 30 minutes jesus bb you need a massage 3. Kostka's hair - we're semi terrified of it, why didn't he get a haircut before the most important night of his life so far? Entertaining game. Doesn't mean we don't fear for our lives. Islanders tomorrow. eeesh
Original Story:
http://www.puckhuffers.com/2013-artic...
THE BACKYARD
BEST OF MAXIM
RELATED ARTICLES
Sidney Crosby tied a career high with five assists, and Chris Kunitz posted his second hat trick of the season in the Pittsburgh Penguins' 6-1 rout of the New York Islanders on Sunday night. Crosby's big night boosted his point total to an NHL-leading 45 and helped the Penguins win their fifth straight. James Neal had a goal and three assists, and Pascal Dupuis scored twice...
It's been a pretty good year for rookie Pittsburgh Penguins defenseman Robert Bortuzzo. He scored his first NHL goal back in February, and then there's this little gem of a video clip. He and some teammates are getting some shoot-around time at an empty Wells-Fargo Arena (home of rival Philadelphia Flyers, and the NBA's Philadelphia 76ers), and then the 6'4″ Bortuzzo throws...
Sidney Crosby and James Neal scored shootout goals, and the Pittsburgh Penguins beat the Toronto Maple Leafs 5-4 on Saturday night for their NHL-leading 11th road win. Neal opened the shootout with a goal against James Reimer before Crosby sealed the win on Pittsburgh's second attempt after Marc-Andre Fleury stopped Toronto's Tyler Bozak and Nazem Kadri. Phil Kessel forced...
It is hardly surprising that the rivalry that exists between the Philadelphia Flyers and Pittsburgh Penguins, given the geographical proximity and hailing from the same state (Pennsylvania, for you half-wits out there), is an often heated one, chock-full of animosity and intensity with a healthy dose of vitriolic back-and-forth. The bitter antagonism between the respective fanbases...
    Right before Sidney Crosby suffered his concussion, he was undoubtedly playing the best hockey we've ever seen him play. Then he was gone from the game for the better part of two years. It's taken Crosby 25 games to get back to where he was. There were countless "Jesus, did you see what Crosby just did" moments in this game. There was just something...
With Chris Kunitz enjoying a hot streak, the Pittsburgh Penguins' highly ranked offense has soared to another level lately. The red-hot Penguins look to keep things rolling and win their fourth straight game on Saturday night when they visit the Toronto Maple Leafs. Kunitz extended his point streak to a career-high seven games with the go-ahead goal in the third period of a...
Malkin has upper-body injury. He'll be further evaluated tonight. Coach Bylsma said he's not concerned its a concussion. — Pittsburgh Penguins (@penguins) March 10, 2013 How did he get hurt last night?  
Interesting week for Crosby and Malkin. On Monday they scored big goals minutes apart. On Saturday they both took scary, monster hits. First was Malkin, who was hurt on this hit from JVR: The Pens said this:   MALKIN UPDATE: Upper body injury on Malkin. Not a head injury. He was kept out for precautionary reasons. — Pittsburgh Penguins (@penguins) March...
Pittsburgh Penguins (16-8-0) @ Toronto Maple Leafs (15-10-0) ROOT, NHLN-US, CBC - 7:00 pm/et Air Canada Centre - Toronto, ON Really early "Gameday" post today. The Pittsburgh Penguins enter the second half of the season with a game against the Maple Leafs. The Pens always seem to have trouble with the Maple Leafs.     Season Series...
New York Islanders (11-11-3) @ Pittsburgh Penguins (17-8-0) ROOT, MSG PLUS, 7:00 pm/et Consol Energy Center - Pittsburgh, PA Back-to-back games for both the Pens and the Isles. The Islanders won 5-2 against the Capitals yesterday. No word on Malkin yet. Season Series: 1-1-0 Last meeting that counted: February 5, 2013. Penguins won 4-2. ...
Crosby is hitting his stride. He has an 8-game points streak. He has 20 points in those 24 periods of hockey. He now has 45 points on the season. Claude Giroux and Alex Ovechkin: 45 points combined. His linemates, Chris Kunitz and Pascal Dupuis, are reaping the benefits. Kunitz netted his second hat trick of the season, and Dupuis added two others.   The Pens have now...
from Dejan Kovacevic of the Pittsburgh Tribune-Review, Back when the league was adding the Panthers, Mighty Ducks, Predators and Blue Jackets, complaints were common that the quality of play suffered, that there weren't enough skilled forwards and defensemen. But the global pool is now far deeper. USA Hockey youth registrations have soared since the Florida/Anaheim expansion...
NHL News

Delivered to your inbox

You'll also receive Yardbarker's daily Top 10, featuring the best sports stories from around the web. Customize your newsletter to get articles on your favorite sports and teams. And the best part? It's free!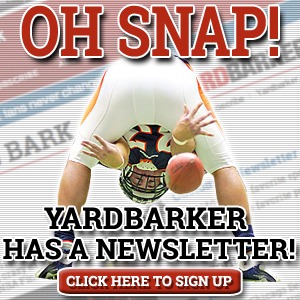 Latest Rumors
The Backyard

Today's Best Stuff

For Bloggers

Join the Yardbarker Network for more promotion, traffic, and money.

Company Info

Help

What is Yardbarker?

Yardbarker is the largest network of sports blogs and pro athlete blogs on the web. This site is the hub of the Yardbarker Network, where our editors and algorithms curate the best sports content from our network and beyond.